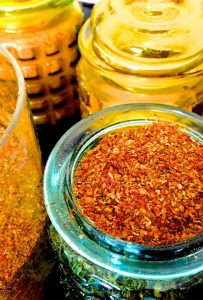 Store the powder in a dry and airtight container. You could keep a small quantity (about half a cup) in a small tightly closed jar in your regular spice shelf for ready use, and store the rest in a larger jar separately so that the powder it is not frequently exposed to the air. Always use a dry spoon to take the powder out as moisture and damp can spoil the rasam powder.
Measuring the ingredients for the Rasam Powder:
In the recipe below I have given two sets of measurements - the first set of measurements next to the ingredients yield about 4 heaped cups of the Rasam Spice Powder. The next set of measurements given in brackets, gives a much larger yield though I have not found it necessary to make such large quantities.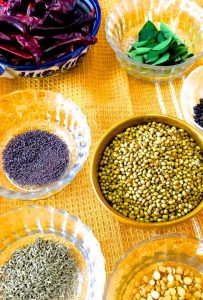 This is the Rasam powder referred to in my Tomato Rasam recipe, in the link below.While making the Tomato Rasam, a little freshly ground Jeera and Pepper Powder added along with this Rasam powder, enhances the taste.
Here are links to various Rasams on my site: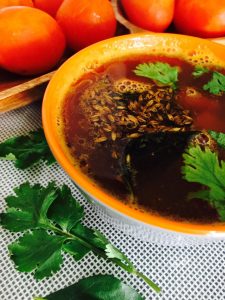 Refreshing Lemon Thyme Rasam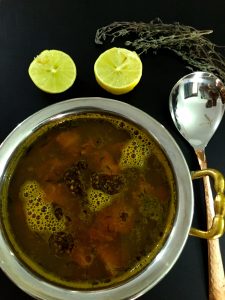 Festive Pineapple Rasam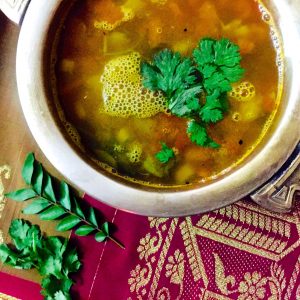 It is important to source fresh high quality spices for making the rasam powder, to give the best flavours and aroma you expect from well prepared rasam.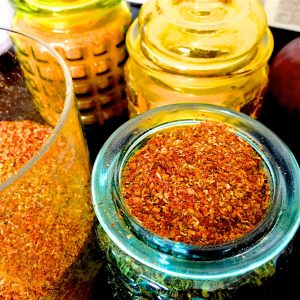 Homemade Rasam Powder
Easy homemade Rasam powder. Authentic recipe from a Tamil Brahmin kitchen. Coriander seeds, dry chili, cumin, pepper, thuvar dal, channa dal, curry leaves, asafoetida. Vegan, Gluten free. Make spicy tomato rasam, pineapple rasam, mango rasam, lemon rasam
Ingredients  
200

gms

Coriander seeds

(Dhania) (½ kg)

200

gms

Chillies

Red (dry) (½ kg)

¾

tbsp

Pigeon pea lentil

(Arahar/ toor)  (2tbsp)

¾

tbsp

Bengal gram lentil

(channa dhal) (2tbsp)

¾

tbsp

black pepper

(2 tbsp)

½

tbsp

Cumin seeds

(Jeera) (1 tbsp)

½

tsp

asafoetida

(Hing) (1 tsp)

1

tablespoon

curry leaves

1 large handful

½

tbsp

mustard

(1 tbsp)

½

tsp

turmeric

powder (haldi) (1 tsp)
Instructions 
Take whole spices and condiments (sabut), dry them as in step 2 below and then follow the process. The recipe does not call for oil, to maintain authentic taste.

If you have a sunny balcony or terrace, spread the ingredients separately on clean sheets of plastic or newspaper, for at least one day, letting them soak in the sun. Remove before the sun goes down and the air becomes chill. Check the ingredients for small stones, sticks etc. Remove the stalks from the red chilies.

Heat a suitable pan, and dry roast each type of ingredients separately for a few minutes on low to medium flame, taking each one to separate dry dish after roasting.

Roast the Coriander seeds for about 3 minutes, stirring frequently. The Dals (lentils) should be sautéd together on a low flame till they darken slightly. Watch out while doing this as they can quickly burn and char to black.

The Cumin seeds should be roasted for only about 30 seconds and removed before they begin to blacken. The turmeric powder is to be sautéed dry for a few seconds, and I do this last, after all the other items have been roasted.

The dry red chillies will give a pungent smell so don't breathe in deeply when you are roasting them!

Once the roasted ingredients have cooled, you need to grind them. Coarse grinding is sufficient, except for the chilies. Grind the coriander seeds first Add the dals/ lentils and grind.

Add all the other ingredients except for the red chilies, and grind to a coarse powder. Remove from the mixer/ processor and keep aside.

Grind the red chillies as fine as you can get them. Remove from processor.

Mix equal quantities of the red chilli powder and the coriander-spices mixed powder. Mix well so that all the spices blend together completely.

Use in Rasam powder as per my recipe for Spicy Tomato Rasam https://www.pepperonpizza.com/spicy-tomato-rasam-recipe