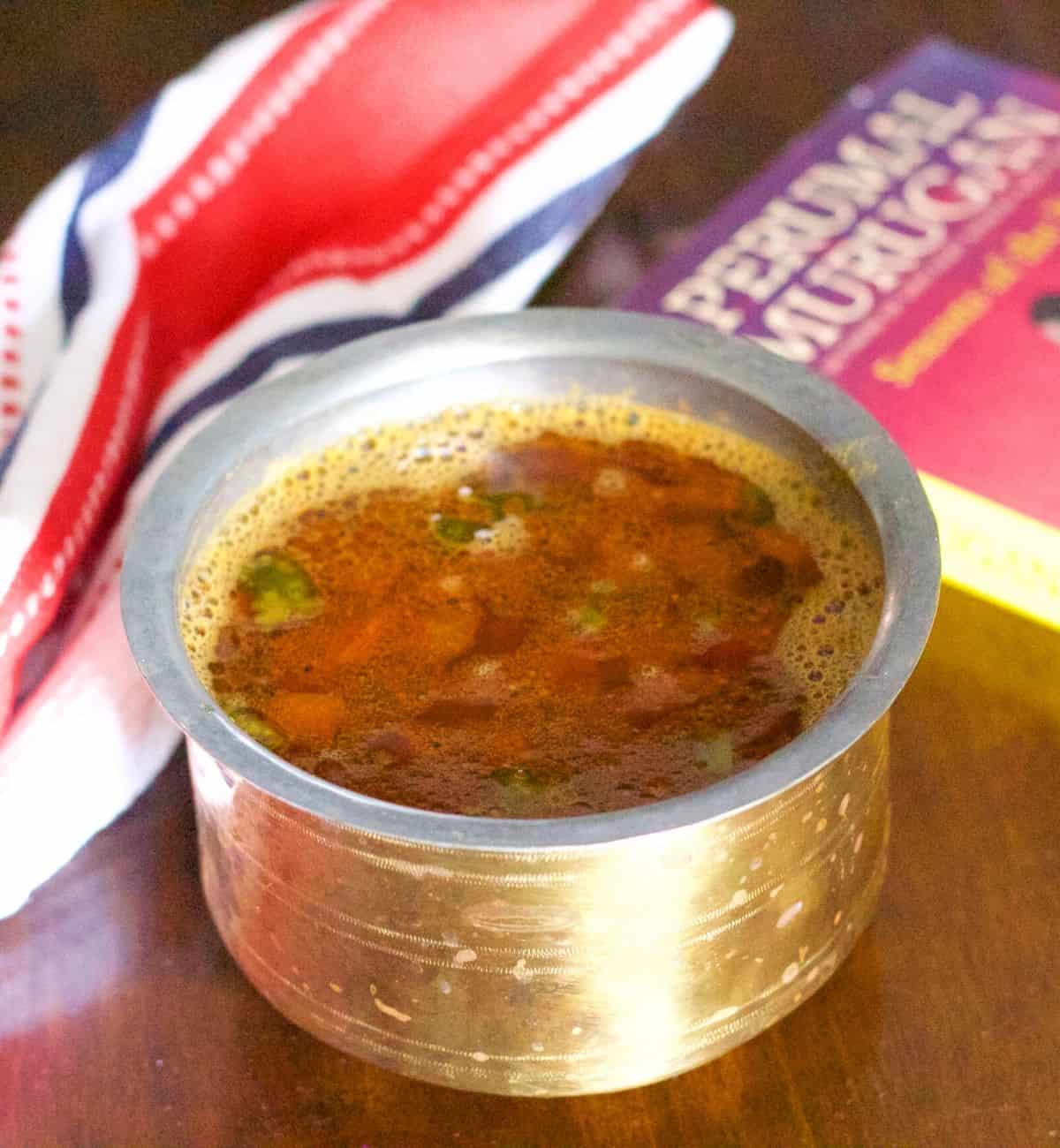 This is my go to dish - when I'm cooking in a hurry, or feeling a little low or there's a cold coming up, or I've been on a travel diet of roti sabzi dal, or when I get a foodie call from my tambrahm origins!
The rasam powder is homemade (from my Mom's recipe) and the link to the recipe is given below. Whenever I made it in my North Indian in-laws kitchen, my sister-in-law Kusum would savour several cups of the hot 'soup' !
Spiced with pepper and cumin and rich with juicy tomatoes, I prefer this delicious  rasam with hot rice and ghee and a dry sauteed poriyal/ sabzi.
Making Spicy Tomato Rasam
1. For an authentic Tamil cuisine Tomato Rasam, tamarind extract is cooked with rasam spice powder, asafoetida and tomato slices, till the raw smell disappears. A little cooked dal is then mashed and added to the tamarind extract. Adding rasam powder to dal is not the authentic Tamil way of making rasam.
2. The tomato slices can be gently squeezed before adding to the tamarind extract, to release the juices.
3. A little extra jeera / cumin powder and fresh ground black pepper, apart from the rasam powder, gives the rasam even better aroma.
4. Curry leaves have nutrient properties, as explained in this article here.  They invariably get left on the side of the plate as no one wants to chew on them. I therefore mince the curry leaves and add them both while boiling the rasam and in the ghee while tempering. Mincing helps ensure they are actually consumed and all the nutrients are taken in!
5. Quantities below are indicative, so please add more of the rasam powder for a spicier tomato rasam.
6. The Tadka / tempering of mustard seeds and cumin/jeera seeds is done with ghee rather than oil, for that special flavour.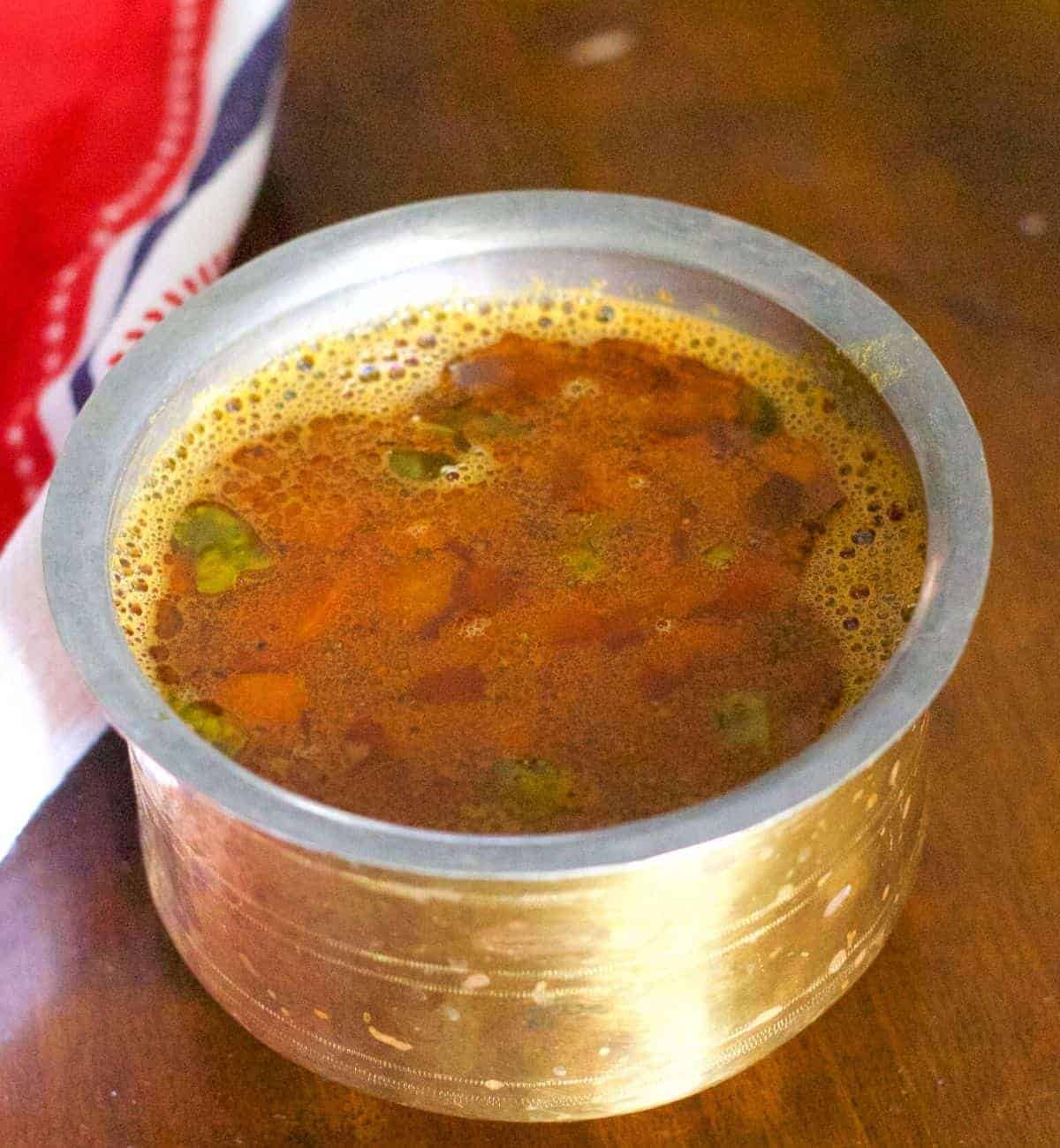 Homemade Rasam Powder:

Click here for the Recipe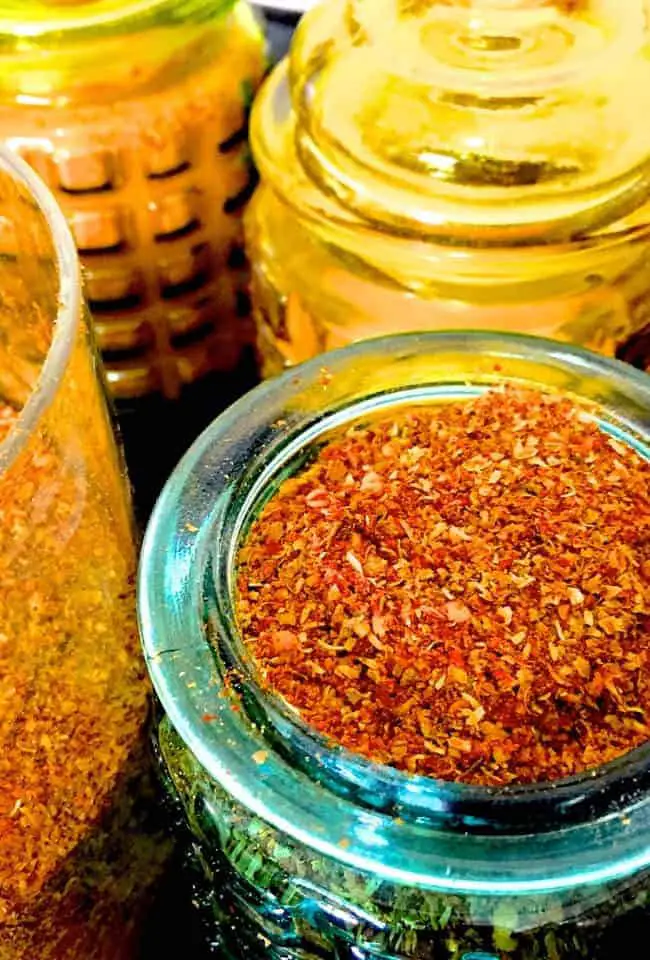 Other Rasam Recipes you may like from this blog: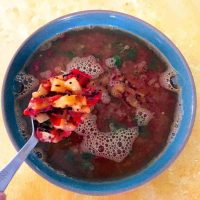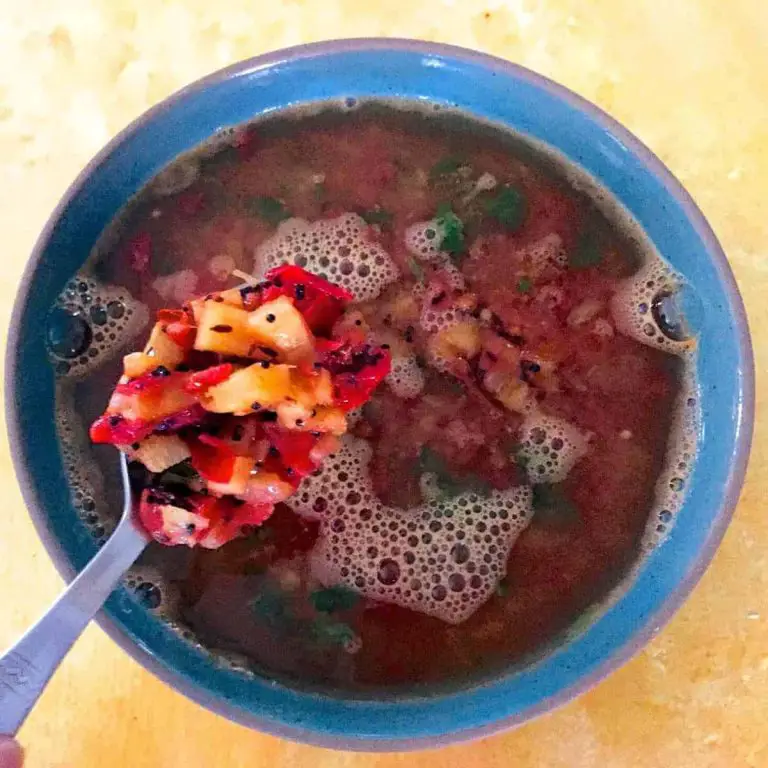 Neem Flower Raw Mango Rasam/ Mangai Vepampoo Rasam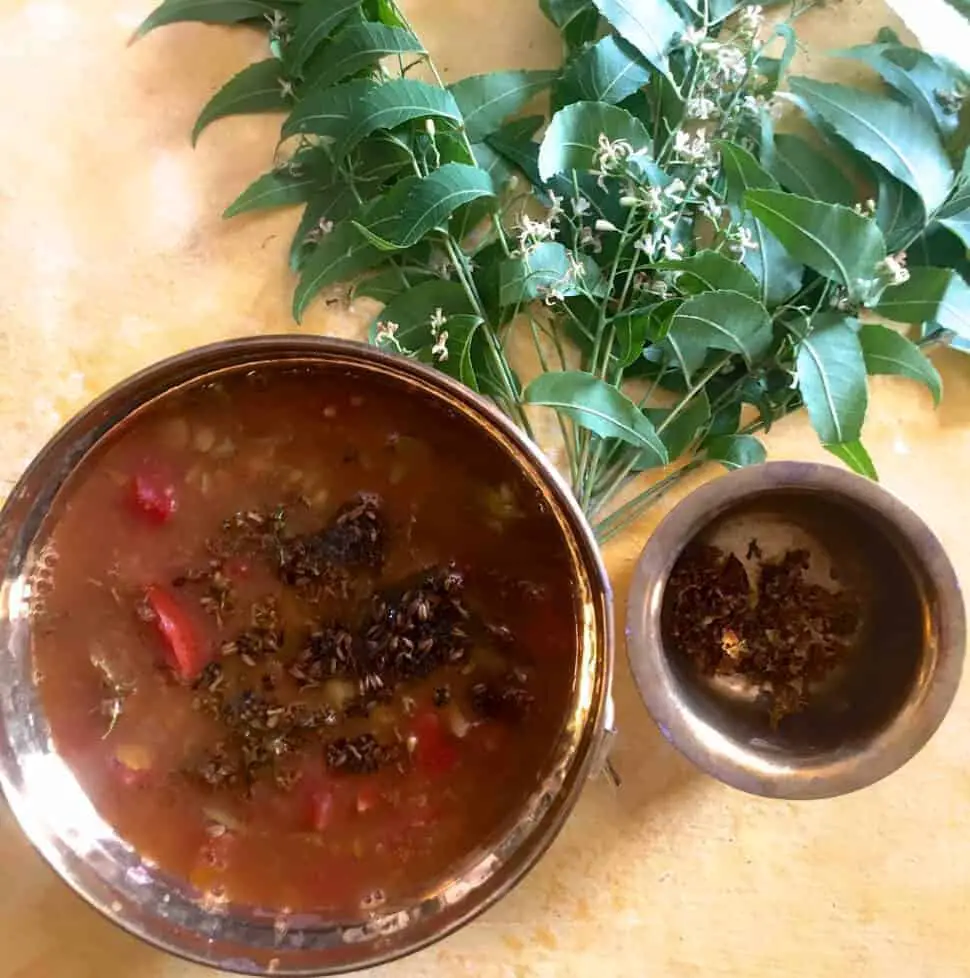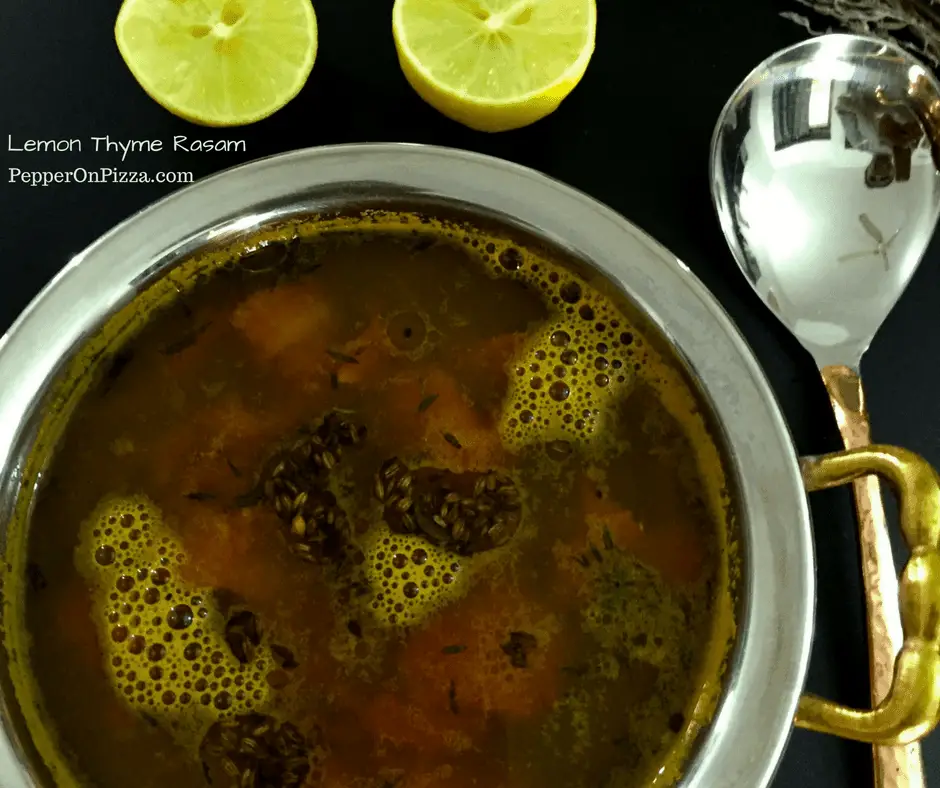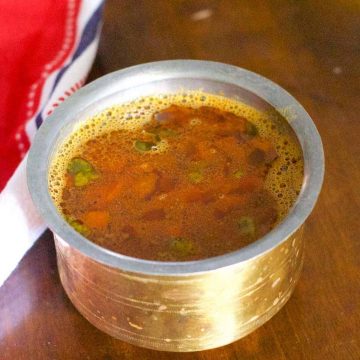 Spicy Tomato Rasam from Homemade Rasam Powder
Refereshing Tamil South Indian soup like rasam, made from tamarind extract, homemade spice mix, tomato and mashed lentils. Goes well with rice and as a soup too
Ingredients  
2

tablespoon

tamarind lump

/size  of a small Indian lemon

¼

teaspoon

turmeric powder

haldi powder

¼

cup

towar dal

arahar dal/ towaram paruppu/ split pigeon pea lentils

¼

cup

tomato slices

1 -2

tablespoons

rasam powder

click ingredient rasam powder for link to recipe

¼

teaspoon

cumin powder

jeera powder

¼

teaspoon

pepper powder

1

pinch

asafoetida

hing

a few

curry leaves

1

tablespoon

coriander leaves

minced

½

teaspoon

salt

or to taste

2 ½

cups

water

for tamarind extract, and for cooking the dal
For tempering:
2

teaspoons

ghee

¼

teaspoon

Mustard seeds

¼

teaspoon

Cumin seeds

a few

curry leaves
Instructions 
Preparation
Soak the tamarind (about the size of a large marble or a small Indian lemon) in 1 cup of water. It is best to roll it into a ball and then soak in water, so that it is easily discarded once all the juice has been extracted. It is not pleasant to bite into a sour piece of tamarind!

Soak the tamarind for 10 minutes

Wash the dal and add the turmeric powder. Pressure cook till the dal is soft, in 1 cup of water. I cook it for 2 whistles and then let the cooker let out steam by itself.

Slice the tomato, mince the coriander leaves and curry leaves.
To Make Tomato Rasam
Start once the cooker is ready to be opened.

Extract the juice of the tamarind by squeezing it in the water in which it is soaked. Strain the tamarind extract into a bowl, checking that there are no pieces of tamarind pulp or seeds, and pour into a pan and heat on the stove.

Add another ¼ cup of water to the tamarind pulp and squeeze out any remaining juice. Add to the pan on the stove. Discard the used tamarind pulp.

To the tamarind extract on the stove, add chopped tomatoes, rasam powder, cumin powder, pepper powder, asafoetida powder, a few minced curry leaves and salt.

Bring the rasam to a boil and then reduce the stove to low flame. Let the rasam simmer for 5 minutes on low heat so that the raw taste of the chili in the rasam powder disappears. By now the aroma would be wafting all around your kitchen!

Mash the cooked thowar dal in its own liquid so that the grains combine.

Pour the dal into the rasam along with ¼ cup of water. Bring to a boil, keeping it boiling for 2 minutes. Simmer on low flame for 3 minutes. Taste for correctness of salt.

Add the chopped coriander and remove from the stove.

Keeping the stove on low flame, heat ghee in a small tempering pan, add mustard seeds and let them burst. Add cumin seeds and after 10 secs, switch off the stove, quickly adding the chopped curry leaves. I love the crackle and aroma of fresh curry leaves in hot ghee!

Pour the ghee tempering on the rasam and keep the pan covered.

Serve hot with rice and ghee, a sauteed curry and papad.