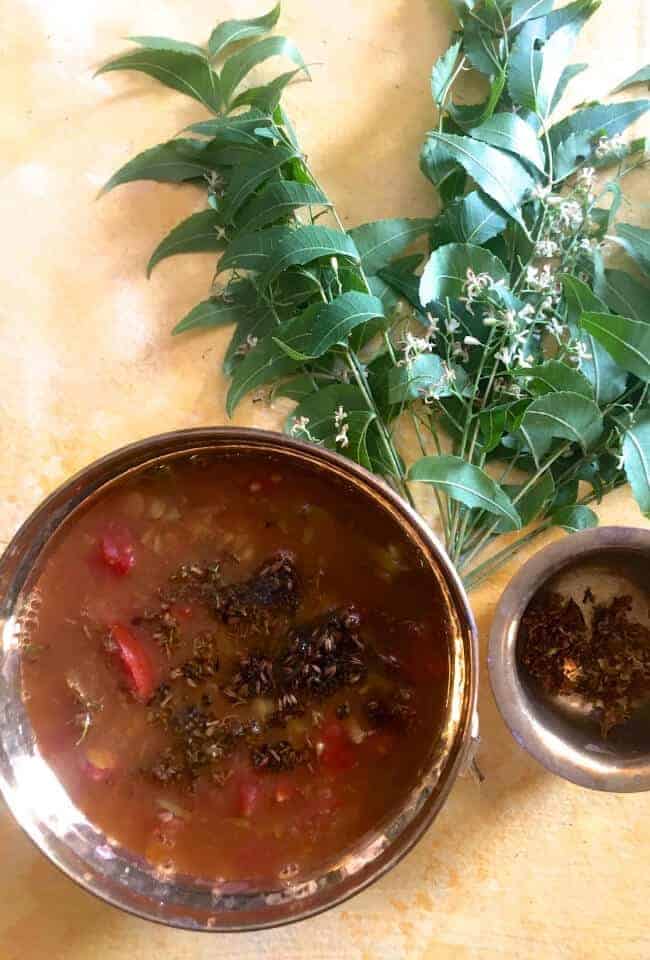 While making the Neem Flower Raw Mango Pachadi for Tamil New Year's Day some time earlier, I had a good quantity of the neem flowers and was therefore also able to make a Neem flower/ Vepampoo Rasam. Last week I manged to lay my hands on a bunch of fresh neem leaves and flowers. As I tested out the recipe once more, I had an 'Eureka' moment. Voila, the Neem flower Mango Rasam instead of with just the Neem flowers! It turned out so flavourful, I just had to share it with you all.
For readers not familiar with the 'Rasam', it is a South Indian main course accompaniment to rice. Soup-like, it is usually spicy and tangy as tomatoes and/or tamarind are ingredients in most versions. Several rasam recipes include cooked lentils (pigeon pea lentils/ towar dal) added to the tamarind extract and spices. In South India, where it originates, it is mixed well with rice and is had with vegetable side dishes.
There are a variety of rasam recipes on this blog that you may like to try, and links are given below this post.  I will be adding more such recipes in the days to come.
Making Neem Flower Mango Rasam
The 'Cook and See' or 'Samithu Paar' set of cookbooks by Smt S Meenakshi Ammal, is my Bible for all things related to traditional Tamil cuisine. Volume 1 had three varieties of the Neem Flower Rasam, but none for a Raw Mango Rasam. Two of the methods for the Neem flower/ Vepampoo rasam had dry red chilies in the ingredients list. I don't prefer red chilies in rasam, so I took the help of the 3rd version which used rasam powder.  Here is the link to the recipe for my homemade Rasam Powder, on this blog, and below, a link to the Cook and See books available online.
As the 'Cook and See' did not have a recipe for Mango rasam, I had to think about how I would include the mango, how long it needed to be cooked, whether to grate or slice it. Left to my own ingenuity I decided on a tried and tested formula - my own Tomato Rasam recipe, carefully tweaked to accommodate the Raw Mango and the Neem Flowers.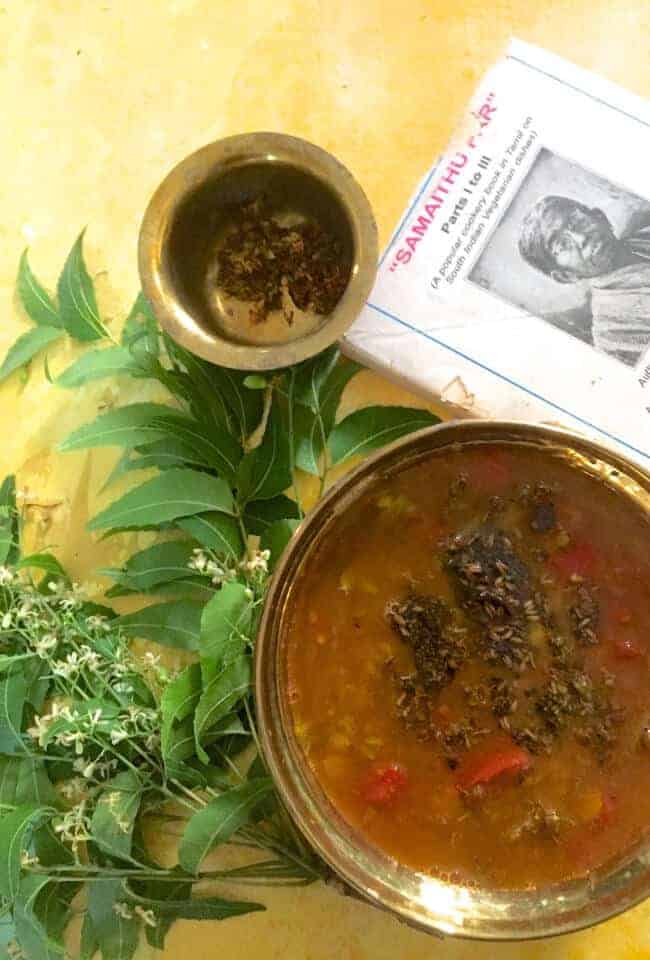 The first time I made the Vempampoo Mangai Rasam, it turned out very thick and too tangy, what with the raw mango and the tamarind and it needed further trials till I came up with a version which tasted good. I have given the recipe for a thinner, flavourful rasam, but you may add either a little more water or a little less, to bring it to  your taste.
How to use Margosa/ Neem Flowers for cooking
When you prepare the Neem Flower Mango Rasam, if you are lucky enough to get fresh neem blossoms, pinch each one carefully from the stem so that only the flowers are collected.
Wash the flowers gently by placing in a bowl of water for a few minutes. Remove them to a kitchen towel to pat them dry (again, gently!)
Heat ghee, as in the recipe below, and add the neem flowers you need for the rasam.
Saute, drain and transfer to a small airtight container, till required.
If you have surplus flowers, after washing them as above, spread them on a clean cloth or on a plate.
Dry the neem flowers in the sun for at least a day. You may dry them for one more day but be sure to bring them in before Sunset and then keep them out again next morning when the Sun is shining brightly again.
Store in the fridge in an airtight container, and use when fresh flowers are not in season.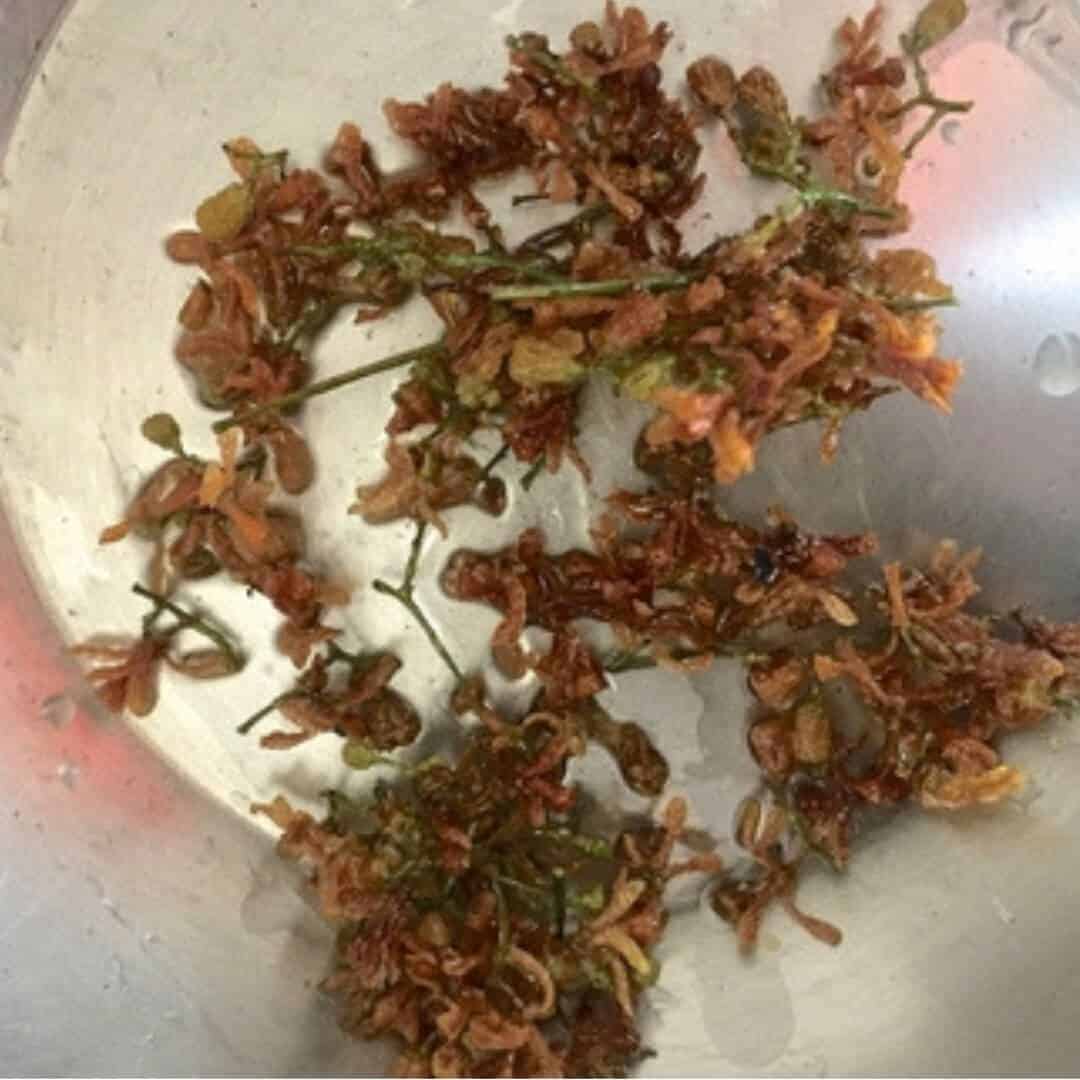 Neem Flowers fried in Ghee
Benefits of Neem Flowers
The Leaves, Bark, Flowers of the Neem tree have been used in India for centuries, in medicine, cosmetics, aromatherapy and cooking and nowadays as an organic pesticide. The Neem is considered to have many health benefits.
Many of these are yet to be tested and confirmed by the Western World, however Ayurveda and alternative medicine have extensively used the neem in health remedies. I found this article and its references, interesting.
In Ayurveda, Neem and its products are not advised for consumption during pregnancy.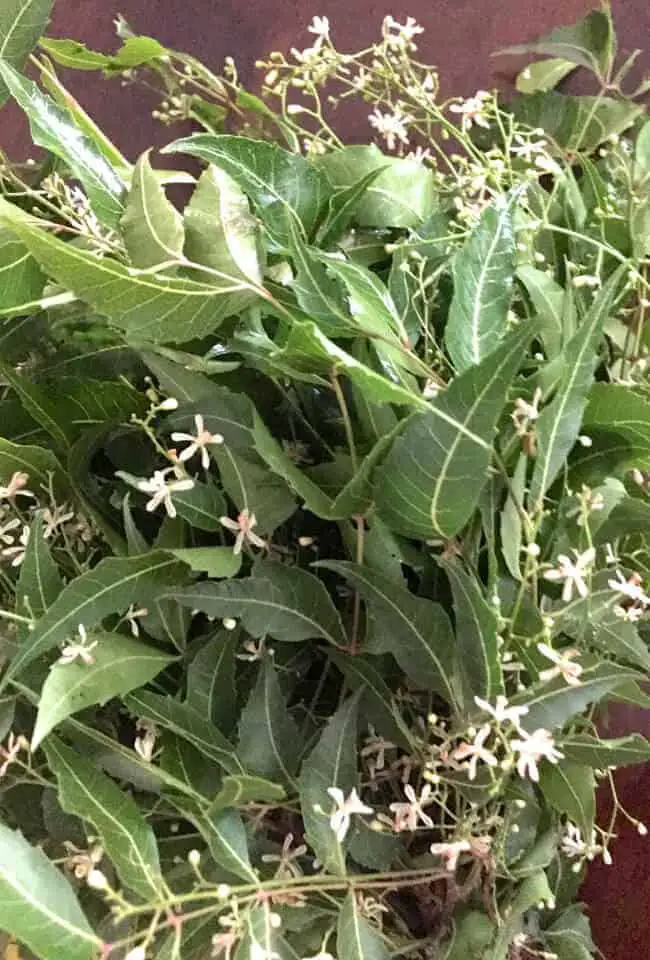 This is the season for both raw mangoes and the aromatic neem flowers. Make the best use of nature's bounty and try the Neem flower Mango Rasam, and let me know how you liked it!
Other Recipes you may like from this blog: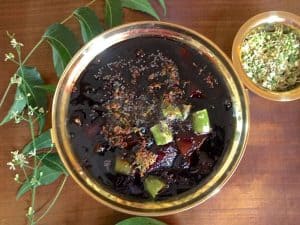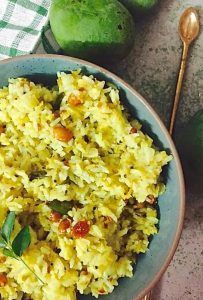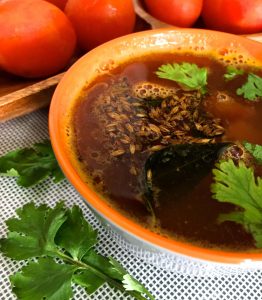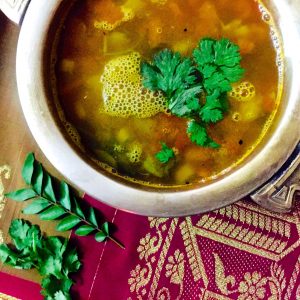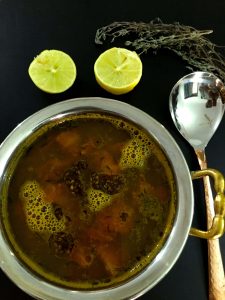 "Recipe"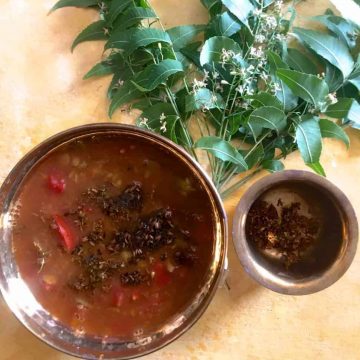 Neem Flower Mango Rasam/ Vepampoo Mangai Rasam
Easy Neem Flower Raw Mango Rasam from seasonal fresh neem flowers (or dry), green mango, tomato and tamarind extract. With homemade Rasam Powder. Tangy, spicy, gluten free and delicious, served with hot rice, papadum/ appalam, vathal and poriyal.
Ingredients  
For Neem Flower Mango Rasam
¼

cup

Thowar dal (thowarm paruppu) (Pigeon Pea lentils)

1

tablespoon

Tamarind pulp

or a gooseberry sized ball

2

cups

water

for soaking the Tamarind pulp

1

cup

Raw Green Mango

peeled and grated

1

cup

tomato

diced small

1.5

tablespoons

rasam powder

Check the recipe for homemade rasam powder on this blog

¼

teaspoon

Haldi/ Turmeric Powder

Divided as ⅛ teaspoon while cooking the dal and ⅛ while boiling the rasam, as per instructions below

¼

teaspoon

Cumin Powder/ Jeera Powder

1/16

teaspoon

asafoetida hing powder

one large pinch

¼

teaspoon

salt

or to taste

a

few

curry leaves

minced/shredded

1

cup

water

if required to thin down the rasam
For the Neem Flowers
1

teaspoon

ghee

1

teaspsoon

Neem flowers

fresh or dried
For the Tempering
2

teaspoons

ghee

¼

teaspoon

Black Mustard seeds

¼

teaspoon

Cumin (Jeera) seeds

a

few

curry leaves

minced/shredded
For the Garnish
1

tablespoon

coriander leaves

minced
Instructions 
Pressure cook Towar dal with a pinch of turmeric powder in 1 cup of water for at least 3 whistles or as much as required for the dal to become soft and mashable. Meanwhile, soak the tamarind in water for at least 15 minutes. (see ingredients list above) If the tamarind is soaked at the beginning, by the time the rest of the prep is done, it will be ready for the juice to be extracted.

Wash, Peel and Grate the Raw Mango. Set aside till required. Wash and dice the tomato into small pieces (about 1cm sq) Separate the neem flowers from the stalks. Heat one teaspoon of ghee and fry the flowers on low heat for about 1 minute or till they become crisp (but not burnt). Drain and transfer the flowers to a dry bowl, and keep aside till required. Mince the curry leaves and the coriander leaves (slice into very small pieces/strips). Extract the juice from the tamarind. I do this by squeezing the tamarind well, into the water in which it is soaked, so that the juice is extracted, and then drain the tamarind water into a clean bowl. Squeeze the leftover tamarind once more to extract any remaining juice, and then discard the pulp.

Set a pan on the stove on low heat, and pour the tamarind extract/ tamarind water into it. Add the grated mango and the tomato slices. Bring to a boil and then reduce to a simmer. Add the remaining ingredients in the list above for making Neem Flower Raw Mango Rasam, viz: rasam powder, turmeric powder, cumin powder, asafoetida, salt (go slow on the salt, you can always taste and add more later if required) and curry leaves

Again bring to a boil, and then reduce to a simmer. Cook till the mango is soft and cooked through (approx 5- 7 minutes from the time it began to simmer after adding all the spices.) Mash the cooked dal and add it to the rasam, with the water in which it was boiled. Stir. If the rasam is very thick and more like a sambar, add a little water (upto one cup at the maximum) Taste for salt and add a little more if required, as per your taste. Boil on medium to high heat for 3 minutes, letting it come to a rolling boil. Add the fried neem flowers and remove the pan from the stove.

Heat ghee for tempering (as in ingredients for Tempering, above) in a small pan. Add mustard seeds. Once they crackle, add cumin seeds, saute for 3-5 seconds till the cumin begins to discolour. Add the curry leaves (stand back as they tend to crackle if fresh, and ghee may spurt out of the pan) and immediately turn off the stove. Transfer the rasam to a serving bowl and garnish with coriander leaves. Serve hot with rice, a simple subzi, and papadum/ appalam.
Notes
Link to the Home Made Rasam Powder recipe on  this blog, is in the Post write up above.