Pathiya Milagu Jeera Rasam, or rasam spiced with pepper and cumin, is an essential item in Tamizh and South Indian pathiya samayal. Pathiya samayal does not refer only to the post partum diet, the balanced diet followed by new mothers for the first 40 days after delivery. It is also recommended for convalescents during a time of healing, after surgery or after illness such as typhoid, when the body is fragile and one wants to avoid chilies, oil and food that may be difficult to digest.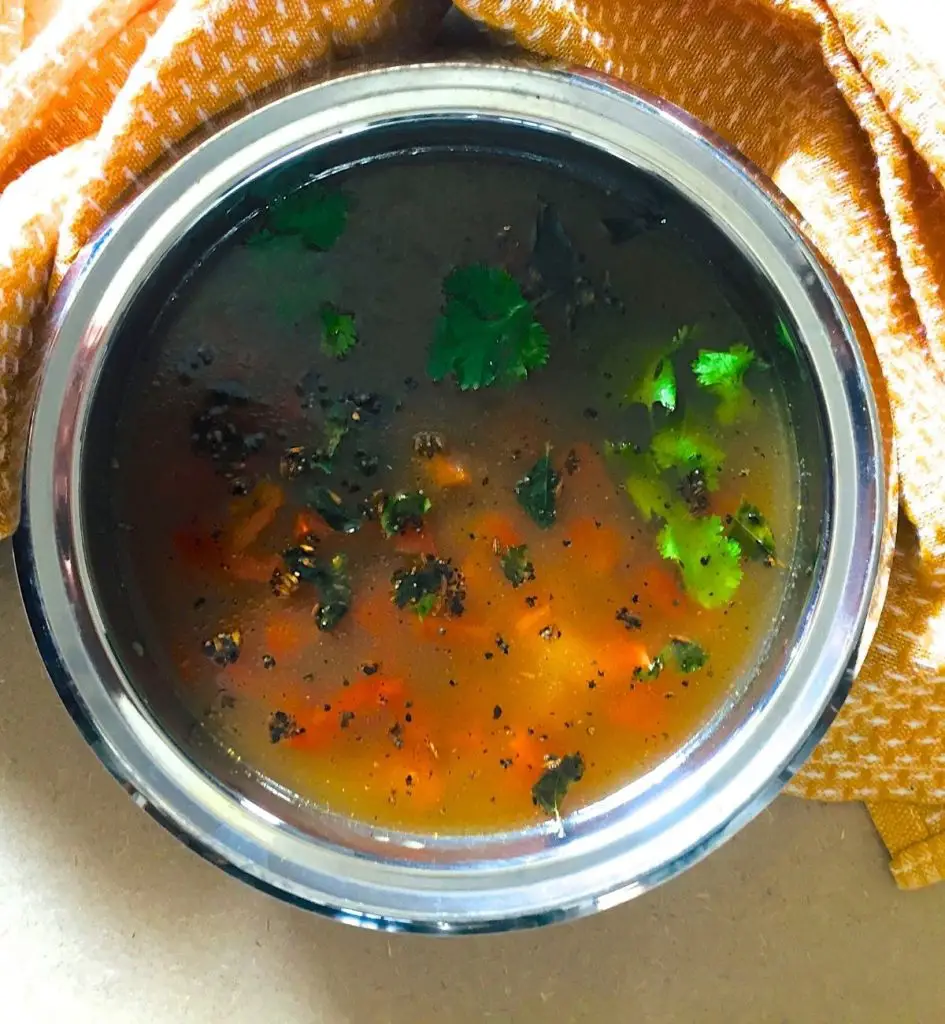 My post in this blog on Cooking for the New Mom is very popular and I often get queries as well as requests for more recipes to be followed during post partum or for facilitating in lactation. One recipe that many readers have been asking for is for pathiya rasam. There are several varieties/ flavours of rasam that may be included in this list and I hope to be able to share some of them with you, beginning with pathiya milagu jeera rasam.
In the Indian scenario it is usual for mothers, mothers-in-law, aunts etc to rally around to take care of the new born and her mother for at least the first 40 days after delivery. The new mom is able to focus on getting her health back to normal and on bonding with her child, while the kitchen is controlled by the elder ladies of the family. One request I have been getting very often in the past year is from young mothers-to-be from the Indian diaspora who are planning, along with their husband, to take care of the baby when it comes, as family are not able to travel overseas to help them at this time. These ladies have asked for podis (powders) and other items that they may prepare ahead of time, so that they/their husband save on cooking time once the baby is born.
The rasam podi/ rasam powder in this recipe for pathiya milagu jeera rasam is one such item. While it is always best to make this fresh as and when required, it may be made in advance and stored. In the recipe below, I have recommended that 4-5 times the volume of podi as given here, may be prepared and stored in the fridge. This will usually taste fresh for about a month, if care is taken to use a dry jar with an air-tight lid and a dry spoon any time the rasam podi is to be taken out. The preparation time and effort for making the rasam thus comes down.
How To Make Pathiya Rasam
The recipe as you can see below is really really simple. Boil water, add podi and salt, simmer, again bring to a boil, remove and add tempering.
Chilies/ chili powder are not normally recommended in post partum cooking.
During the post-partum diet, tamarind and tomatoes are generally avoided. However, for my daughters, after delivery, I have introduced just a little tamarind (about a quarter to half of the volume that I would have used for a normal diet) and a couple of slices of ripe tomato from about the 4th day after delivery, gradually increasing the usage in the following days. They add flavour to the food (plus the nutritional goodness from the tomatoes) and I have not found it to do any harm. The recipe therefore gives the option of adding tamarind or a small ripe tomato to the pathiya milagu jeera rasam. (For more information on nutritional aspects of tomatoes, please read this article from Healthline.)
One or two cloves of garlic may be crushed and added to the rasam (similar to adding tomatoes, before the water is set to boil). I have not specified it in the recipe as I will be giving separate posts for garlic rasam.
The curry leaves are best shredded and added for tempering. If left whole, they are usually discarded on the plate, and their nutrient values lost. Hence I always shred curry leaves when using them in cooking.
While making rasam powder it is conventional to dry roast the various ingredients before grinding them. For this rasam however, we do not roast them but directly powder/ grind them. The curry leaves are roasted (without oil) in order to reduce or remove the moisture content and bring them to a state most suitable for dry grinding into rasam powder.
The post on Cooking for the New Mom (link below) gives a detailed list of what is recommended or best avoided during the post partum period.
More Post Partum Recipes
More Rasam Recipes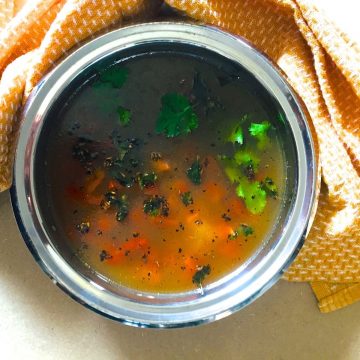 Pathiya Milagu Jeera Rasam For the New Mom
Easy postpartum recipe, this milagu jeera rasam from black pepper and cumin seeds is an important addition to the diet for the first 40 days after delivery. Can be made without tamarind and tomato or with the same.
Ingredients  
For Pathiya Rasam Podi / Rasam Powder
1 ½

teaspoons

Jeeragam/ jeera/ cumin seeds

3

teaspoons

Milagu/ kali mirch/ black peppercorns

1

teaspoon

Thowaram Paruppu/ thoor dal/ split pigeon pea lentils

5-6

Karuvapellai/ Kadipattha/ Curry leaves

Dry roasted to remove moisture

1

pinch

Manjal Podi/ haldi/ turmeric powder
For Pathiya Milagu Jeera Rasam
2

cups

Water

½

tablespoon

Puli/imli/ tamarind pulp

Optional- see introduction above on when to use tamarind in post partum diet

1

small

Tomato (ripe)

Optional- see introduction above on when to use tamarind in post partum diet

¼

teaspoon

Salt

or to your taste
For Tempering
2

teaspoons

Ghee

¼

teaspoon

Kadugu/rai/mustard seeds

½

teaspoon

Black pepper powder

freshly ground

½

teaspoon

Jeera/ cumin seeds

5-6

Curry leaves
For Garnish
1

stalk

Kothamalli/ dhaniya/ coriander leaves

minced
Instructions 
Preparation
If using tamarind (see introduction to this post), soak the tamarind pulp in 1 cup water for 10 minutes. Squeeze the tamarind to extract the juice, and discard the pulp (I reserve the discarded tamarind pulp for cleaning my iron kadai/ bandali and pressure cooker.)

Slice tomatoes if using.

Prepare rasam powder as in instructions below.

Mince coriander leaves or shred to bits and place in a small bowl of water to keep them fresh.
To Make Pathiya Rasam Podi / Rasam Powder
If the curry leaves are fresh, roast them on a hot pan (without oil) for a minute, stirring frequently, till they are dry. Dry curry leaves need not be roasted.

Other ingredients need not be roasted (see introduction to this post).

Add all the ingredients together and grind to a coarse powder. Store in an airtight jar.

4-5 times this volume may be prepared in advance for convenience, stored for upto a month in the fridge in an airtight jar, using a dry spoon to remove the rasam powder when required. If time permits, it is best to prepare the powder fresh as and when needed.
To Make Pathiya Milagu Jeera Rasam
Bring water to a boil.

Options: If using tamarind, add 1 cup water to the tamarind extract and bring to a boil. Similarly, if using tomato, add the sliced tomato to the water/ tamarind water and then bring it to a boil.

Add 1 tablespoon of pathiya rasam powder and ¼ teaspoon of salt to the boiling water. Reduce the heat and allow to simmer for 5 minutes.

Increase heat to bring the rasam to a rolling boil, and remove from the stove.
Tempering and Garnish
Heat ghee in a small pan. Add mustard seeds, wait till they crackle.

Add ground black pepper and jeera seeds, saute for 10 seconds.

Add shredded curry leaves. Pour the tempering into the rasam. Garnish with coriander leaves.

Serve hot with rice and poriyal.
Notes
Rasam  powder for Pathiya Rasam may be made ahead and stored in the fridge in an air tight jar.
Nutrition
Serving:
1
cup
Calories:
203
kcal
Carbohydrates:
25
g
Protein:
5
g
Fat:
12
g
Saturated Fat:
7
g
Cholesterol:
26
mg
Sodium:
627
mg
Potassium:
556
mg
Fiber:
7
g
Sugar:
7
g
Vitamin A:
1341
IU
Vitamin C:
213
mg
Calcium:
182
mg
Iron:
5
mg