A simple, easy salad, and yet with great flavour. Wondering why I am writing a recipe with just 3 ingredients, hardly calling for a full length post?  Well, this is no ordinary salad. It is a tasty little side piece in the cuisine of Meghalaya, accompanying the popular chicken, pork and other curries. The Khasi Black Sesame Radish Salad has to be tasted, to be appreciated. The black sesame or nei iong adds a flavour all its own.
In The Seven Sisters, Kitchen Tales from the North East, the cookbook credits the recipe to Zorampari Duncan Sanyu. There are many variants of the Radish sesame salad as you can see, if you search on the internet. However, to bring you an authentic version, I have conformed strictly to the recipe in the cookbook.
Making Black Sesame and Radish Salad:
Let me confess here, that my salad would not have exactly the textures of the original. Sesame has always been my undoing. All my attempts to make Tahini have met with dismal failure. A dry sesame powder would have been easy, but the recipe calls for a paste of black sesame. I ran it in  the food processor. And ran it. Yet again. And then gave up. Instead of a rich paste, I had a watery concoction with the sesame seeds broken, yes, but not defeated.  I am going to get myself a sil bhatta (flat grinding stone/ ammi kallu ) and then I will be able to make a decent sesame paste. One hopes!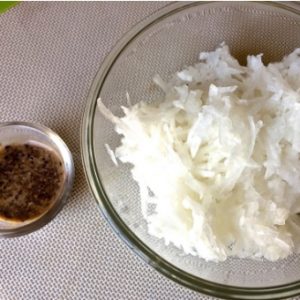 One other interesting Radish Sesame Salad, also from Meghalaya's cuisine, uses Khasi Perilla Seeds. These look rather like white sesame (til seeds or ellu seeds) but are different and are native to Meghalaya. While researching Meghalaya cuisine I learnt that the Perilla and the black sesame are  popular in the State, and are incorporated in most recipes. Click on the link to read more about the Nei-lieh or Khasi perilla seeds
The Khasi Black Sesame Radish Salad tasted very flavourful. The white radish was fresh and somehow not as pungent as usual. The black sesame seeds give the salad an amazing taste, difficult to describe. You have to make and try the flavours and aroma for yourself.
About the Shhhh Cooking Secretly Challenge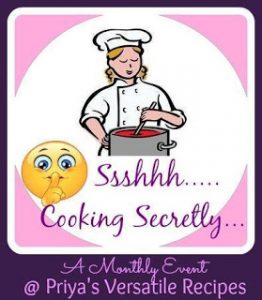 As you may have read on this blog, I'm a member of the FB Group, Shhh Cooking Secretly. The group was started by Priya of Priya's Versatile Recipes, and is now administered by Mayuri Shah of Mayuri's Jhikoni. The theme for Feb 2019 is Meghalaya. We have been cooking our way through the Indian States, in alphabetical order, and it has been an enriching experience. The Khasi Black Sesame Radish Salad, though simple, is typical of the region.
My partner for the month is Prathima Shivraj. She and I are partnered for the first time, and we struggled together, trying to find suitable veg recipes for the theme. The final ingredients we decided on for me, were, radish and salt.  For Prathima, the secret ingredients were, garlic and tomato. Using these, she made a delicious Roasted tomato chutney.

Prathima blogs at Prathu's Food. Do visit her site- there are several breakfast and dessert recipes, varieties of rasam, sambar recipes, rice varieties, and many others.

I am not going to describe Meghalaya and its food, as all I know of it is only what I have read. Soon however, I hope to travel the North Eastern States. I can then bring to you my experiences and understanding of it's unique cuisine.
This is the cook book I have referred to for recipes from India's North Eastern States.
The above is an affiliate link to  a product. This means that, at no additional cost to you, I will earn a small commission if you click the link and make a purchase through it. I only promote brands and products that I trust.
If you liked this recipe, here are some more Indian ones you may like:
Assamese Aloo Pitika: Assamese Mashed Potatoes in Mustard oil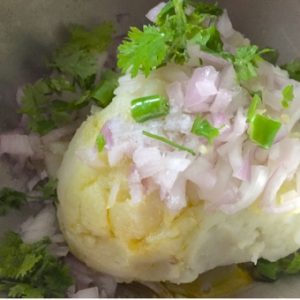 Kothavarangai Paruppu Usili: Cluster Beans Dal Paste Curry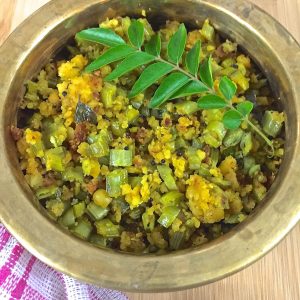 "Recipe"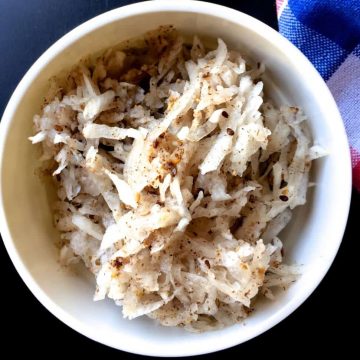 Khasi Black Sesame Radish Salad: Meghalaya Salad
Black Sesame Radish Salad, a quick and easy Khasi recipe from Meghalaya. Vegan and Gluten free, the salad uses just three ingredients. Big on flavour and taste, it is a popular accompaniment to the largely meat based dishes of the region.
Ingredients  
1

tablespoon

Black Sesame/ Nei iong

1

cup

white radish

Peeled and grated

a

pinch

salt

1/16 teaspoon or to taste

½

tablespoon

water
Instructions 
Heat a small pan and roast the black sesame seeds on the dry pan. Keep the heat on low and stir frequently for 2 minutes or till the seeds begin to crackle and you get the aroma of the sesame. Transfer to a bowl and let it cool. Wash, peel and grate the white radish. Set aside till required. Grind or process the roasted sesame with very little water (upto about ½ tablespoon), into a paste.

Wash, peel and grate the white radish. Set aside till required. Grind or process the roasted sesame with very little water (upto about ½ tablespoon), into a paste.

Pour the sesame paste into the grated radish. Add a pinch of salt and taste for seasoning. Serve immediately with your main dishes.