I have a small pot of rosemary and one of basil growing in my balcony, so naturally I had to use some in the dressing!

A tangy dressing offset by the pomegranate in the salad. Shredded fresh green lettuce, chunks of red, yellow and green sweet peppers, firm green and orange tomatoes and sharp red radishes along with scallions sliced fine and a scattering of tiny pieces of shelled walnut, give this salad its medley o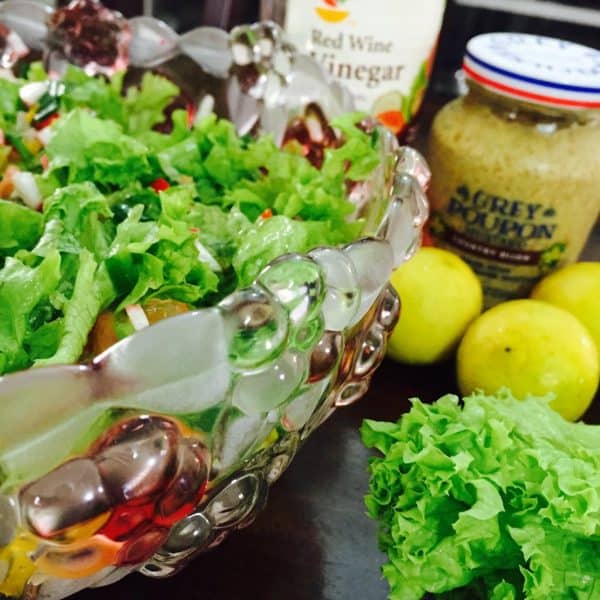 | | |
| --- | --- |
| | |
Dice all the ingredients for the salad, except the lettuce and scallions, into small cubes. Wash and scrub the radish well and dice without peeling it. Finely slice the bulbs and the shoots of the scallions.

Add all the vegetables into your favourite salad bowl. I like to use glass bowls which show off the jewel like colours of the salad. Add the pomegranate ariels.

Wash the lettuce, shred into pieces and dry in a salad spinner or pat dry. Keep aside.

Squeeze the juice from the lime ( about 1.5 tbsp).

Add a slit red chilli, finely chopped ginger, two large fresh basil leaves ( or 1/4 tsp of dry basil) shredded into tiny pieces, a few rosemary leaves torn into bits.

Add salt to taste and freshly ground pepper (1 tsp)and stir the mixture well.

Add 1/4 tsp lemon zest and 1/4 tsp orange zest.

Add 1/4 tsp mustard paste, blend it into the mixture.

Pour 1tbsp of red wine vinegar and stir,

Add 1 tbsp of extra virgin olive oil slowly into the lemon vinegar dressing, and beat with a fork till it blends.

Pour half the dressing over the salad. Mix the dressing into the salad with your fingers so it spreads evenly.

Add the pieces of walnut and the lettuce.

Cover and chill in the refrigerator till required.

Just before serving, pour the remaining dressing on the lettuce, gently mix with your fingers so the lettuce is covered with the dressing.

Serve immediately with chunks of toasted bread or foccacia.