A fragrant traditional rice dish from Eastern Uttar Pradesh in India, Matar ki Tehri - made with seasonal Green peas cooked with Basmati rice, subtly spiced and flavoured with Desi Ghee.
Having married into a family from Eastern UP,  I've been making my own version of Vegetable Tehri and Matar ki tehri, for many years. However when I wanted an authentic recipe for Tehri, I turned to my sister  in law Kusum Dutt for these step by step instructions.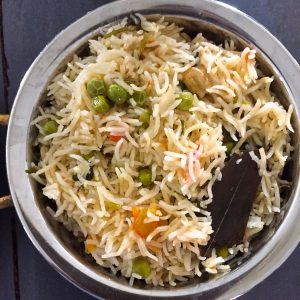 As Kusum explained, there are two versions of Tehri: one is made with potato, carrot and cauliflower and using haldi (turmeric) and the other is the one I'm relating here, that is made with green peas and where turmeric is not added. With peas being plentifully available now, this is a great one pot easy to make dish. Serve the Tehri with a simple boondi raita and with marinated and fried slices of eggplant.
Click for the Link to Recipe for:  Boondi Raita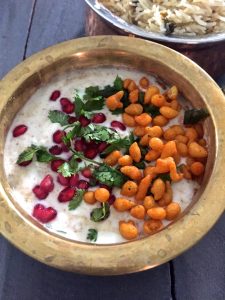 Matar ki Tehri - Kitchen Hints:
I have made the  Matar ki Tehri in a pressure cooker, but a thick bottomed pan would be good too, though you need to check that the rice doesn't 'catch' at the bottom of the pan.
Be sure to use Basmati Rice and Desi Ghee, it makes all the difference to the flavour. The aroma wafting through the house as you cook, is a reward by itself.
For a vegan version, substitute a mild flavoured vegetable oil (olive oil or sunflower oil) for the Ghee, and reduce the quantity of oil to 1 tablespoon.
The rich taste of the matar ki tehri was enhanced by the fresh zero pesticide Roma tomatoes from First Agro Farms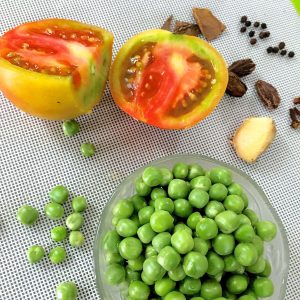 Use whole spices, fresh coriander leaves and equal volumes of raw rice and peas, to get that 'authentic' taste. Spices of good quality will add to the flavour and aroma.
SaveSave
SaveSave
SaveSave
SaveSave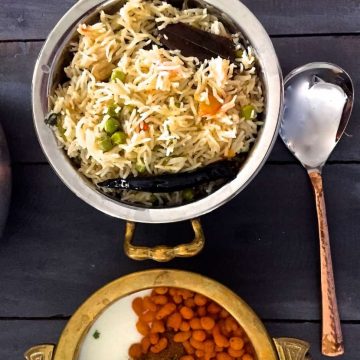 Matar ki Tehri UP Style – Green Peas cooked with Rice and spices
Matar ki Tehri - A fragrant rice dish from Eastern Uttar Pradesh in India, made with seasonal Green peas cooked with Basmati rice in Desi Ghee and subtly spiced with whole Indian spices
Ingredients  
1

cup

basmati rice

1.5

cups

water

to soak the rice

4 - 5

Cloves

½

inch piece

cinnamon

8 - 10

black pepper

2 - 3

Big Black cardamom

Badi Elaychi

1

dry red chilli

3 - 4

tablespoons

ghee

Vegan version: sunflower or olive oil 1 tablespoon

¼

cup

Onions

sliced

¼

cup

tomato

sliced

½

inch piece

ginger

minced

1

cup

Green peas

¼

cup

coriander leaves

minced

1

Bay leaf

Tej Patta

2

cups

water

to taste

salt
Instructions 
Preparation: Wash and soak the rice for 1 hour before you plan to cook. Slice /mince the onions, tomatoes, ginger and coriander leaves. Soak the peas in a cup of water. I find it helps them cook faster as well as retain some of that 'plump' look.

Heat ghee in the pressure cooker or thick bottomed pan. Add all the whole spices and red chilli and sauté for 2 minutes on low flame

Add onions, sauté on low flame for 2-3 minutes till they begin to brown. Add Ginger, sauté for 10 secs

Add tomatoes, sauté for 1 minute Drain and add the peas. Stir. Add the minced coriander leaves. Add Bay leaf, stir.

Drain the rice and add. Add salt to taste. Add water, stir. Pressure cook till 1 whistle on high and then simmer on low flame for 3-4 minutes

Turn off the stove and let the cooker release steam and  open on its own so that the Tehri is nicely cooked. It is best to move the cooker away from the hot gas ring once you switch it off, so that the rice cooks in its own steam, without burning and catching at the bottom of the pan.

Serve hot, with raita and with slices of brinjal marinated in turmeric and salt and deep fried.