In the heat of the Indian summer, pakhala bhaat is comfort food, cooling and healing. A simple recipe of cooked rice, water and curd, flavoured with fresh ginger, mango ginger (amada) and fresh chili, tempered, in the chunka version, with cumin seeds, dry chili and curry leaves in mustard oil, the chunka dahi Pakhala is left to ferment overnight and eaten next day. Leaves and juice of Gondhoraj Lebu enhance the taste.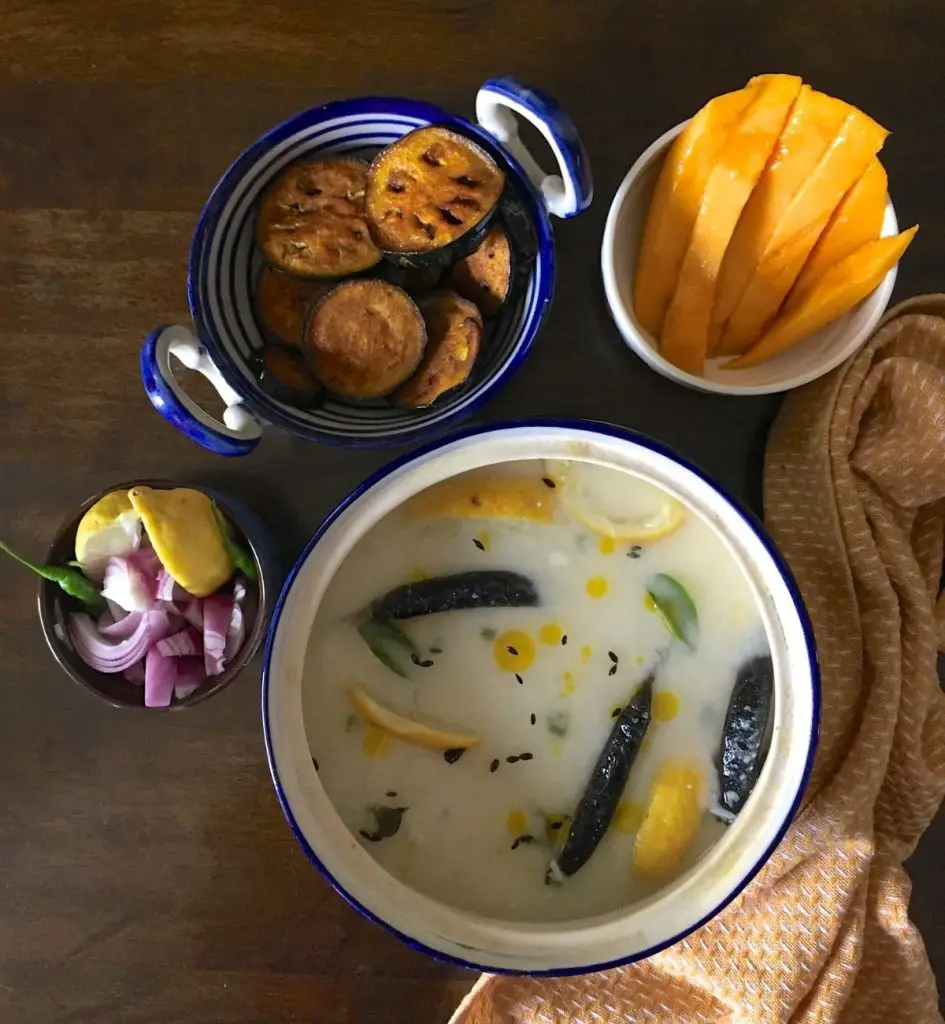 I have broadly followed the recipe in this video by Chef TZac (Chef Thomas Zacharias), with some changes both in the ingredients and quantities. Thanks to Kevin Fernandes-Prabhu for directing me to this video, just when my mind was on food to beat the summer heat with. A batch of fresh mango ginger/ amada as well the last of my hoarded Gondhoraj Lebu (the King of Limes found in Bengal and Odisha) rounded off the ingredients list for the pakhala.
What is Pakhala Bhaat?
Rice soaked in water, is a traditional dish prepared across India, with the basics being cooked/ left over rice, water, sometimes curd, and salt. The rice may be seasoned, flavoured with different ingredients, had fresh or allowed to ferment.
In Tamilnadu we know this as pazhaya sadam (literally, old rice or leftovers). In those days before the refrigerator became integral to our households, this was one method of preserving left over food. I remember my mother adding water to left over cooked rice and leaving it covered, overnight. Buttermilk or curd would be added next day to make curd rice. The fermented curd rice would be enjoyed with pickles such as dry salted lime/narthangai or mavadu (small mangoes pickled in chili powder and salt) or with fried mor milagai (dried curd chili).
In West Bengal, a similar dish is known as panta bhaat while in Assam it is relished as poita bhaat or ponta bhaat. In Bihar it is known as geel bhaat (wet rice) and in Andhra Pradesh as chaddannam. The panta bhaat is a regular feature in the menu for Poila Baishakh or Bengali New Year's Day. Songs have been made up about this delicious rice. All versions involve adding water to cooked rice, with different flavours/ seasonings.
The temple to Lord Jagannath at Puri, Odisha, has several types of pakhala in its list of Chappan Bhog offered daily to the deities. I have described the Chappan Bhog in detail as well the food offered to deities in some of India's ancient and popular temples, in my book, Bhog Naivedya, Food offerings to the Gods.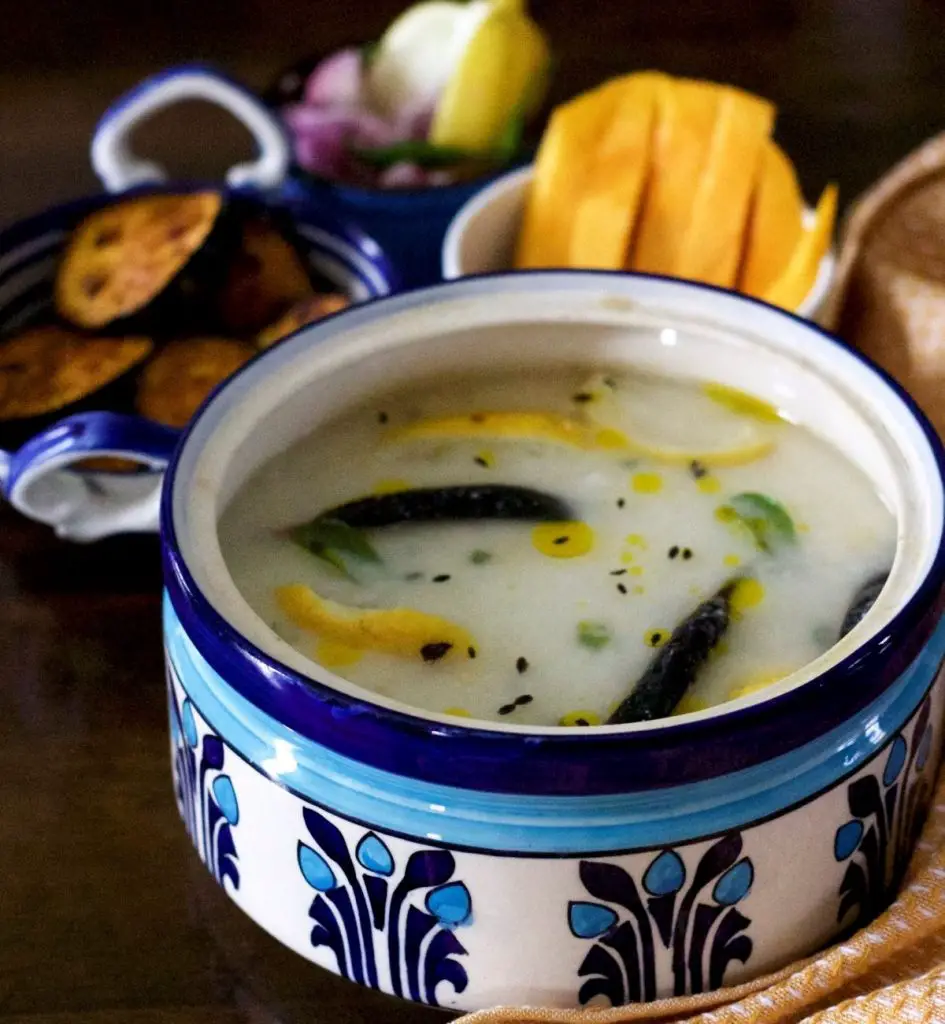 How is Dahi Pakhala Bhaat Made?
I have chosen to write about Chunka Dahi Pakhala as it is one of the most elaborate forms of this otherwise simple dish of cooked rice and water.
The methodology is simple, though we need to factor in two resting times: one for the cooked rice to cool completely, before we add water, curd, ginger, chilies etc. This lower temperature helps to create the preferred environment for the 'good bacteria' that we want to invite into the dish during fermentation. Further, the prepared rice has to be allowed to ferment overnight or at least 10 hours for the process to be complete. Hence the finished dahi pakhala is ready to eat only the next day after we first cook the rice.
Salt is added only after fermentation and not while cooking or mixing the rice, as it can otherwise slow down the fermentation process.
Traditionally parboiled rice was used for making pakhala at homes, with raw rice for festivals and in temples.
Traditionally left over rice was used for chunka dahi pakhla or for any pakhala bhaat. The recipe here provides for raw rice to be cooked specifically for the dish in order that proportions of ingredients are clear. Hence left over cooked rice may be substituted for the rice below.
Substitutions For Some Ingredients:
If amada/mango ginger is not available, raw mango may be added instead, as in the recipe below. The quantity may be reduced as mango ginger has a very subtle mango flavour, while raw mango is more tangy and may overpower the taste.
Mustard oil is traditionally used for tempering the pakhala. If it is not preferred, the alternative is to use a mild flavoured vegetable oil like sunflower oil. This would of course change the flavour profile of the dish.
If mustard oil is not used, mustard seeds may be added to the tempering as explained in the recipe below.
Gondhoraj Lebu - the juice and leaf, bring that gourmet effect to the dahi pakhala. It may be substituted with regular lemon or with kaffir lime (juice and leaf), again with some difference in flavour.
Related Recipes You May Like
"Recipe"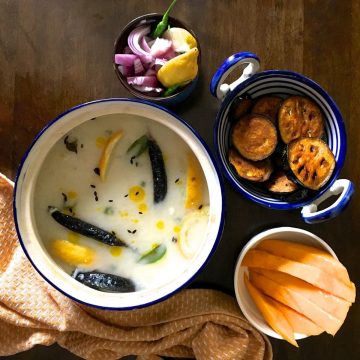 Chunka Dahi Pakhala/Odia Fermented Rice with Water and Curd
Traditional Odia recipe for cooked Rice fermented over night with water and curd along with fresh ginger, amada/mango ginger or with raw mango and chilies. Tempered with cumin seeds, curry leaves, red chili and flavoured with the juice of Gondhoraj Lebu. Comforting and cooling in India's summer heat. Served with a variety of sides from Odia cuisine. Similar to Panta bhaat, Pointa bhaat, Gheel bhaat, Pazhayasadam in different regions of the country.
Ingredients  
For Cooking the Rice
1

cup

Raw Rice

Short grained raw rice or else Parboiled Rice

4.5

cups

Water

For boiling the rice
For Chunka Dahi Pakhala
1

cup

Water

To help cool the cooked, strained rice

1

inch

Ginger

Peeled, minced

2

Green chilies

or to taste, sliced

2

tablespoons

Amada (Mango Ginger)

or 1 tablespoon of Raw Mango, peeled, sliced

2-3

Curry leaves

½

cup

Curd

1

cup

Water

or as much required to cover the rice to about 1" from the surface

1

Gondhoraj Lebu Leaf

or Kaffir Lime Leaf or regular Lemon Leaf
For Chunka/ Tadka/ Seasoning
1

teaspoon

Mustard oil

or a mild flavoured vegetable oil like sunflower oil

½

teaspoon

Mustard seeds

optional - only if mustard oil is not used

½

teaspoon

Cumin seeds / jeera

4

Dry Red chilies

or to taste

1

sprig

Curry leaves

8-10 leaves
After Fermentation
1

teaspoon

Salt

or to taste

½

Gondhoraj Lebu/ King Lime

Juice and slices from ½ a Gondhoraj Lebu or else 2 teaspoons of lemon juice from regular lemon
Instructions 
For Cooking Rice
Bring water to a boil. Add washed/rinsed rice. Do not add salt as it could slow down fermentation.

Again bring to a boil on high heat and then reduce heat. Allow to simmer on low heat for about 15 minutes, till rice is cooked through. Stir and check periodically whether water is adequate and rice does not burn. Cooking times differ so best to check from 10 minutes onward whether rice is done. The rice should be cooked, soft but with a bite to it and not mushy.

Strain the rice and retain the water (we will use it for making the dahi pakhala). For 1 cup of rice cooked in 4.5 cups of water, I got about 5 cups of cooked rice after straining, and about 1 cup of strained water.

Add a cup of water, cover and set the strained rice aside to cool (for about 1 hour) at room temperature - do not refrigerate.
Preparation
Peel and slice ginger and mango ginger/amada (or raw green mango if using). Slice green chilies, shred curry leaves. Pound the ginger, mango ginger and chili slices together in a mortar and pestle along with 2-3 curry leaves.

If using a mixie/processor, crush them coarsely without making a chutney out of them. We want to retain some texture.
Making Chunka Dahi Pakhala Bhaat
Once the strained rice has cooled completely, add the coarse pounded ginger, chili and mango ginger.

Add the rice water (strained from the cooked rice). Stir

Add curd, stir.

Add sufficient water to cover about an inch more than the surface of the rice. Stir.
Making Chunka/ Tudka/ Seasoning
Heat mustard oil in a small pan. Mustard oil is the traditional oil used in Odia cusine for this reicpe. Alternatively, a mild flavoured oil like sunflower oil may be used, though it will give a different taste to the dish.

If not using mustard oil, add mustard seeds, let them burst. (This is not required if mustard oil is used).

Add cumin seeds, saute. Add dry red chilies, saute for 30 seconds. Add curry leaves and pour the tadka/ seasoning on the prepared rice.
Allow Rice to Ferment
Cover the seasoned rice and allow it to ferment at room temperature overnight or for at least 10 hours.
After Fermentation
Once the time for fermentation has been completed, add salt and stir it in. I used 1 teaspoon, but you may like to check the seasoning first with ½ teaspoon, and then add a little more if required.

Squeeze slices of Gondhoraj Lebu (or regular lemon if using) over the Bhaat, and drop the used slices too into the dish.

The Chunka dahi pakhala is now ready.

Pakhala is served with a variety of Odia dishes such as fried or dry fish or shrimp or other sea food, bhaja (fried vegetables), saaga (sauteed greens), aloo poda (mashed seasoned potato), badi chura (fried badi/ sun dried lentil rounds, crumbled and mixed with onion, green chili) along with lemon, raw onion and green chili
Nutrition
Serving:
2
cups
Calories:
304
kcal
Carbohydrates:
60
g
Protein:
7
g
Fat:
4
g
Saturated Fat:
1
g
Cholesterol:
5
mg
Sodium:
929
mg
Potassium:
353
mg
Fiber:
3
g
Sugar:
6
g
Vitamin A:
672
IU
Vitamin C:
120
mg
Calcium:
105
mg
Iron:
1
mg