Most often when I order Vegetables online, the lemons that are supplied are small and quite pathetic. I was happy when the veggies delivered yesterday included 3 large lemons. I could squeeze more than enough lemon juice to make this sharp and tangy lemon rice today, garnished with fried peanuts and fresh cilantro. I usually fry papads to accompany lemon rice, but today we just had the lemon rice with freshly made potato chips from the handy Hot Chips near my apartment.
When we were young, long train journeys were the order of the day, as we vacationed in Tamil Nadu, far away from our home at Kharagpur. One of the invariable dishes that my Mom made and packed for these journeys, was lemon rice which she packed in banana leaves into individual parcels. A bag full of broken papad pieces added to the enjoyment of lunch or dinner!
Later on when I learnt to make a tasty lemon rice, I followed the tradition of packing the rice for train journeys or when travelling a long distance by road. Potatoes diced small and fried to perfection, were the best accompaniment. The rice also came in useful on days when the weather was hot and humid and I didn't want to spend much time in the kitchen. A quick and easy lemon rice went well for lunch on those days.
Click for the Link to my recipe for Potato Fry 
Recently the lemon rice again came to my rescue, when we had to leave home early on days when Pramod had to undergo chemo at the hospital an hours ride from home. It was easy to make and stayed fresh the whole day, and it was one of the few foods he was able to eat with some relish during those difficult times.
Lemon Rice is almost a fast food now, and yet retains health benefits and can perk up the appetite with its tangy fresh flavours.
This dish packs a lot of flavour by itself, so you don't need to use basmati. I use a locally available brand of Premium raw rice which is not long grained, and it looks and tastes perfect.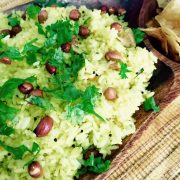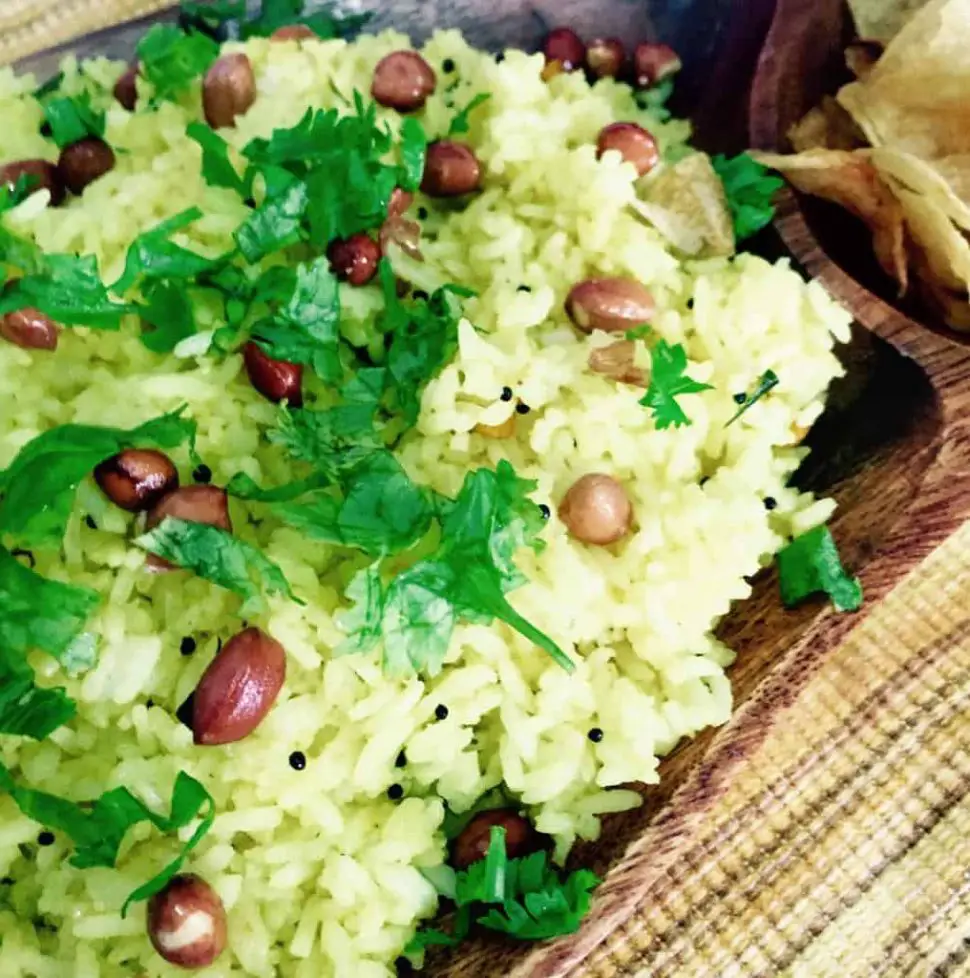 Tangy Quick Lemon Rice
Tangy tasty lemon rice: rice cooked and mixed with lemon juice tempered with mustard seeds, chillies, turmeric and curry leaves, garnished with fried peanuts. Serve with a simple potato curry and pappad.
Print Recipe
Ingredients
For Lemon Rice
2

cups

raw rice

3

tbsps

lemon juice

2

tbsps

sunflower oil

½

teaspoon

Mustard seeds

¼

teaspoon

Fenugreek seeds

-

methi

¼

teaspoon

split bengal gram

-

channa dhal

½

teaspoon

ginger

-

minced

1

green chilli

a few

curry leaves

¼

cup

raw peanuts
For the garnish:
1

tablespoon

coriander leaves

¼

cup

raw peanuts
Instructions
Cook the rice in a pressure cooker for one whistle and using just enough water for it to cook. The rice grains should be seperated and whole, and not mushy.

While the rice is cooking, squeeze juice from the lemons, discard the seeds. I like the way Jamie Oliver squeezes lemons, using his fingers as a strainer so he holds the seeds back. When I do it with one hand, however, one or two seeds do manage to slip past my finger guards, and then need to be fished out with a spoon! Squeezing with one hand and straining the juice through the fingers of the other hand, works well though! (Check it out on Jamie's Wednesday Wisdom One Minute Tips on "how to get the most out of your lemons.")

I digress. So back to my Lemon Rice. Slice the chilli, mince cilantro leaves and ginger

Heat the oil, sauté all the peanuts (including the ones for the garnish, ie totally about ½ cup) for about 2 minutes till they darken and begin to split. Transfer the peanuts to a dry bowl.

To the remaining oil, add mustard seeds, let them crackle. Add fenugreek seeds, channa dhal, green chillies, ginger, turmeric powder and curry leaves - one by one, giving each a few seconds to sauté.

Switch off the stove and add salt to the fried condiments, stir gently so it dissolves. You could add the salt directly to the cooked rice, but it's difficult to spread it evenly into the rice. Adding salt to the oil helps to mix it uniformly into the rice, but add it sparingly. You can always add more salt later on if required, rather than adding excess salt at this stage.

Once the cooker cools enough by itself, to be opened, transfer the rice into a wide mixing bowl or basin.

Pour the fried condiments and their oil into the rice along with half the lemon juice, mix well but gently, into the rice till the yellow of the turmeric covers every grain and there are no lumps or grains of white rice.

Taste for salt and tanginess, adding more salt or more lemon juice as required. The taste of the lemon should be dominant.

Crush half the fried peanuts with a pestle and mix into the lemon rice.

Transfer the lemon rice to a serving bowl and garnish with the remaining peanuts and with coriander leaves.

Serve with fried South Indian pappad.

The lemon rice can be served hot. It can also serve well as a packed lunch for school or office. They are my favourite for train or car journeys where I make individual parcels for ease of use, with potato chips or potato fry curry as an accompaniment.

Fried potatoes make a great accompaniment to this dish.