Savoury Ven Pongal, a popular festival and breakfast food, is made from rice and passi paruppu or moong dal (split skinless green gram lentils), cooked till very soft, and tempered with cumin, pepper and curry leaves in ghee. Ginger and green chili may be added as an option. Easy to make and delicious with its aroma of ghee, it is perfect for a puja offering/ naivedyam or for breakfast with vadai, sambar and chutney. [This post was first published in 2015 and has been now republished after updating the content and images.]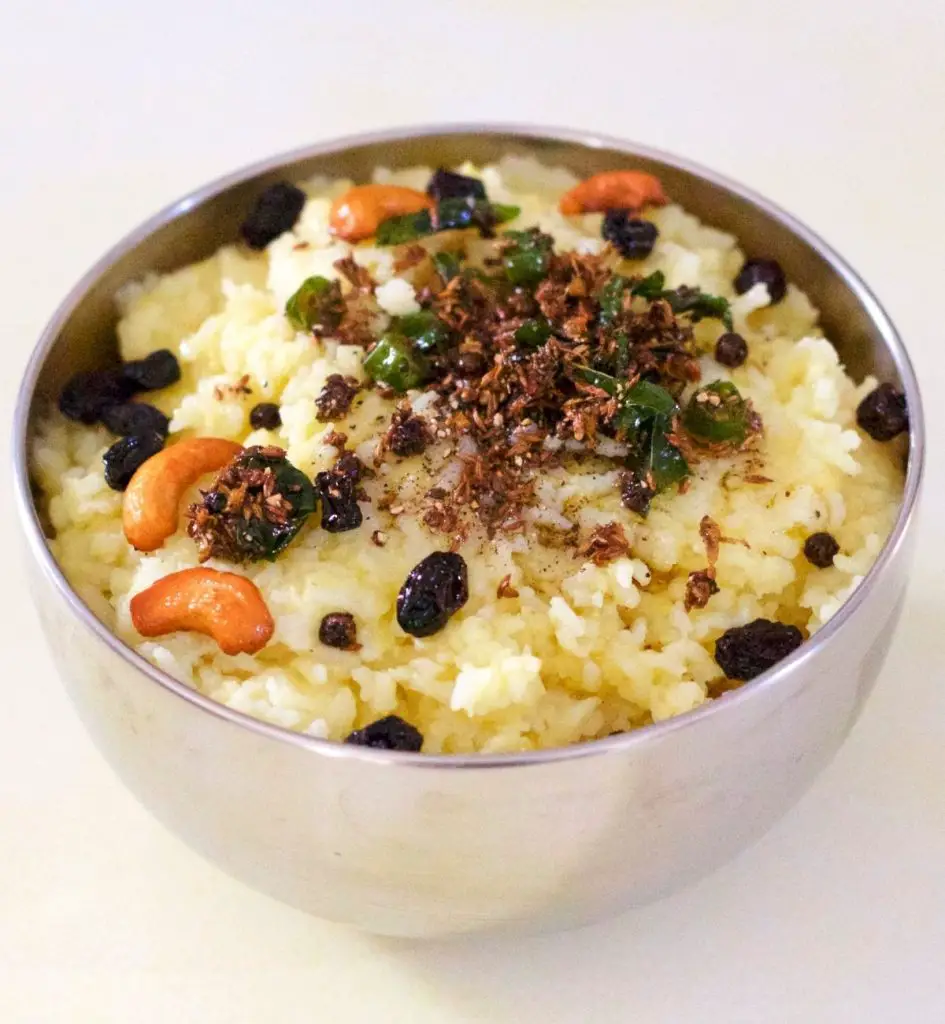 There is nothing as comforting (and filling) as a breakfast of hot savoury ven pongal and vadai. The pongal is easy to make and is both nutritious and tasty, specially when it is tempered with ghee, garnished with fried cashew and served really hot accompanied by sambar and chutney.
Surprisingly, one of the best Pongals that I have had has been at Bangalore Airport. Whether it was the hunger pangs before boarding an early morning flight, or the fact of the ven pongal being piping hot with a tasty chutney, the aroma and consistency made for a flavourful breakfast.
Marghazhi Kovil Prasadam
The most memorable Ven Pongal was the hot prasadam at the Kapaleeswarar Temple at Mylapore, at Chennai (Madras as it was once known). As school girls, my cousins Ramaa, Kamini and I would participate in the daily bhajan processions during the Tamil month of Margazhi. Press ganged by my aunt, Pattu Athai, we would be up early and have taken a bath before 4.30 on the chill misty December mornings. Athai would ensure we joined the procession on time, singing bhajans while walking along the 4 long streets or Mada Vidhis bordering the ancient temple to Lord Shiva. The procession culminated at the temple itself, before sunrise, to the welcoming sight of the temple gurukkal waiting with pails of 'prasadam'. We youngsters would be the first to receive the hot and very tasty donnai/leaf cups of Ven Pongal embellished with whole peppercorns and generously covered with ghee. We would enjoy the tasty food, feeling rather virtuous as we would not have had coffee in the morning and had broken our fast with the prasadam. [A detailed narrative of the bhajanai procession and this delicious ghee filled prasadam may be found in my book, Bhog Naivedya: Food Offerings to the Gods.]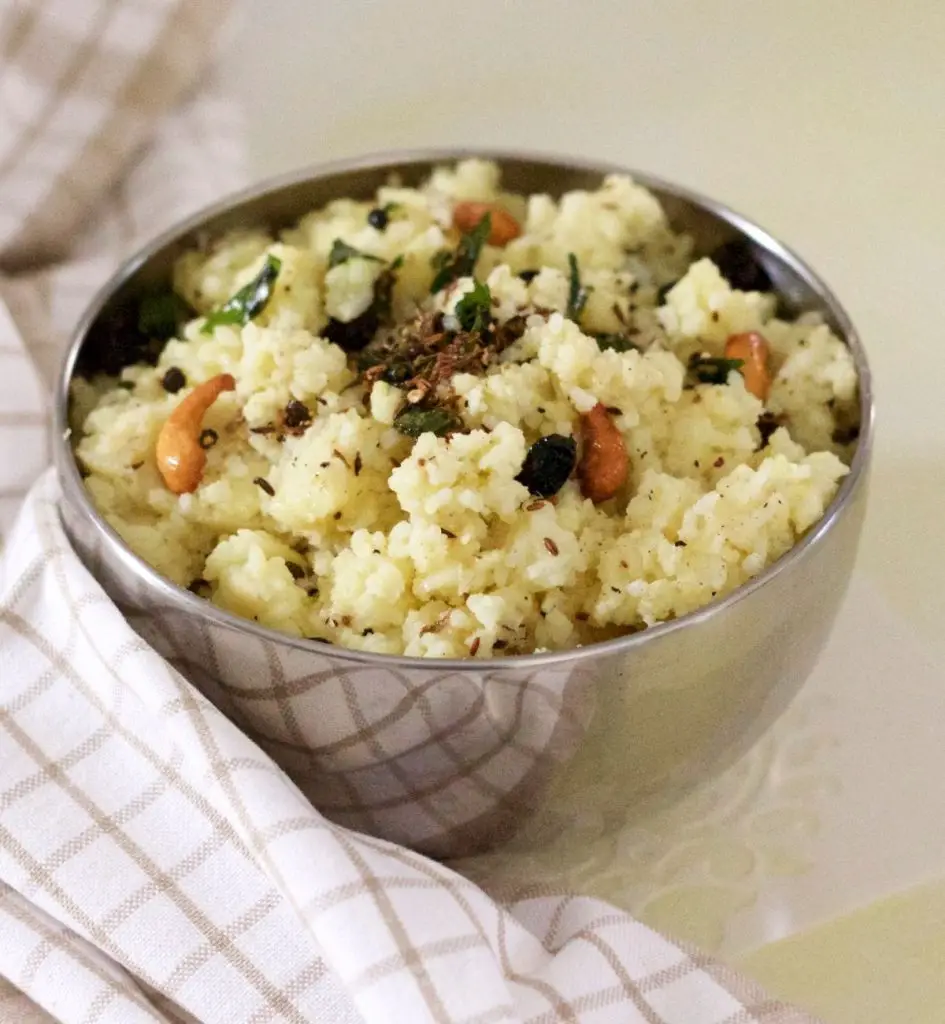 Making Traditional Ven Pongal
Ven Pongal is very easy to make and pressure cookers have speeded up the process. The traditional pongal is very simple: cook rice and passi paruppu/ split moong dal together with enough water (and a little salt) to cook them soft (but not mushy). Add a tempering of cumin and peppercorns with curry leaves, in ghee. Add fried cashewnuts, and the pongal is ready. Sambar and chutney are the usual accompaniments.
There are variations to the above traditional temple recipe. Turmeric may be added while cooking the rice and dal. Ginger and/or green chilies may be added to the tempering. Raisins may be fried and added along with cashewnuts. The pepper and cumin may be added whole or ground to powder.
I like flavour and texture in my food, and hence minced ginger and just one green chili find their way into my ven pongal. A smidgeon of turmeric (technically, in baking terms, ½ a pinch or 1/32 teaspoon) is added while cooking the rice and dal, for flavour and a touch of colour. The pongal should be a pleasant creamy hue with the yellow of the turmeric barely perceptible. I grind the peppercorns and cumin seeds coarsely, and temper them in the ghee.
My pongal also has raisins fried in ghee, though this is an option you may prefer to leave out. I do like the contrast of the sweet raisin with the savoury rice and dal.
The consistency and flavours of a ven pongal are usually different from that of a khichidi although the main ingredients, ie rice, moong dal and ghee, are the same. While the rice and dal are cooked till very soft and then lightly mashed, the water content is lower and the pongal will not 'flow' like a well made khichdi. Vegetables are not added to pongal. Pepper is prominent in pongal, and turmeric is either added in minute quantities or else left out all together.
Other Breakfast Recipes
Other Festival Naivedyam Items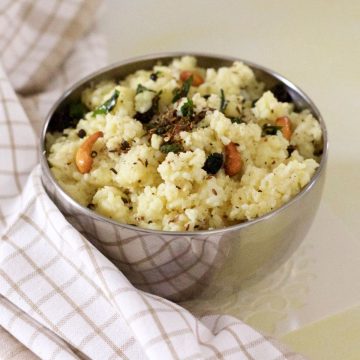 Savoury Ven Pongal - Rice cooked with Moong Dal/ Split Green gram lentils
Ven Pongal, a delicious, traditional South Indian festival food offering popular for breakfast too. Made of rice and moong dhal (split, skinless green gram lentils), cooked till very soft and tempered with cumin and pepper and curry leaves in ghee, garnished with fried cashew nuts. Served hot with chutney and sambar.
Equipment
Pressure Cooker

Frying pan

Small Mortar and pestle or spice grinder
Ingredients  
For Rice and Dal
⅔

cup

Raw rice

About 150 gms

⅓

cup

Green Gram Lentils

About 70 gms; (Paasi paruppu/ moong dal/ split skinless green gram lentils)

3 ½

cups

Water

1

smidgen

Turmeric

½ a pinch or 1/32 of a teaspoon

½

teaspoon

Salt

or as per your taste
For Tempering
1 ½

tablespoons

Ghee

10

Cashew nuts

split into halves

10

Raisins

½

teaspoon

Cumin seeds

Ground (Jeera, jeeragam)

½

teaspoon

Black Peppercorns

Ground (Kali mirch, milagu)

½

teaspoon

Black Peppercorns

Whole/ sabut

1

Green chili

Sliced (Optional)

½"

piece

Ginger

Minced (about 1 teaspoon or 3 grams) (Optional)

1

sprig

Curry leaves
Instructions 
To Cook Rice and Dal/ lentils
Roast the moong dal (split, skinless green gram) in a hot dry pan so that it darkens and you get the aroma of the dal (about a minute, on low flame). It can easily catch at the bottom of the pan and burn, so keep stirring gently. Transfer the dal to a bowl and rinse well.

Rinse the rice several times (4-5, or depending on the rice quality) till the water looks clear.

Add the washed rice, dal, water, salt and turmeric as per the ingredients list above. Half a pinch of turmeric should do as the ven pongal should have just a hint of yellow and not more.

Pressure cook for 1 whistle on high flame. Reduce the heat to low and cook for 4-6 whistles. This varies from one cooker to another, some may required more time to cook thoroughly. You want the pongal just soft and cooked well but not mushy and filled with water.

Turn off the heat and let the cooker release pressure on its own.
Preparation
You may decide to add or leave raisins, ginger, green chili. Preparations would be based on the same.

Halve the cashew nuts.

Peel and mince the piece of ginger and slice the green chili, if using.

Shred the curry leaves.

Coarsely grind the peppercorns and cumin seeds (listed in ingredients as to be 'Ground'). Keep the other peppercorns item in the ingredients list whole.
For the Tempering
Once the cooker is ready to be opened, open the pressure cooker and stir the rice dal mixture just once, gently mashing it with the ladle so that it combines well without getting mushy. Transfer it to a serving dish.

Heat the ghee (listed in ingredients list under Tempering) in a small frying pan on a low flame.  

Fry the cashew nut halves till golden ( they always say this in recipes, but unless I'm careful to keep the heat low, mine usually turn a pinkish beige and then quickly get to a dark brown tinge 😒).

Drain and remove the cashew from the pan and set aside.

Continuing with a low flame, fry the raisins in the remaining ghee for about 10 secs and drain and remove from the pan when they puff up.

To the ghee remaining in the pan, add the whole peppercorns and the ground pepper-cumin, and sauté for 10 secs.

Add the sliced chili (if using) and let them scald all over.

Add ginger (if using), sauté for 30 seconds.

Add curry leaves.

Pour the tempering along with any ghee in the pan, on the ven pongal.
For Garnish
Heat the remaining ghee (given in Ingredients list under Garnish). Pour it on the ven Pongal. Add the fried cashew and raisins.

Ven Pongal is best served hot, with chutney and sambar. See note below for recommended alternatives.
Notes
Ven Pongal is best served hot, with chutney and sambar.
An alternative and delicious accompaniment is the Ezhu kari kootu (made of 7 vegetables) usually prepared with Tiruvathirai Kali. Click the link or check for the recipe above in this post, under Other Festival Items.
Nutrition
Serving:
1.5
cups
Calories:
200
kcal
Carbohydrates:
26
g
Protein:
5
g
Fat:
9
g
Saturated Fat:
5
g
Polyunsaturated Fat:
1
g
Monounsaturated Fat:
3
g
Cholesterol:
19
mg
Sodium:
229
mg
Potassium:
168
mg
Fiber:
4
g
Sugar:
1
g
Vitamin A:
23
IU
Vitamin C:
8
mg
Calcium:
24
mg
Iron:
1
mg