An easy recipe for hot summer days when cooking is a chore and the heart craves comfort food. Tempered with mustard seeds, chilies, ginger and curry leaves and accompanied by fried mor milagai/ sun-dried curd chili and pickles, this simple thalicha thayir sadam or seasoned curd rice (from plain un-sweetened yogurt), is a feast for the Gods. It is, in fact, one of the daily naivedyam offered at most South Indian temples. Thalicha refers to tempering/ tadka.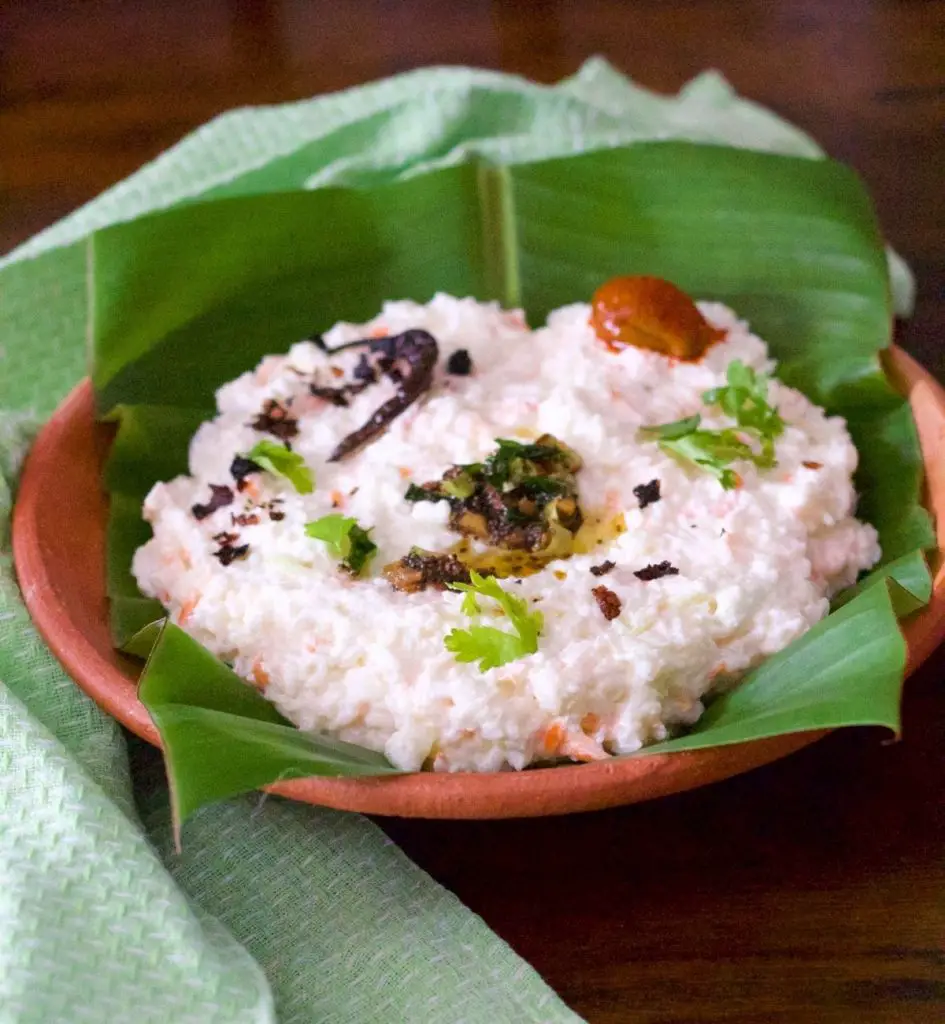 On several earlier posts I have talked about the train journeys we took with our parents as children, with my mother packing delicious food which lasted the length of the trip. Puliyodharai (tamarind rice), lemon rice and curd rice as well as poori with her special potato curry, appalams (pappad), mango pickle and mor milagai all filled the green wicker basket in which the food was organized in individual packets. Similar packets were made up for cricket matches and school excursions. The food always smelt and tasted so good. The curd never leaked through the wrappings or turned sour, nor did the puliyodharai exude oil.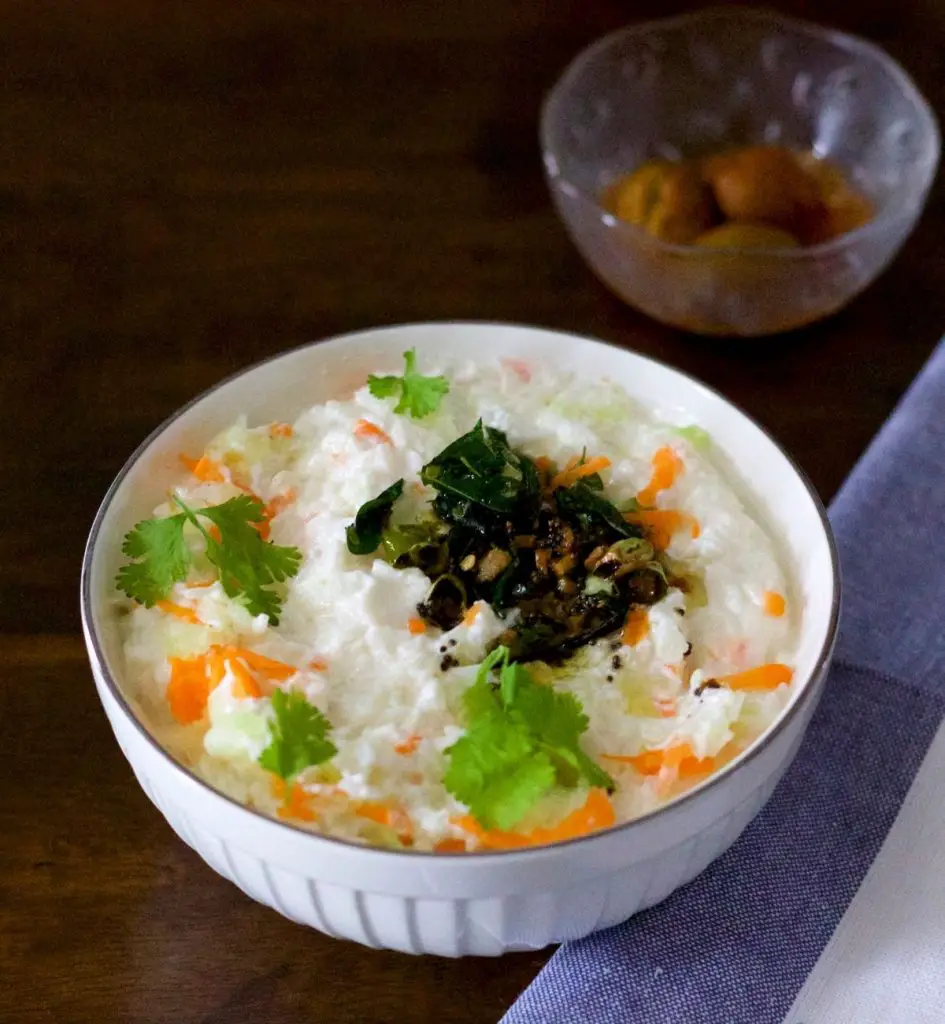 Making Thalicha Thayir Sadam/ Curd Rice
The dish can be very simple, with just rice mixed with curd/plain yogurt and a little salt, and tempered with mustard seeds, curry leaves and slices of ginger and green chili. My favourite version is to include grated cucumber and carrot. Bits of fried mor milagai or raw mango may be added, though I prefer to stick to one or two additions only and not too many flavours. After all its not a salad, just thayir sadam.
Coriander leaves go into the garnish, and sometimes pomegranate arils. My friend Kevin tells me he likes to add roasted peanuts, and that sounds like a good idea.
I like to make my thayir sadam from freshly cooked hot rice and cold curd, though it may be made from left over rice too. The rice should be cooked till really really soft, mashed when hot, seasoned with salt and then set aside for 10 minutes to cool down. Curd is added only after this, so that when packed, the dish does not exude water later on.
Til/gingelly oil is best for tempering, or alternatively a mild flavoured oil like sunflower oil.
If the rice is to be eaten later such after 6 hours or so, or on a journey or is for the lunch box, add some milk before adding curd as in the recipe below, to keep it from tasting sour.
As the mixed rice thickens after some time, a little fresh curd may be stirred in before serving.
For some of the health and nutrition benefits of curd/ plain yogurt, you may like to read this article from healthline.
Other Rice Based Recipes
"Recipe"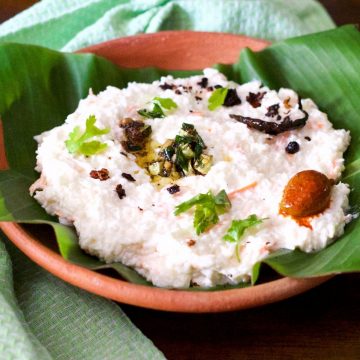 Curd Rice/ Thalicha Thayir Sadam
Easy Curd rice or Thayir Sadam made by mixing cooked rice with fresh curd/plain un-sweetened yogurt and tempered with mustard seeds, curry leaves and green chilies. Other items like grated carrot, cucumber may be added.
Equipment
Pressure Cooker

Small frying pan for tempering

Bowl for mixing the rice
Ingredients  
For Cooking Rice
1

cup

Raw rice

1

cup

Water

For pressure cooking the rice
For Frying Mor Millagai (if using)
8-10

Curd chilies/ mor millagai

¼

cup

Gingelly oil
For Mixing Curd Rice
½

teaspoon

Salt

¼

cup

Milk

See instructions below

3

cups

Curd

½

cup

Carrot

Peeled and grated

½

cup

Cucumber

Peeled and grated
For Tempering
1

teaspoon

Gingelly Oil

Til/ Indian Sesame Oil

½

teaspoon

Mustard seeds

1- 2

Green chilies

Sliced

⅛

teaspoon

Hing/ asafoetida

1

inch

Ginger

Peeled, minced

1

stalk

Curry leaves

about 10-12 leaves, shredded
For Garnish
2

stalks

Dhaniya/ coriander leaves

shredded leaves
Instructions 
To Cook Rice
Rinse and clean rice several times, drain.

Pressure cook with enough water for 3 whistles or till rice is very soft and mashable. The rice should be soft but not watery as that would reduce the taste.

Once taken off the heat, let the pressure cooker release steam on its own.

While it is still hot, mash it well and add salt. Set aside to cool for 10 minutes.

If the curd rice is meant to be taken after several hours, add ¼ cup milk at this stage and stir it into the mashed rice.
Preparation
Peel and grate carrot and cucumber (or raw mango if using. Mango need not be peeled)

Slice green chilies. Peel and mince ginger.

Shred curry leaves (I always do this so that they get eaten and not discarded at the side of the plate)

Whisk the curd.

Fry mor millagai/ curd chilies in gingelly oil or sunflower oil. Drain and set aside in an airtight container.
To Mix Curd Rice
Add curd to the cooled cooked rice.

Add grated carrot and cucumber. Mix well. Check for adequacy of salt and a little more if required. The dish is not meant to be salty, just mildly savoury.

Small thin slices of raw mango may be added instead of cucumber and carrot. I try not to add too many flavours here.

One or two fried curd chili/mor millagai may be crushed and added to the curd rice.
Tempering
Heat oil in a small pan. Add mustard seeds.

Once they crackle, add green chilli slices. Stir.

Add hing.

Add minced ginger, saute for 5-10 seconds.

Add curry leaves

Pour the tempering on the curd rice.

Have it with your favourite pickles and mor millagai
To Garnish
Shred and add coriander leaves. Pomegranate arils or other preferred garnish may be added.
Nutrition
Serving:
2.5
cups
Calories:
850
kcal
Carbohydrates:
97
g
Protein:
20
g
Fat:
42
g
Saturated Fat:
12
g
Cholesterol:
48
mg
Sodium:
569
mg
Potassium:
840
mg
Fiber:
3
g
Sugar:
20
g
Vitamin A:
5787
IU
Vitamin C:
18
mg
Calcium:
495
mg
Iron:
1
mg