At first glance, the Roasted Pumpkin Pomegranate Salad from Shaheen Peerbhai  (who blogs as Purple Foodie and is the author of the Paris Picnic Cookbook) is a warming winter salad. It is however a light and refreshing summer type of salad, or actually an any weather salad, with some unlikely ingredients coming together with a medley of colours and flavours.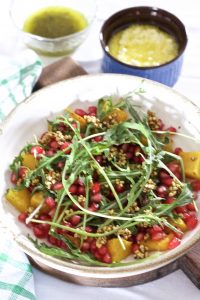 The roasted pumpkin pomegranate Salad is easy to put together, though it does need some preparation, most of which can be done before hand. The roasted pumpkin drizzled with olive oil and the honeyed buckwheat come together beautifully with the creamy labneh (Arabian strained yogurt or hung curd) and the fresh rocket and pomegranate seeds. A secret ingredient in the salad is the pistou of basil leaves. All together a delicious, nutritious and fun salad for lunch, with a tall glass of iced tea.
Last month I attended Shaheen's second set of baking classes at Bangalore ( I had attended some sessions in the first batch in 2016, the first ever, held by this renowned Master Baker, at Bangalore).
Though I am a veteran Salad maker (and eater), the name of this item on the Brunch list seemed to me rather unlikely - pumpkin and pomegranates? With hung curd and honey roasted buckwheat? As I watched the process of carefully prepping each ingredient and then finally putting it all together, it was beginning to look more and more interesting.
The final taste of the pudding was in the eating - and it was so very melt in the mouth delicious - the roasted pumpkin still warm from the oven, dotted with fresh labneh and lathered with pistou, the sweetness of the pomegranate and the crunch of the honey buckwheat contrasting with the peppery rocket leaves - this Salad was a plateful of Gourmet Heaven.
When you watch Shaheen at one of her classes, this is one of the best take aways - the way you can mix and match ingredients to bring out their colours, textures and flavours, how to be bold and adventurous in shaping a dish to get the best of seasonal produce and the nutrition that comes with it.
I would have thought of nuts and cheese in this kind of Salad, but the labneh and the buckwheat were just so perfect instead!
Buckwheat as you may know, is one of the superfoods and an ancient one, at that. Here is a link explaining some of its nutritional and medical properties, on a website that  I came across: Nutrition and you
When I tried to recreate the Roasted Pumpkin Pomegranate Salad, recently, I made only one change to the Purple Foodie's recipe - I already had home made Basil Oil readily available so I substituted that for the pistou which the recipe calls for and then added a dash of lemon zest to the salad.
Check for my recipe on this Blog, for easy Basil Oil.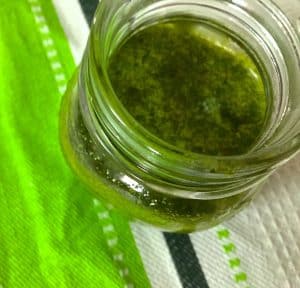 The recipe for the Roasted Pumpkin Labneh Buckwheat Salad with Pomegranate and Rocket, has several ingredients, and each of them need to be prepared separately.
Each one is easily made though, so don't let that put you off trying this uber delicious salad. Just keep in mind that the Labneh has to be made ahead of time and needs at least 4 hours for the whey to drain away.
Buckwheat is available in India in most Gourmet stores, some traditional stores, as well as online.
Other Salad Recipes You May Like on this Blog
Peruvian Kiwicha Salad with Buttermilk Dressing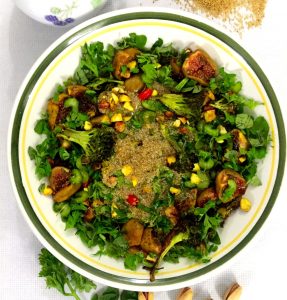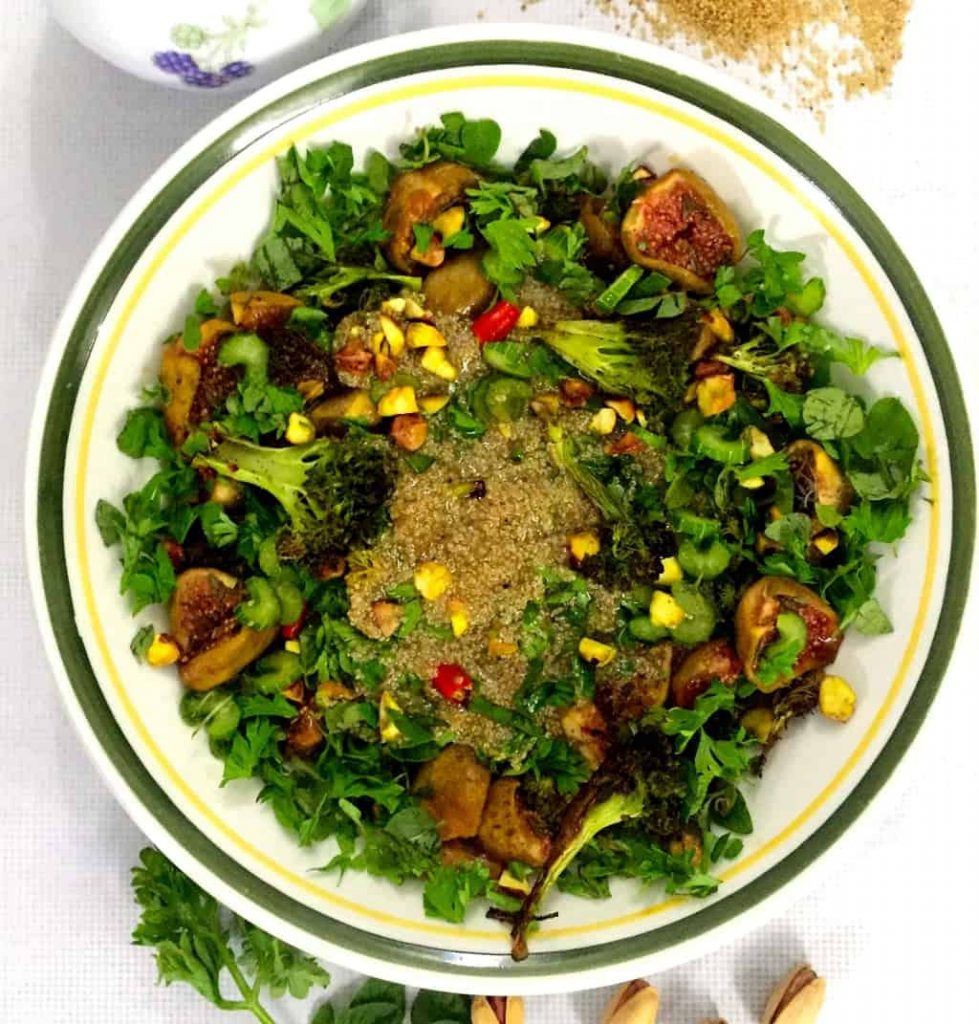 Brown Rice Salad with Roasted Tomatoes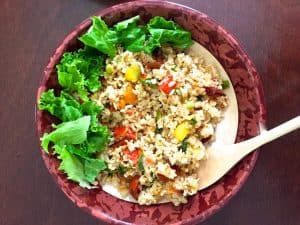 Watermelon Bocconcini Arugula Salad with Basil Oil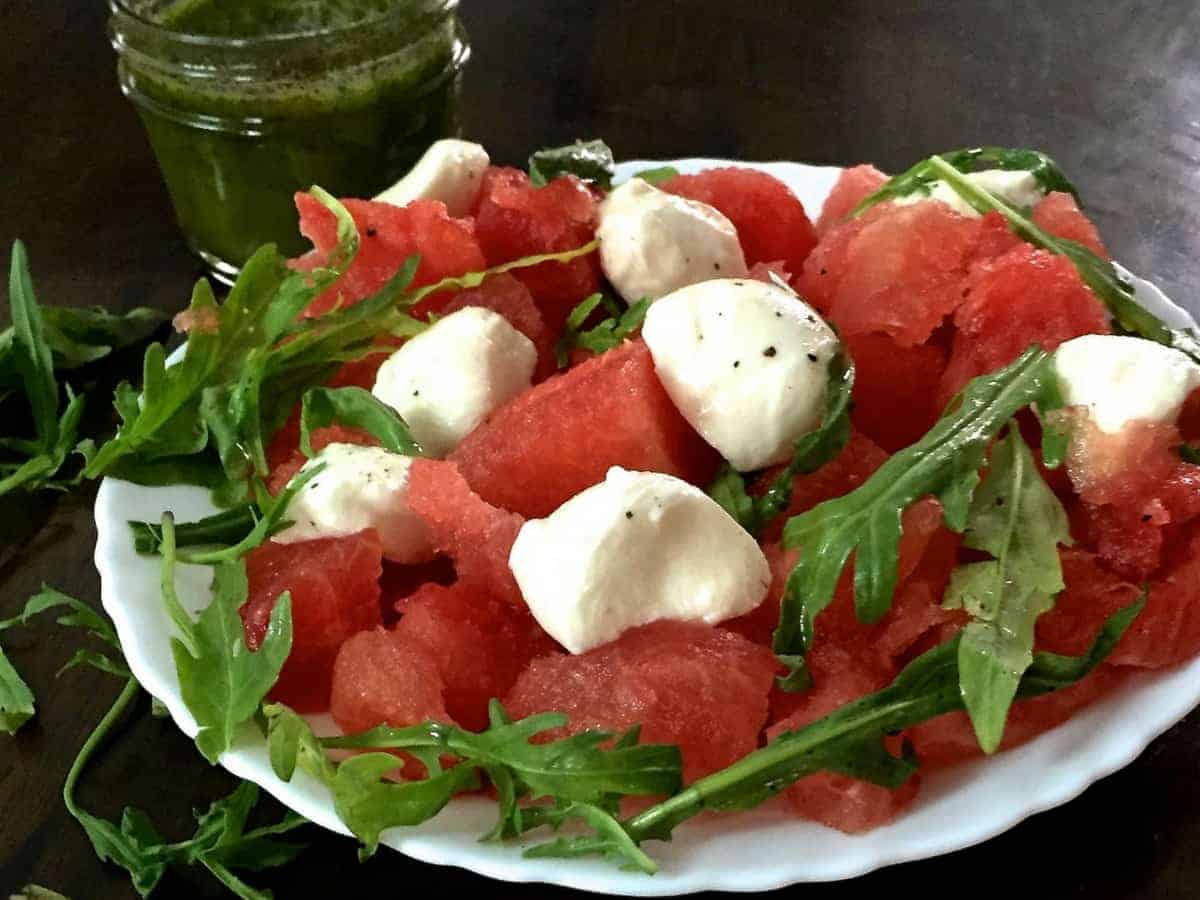 "Recipe"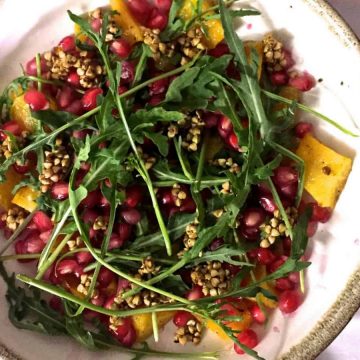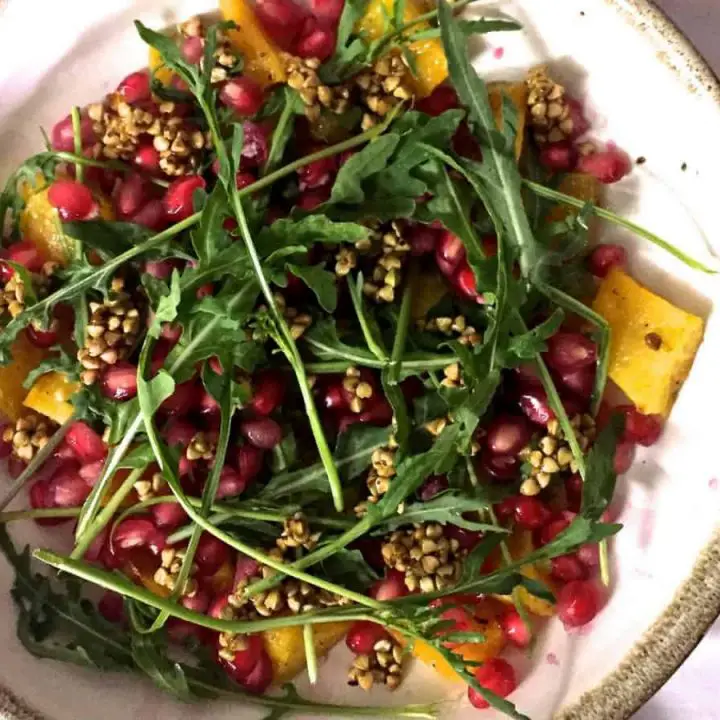 Roasted Pumpkin Pomegranate Salad with Rocket and Labneh
Summery delicious nutritious Roasted Pumpkin Pomegranate Salad with Labneh, Buckwheat Rocket. Easy to put together, it is a pleasing medley of colours and flavours.
Ingredients  
Labneh / Hung Curd/ Strained Yogurt
200

gm

yogurt

2

tablespoons

extra virgin olive oil

⅛

teaspoon

salt

the original recipe calls for Sea salt
Roasted Pumpkin
500

gms

pumpkin cubed

Peeled, cubed to ½ inch sized pieces

½

tablespoon

olive oil

1

teaspoon

pepper freshly ground

¼

teaspoon

salt

or to taste
Honey Buckwheat
50

gms

Buckwheat

1

tablespoon

honey

⅛

teaspoon

salt

⅛

teaspoon

pepper freshly ground
Basil Pistou
15

gms

Fresh Basil leaves

or 1 cup chopped fresh basil

1

clove

garlic

1

tablespoon

extra virgin olive oil

1

teaspoon

lemon zest

1

pinch

salt

or to taste

⅛

teaspoon

pepper freshly ground
Other ingredients
25

gms

arugula leaves

rocket - 1 cup packed

1

number

pomegranate

arils from 1 pomegranate

1

tablespoon

olive oil

1

tablespoon

lemon juice

to

taste

salt
Instructions 
How to make Labneh
Tie the curd / yogurt in a muslin/ thin cloth, squeeze gently and allow to drain for a minimum of 4 hours or even overnight till most of the whey drips away.

Beat the labneh with olive oil, salt and pepper. Shaheen says, keep it fluid.
Cover and set aside till required in a cool place.
How to make Toasted Honey Buckwheat
Preheat the oven to 160 deg C /320 deg F. Mix the buckwheat with honey, salt and pepper, so that the honey coats the buckwheat all over.

Spread the buckwheat on a baking sheet lined with parchment and toast in the oven for 10 minutes. Remove from the oven and transfer the buckwheat to a bowl so that it stops toasting, set aside till required. Shaheen says, if the buckwheat is not removed immediately from the hot tray and allowed to cool, it will harden.
How to Roast Pumpkin
After removing the Buckwheat from the oven, increase oven temperature to 220 deg C (about 430 F) and let it reach that temperature before you proceed. Mix the pumpkin cubes with salt, pepper and olive oil, toss till the pumpkin is layered with the mixture.

Spread out the pumpkin cubes on a baking dish lined with parchment, checking to see that the pieces are not too close or touching each other, so that they can roast well. Shaheen advises that if the pumpkin pieces are crowded together, they will steam instead of roast. Roast in the oven for about 20 minutes.
Remove and set aside till required.
Basil Pistou
Link to my Recipe for homemade Basil oil is given in the introduction above and in the notes below. To make the Basil Pistou instead: Place the chopped basil leaves and garlic pod in the processor and run it with a teaspoon of the olive oil.

When its smoothly blended, whisk in the rest of the olive oil, the lemon zest and the seasonings. Set aside till required.
Roasted Pumpkin Labneh Buckwheat Salad with Pomegranate and Rocket
Extract the pomegranate arils from the fruit.
Wash and spin dry or pat the arugula/ rocket leaves dry.
Squeeze the juice from the lemon

Gently toss together the roasted pumpkin, the arugula leaves and the pomegranate arils.

For each serving, spread each plate with labneh. Heap a large helping of the pumpkin, arugula, pomegranate mixture onto the labneh. Sprinkle the honey buckwheat all around. Drizzle 2 teaspoons of Basil oil and a dash of lemon juice

Serve immediately.