Perfect for lunch on a hot summers day, a gorgeous  Salad of Radish Tomato Raw Mango, with its contrasting flavours somehow coming together with the dressing of orange juice, lemon juice, ginger, chilli and olive oil.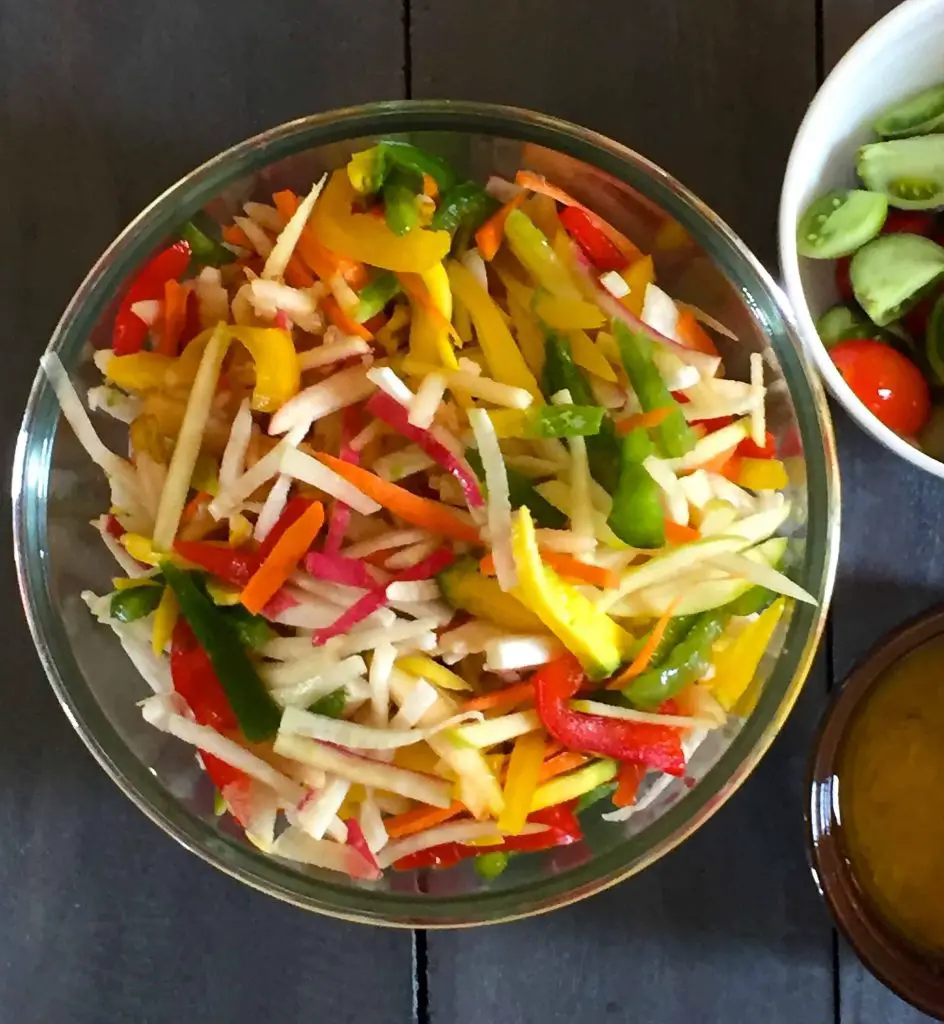 The tomatoes, radish and raw mangoes were part of the biweekly delivery by First Agro Farms through their marketing arm, Sakura Fresh. The colours of the cherry tomatoes inspired this recipe – bright red, orange, green, purple – they were there in every hue. The radishes were sharp and sweet at the same time, the raw mango tangy with the taste of summer. Knowing that they were zero pesticide and non GMO, the healthiest possible fresh produce I could source, added to the excitement of creating  a tasty, healthy, colourful recipe, the easy Salad of Radish Tomato Raw Mango.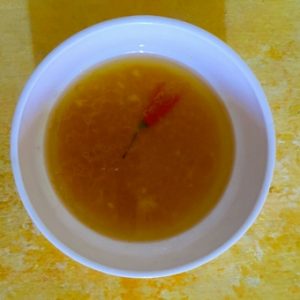 My usual quick dressing for salads is the garlicky Honey Lemon Salad Dressing, a jar of which usually reposes in my fridge. But this Salad of Radish Tomato Raw Mango is special, so I made a Citrusy Dressing  of fresh orange juice and lemon juice, and ginger. It put such a zing into the salad!
Colour, taste, good health, safe food, easy to make, what else can you ask for from a Salad?
SaveSaveSaveSave
SaveSave
SaveSave
SaveSave
SaveSave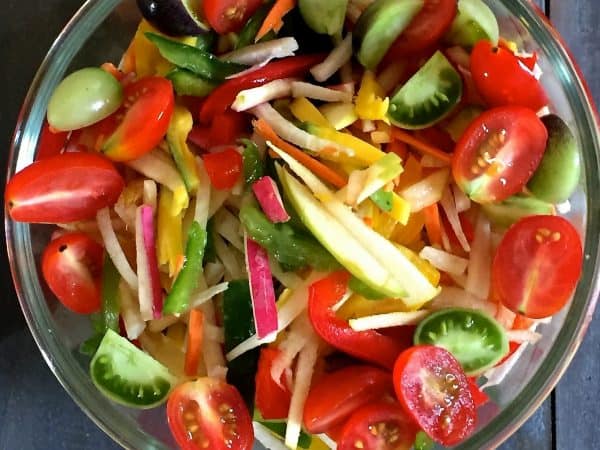 | | |
| --- | --- |
| | |
To make the citrusy dressing
Grate the zest from the orange and lemon. Squeeze orange juice from half an orange into a bowl and add juice of 1 large lemon. Add finely chopped ginger, salt, pepper and the orange and lemon zest. Stir so the salt dissolves.

Vertically slit the fresh chilli without breaking it into two, remove the seeds and white pith and place with stalk intact,  in the orange lemon juices. Set aside for 5 minutes. Add the olive oil and whisk the mixture. Chill in the fridge till required to use.
To make the Radish Tomato Mango Salad
When selecting the vegetables, take firm tomatoes and not soft very ripe ones. The quantities of all the sliced bell peppers together should be lesser than the tomatoes, so that they do not overpower the flavours

Peel the carrot and radish. Keep the peel on for the pears and mango. This salad is all about the colour! Slice the vegetables into thin matchsticks, of about an inch in length.

Mix the vegetables together in a bowl, sprinkle salt to taste ( the dressing already has a little salt, so go easy when you add).

Pour the dressing over the salad, mix it in with your finger tips. Garnish with minced coriander leaves and place the chilli from the dressing on top. Cover with cling film keep in the fridge till ready  to serve.