Vegetable Rava Upma - a favourite at our home. Usually though, most people avoid Upma and turn  up their noses when its on the menu for breakfast or tiffin. After all, Upma is just semolina flour/ sooji / rava cooked in hot water and with salt and a bit of tempering. Sounds bland, doesn't it? The addition of a judicious mix of vegetables, sliced thin, and the touch of ghee at the end (vegans please excuse this step!) makes all the difference to the taste.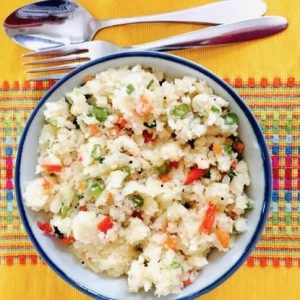 My parents both made excellent Upma. In fact, on Sundays, my Dad would sit down at the dining table and meticulously slice and dice the vegetables to a uniform shape and size and hand them over to my Mom for making the Upma. Sunday breakfast of Vegetable Rava Upma, hot and delicious, melting in the mouth and yet with the texture and flavours of the different vegetables coming through, was something we all looked forward to.
Not surprising then that one of the first recipes I tried out in my forays into cooking, was the vegetable rava Upma. And the tradition of Upma for Sunday breakfast continued in my home after I set up my own kitchen. The perfect Upma is not too dry, not mushy and has no lumps sitting in anywhere. It is fluffy and flavourful, filling and is comfort food to those who can make it just right. The onions are well sautéed until the rawness has gone. The red, green and white of the veggies brightens up the pale rava. A hint of ghee and some fried cashew nuts along with fresh dhaniya leaves adds the final touch.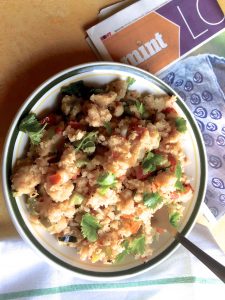 This post is for the Foodie Monday Blog Hop. The theme for this week was suggested by Amrita and the, majority of the members voted for 'My Beginner Recipe'. The Vegetable Rava Upma being one of the first dishes that I had ever cooked, was the natural choice for this post.
Amrita Iyer blogs at The Food Samaritan. Do check out her blog, it has so much to offer with recipes ranging from assorted breads including Indian breads, to festival recipes, International recipes and much more.
How to Make the Perfect Vegetable Rava Upma
Slice the vegetables to a uniform size and keep them small so they cook fast
Half boil the vegetables (except for capsicum, onion and tomato) before adding to the Upma
The amount of water to be added needs some experience. Start initial trials with the quantities described in this recipe and then work out the consistency that you prefer
A mix of vegetables gives texture and flavour to the otherwise bland Upma.
The water should be on a rolling boil before you add the rava
When adding the rava, let it flow slowly into the pan, using one hand and keep stirring it into the water with the other, so that it quickly blends without forming lumps. Immediately break any lumps you see.
Briskly stir after you have added the rava, scraping the bottom of the pan in case any rava sticks there.
Be careful about adding salt - err on the side of caution and do not over salt. Salt is to be added before the rava is added to the hot water. Worst case scenario, if you find the salt is less, dissolve a little salt in a few spoons of hot water, add to the Upma when it is still on the stove and stir it in.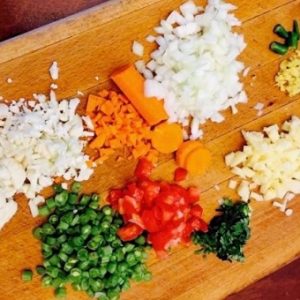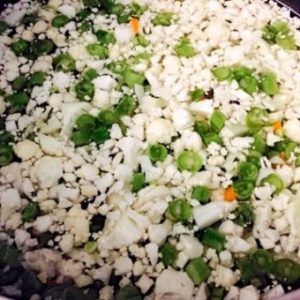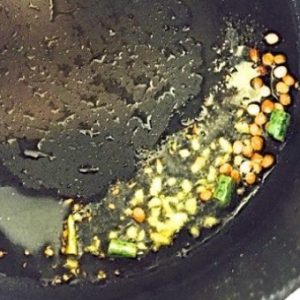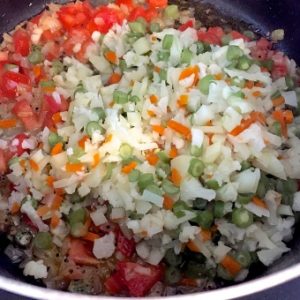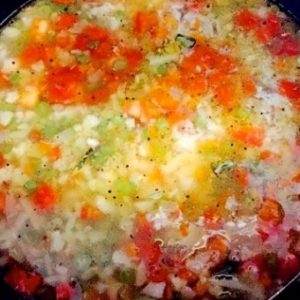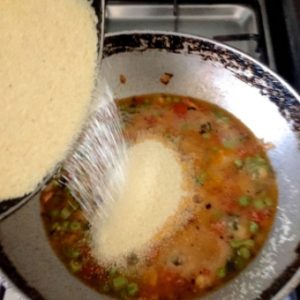 This post has been sent to the event: Foodie Monday Blog Hop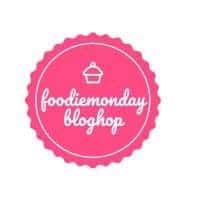 "Recipe"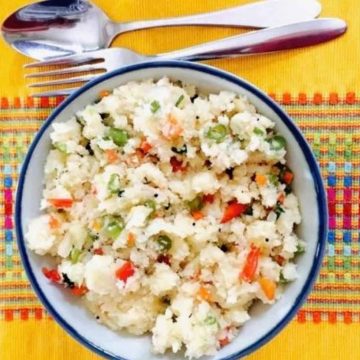 Vegetable Rava Upma - Easy Tasty Savoury Sooji Upma
Easy, tasty South Indian breakfast of Vegetable Rava Upma. Semolina flour/sooji is roasted and cooked with a variety of vegetables and a tempering of mustard seeds, chillies and curry leaves. Omit ghee for a vegan version
Ingredients  
For Preparation
1

cup

Rava

/Suji/ Semolina

¼

cup

onion

minced

½

inch

fresh ginger piece

minced

1

fresh green or red chilli

sliced

a

few

curry leaves

shredded

1

cup

mix of vegetables, sliced from the list below:

cauliflower

diced

potato

diced

green beans

diced

carrots

diced

broccoli

minced

Green peas

shelled and placed in a cup of water

capsicum

you can include green, red, yellow peppers

1

tablespoon

coriander leaves

shredded
To make Vegetable Rava Upma
1

tablespoon

vegetable oil

Sunflower or other mild oil

¼

teaspoon

Mustard seeds

/rai/ kadugu

½

teaspoon

Channa dal

kadala paruppu/split Bengal Gram lentils

onion, ginger, chillies, curry leaves

(from preparation above)

1

cup

Sliced veggies

(from preparation above)

1.5

cup

water

1

cup

Roasted rava

(from preparation above)

¾

teaspoon

salt

or to taste

½

tablespoon

ghee

Omit, for a vegan version

1

tablespoon

coriander leaves

(from preparation above)

5-6

Cashew nuts (unsalted)

Optional

1

tablespoon

ghee

for frying cashew nuts, if using; Substitute with Oil for a vegan version
Instructions 
First Prepare the ingredients
Slicing the veggies is the main effort required for making Upma. Slice each of the vegetables as in in the ingredients list, keeping them uniform and of small size. For quantities: I add 1 cup of sliced veggies for 1 cup of rava Note: This next step is to hasten the cooking process, as the veggies cook while you are roasting the rava, slicing onions etc. You can instead simply add the sliced vegetables after sautéing onion and adding tomatoes in the steps below for 'Making the Upma') Once the vegetables are sliced, heat a pan of water. Bring it to a boil and then add the sliced vegetables such as potato, cauliflower, peas, broccoli, beans and carrots. Do not add onion, ginger, herbs, capsicum and tomato. Once the water begins to boil again, reduce the heat and simmer till the carrots and potatoes are almost cooked and beginning to get soft. Strain the vegetables and retain the water in which they are cooked.

Heat a kadai or frying pan well, and roast the rava for 2 minutes on medium flame (no oil required), stirring briskly as it can easily char and turn brown. Turn of the heat and immediately transfer the rava to a dry bowl and set aside till required. Break cashew nuts into halves (if using) and fry in a little ghee.
Making the Upma
Heat the kadai again. Add vegetable oil (I use sunflower oil as it is mild and does not overpower the taste of the Upma). Add mustard seeds and once they crackle, add channa dal and then green chilli slices. Add the ginger, sauté for 30 seconds. Add shredded curry leaves.

Add onion slices, sauté, stirring occasionally, till the onions begin to browned (about 3 minutes). The onions should be well fried as raw onion reduces the flavour of the Upma. Add tomatoes and capsicum, sauté for 1 minute.

Strain the sliced vegetables which you had earlier set to boil, and add to the tomato and capsicum. Stir and sauté for 2 minutes. Add water (you can use the water in which the vegetables were cooked earlier) and bring it to a boil on high heat. Once it is on a rolling boil, reduce the flame and let it simmer till the vegetables are cooked and tender. If the carrot and potato are cooked, the rest are likely to have cooked through,

Add salt, stir. Bring the water to a boil again, reduce the heat and then add the rava. Don't pour it all in, but let it flow slowly into the pan while you keep stirring briskly with one hand. Break any lumps that you see are forming. The rava will cook very quickly and begin to solidify. Stir well till all the water is absorbed.

Add ghee, if using, and stir it in. Transfer the Upma immediately to a serving bowl and garnish with fried cashew and with coriander leaves. Serve with a tomato chutney or a green chutney or with curd