A simple and delicious salad for warm humid days or when you just want a quick light lunch. With watermelon of every shape and size available in all their bounty this season, the Watermelon Bocconcini Arugula Salad is easy to put together.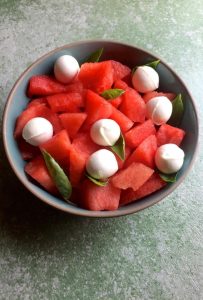 Watermelon, arugula and feta are the classic combination, but this Watermelon Bocconcini Arugula Salad is a keeper too. The fresh taste of the Bocconcini and the peppery arugula complement the sweet watermelon. The home made basil oil has just the right flavour to perk up the salad. Alternatively, just squeeze lemon juice and sprinkle fresh ground pepper and a little salt, to dress the salad.
I add bocconcini to my salads, if they suit the other ingredients. In this Watermelon Bocconcini Arugula Salad they are a perfect contrast in texture and flavour to the watermelon and the rocket (arugula leaves). My homemade basil oil is easy to make but it can be substituted with pesto, in the salad.
Wikipedia says that Bocconcini ... are small mozzarella cheeses the size of an egg. Like other mozzarellas, they are semi-soft, white and rindless unripened mild cheeses which originated in Naples and were once made only from milk of water buffaloes. Nowadays they are usually made from a combination of water buffalo and cow's milk. Bocconcini are packaged in whey or water, have a spongy texture and absorb flavours. This cheese is described by its Italian name which means small mouthfuls. It is made in the pasta filata manner by dipping curds into hot whey, and kneading, pulling and stretching. Each cheese is about the size, shape and colour of a hardboiled egg: indeed an alternative name used is Uova di bufala, or "Buffalo eggs". Baby ("bambini") bocconcini can also be purchased; these are a smaller version about the size of large grapes.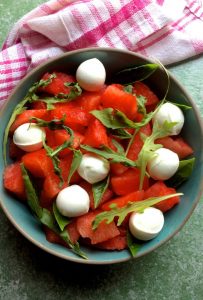 Here's the link to my recipe for easy homemade Basil Oil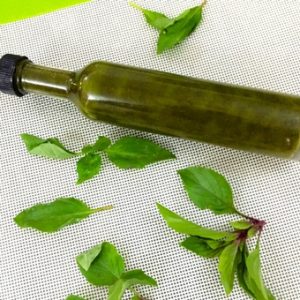 Other recipes you may like: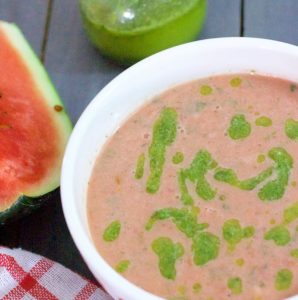 Arugula Pesto Pasta in Cherry Tomato Sauce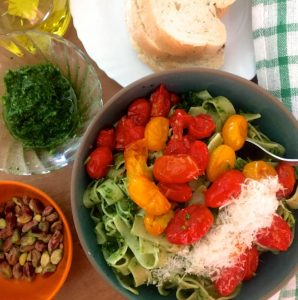 "Recipe"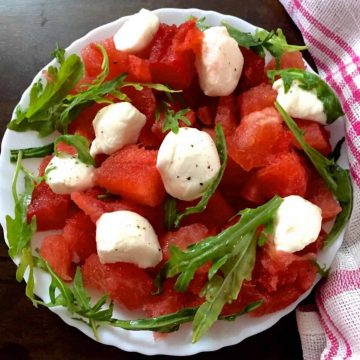 Watermelon Bocconcini Arugula Salad with Homemade Basil Oil
Refreshing lunch on a warm day, Watermelon Bocconcini Arugula Salad takes minutes to put together. Flavour it with homemade basil oil or with pesto.
Ingredients  
4

cups

watermelon cubes

¼

cup

arugula leaves

1

cup

Bocconcini Cheese

to taste

Fresh ground pepper

to taste

salt

1

tablespoon

Basil oil

Link to recipe for basil oil in Post above
Instructions 
Separate the flesh from the watermelon rind, and dice it to bite size pieces. Or you could scoop up little watermelon rounds with an ice-cream scoop, to match the spheres of bocconcini.

Place the watermelon pieces on each individual salad dish, add the bocconcini. Shred the arugula after removing the stalks, and add to the salad. Sprinkle salt and fresh ground pepper on each plate.

Add half a tablespoon of basil oil or lemon juice to each portion, just before serving. For the recipe for a very easy and flavourful Homemade Basil oil, check in the post above.