You know how it is when since morning nothing goes right? Woke up with a headache when there was so much to do. Business appointment got cancelled for the 3rd time in as many days.I hadn't done my weekly veggie shopping and it was too late to order online in time to prepare lunch. New driver didn't turn up for work so I couldn't go to the store. However Bangalore weather decided to be merciful after the oppressive humidity of the last few days, and there was a pleasant breeze blowing in from my kitchen balcony. The Chinese chimes were ringing like mad. So I decided to get rid of my ill humour and make one of my favourite meals - Capsicum Morekuzhambu.
Morekuzhambu is the South Indian avatar of Kadhi, using coconut paste in buttermilk or yoghurt instead of besan. Or maybe Kadhi is the North Indian avatar of Morekuzhambu! There are many versions of this dish, some of which do not use coconut. Easy and takes just 15 minutes to make, it tastes great with a fried potato, brinjals or ladiesfinger (okra) curry. I like it best with deep fried bitter gourd (karela/ pahakkai) rounds. I make a capsicum morekuzhambu but sometimes substitute ladies finger for the capsicum.
Kitchen hints for making Capsicum Morekuzhambu:
Grind the coconut into a fine paste rather than a coarse one.
Keep the pan on low flame throughout the cooking process. Higher levels of heat will make the curd breakup into curds and whey, which though it was what Little Miss Muffet of nursery rhyme fame liked, is not how a morekuzhambu should appear!
Use a whisk to keep whisking when the sauce is being cooked, for better consistency.
The slightly bitter taste of the karela offsets the mild spiced flavours of the capsicum morekuzhambu. I had mine with hot rice and a little ghee, and my day didn't seem so bad after all!
SaveSave
SaveSave
SaveSave
SaveSave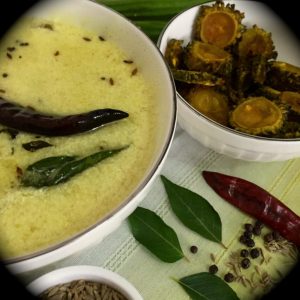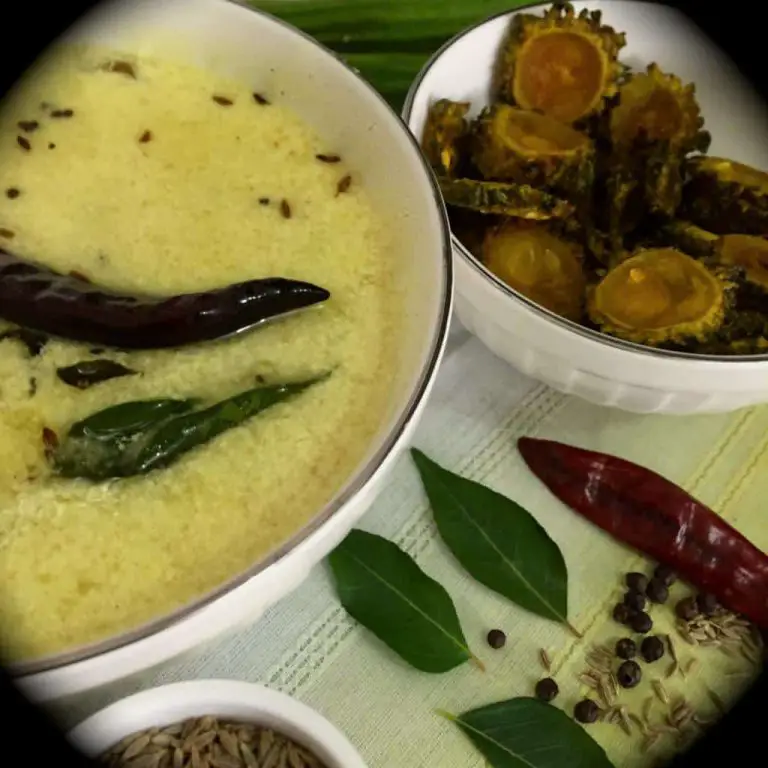 Capsicum Morekuzhambu and Fried Karela Rounds
Yogurt based capsicum morekuzhambu, made the Tamil Iyer way. With hot rice and fried karela or brinjal and with papad, its the perfect comfort food
Ingredients  
3

cups

curd

(yoghurt)

pinch

turmeric

powder a

½

tsp

cumin

(Jeera) powder

to taste

salt

1

tbsp

coconut oil

½

capsicum
For the paste:
1

tbsp

raw rice

1

cup

coconut

( grated)

1

green chilli

¼

cm

ginger

( piece)

1

tsp

Cumin seeds

(jeera)

2

Peppercorns

2

curry leaves

½

tsp

Mustard seeds

¼

tsp

Cumin seeds

1

red chili

Dry

a few

curry leaves
For the Karela Rounds:
2.5

cups

Karela sliced into rounds

or 1 long Karela

½

tablespoon

turmeric powder

1

tablespoon

coriander powder

½

teaspoon

salt
Instructions 
To make Morekuzhambu:
Soak the rice and dal/ lentils in water just enough to cover it, for about 10 mins.
The Curd should not be too fresh and creamy, but about a day old.

Dice the capsicum into one cm sized pieces. Heat coconut oil and saute the capsicum for 2 minutes. Remove into a dry bowl and reserve the oil for the seasoning.

Churn/whisk the curds adding a little water if too thick, add turmeric, jeera powder and required salt, and bring to a boil. The curd splits into whey or curdles if exposed to high heat, hence cook only on a low flame throughout. Whisk frequently .

Add the soaked dal and rice to the grated coconut, ginger, jeera, peppercorn, 2 curry leaves and the green chili and grind to a paste. Keep aside

Once the curd begins to simmer, add the coconut paste. Boil for 2- 3 minutes on low flame.  The rice in the paste will help it thicken. Add the capsicum. Remove from the stove.

Season with mustard, dry red chili, jeera seeds and curry leaves in the reserved coconut oil.
Serve hot with hot rice and bhendi/ brinjal or karela. And pappad.

To make Karela / Pahakkai Rounds: Wash the karela, keeping the peel intact. Slice horizontally into ¼ cm thick rounds.

Mix coriander powder, turmeric and salt in a dry bowl. Place one layer of the karela slices in a colander or wide bowl, sprinkle the powder mixture on top. Add another layer and repeat till all the slices are coated with the turmeric coriander salt mixture. Shake the colander so that both sides of all slices are well coated.

Heat oil in a small frying pan. Fry the karela in batches, keeping the stove on high for two minutes, for each batch, and then maintain low flame so the karela does not turn black and char. Stir frequently.

Once the slices begin to brown with just the edges being greenish in colour,it's time to remove them from the pan.
Transfer each batch to a dry container after draining the oil. Cover it only after the karela has cooled, otherwise it could turn soggy if covered when hot.

Serve karela / Pahakkai with Morekuzhambu and hot rice.