The Thiruvathirai Ezhukari Kootu Kuzhambu is the perfect foil to the sweet kali prepared for the Thiruvathirai festival in Marghazhi/ Dhanurmasa (late Dec or early Jan). The chili and spices in the curry offsets the sweetness of the kali made from broken wheat/ rice, jaggery and coconut. If prepared to the right consistency and taken hot on a chill winter morning, it is truly a feast.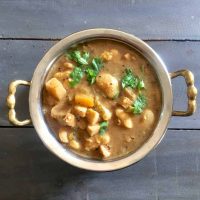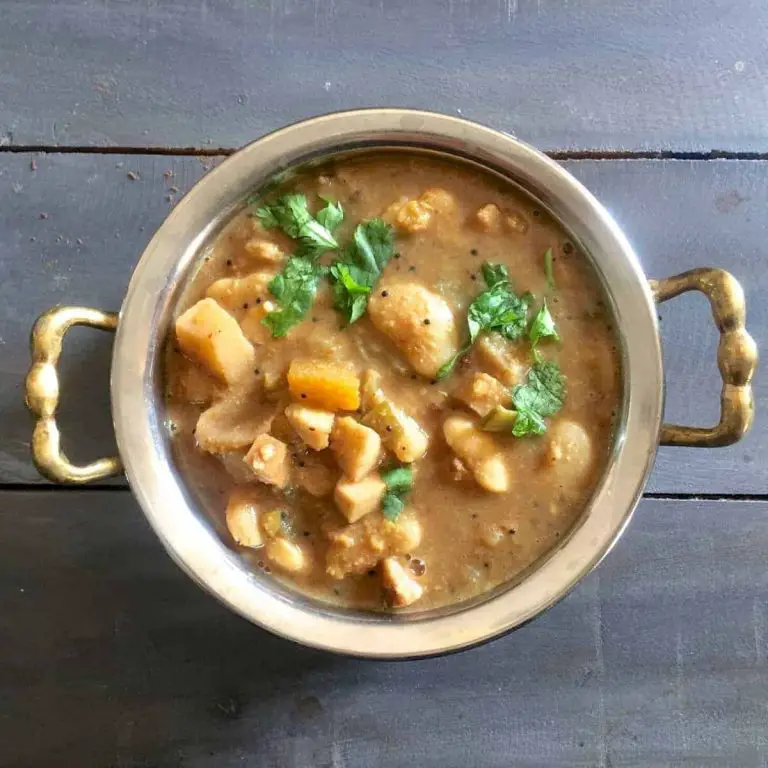 I have to say that my memories of the kali are not great as I disliked its dark colour (perhaps the jaggery we used those days was dark, lending its hue to the kali). Like most other Tamizh children, I preferred the Sakkarai Pongal with its heady aroma of ghee and cardamom and studded with fried cashew nut. The kootu which accompanied the Kali was another story though. My mother did not make it thick as Kootu is supposed to be, but more fluid like sambar. The combination of vegetables gave the Thiruvathirai Ezhukari Kootu both texture and taste. There was the right amount of chili heat and the fried coriander, chili and coconut made the kootu full of flavour.
The Thiruvathirai Kali I make is different from what I remember from childhood, with a pleasing  consistency as well as enhanced flavours from fresh coconut and green cardamom. For the ezhukari kootu kuzhumbu however, I have stuck to the method and ingredients my mother followed, and have also keep it fluid as I enjoy it with hot rice as well as an accompaniment to Kali.
What Vegetables are used in Thiruvathirai Ezhukari Kootu
Ezhukari Kootu means a stew from seven (ezhu in Tamizh) vegetables. A minimum of seven are used.
As this is a traditional recipe, I have kept to the original concept followed in Tamilnadu, i.e. using only seasonal and country vegetables. No potatoes, carrot, capsicum, cauliflower, tomato or the like.
Drumsticks are not used in this curry, though it is a traditional country vegetable.
Eggplant may be used, but it's not in my list as I don't like the taste of boiled eggplant/ brinjal.
I select the seven vegetables from the following, and you can add brinjal to the list if you like:
White Pumpkin/ Ash Gourd/ Poosanikai
Red Pumpkin/ Kaddu/ Parangikai
Raw Green Banana/ Vazhakkai
Sweet Potato/ Sakkarai Velli Kizhangu
Colocasia root/ Arbi/ Sapen Kizhangu
Broad Beans/ Avvaraikai
Cluster Beans/ Kothavarangai
Snake Gourd/ Podalangai
White broad beans/ Mochai kottai
Making Thiruvathirai Ezhukari Kuzhambu
When making the Ezhukari Kootu/ Ezhukari Kozhumbu, dice the vegetables uniformly so that they cook faster. I have not used the pressure cooker as it tends to overcook the vegetables.
You may cook colocasia / arbi separately as it cooks faster. Sweet potato and dry white beans take more time to cook. I did boil the veggies all together, adding only the green broad beans towards the end. However in the instructions, I have given steps for doing this separately, as that is the better method.
The recipe below follows the traditional Tamizh method of making the Curry.
Here's my  Recipe for Thiruvathirai Kali which is accompanied by Thiruvathirai Ezhukari Kootu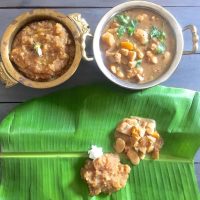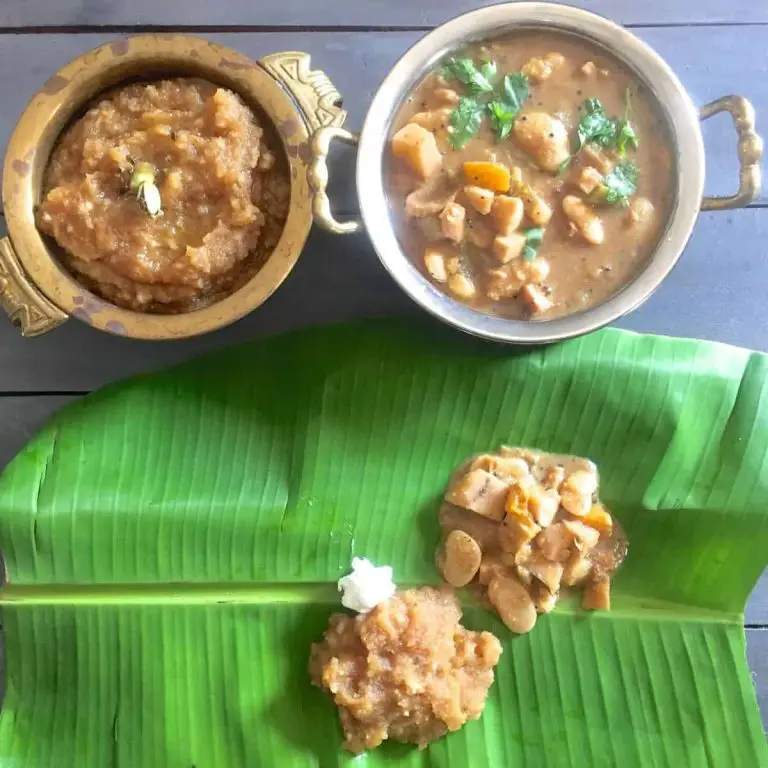 Other Festive Tamizh Recipes From This Blog:
Puliyodharai from Home made Pulikachal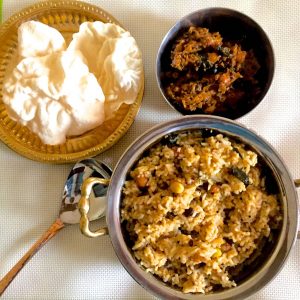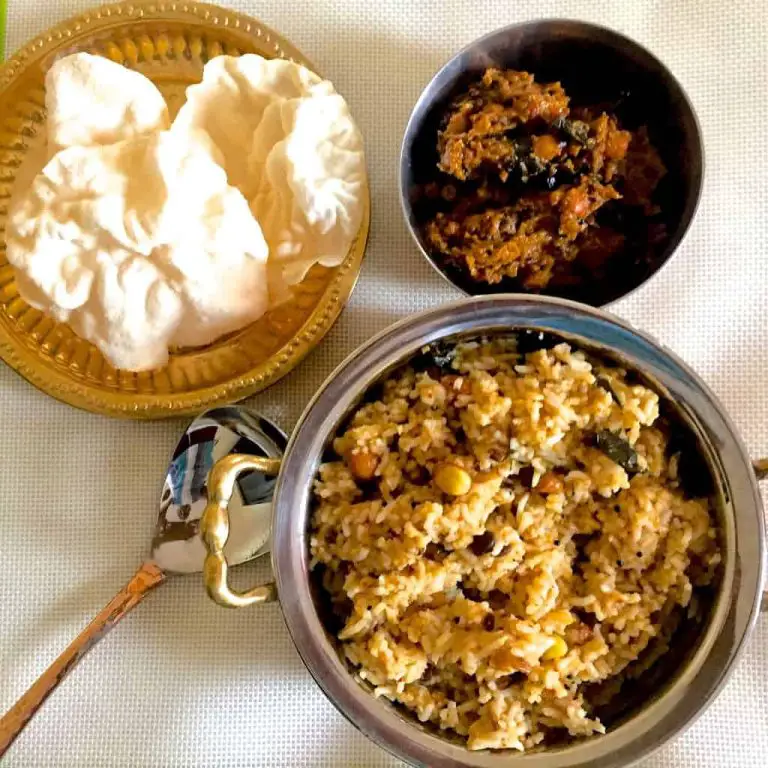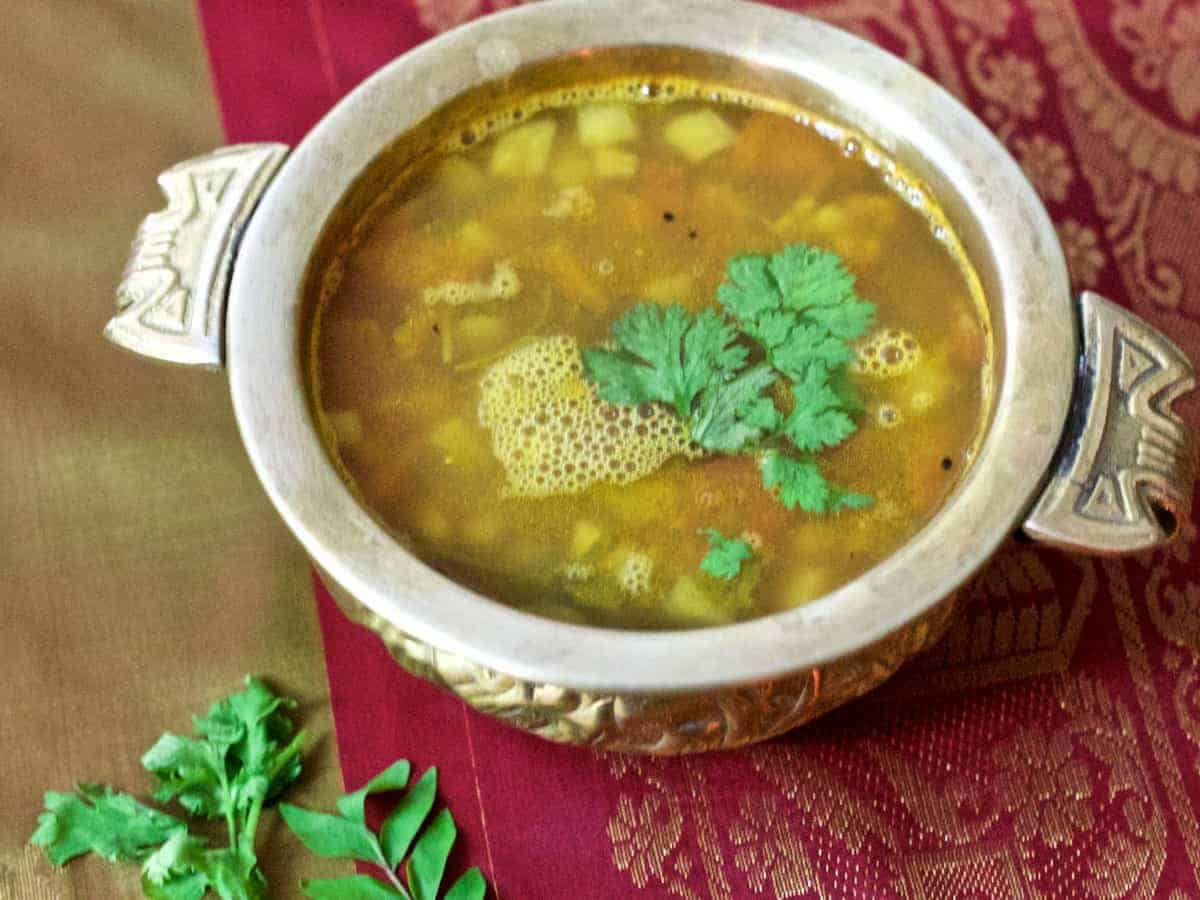 Arachuvitta Sambar with Small Onions/ Vengaya Sambar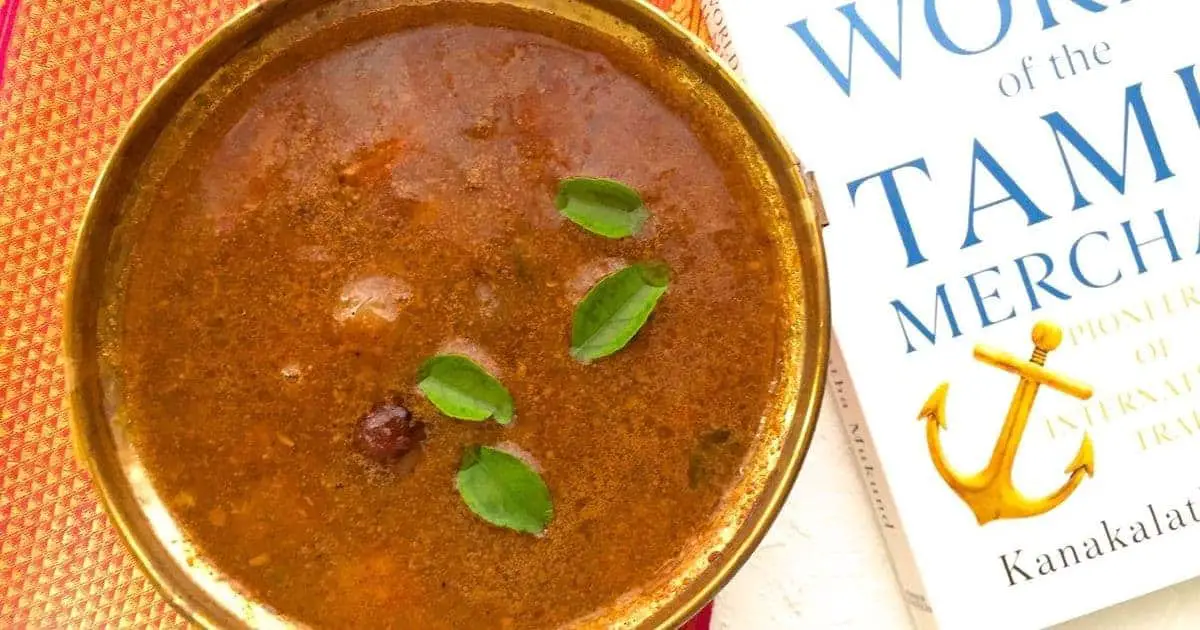 "Recipe"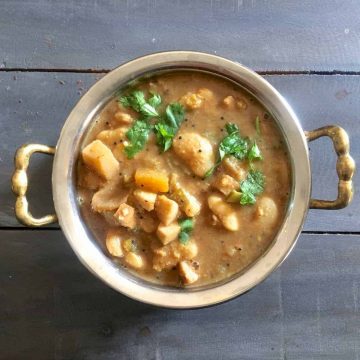 Thiruvathirai Ezhukari Kootu Kuzhambu/ Kali Kuzhambu
Ezhukari Kootu, a curry of Seven traditional/ country vegetables cooked with lentils and a spiced coconut paste. Accompaniment for Tiruvathirai Kali, a special naivedyam prepared for this South Indian festival of Thiruvathirai or Arudra Darisanam
Ingredients  
For Paruppu/ Dal
½

cup

red lentils

/ thowaram paruppu/ thowar dal

1 ½

cups

water

to pressure cook the lentils

a

pinch

turmeric powder
For Coconut Paste
½

tablespoon

sesame oil

(½ - 1 tablespoon) or sunflower oil / coconut oil

2

teaspoons

coriander seeds

2

teaspoons

bengal gram dal

/ kadalai paruppu/ channa dal

2

units

dry red chilies

adjust according to preferred heat

½

teaspoon

raw rice

½

cup

coconut

grated, fresh if available
For Spice Mix/ Seasoning
2

teaspoons

sesame oil

or sunflower oil/ coconut oil

1

teaspoon

mustard seeds

½

teaspoon

fenugreek seeds

/ mendiyam/ methi

1

dry red chili

adjust according to preferred heat

1

pinch

asafoetida powder (gluten free)

for a gluten free dish, use gluten free asafoetida

a

few

curry leaves
Vegetables
½

cup

yam

/diced chenai kizhangu. Important: See instructions below on including Yam if you are not used to adding it in your food

½

cup

colocasia

diced sepan kizhangu / arbi

½

cup

broad beans

sliced avaraikkai

½

cup

raw banana

diced

½

cup

red pumpkin

diced parangi kai/ seetafal

½

cup

sweet potato

diced sakkarai velli kizhangu

½

cup

dried white beans

mochai kottai
For the Ezhukari Kootu
1 ½

tablespoons

tamarind pulp

an Indian gooseberry sized lump of tamarind

¼

cup

coriander leaves

minced

¼

teaspoon

salt

or to taste
Instructions 
Cook The Lentils/ Dal/ Paruppu
Rinse the thowaram paruppu/ red lentils, add turmeric and water and pressure cook for three whistles. You want a very soft dal that you can mash thoroughly.

You can add the dry white beans/ mochai in a separate bowl in the cooker, as it takes longest to cook and you can save time in cooking the vegetables.

Allow the cooker to release steam on its own.

When required for the Kootu, mash the dal well with a wooden masher or a whisk.
Prepare Tamarind extract
Soak tamarind pulp in about 1 cup water. After 15-20 minutes, squeeze the pulp several times to extract the tamarind water. Drain/ remove the pulp and set aside the extract till required.
Prepare the Vegetables for Ezhukari Kootu
Select vegetables from the list given in the post above. As mentioned earlier, only country vegetables are taken for an authentic version of the kootu. English veggies such as potato, capsicum etc are not used. Drumstick is not used in this kootu.

While the dal is cooking, wash all the vegetables. Soak the dry beans/ mocchai kottai in a bowl of water and set aside till required.

Dice the vegetables to a uniform size, about 1 cm square to facilitate quick cooking.

Peel the raw banana, dice and place the slices in water to prevent it from becoming black.

Sweet potato need not be peeled if it is clean. Mine had black marks, so I peeled it. Dice the sweet potato.

Peel the colocasia/ sepan kizhangu/ arbi and dice, placing the slices in water. Alternatively, boil the colocasia till cooked, remove and peel the skin. Slice and keep aside till all vegetables are cooked and are to be added to the curry.

Peel and dice the white and red pumpkin, removing seeds and fibre from the inside before slicing.

Fresh broad beans/ avarakkai- remove the fibre/ string at the sides and slice to 1 cm sized pieces.

Peel the yam, dice into 1 cm sized pieces. Some people can get itching skin when using yam and may even be allergic to it, so check for your family before using. After slicing, wash your hands with soap and apply a little coconut oil to prevent itching, as a precaution even if you don't have an allergy to yam.

If snake gourd is used, slice it into small lengths, split it down the middle, remove seeds and pith and slice as required.
Cook the vegetables
Cook colocasia separately for about 10 minutes till soft. Drain, peel and slice as above.

Cook the sweet potato, yam and dry white beans together, adding a little salt (just a pinch will do). Cook the pumpkin and raw banana together with a pinch of salt, as these cook fast. Towards midway in the cooking, add the green broad beans.

I actually cooked all the veggies together with salt, and added the green broad beans/ avarakkai mid way through the process. I recommend however that you boil the colocasia separately as it creates a foam on the surface and cooks very fast.

Drain all the cooked vegetables and place them in a bowl

If you have pressure cooked the dry white beans/ mocchai, drain and now add it to the rest of the veggies.
Make the Coconut Spice paste
In a small frying pan, heat oil (coconut oil may be used instead of sesame/ til oil). Add the ingredients under the list Coconut paste, one by one, roasting them on low flame so they do not blacken/ char. First the dry coriander seeds, then the split bengal gram/ kadala paruppu, then the dry chilies, the rice and finally the grated coconut. Saute each for 30 seconds/ a minute, until fried, and then add the next item.

Transfer the roasted mixture to a heat proof bowl. When cook, grind in a mixie/ processor to a fine paste, with as much water as is required for grinding. I used ½ cup of water.
Make the Ezhukari Kootu
In a medium sized pan (large enough to take all the cooked vegetables), heat oil.

Once the oil is hot, add the seasoning one by one, sauteing on low heat, for 30 seconds or so: mustard seeds, fenugreek seeds, dry chili, asafoetida, curry leaves.

Add the drained cooked vegetables. Stir well

Add tamarind extract already obtained. Stir. Add ¼ teaspoon salt, and bring it to a boil. Reduce heat to low or medium low and boil till the raw tamarind smell goes (7-10 minutes).

Add mashed cooked lentils/paruppu/ dal and the coconut spice paste. Stir well.

There should be sufficient water from the dal and tamarind extract to finish the cooking process, but if required add a little water (about ½ cup).

Bring to a boil and reduce the heat. Cook for 10 minutes, stirring frequently to ensure that the vegetables are not dry and sticking to the pan. Check for salt, and add if required.

Remove from the heat and serve hot with a garnish of coriander leaves and with Thiruvathirai Kali
Nutrition
Serving:
1
1 cup
Calories:
224
kcal
Carbohydrates:
35
g
Protein:
10
g
Fat:
6
g
Saturated Fat:
2
g
Sodium:
116
mg
Potassium:
738
mg
Fiber:
11
g
Sugar:
5
g
Vitamin A:
1838
IU
Vitamin C:
16
mg
Calcium:
75
mg
Iron:
4
mg
RECOMMENDED PRODUCTS
As an Amazon Associate and member of other affiliate programs, I earn from qualifying purchases.