An earthy, spicy, flavourful gravy, the fresh sundakkai (turkey berry) gives a great texture to this Pachai Sundakkai Puli Kuzhambu. Pachai, in Tamizh, is green/ fresh as opposed to the dried form in which this berry is popularly used.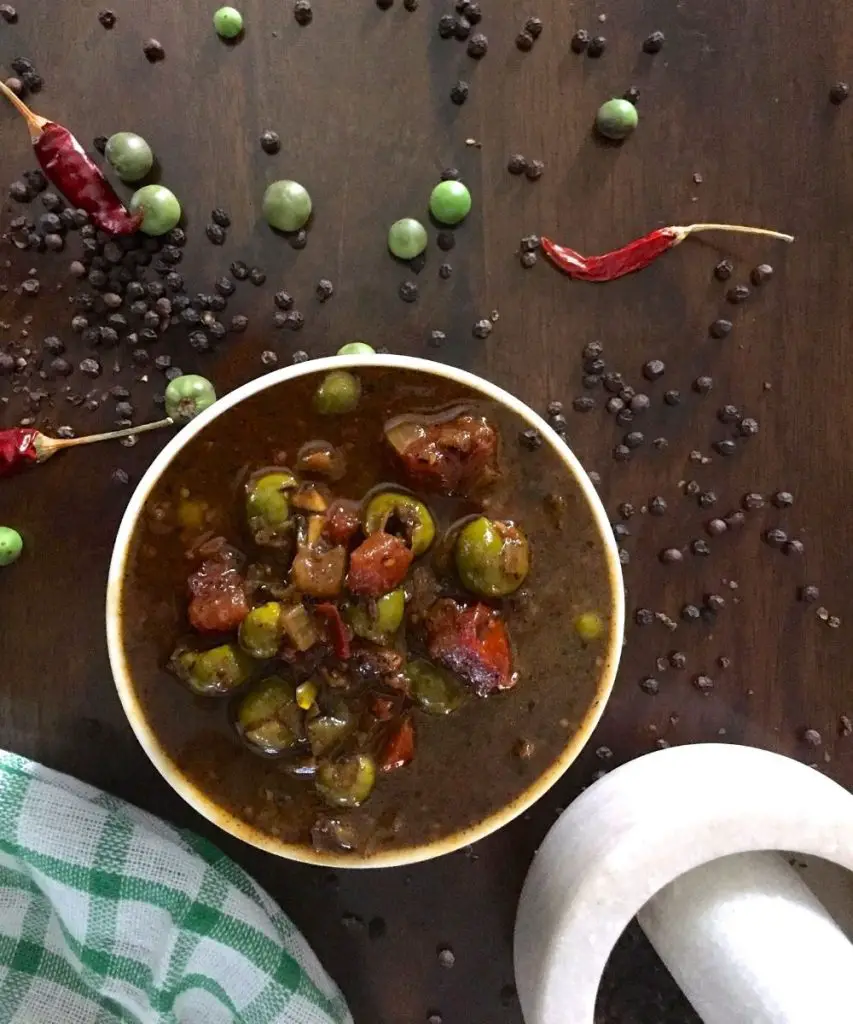 Jump to:
It is only last year that I started cooking with these green berries, though the dried vathal version is one I have been used to since the days of my mother's sundakkai vathal kuzhambu. The community farms from where I have been buying my veggies for the last 3-4 months had sundakkai as one of the items on sale and got me to trying them out in different recipes.
I first made this kuzhambu last year from a batch of fresh turkey berries which my friend in Chennai, Theyan, generously gave from her garden. She shared her recipe too. I need to try out her method which uses ground spices rather than the spice paste that I make. I will update this post once I make it from that recipe.
Possible Health Benefits of Turkey Berries
Sundakkai/ Turkey berries are believed to have various nutritional and medicinal properties. To read more about this, refer this article on Healthline.
What is the Difference Between Puli Kuzhambu and Kara Kuzhambu
I did some research on this question, as I was initially rather confused. From what I now understand, when the base sauce/ gravy is predominantly or wholly from tamarind extract, this is a puli kuzhambu. When tomatoes join the party, it becomes a kara kuzhambu. Puli kuzhambu is usually a little thinner than a kara kuzhambu. Hence in this specific Sundakkai kuzhambu recipe, if you omit the onion and tomato and make the kuzhambu a little more fluid, it becomes a puli kuzhambu. Either way, the dish is delicious and perfect comfort food on a rainy day. Or any other day for that matter.
How To Cook Pachai Sundakkai/ Fresh Turkey Berry?
1. The important step is to first gently crush each berry ( I used a small mortar and pestle) and then to rinse and drain. This, I understand, removes some of the bitterness from the berries.
2. When you add the sundakkai berries to the gravy as in the instructions below, stir them well for two minutes so that they are fried through.
To Make the Sundakkai Kuzhambu
1. There are different versions of pachai sundakkai puli kuzhambu. I have opted here for one with both onion and garlic as they add both flavour and a richer consistency to the dish. You could leave these two out if you prefer. I don't add onion and garlic to vathal kuzhambu, though.
2. For the kuzhambu to get its traditional flavours and aroma, gingelly/ til oil (popularly used in Tamizh and some South Indian cooking and extracted from sesame seeds) is the best fit. Alternatively, a mild vegetable oil such as sunflower seeds oil may be used. A stronger flavoured oil such as coconut or mustard would probably overwhelm the taste of the spices and change the flavour profile of the dish.
3. The tamarind extract should be allowed to cook well and to reduce by about a third, to get the best flavours and thickness for the kara kuzhambu.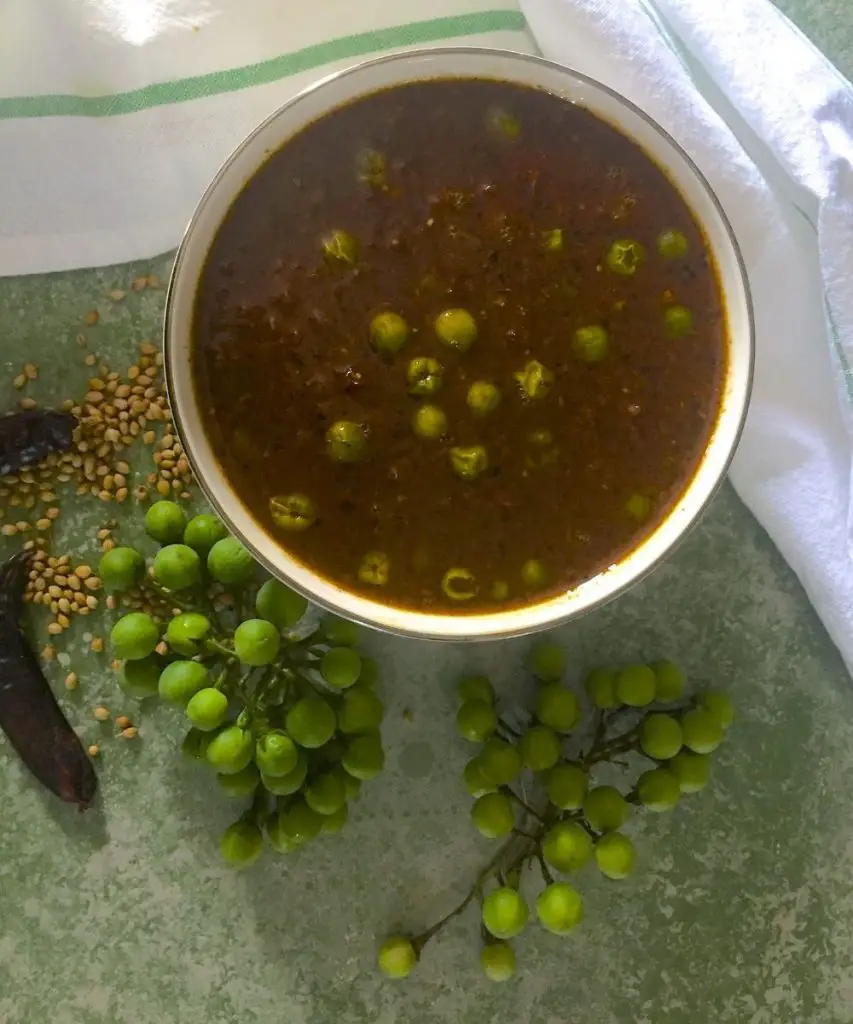 Sundakkai Theeyal is next on my list, while the season for the berries lasts. If I have enough fresh sundakkai left over, I will soak them in curd and sun dry to make vathal.
Other Recipes From Tamil Cuisine
"Recipe"