The Tamil Iyer kitchen's Arachuvitta Sambar made with tamarind, lentils, freshly ground coconut and spices. No sambar powder added. Sauteed baby red onions. Tempered with Mustard and Red chilies in coconut oil. This is total comfort food with hot rice, ghee (for the non vegans), a simple beans or brinjal or bhindi poriyal and appalam. Vary it by adding sliced radish or bitter gourd or drumstick instead of the sambar onions. Each vegetable or 'taan' gives a different dimension and flavour to the sambar. Festival meals in Tamilnadu are incomplete without this tantalising sambar.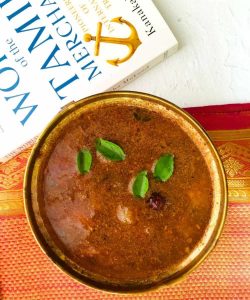 My partner in the Shhh Cooking Secretly Challenge Tamil Nadu theme this month, Aparna Parinam, was quick to specify two ingredients that are essential to Tamil Nadu cuisine. There is hardly any savoury dish that is made without these two finding a place in the ingredients list: Turmeric, that healing manjal podi, and Mustard seeds which add a zing to any dish. I therefore decided to post this traditional sambar with small onions in time for the festival season that is upon us.
In my family, the only recognized sambar is Shanta Aunty's arachuvitta sambar. No one else can make it like Shanta Ravikumar, even if the exact same recipe is followed. My sambar varies in some aspects from what I recollect of hers. I know for sure that my daughters, much as they love my cooking, are going to ignore this post and will continue to make the sambar Aunty's way, and I don't grudge it one bit.
My Mom would always make this sambar on festival days. It was a must on the menu for the grand Deepavali eve feast, and mandatory when the son-in-law was present!
How To Make Arachuvitta Sambar
Give adequate time for the tamarind to soak, so that you get the best out of it. The tamarind adds both flavour and substance to the sambar.
Keep everything ready as in the instructions below, before you start making the sambar. Soak tamarind, cook the lentils, roast and grind spices and coconut into paste. It's faster and you reduce the risk of overcooking something or charring it, while you prepare the next set of ingredients.
I like to cook the thowar dal really soft and then mash it with a wooden  masher or a whisk, so that it blends into the tamarind extract and ground paste. I'm not fond of lentils visibly floating in my sambar or left as a thick residue, and I'm sure you are not too! And why let all that protein go to waste!
When roasting the spices and coconut, keep the heat on low or medium, and stir often. If the chilies and coriander become black or char, the flavour of the sambar is reduced and the colour will be dark too. A light brown / mustardy colour will give the sambar an attractive hue.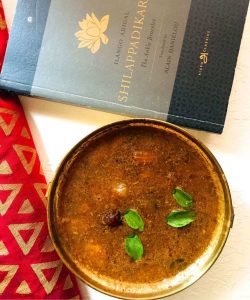 About the Ingredients
I use two different oils for the sambar: Sesame oil/ nalla ennai for roasting the small onions and the spices, and coconut oil for the tempering. Sesame oil is a traditional oil in Tamil cooking and it gives a very special flavour and aroma. You can use sesame oil or ghee for the tempering, but I think coconut oil tempering really lifts up the arachuvitta sambar to a different dimension.
The chilies I cook with nowadays are the slim, longish red chilies from Hindupur in Andhra Pradesh. They are really, really, spicy hot and just handling them means I have to wash my hands immediately with soap. I have therefore used only 2 chilies. Depending on your spice appetite and quality/ heat of chili, you need to adjust the quantity accordingly.
Fresh grated coconut is ideal for the archuvitta sambar. I haven't yet used desiccated coconut which may be the only option in some places outside India. So long as the coconut tastes flavourful and not spoilt, it should do fine in this recipe.
Tamarind: I use a mix of old rather dark tamarind (again from the Hindupur market), and a newer brown one. This gives me the right combination of tartness for my rasams and sambars. The older tamarind is sweet and sour, less acidic than the newer one, and the brown one reduces the dark colour and gives a sambar a pleasant look.
Sambar onions: The baby red onions or Madras onions/ sambar onions are perfect in this dish. They are sweeter and tastier than the regular onion we use in curries and gravies. They are also known here in India as shallots, though botanically speaking, they may differ from the shallots you get in Europe.
This festive season, try making Iyer Style arachuvitta sambar with chinna vengaiyam/ small onions, at home, and let me know how you liked it!
I had talked above about my partner for this month, Aparna Parinam of the food blog Tangy Tales. Aparna is the author of the cookbook Chutneys, Adding Spice To Your Life, and her site has a wide range of recipes, specially traditional ones from India. Do visit her site, you will love it! 
For this months theme, Aparna used as secret ingredients, cluster beans and coconut and with these she made this very interesting curry using both the ingredients. For the recipe, please check here.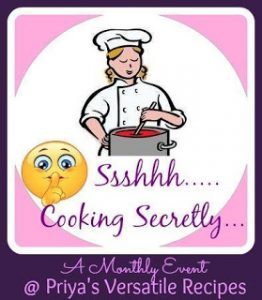 This Post is sent to the Event  Shhhh Cooking Secretly Challenge, for the theme Tamil Nadu Cuisine. To explain a little about this group: It was started by Priya of Priya's Versatile Recipes and is now administered by Mayuri Shah of Mayuri's Jikoni.
Every month the member food bloggers are paired up and give each other the names of 2 secret ingredients to cook with, according to the theme for the month. If you're interested in joining this exciting group then please leave a message in the comments!
Other Tamil Cuisine Recipes You May Like From My Blog :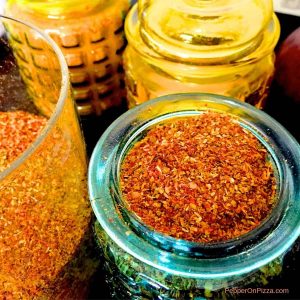 Kothavarangai Parrupu Usili/ Traditional Tamil curry of Cluster Beans with lentil paste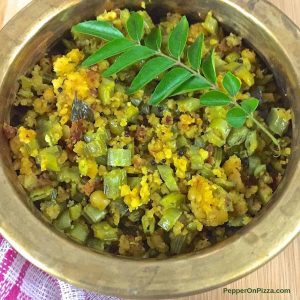 Peerkangai Thogiyal / Ridge Gourd Chutney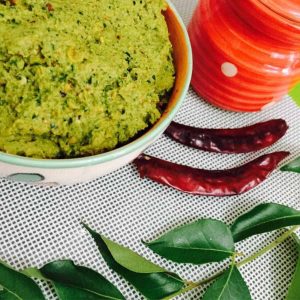 Simple Brinjal Capsicum Curry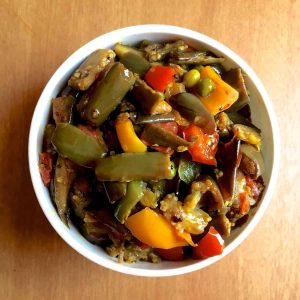 "Recipe"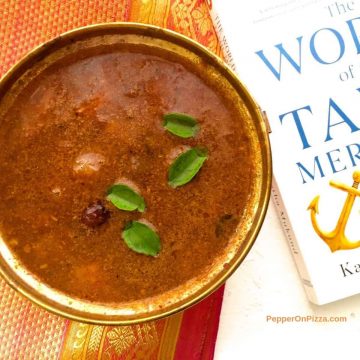 Arachuvitta Sambar with Lentils and Paste of Roasted Spices and Coconut
A Tamil Iyer recipe, Arachuvitta sambar has tamarind extract boiled with cooked lentils and a paste of fragrant roasted spices and coconut. Baby red onions, drumstick, radish or bitter gourd are added to the sambar which is tempered with mustard seeds, chili and curry leaves in coconut oil
Equipment
Pressure Cooker

Mixie / Food processor

Small frying pan

Medium sized Pan
Ingredients  
For the Dal/ Lentils
1

cup

Thowar Dal/ Thowaram Paruppu

Pigeon Pea Lentils

⅛

teaspoon

Turmeric Powder

1

cup

Water for pressure cooking

Enough water to cover the dal well
For the Tamarind Extract
1

Lemon sized

Tamarind pulp

the size of a small Indian lemon, or a little more than would fit into a tablespoon

1

cup

Water

for soaking the tamarind
For the Coconut Spice Paste
1

tablespoon

Sesame Oil or Coconut oil

4

tablespoons

Dhania seeds

Coriander seeds

2-4

Dry Red Chilies

As per taste

1

teaspoon

Rai/ Kaduggu

Mustard Seeds

½

teaspoon

Methi/ Vendiyam seeds

Fenugreek seeds

⅛

teaspoon

Hing/ Perungayam

Asafoetida powder

1

teaspoon

White Til/ Ellu

White Sesame seeds

a

few

Curry leaves

½ - ¾

cup

Grated coconut

or about ½ a medium sized coconut, grated or in small pieces
For Frying Sambar Onions
1

tablespoon

Sesame oil

8-10

Baby red onions/ red shallots

Peeled
For Arachuvitta Sambar
1

cup

Tamarind extract

from Ingredients list above

½

cup

Tomato slices

1 medium tomato, diced into 2 cm pieces

⅛

teaspoon

Haldi/ Manjal podi

Turmeric Powder

a

few

Curry leaves

½

teaspoon

Salt

or as per taste

Coconut paste

from ingredients list above

Cooked towar dal

from ingredients list above
For Tempering
1

tablespoon

Coconut oil

½

teaspoon

Mustard seeds

1

Dry Red Chili

a

few

Curry leaves
Instructions 
To Cook the Thowar Dal / Pigeon Pea Lentils
Rinse and drain the lentils. Place in a pressure cooker with water and turmeric powder. Cook for 2 whistles. Remove from the heat and allow the cooker to reduce steam by itself. Open the cooker when required, as in the instructions below for making the coconut paste.
To Make Tamarind Extract
Soak the tamarind for 20 minutes in ½ cup of water, or for 10 minutes in hot water. When required, squeeze out the juice from the pulp and filter the extract into a bowl. Add the remaining ½ cup of water (in ingredients list above) to the left over pulp, and squeeze out as much of the juice as you can. Use the tamarind extract as in instructions below.
To Make Coconut Spices Paste
Set a small pan on the stove (I use cast iron). Heat sesame oil. When the oil is hot (not smoking hot, just hot) add mustard seeds and methi/ fenugreek seeds/ vendiyam. Stir and fry for 10 seconds or till the methi begins to darken.

Add dhania seeds / coriander/ kothamalli vera and stir for about 30 seconds till they just begin to darken. You don't want the spices and chilies to become black as this will make the sambar an unappetizing dark colour, so keep stirring and watch the pan.

Add dry red chilies after removing the stalk. Stir and roast for 10-15 seconds, turning them midway so that both sides of the chili are fried.

Add til/ sesame seeds/ ellu. Add hing/asafoetida/ perungayam and curry leaves. Stir. The curry leaves may spatter if fresh, so keep a little distance from the stove.

Add the grated coconut or small slices of coconut. Stir well and roast for about 15 seconds.

Remove the roasted spices to a heat resistant bowl and set aside to cool. Keep the pan on the stove for frying the onions.

Once cool, grind the coconut and spices in the processor with just as much water as is required to make a paste of chutney consistency, ie ground fine. Transfer to a bowl and stir the paste.

Once the pressure cooker has cooled, open the lid, add the dal to a bowl and mash it well. Add the coconut spices paste to it and mix it in. This is how I make sambar, but if you wish, mash the lentils and set aside. Mix the paste well, and then add each of them to the tamarind extract separately, when required as per instructions below.
To Fry Sambar Onions
Peel the onions.

While the roasted spices are cooling, wipe the pan in which you roasted them and add 1 tablespoon of sesame oil.

Add the peeled small onions, whole. Fry on medium flame for about 2 minutes, stirring occasionally, until the onions are fried all over. Drain and remove to a heat resistant bowl and set aside.
To Make Arachuvitta Sambar
Set a pan on the stove. Add the tamarind extract, turmeric powder, tomato slices and curry leaves as listed in the Ingredients under 'For Arachuvitta Sambar'. Add a little salt ( you can add more salt, if required, at the end).

Bring the mixture to a boil and then simmer it on low heat for about 10 minutes till the raw smell of tamarind has gone.

Add the cooked dal/ coconut paste mixture or add mashed dal and coconut paste separately, to the pan. Bring to a boil and simmer on low heat for 5 minutes.

Check for salt adequacy, add more if required (cautiously- there's no culinary disaster bigger than a dish well done but over salted!). Remove the pan from the heat.
To Temper the Sambar
Heat a small frying pan ( I wipe out and use the one I roasted the spices and onions in)

Add coconut oil and keep the heat on low. When its hot enough, add mustard seeds. Once they finish crackling, add dried chilies, turning them over after a few seconds so that both sides are fried.

Add curry leaves (they may splatter in the hot oil, so keep your distance) and turn off the heat.

Pour the hot tempering on the sambar.

Serve hot with rice and ghee and accompanying dry curry/ poriyal and appalam/ pappad.