I fell in foodie love with these pretty pale green Patty Pan Squash when I visited the Union Square Greenmarket in New York City last week.  I paired them with green capsicum in a Patty Pan Squash Mint Soup, and added mint and fresh orange juice for flavour and cumin and pepper powder for a touch of spice. Lovely purple edible hyacinth flowers again from the Greenmarket made a colourful garnish.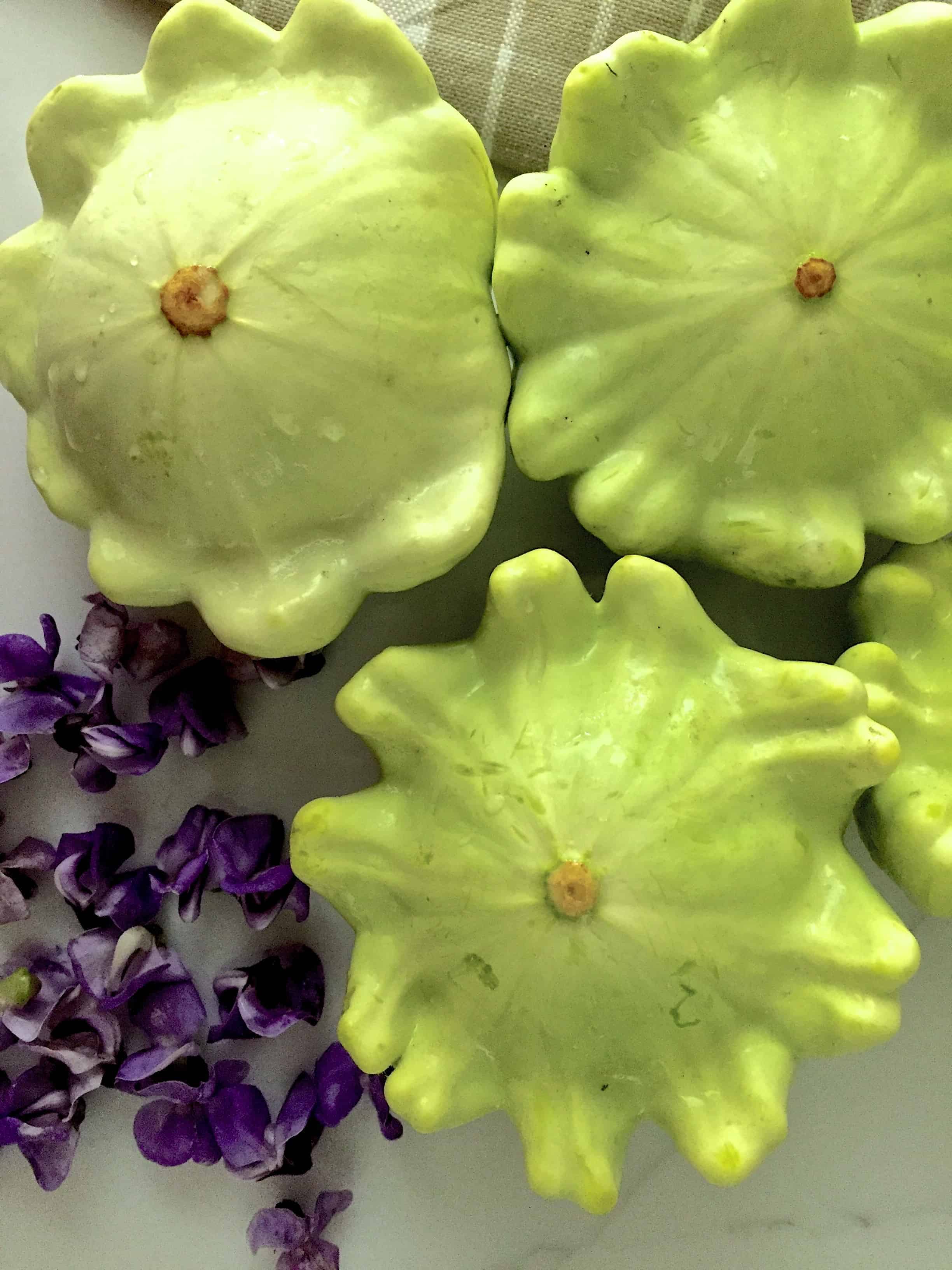 Making Patty Pan Squash Mint Soup
The soup is very easy to make. The squash were a little firmer than zucchini squash but cooked as quickly. Preparation for making the Patty Pan Squash Mint Soup didn't take much time or effort, as the squash can be cooked with the rind on, and you can slice it in minutes.
The green onion, sweet pepper and patty pan squash all contributed to the slight sweetness of the soup, so I may add a little cayenne pepper the next time I make it (there is going to be  next time for sure!)
The Patty Pan Squash Mint Soup is both refreshing and healthy and doesn't need much to be done to it once you have sliced the vegetables. Most squash soup recipes that I checked online used yogurt, but I didn't do that as it might have made the soup bland.
The Greenmarket was an interesting place to visit. Farmers from around NYC had brought their fresh and mostly organic produce for sale and the stalls were full of colourful heirloom tomatoes, many varieties of greens, squash, eggplant and carrots of different hues.
I picked up the green patty pan squash from the D'Attolico Organic Farms Stall, as well as some zucchini flowers which Clarici at the stall very kindly packed with ice so they could remain fresh (almost) till I reached back home to Connecticut that evening.
The hyacinths were from the many different edible flowers in the Windfall Farms stall. I wish now that I had also bought the purple Passion Flowers, they would have added oomph to any dish!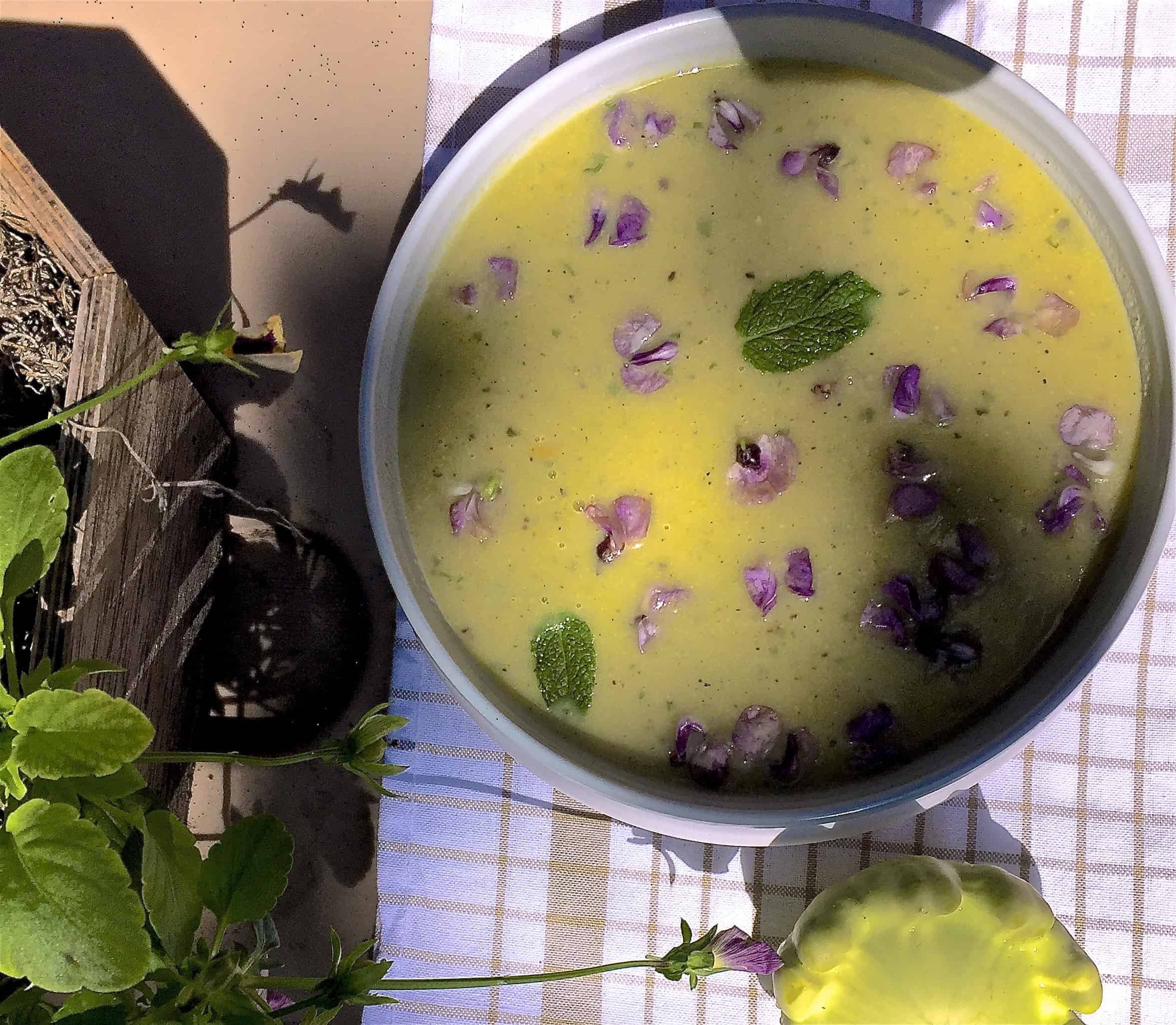 Much of the nutrients in this squash, Vitamin A and C, magnesium, folic acid and potassium are said to be found in the peel (rind), and as the rind is soft and cooks easily, it is healthier not to peel it. Choose young (baby) squash as the seeds would be soft and need not be removed when slicing.
There are different options you can choose for the garnish. I had fresh edible flowers and mint leaves, but would otherwise have toasted almonds and slivered them for garnish, with basil leaves. A pistou of olive oil, parsley and scallions would make for an interesting garnish. Or just make this easy Basil oil from my recipe - it would complement the soft flavours of this soup.
Link to Recipe for Homemade Basil Oil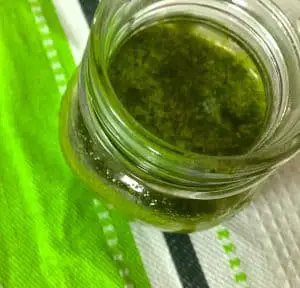 If you liked this recipe, you may like to try out: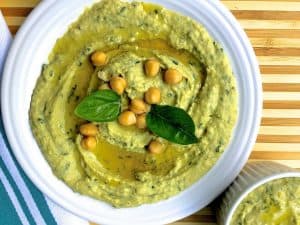 Ajo Blanco - Chilled White Grape and Almond Gazpacho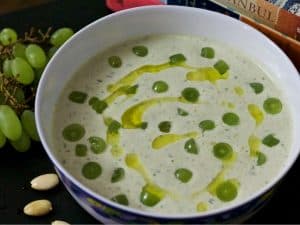 Whole wheat Patty Pan Squash Tomato Tart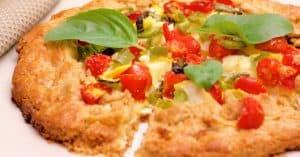 SaveSave
SaveSave
SaveSave
SaveSave
SaveSaveSaveSave
SaveSave
SaveSave
SaveSave
SaveSave
SaveSave
SaveSave
SaveSave
"Recipe"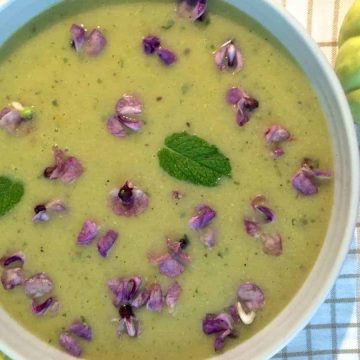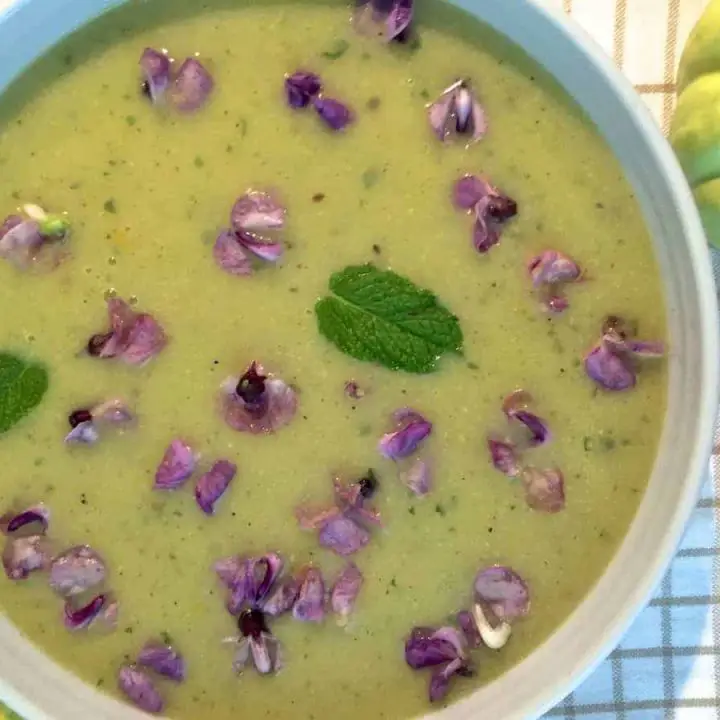 Patty Pan Squash Mint Soup with Orange and Hyacinth
Green Patty Pan Squash Mint Soup with Orange and Hyacinth and Green Capsicum plus a dash of cumin and pepper to spice it up. Delicious, refreshing, easy.
Ingredients  
For the Patty Pan Squash Mint Soup
2

tablespoons

olive oil

or mild vegetable oil

1

cup

green onion

(or scallions) sliced

1

teaspoon

sugar

½

cup

green capsicum

sliced

3

cups

patty pan squash

sliced, with the rind retained; 3 heaped cups; choose young or baby squash

3

cups

water

or stock

½

teaspoon

cumin powder

½

teaspoon

freshly ground pepper

2

teaspoons

salt

or to taste

2

tablespoons

mint leaves

minced

2

tablespoons

Fresh orange juice
For Garnish
a few

mint leaves

2

tablespoons

fresh hyacinth

or other small edible flowers

OR

1

tablespoon

slivered toasted almond

optional

OR

1

tablespoon

Basil oil

Link to Recipe given above
Instructions 
Slice the pattypan squash, capsicum and green onion. Mince mint leaves after reserving some for garnish. Toast almonds if using, and slice into slivers. Heat the oil in a pot or tall pan, add the onions and sugar and sauté for about 5 minutes till just before they begin to brown. Add the capsicum and squash slices, cumin powder and ground pepper and sauté for 3 minutes.

Add the water and half a teaspoon of salt, stir. (for a thicker soup, add only 2 cups of water instead of 3). Bring to a boil on high heat and then simmer, covered, on low heat for 10 minutes. Check that the squash has cooked (it will mash if you press a slice with a spoon or with your finger). Add minced mint leaves, stir and remove from the stove.

Cool the soup and puree with a hand blender or in a processor. The puree need not be smooth but can have small pieces of the vegetables to add texture to the soup. If using a processor, make sure the soup has cooled before you puree it as hot soup may splash out otherwise.

Pour the pureed soup back into the pot and place on the stove. Check and add salt to taste. This is a lightly flavoured soup so go easy on the salt so it does not overwhelm the other flavours.

Bring the soup to a boil, reduce the heat, add orange juice and remove from the stove. Serve hot, garnished with mint leaves and edible flowers or with mint leaves and either basil oil or sliced toasted almonds.