Before I talk to you about this recipe for Keerai Kootu or Amaranthus greens stew, let us talk a bit about poetry. We all know that greens are nutritious and are good for health. I was surprised however to find that there is poetry written about greens such as Amaranthus! I would never have connected this humble plant, (actually considered as weeds in some parts of the world), with soulful poetry!
John Milton, Percy Bysshe Shelley in "Bereavement", Samuel Taylor Coleridge, in Work Without Hope, have all immortalised the amaranth. In Paradise Lost, Milton says, "Immortal amaranth, a flower which once in Paradise, fast by the tree of life, began to bloom;but soon for man's offenceTo heaven removed, where first it grew, there grows,And flowers aloft, shading the fount of life.."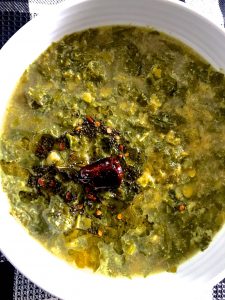 The New World Encyclopaedia quotes a tale in the Aesop's fables which compares the rose to the amaranth: 'A Rose and an Amaranth blossomed side by side in a garden, and the Amaranth said to her neighbour,"How I envy you your beauty and your sweet scent! No wonder you are such a universal favourite."But the Rose replied ,".. I bloom but for a time: my petals soon wither and fall, and then I die.But your flowers never fade, even if they are cut; or they are everlasting."
In fact, the very name Amaranth, derived from the Greek, means "one that does not wither," or the never-fading flower.
There are more than 60 species of amaranthus, spread over the globe, comprising ornamental plants, plants used for their grain and those for their leaves. Gluten free and high in protein, iron content and dietary fibre which aids in digestion, their nutrient content includes, apart from protein, carbohydrates, vitamins and minerals.
A search across the internet shows that certain species of amaranthus are used in the treatment of a myriad ailments and illnesses such as anaemia, premature greying of the hair, skin problems such as eczema and acne, as well as in lowering cholesterol and reducing the risk of heart related diseases, and is used in dental care and works as an effective mouthwash for treating mouth and gum related conditions. They have been found to contain essential amino acids lysine which along with other elements are said to help fight against radicals causing ageing, and even the formation of malignant cancerous cells. The amaranthus is thus a veritable cornucopia of health.
My go-to guide, Wikipedia says that there is archaeological evidence of amaranthus as a food crop, dating back to 6700 BC. And that, in ancient Greece, the amaranth (also called chrysanthemum and helichrysum) was sacred to Ephesian Artemis. It was supposed to have special healing properties, and, as a symbol of immortality, was used to decorate images of the gods and tombs. In legend, Amarynthus was a hunter of Artemis and king of Euboea.
The seeds of the amaranth were known to have been a staple food for the Incas and the Mayas. It is said that the early Spaniards who came to the Southern Americas, destroyed and forbid the cultivation of amaranthus, since the grains were used in many 'heathen' religious practices. In more recent times, ie in 2002, published research in Australia about Greeks who relocated to Melbourne and continued their Mediterranean diet of leafy green vegetables, olive oils and seasonal figs, instead of following the diet of the native Australians. The Whole Grain Council says that ... 'Of all the commercial and wild leafy greens studied, amaranth leaves were found to contain some of the highest levels of beta-carotene and lutein, even higher than the commercially available chicory and endive.'
Nearer home, in Indian Ayurvedic practices the juice from these leaves are used to treat diarrhoea and haemorrhage, aid in digestion and weight management.
Amaranthus leaves have given rise to a host of delicious Indian receipes, one of which, a South Indian, Tamilian Brahmin style recipe called Keerai Kootu, I have set down here. I have used the Siru Keerai or Tropical Amaranth for the keerai kootu, though you could comfortably substitute this with the Tender Amaranth (Thandu Keerai or Chaulai Saag) or Amaranthus Tricolour with its purple leaves (Arakeerai or Chaulai/ Chavleri Saag).
I love the way my Mom used to make this kerrai kootu: a little fluid, not as thick as Kootus generally are, and served hot with rotis liberally coated with melted ghee ! On a chill winter evening, this is my idea of comfort food: hot phulkas with Keerai Kootu!
SaveSave
SaveSave
SaveSave
"Recipe"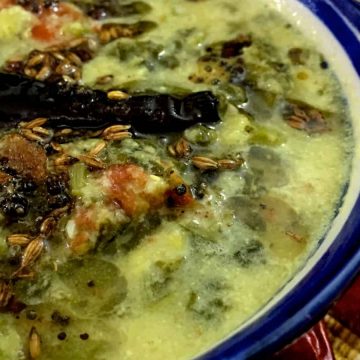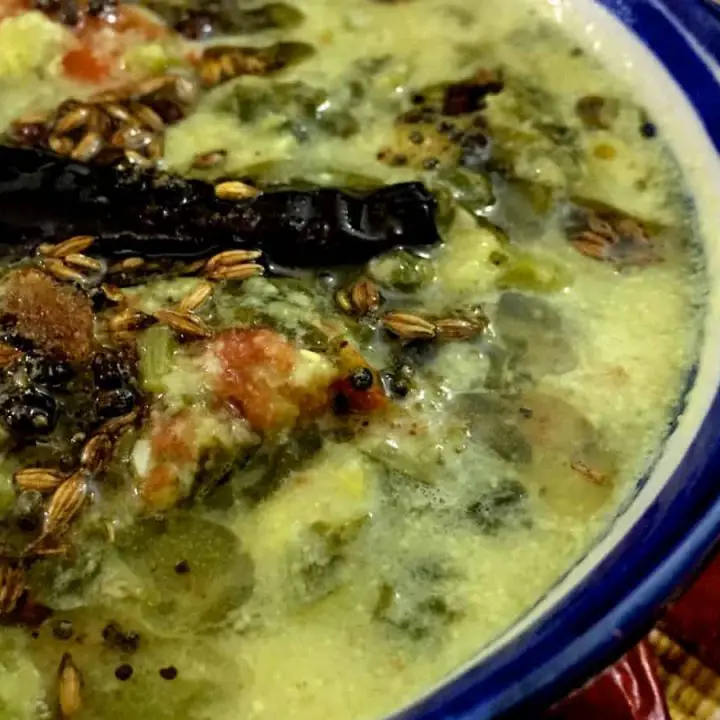 Keerai Kootu: Amaranthus Greens/ Chaulai Saag cooked in a coconut cumin paste
Nutritious Amaranthus Greens (Keerai) cooked in boiled lentils and a coconut paste, tempered with mustard and fenugreek. A Tamil Iyer recipe for a curry served with rice and rasam or kuzhambu, and can be served with chapatis too.
Ingredients  
¼

cup

Pigeon pea lentils

(Toor Dhal)

½

teaspoon

turmeric

powder (haldi)

1

tomato

(ripe, diced)

to taste

salt
For the Coconut paste:
1

green chilli

¼

cup

coconut

(grated, fresh)

2

tsps

Cumin seeds

(Jeera)

¼

teaspoon

asafoetida

powder (Hing)

½

teaspoon

rice flour

(optional)
For the tempering:
1

tablespoon

sesame oil

(gingelly oil)

½

teaspoon

Mustard seeds

a few

Fenugreek seeds

(Methi)

1

red chilli

Dry

a few

curry leaves
Instructions 
Pressure cook the lentils (dhal) till it is soft and mushy ( I keep  it on for 2 whistles and then let the cooker sit for 10 minutes so the dhal continues to cook in the steam after the stove is turned off). The amaranthus leaves, cleaned as in step 2 below, could also be steamed when the dhal is cooking, though I prefer to cook them separately as they get overcooked in the pressure cooker.

Meanwhile pick the leaves off the stems of the amaranthus as well as any tender stems. If cooking with Tender amaranthus (Thandu keerai), most of the stem can be used. Wash them several times until all the grit and sand have been completely removed. Chop into small pieces.

Cook the chopped leaves and the chopped tomato in as little water as required to just cover them while cooking (about 7- 10 minutes on medium flame, but keeping looking out that the water doesn't dry out). Add salt to taste.

Grind the coconut paste with all the ingredients listed above, with as little water as required for a smooth paste.

Add the paste to the cooked dhal and whisk till smooth and the individual grains of dhal are not visible.

Add the dhal and coconut paste to the cooked dhal, stir well. If the kootu is very watery, boil till the excess water evaporates.I like the gravy a little fluid and not thick.

Take off from the stove, set aside and cover.

Heat oil in a small pan (kadai).

Burst the mustard seeds, add methi (fenugreek) seeds and let them burst (10 secs). Add jeera (cumin) seeds and sauté for 10 secs.

Add the dry red chilli, turn it around after 5 secs so that both sides fry in the hot oil.

Add curry leaves and turn off the stove.

Pour the tempered oil on the kootu.

Serve with rotis or with rice and rasam or with vathalkuzhambu or with rice and dhal.