Continuing the series of recipes that I started early in 2017 when cooking tasty and nutritious food for my daughter after child birth, this is an easy and tasty Dal or stew made from split pink/ red lentils. As I have said in the post on Cooking for the New Mom on this blog, Tur dal (Towaram paruppu in Tamil/pigeon pea lentils) are to be avoided during the post partum period as they can be difficult to digest as well as cause gas/ colic for the baby. This nourishing Masoor Dal for the New Mom, on the other hand is one of the best foods you can give the nursing mother. Masoor dal is easy to digest and is said to stimulate/ improve lactation, and is rich in iron and protein.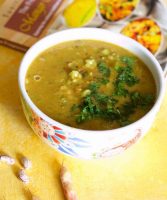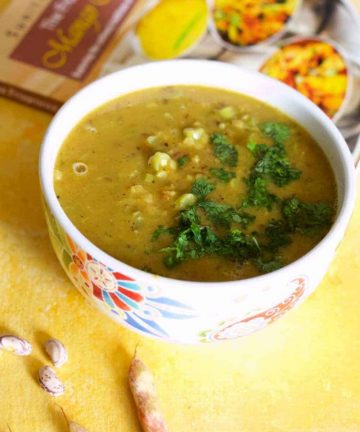 Is It correct to give Masoor Dal for the New Mom?
Here are my views on this: Masoor dal is not considered part of the traditional Pathiya Samayal or balanced Tamil diet for new mothers. In fact, in many Hindu communities across India, it is considered 'non-vegetarian' and also 'tamasic' in Ayurveda. There are stories/ myths about why this is not a legume to be consumed by vegetarians. The high protein content, specially when taken with rice or bread, is said to be as much as in meat, hence making  the lentil equal to meat. All I can say is, masoor dal is plant based and has a high protein content. It is nutritious, easy to cook, easily digestible. And all this makes it my book, suitable for the new mother.
Just read this article on the health benefits of red lentils, and decide for yourself!
How to Make Nutritious Masoor Dal
As with any legume, soak the dal for 10 minutes before cooking, This is a light legume which cooks fast, but soaking helps it cook faster, softer. Discard the water in which it was soaked, rinse well and then cook with fresh water.
As the dal is for a new mother, it is best cooked in Ghee (Indian clarified butter), for both nutrition and flavour. You may however substitute ghee with olive oil or a light vegetable oil.
Fresh vegetables that are easy to cook and digest are added to the dal. In this recipe for a nourishing Masoor Dal for the new mom I have added broad beans (flat beans /avarekai/ surti papdi), french beans and tomato. No chilies or onion are included as these are to be avoided in the weeks immediately after delivery.  I also had fresh and pretty cranberry beans from the Farmers market in New York City, and I shelled and added them to the dal when cooking. Dry beans should be avoided as they are not easy to digest, but fresh beans are good!
As a variation, you may add any of the vegetables suitable for the new mother - those belonging to the squash or gourd families are the best, as they cook easily. Spinach or fenugreek/ methi leaves are another option. Ripe red Tomato may be added to the other vegetables, from 10 days after delivery.
If cooking for a normal diet, the same recipe may be followed, with the addition of green chilli and onions when grinding the masala for the dal and a dash of lemon juice just before serving. For the post partum diet, I did not add onions  or lemon juice.
When any new ingredient (such as a type of dal or vegetable) is introduced in the food for the new mother, it is best to try it for lunch rather than dinner, and to check till the next day for any negative effect such as the baby having more gas than usual, or either the mom or the baby having an upset stomach. If there is no such effect, the ingredient may be continued to be used every few days. Moderation in everything is the key to a safe diet for the new mom, so plan the meals by rotating the vegetables and lentils.
In the pathiya samayal or balanced diet for the first 40 days after child birth, I introduced masoor dal after 10 days from delivery, and used it in either rasam, dal or kootu (the South Indian vegetable stew) every 3 days or so. The split moong dal was the staple the rest of the time.
See my post on Cooking for the New Mom, on what to eat and what to avoid during the period after delivery.
Nutritional Benefits of Masoor Dal (Skinless split Red Lentils)
The pink or orange lentils used in the nourishing Masoor Dal for the New Mom, are a powerhouse of nutrition and are popular in Ayurveda based food. Packed with protein, they are also rich in minerals such as potassium, phosphorus, sodium, calcium and sulphur.
The cooked split masoor dal is easily digested and said to help in intestinal ailments as well as in lowering bad cholesterol.
High in antioxidant content, the dal is also said to reduce the risk of breast cancer.
Some further recipes for the New Mom, from this Blog:
Pathiya Milagu Kuzhambu (Pepper gravy)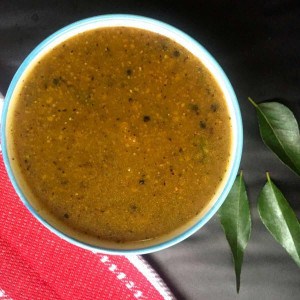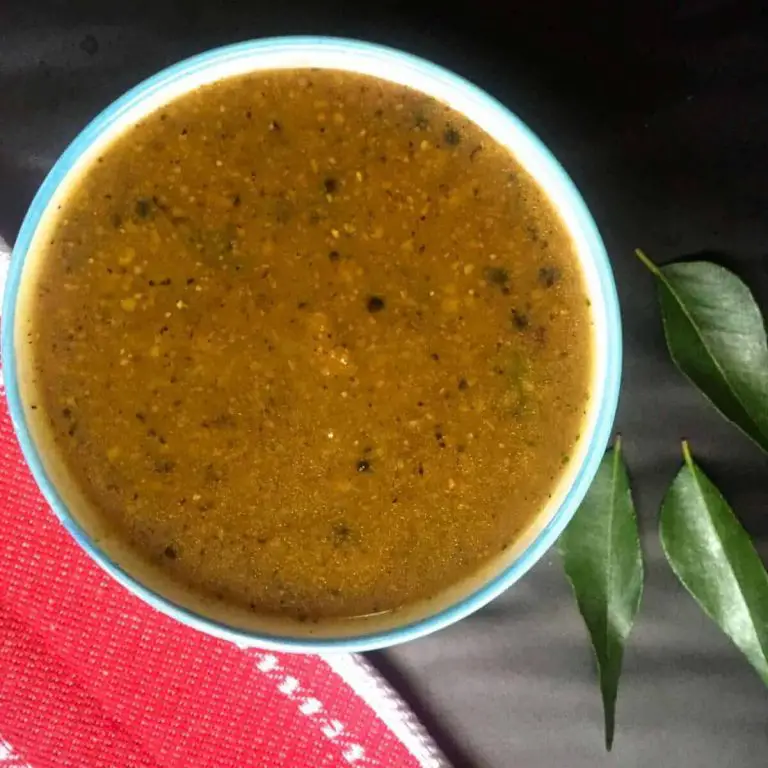 Peerkangai Thogiayal (Ridge gourd chutney) with Pirandai Bone Setter Stem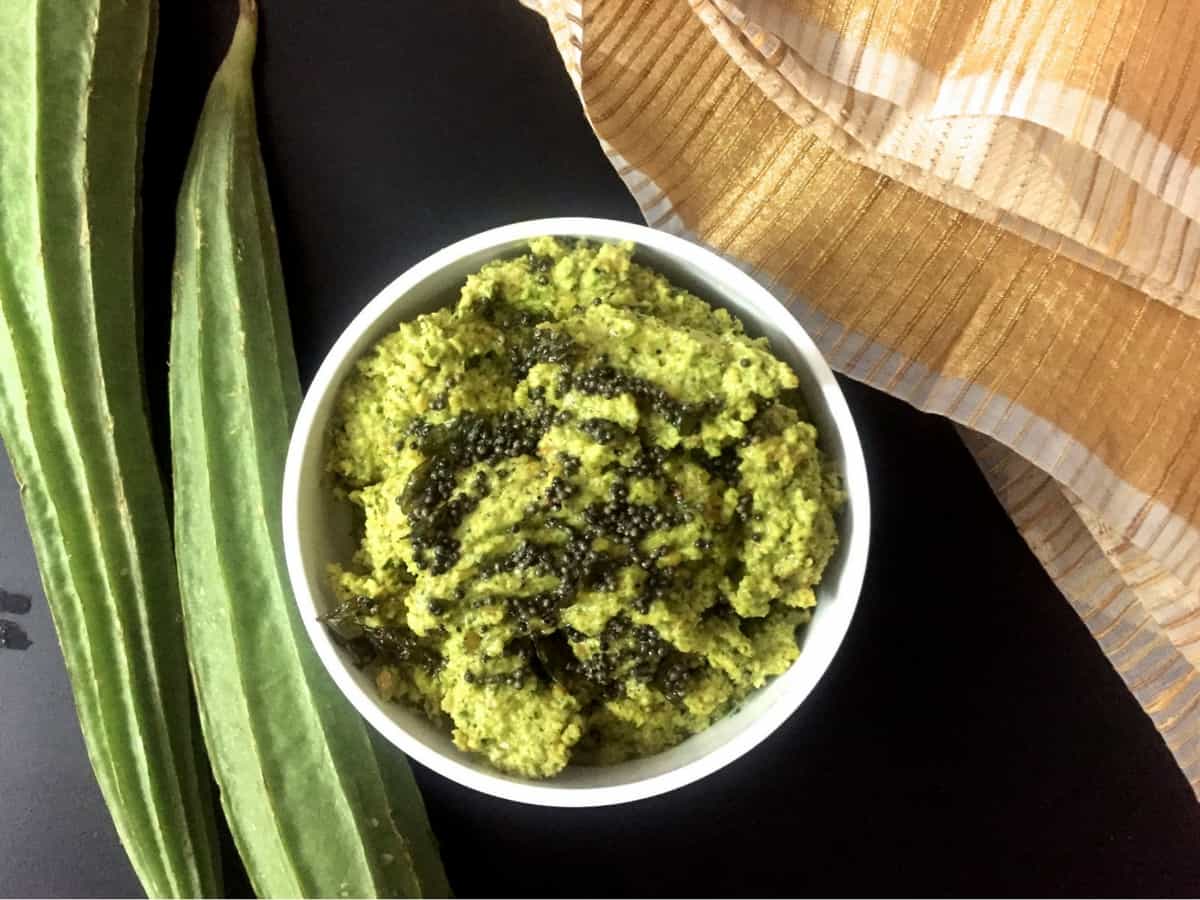 Vegetable Kootu   Easy vegetable and lentil stew for the new mother
Save
SaveSave
SaveSaveSaveSave
SaveSave
SaveSave
SaveSave
SaveSave
SaveSave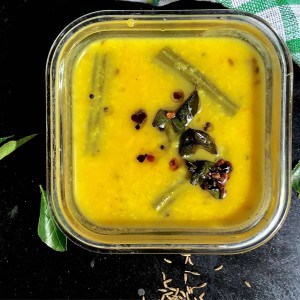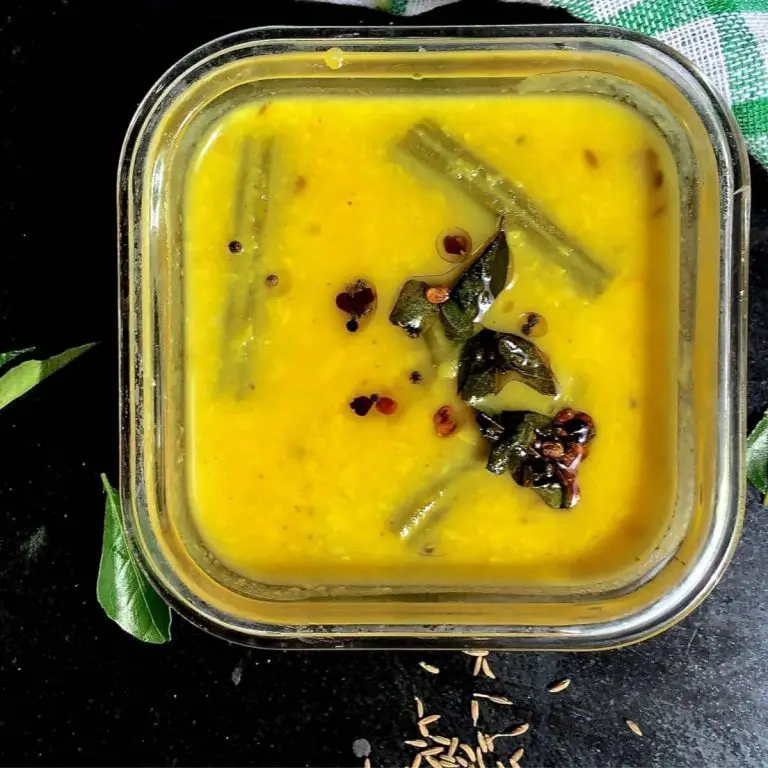 "Recipe"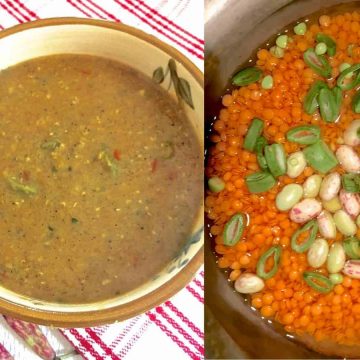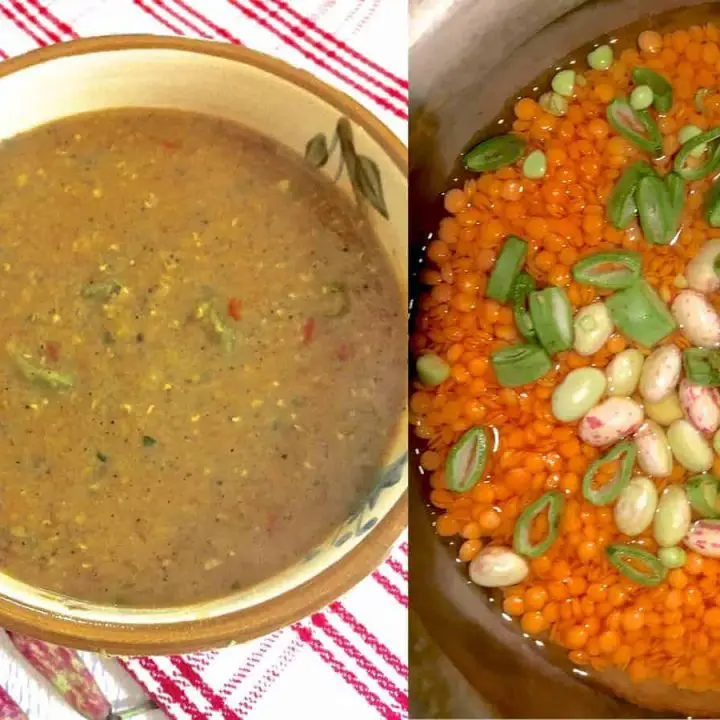 Nourishing Masoor Dal for the New Mom
A nourishing Masoor Dal for the New Mom. Nutritious and high in protein, easy to digest and considered to facilitate lactation. Easy to make and tasty.
Ingredients  
To cook the masoor dal
1

cup

split masoor dal

split red lentils

¼

cup

fresh Beans

shelled broad beans and sliced green beans

⅛

teaspoon

turmeric powder

2

cups

water
To grind coarsely
2

cloves

garlic

1

cm

ginger piece

1

small

tomato

about ¼ cup when sliced

1

tablespoon

coriander leaves

a

few

curry leaves
To make the red masoor dal
½

tablespoon

ghee

Indian clarified butter

½

tablespoon

pepper powder

kali mirch powder / milagu podi

½

tablespoon

cumin powder

jeera powder/ jeera podi

1

teaspoon

salt

add as per taste

1 cup

as required

warm water

to make the dal thinner

1

tablespoon

coriander leaves

minced dhaniya/ kothamalli leaves for garnish
Instructions 
Wash the split masoor dal and soak it for 10 minutes. Though this is a quick cooking dal, soaking makes it cook faster, softer. Drain and rinse well, and place in the pressure cooker. Water used for soaking lentils should not be used for cooking them.

Add shelled broad beans to the dal. Slice green beans thinly and add.

I used shelled fresh cranberry beans, but fresh broad beans such as avarekai will be good too.
Add turmeric powder and 2 cups of water. I don't add salt while cooking lentils, as it takes more time to cook through.
Pressure cook for one whistle (the dal cooks quickly and fresh beans don't take much time either) and remove the cooker from the heat.
Allow the cooker to cool on its own while you prepare the rest of the ingredients.

Slice the tomatoes and peel and slice ginger and garlic. Remove tough stalks from the coriander leaves and shred the leaves and tender stalks.
Add curry leaves.
Grind all these ingredients in a food processor without adding water. For a normal diet (not post partum) I add sliced onion and a small green chili (sliced) to the mix for grinding

Heat a pan and add the ghee. Ghee is good after delivery as it helps heal the tissues. Alternatively use olive oil or a mild vegetable oil that will not overpower the flavours of the dal.

When the ghee has melted, add the tomato garlic paste.
Sauté on low flame for 2-3 minutes till the oil shows at the sides of the mixture. Keep stirring during sautéing so that it does not catch at the bottom of the pan.

Mash the cooked dal lightly with a whisk or spatula and add to the pan.
Add the pepper and cumin powders. Fresh ground black pepper is best.
Stir well and add salt to taste. I add just a little salt, and then taste the dish at the end, adding more if required.

Bring the masoor dal to a boil on high heat and then simmer on low heat till it begins to boil. Keep stirring as the stew can catch at the bottom of the pan and char.
Once it begins to bubble up again (about 5 minutes), add warm water (maximum one cup) if you want it thinner. The dal will thicken as it cools after cooking.
Check for salt and pepper and add more if required. This is a soft and mild dal and too much of pepper or salt would overpower the taste.
As the dal boils, it will start spluttering and may splash out of the pan, so be careful when stirring or checking it out.
Stir and remove the from the stove.
Garnish with minced coriander leaves and serve it when hot with rice or roti.