One of the most flavoursome dals I have ever had or made, the taste of the Gondhoraj Lebu Masoor Dal is enhanced by Amada (Mango Ginger). Split red lentils/ masoor dal is cooked in a tempering of panch phoron, and leaves and juice of this speciality citrus from Bengal, Gondhoraj lebu, and a pinch of radhuni/ ajmod, are all added after the heat is turned off.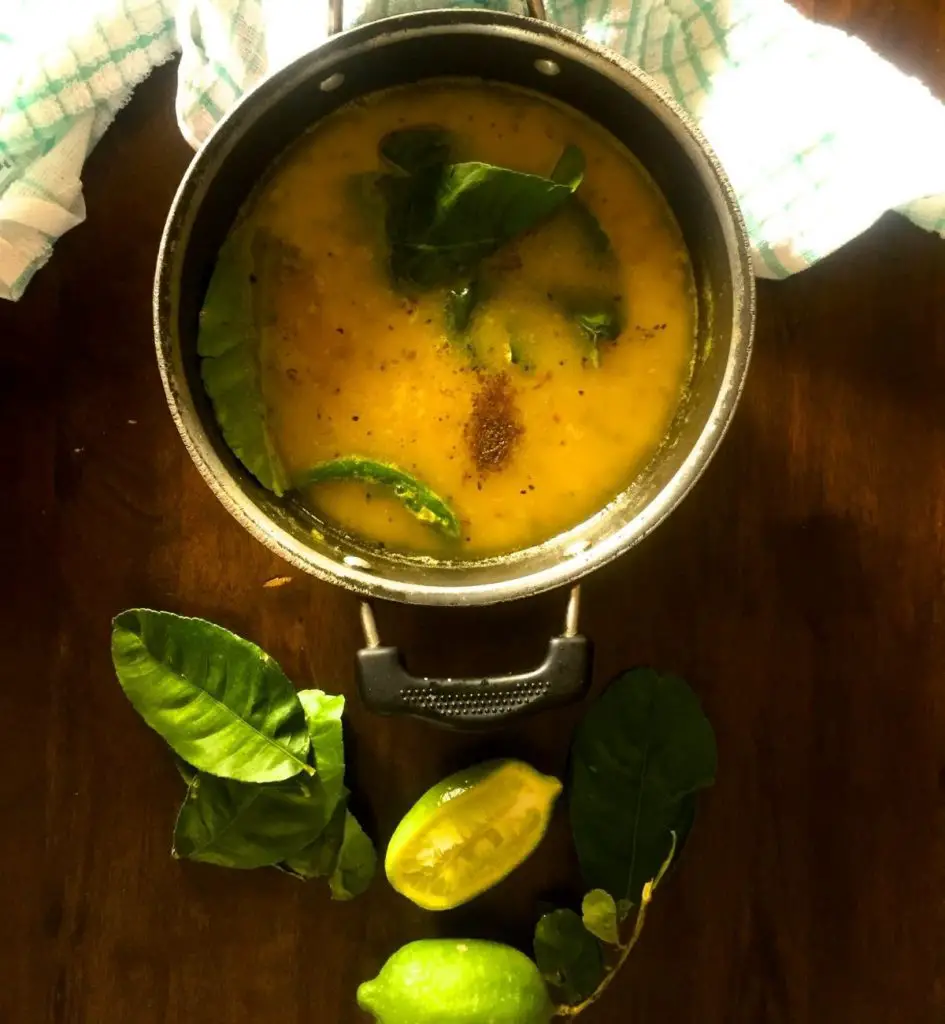 This recipe should rightly be called, Mukundan's Masoor dal with Gondhoraj Lebu. Mukundan is my cousin-in-law, and has lived in Kolkata all his life. His appreciation and interest in making Bengali food have been honed to a fine craft over the years. On a recent visit to Kolkata, he and Anu plied me with a variety of Bengali vegetarian dishes, each cooked to perfection. The potol posto, begun bhaja, aloo bhaja, shukto, luchi, payesh were a balm to the soul of one who loves Bengal and Bengali food. It was my good sense which led me to call Mukundan just before making this dal, though it was a working day and he would have been busy. He responded promptly with a string of instructions which culminated in this delicious dal with a host of subtle flavours, each finding its proper place in the mix. I have carefully followed all his instructions in the recipe below, with the mango ginger/ amada being the sole deviation.
Ingredients for Masoor Dal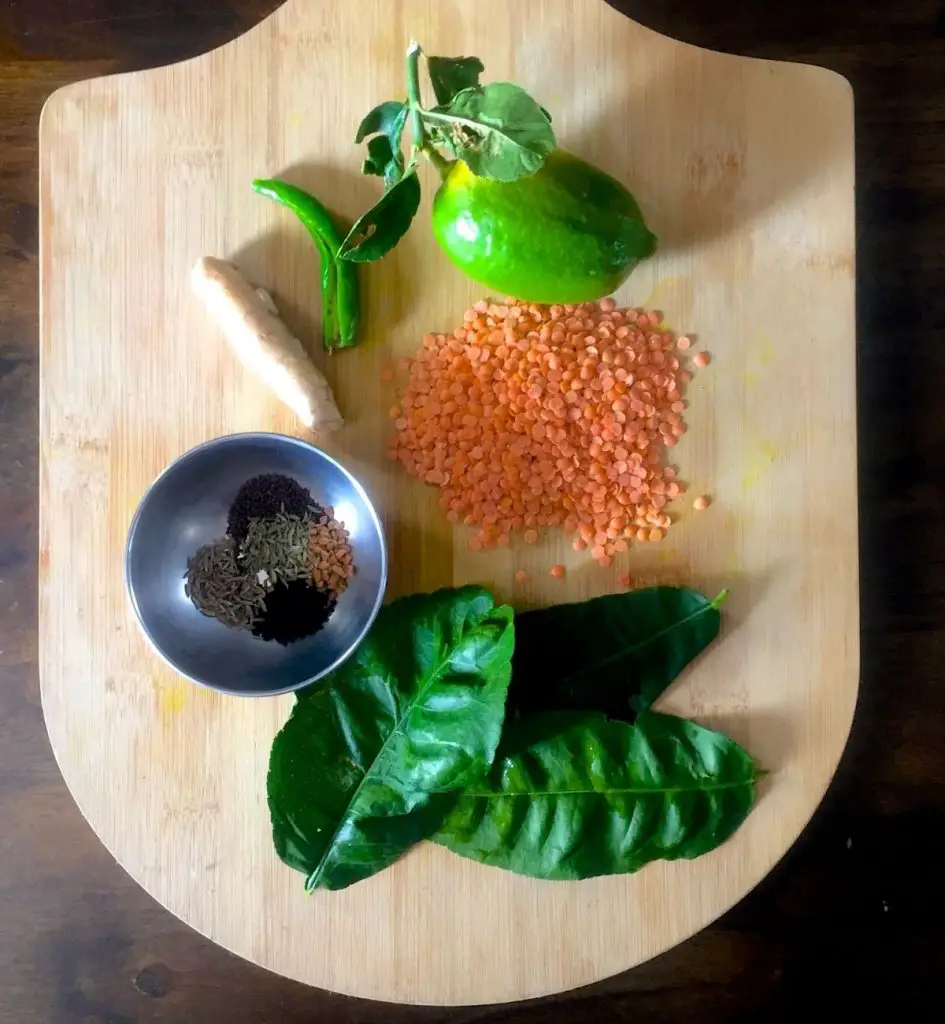 Gondhoraj Lebu a.k.a Rangpur Lime
This King of Limes, is a native of Bengal (West Bengal and Bangladesh) and difficult to grow elsewhere. It is erroneously listed under Kaffir lime in Wikipedia and very often treated as synonymous with kaffir lime, though it is not the same but a related species. I haven't been able to identify the botanical name so far. The fruit has a very tough skin, and when sliced and squeezed (not an easy task) grudgingly yields a small quantity of juice. However a few drops of the juice are enough to transform a plain dish into something more fit for the Gods.
The zest, juice and leaves of this lime are used to flavour a number of dishes such as Gondhoraj pulau, Gondhoraj lebupata mach (fish), dal, Gondhoraj murgi / Lebu Lonka chicken curry (chicken), lebu pata chingri (prawns), Gondhoraj ghol (a type of lassi) as well as in various desserts and in Kolkata's puchka. While the leaves of lemon and kaffir lime may be added while cooking rice or dal, the leaves of Gondhoraj lebu (as well as the juice) are best added at the end after the cooking process has been completed and the heat turned off, so that it contributes its aroma and flavour without adding a bitter tinge. The leaves are to be gently crushed before adding, to release their fragrance.
Amada/ Mango Ginger
A rhizome which looks like ginger, tastes like raw mango and is actually neither but is related to the turmeric, the amada (manga inji/ ambada haldi) has adds another subtle dimension of flavour to the Gondhoraj lebu masoor dal.
Panch Phoron Spice Mix
An aromatic blend of 5 spices, a standard in Eastern India cuisine. There are several variations of this mix, with the common factor being that whole spices in specific proportions are simultaneously added to hot oil for tempering/tadka, rather than one after which is the usual practice in most Indian tempering. The mix I use (equal proportions as in the recipe card below) is made up of rai/ mustard seeds,  methi/ fenugreek seeds, saunf/ fennel seeds, kalaunji/nigella/onion seeds and cumin/ jeera seeds.
Radhuni/ Randhuni Spice
Often mistaken for celery seeds or for ajwain/ carom seeds because of their appearance, radhuni or ajmod/shalari has a strong aroma, reminiscent of parsley. A pinch or so of the roasted and powdered spice is sufficient to add its flavour to food. It may be added to very hot oil during tempering, or else substituted for mustard seeds in the panch phoron mix.
Either skinless split masoor dal (the pale pink or orange coloured lentils otherwise known as red lentils) or skinless split moong dal (yellow mung lentils) may be used in this recipe. Thoor dal/ arahar dal (pigeon pea lentils) have too strong a taste to let the other ingredients appear at their best. Mustard oil is the traditional Bengali cuisine oil to be used. You may substitute it with ghee or a mild flavoured vegetable oil like sunflower, though of course this would give a difference in flavour. Onion, garlic, tomato, curry leaves, coriander leaves, bay leaves etc are not added to this dal. Chilies are not included in the tempering but a slit green chili is introduced a little later. The idea, as Mukundan explained, is not spice and heat but a bouquet of subtle flavours and for the Gondhoraj to shine through.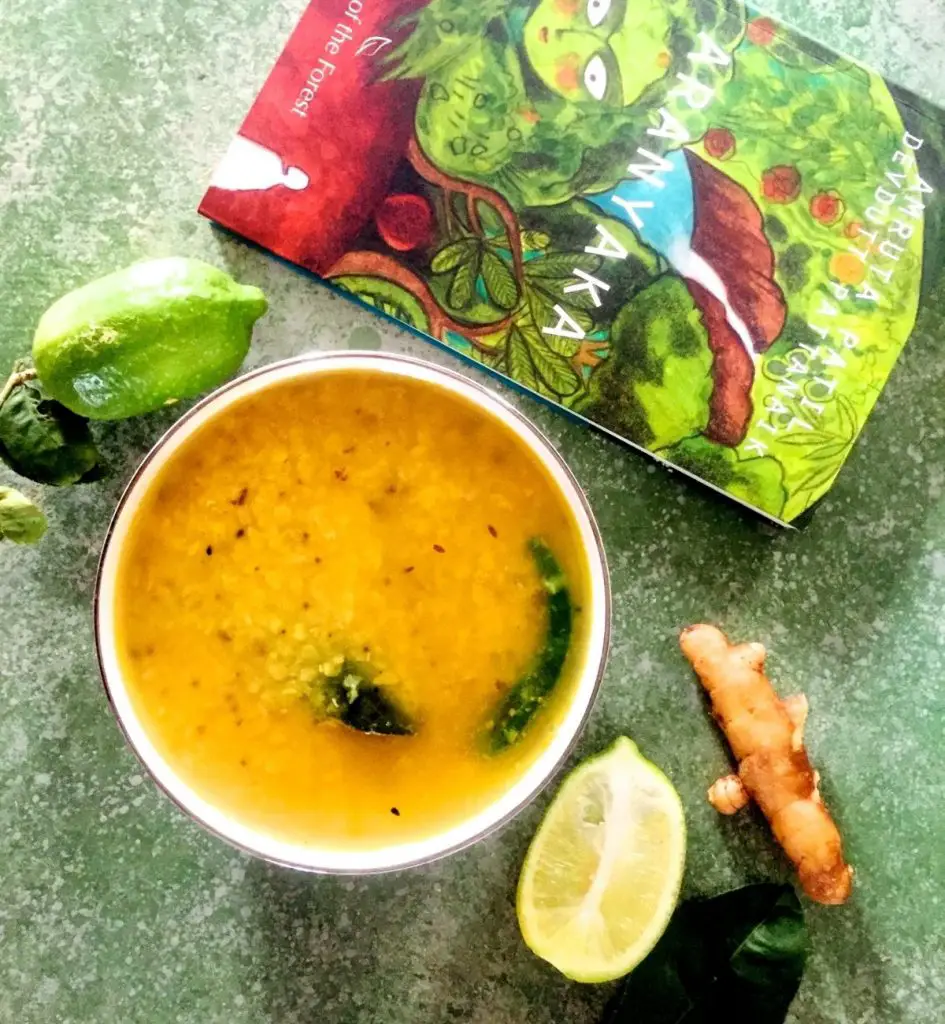 Gondhoraj lebu masoor dal with amada is best served with hot rice (ideally gobindbhog rice) and ghee, with the green chili to be mashed into the rice, to add a bit of heat to the meal. Baigun bhaja or alu bhaja make great accompaniments.
Other Lentil/Dal Recipes
More Recipes from Eastern India
"Recipe"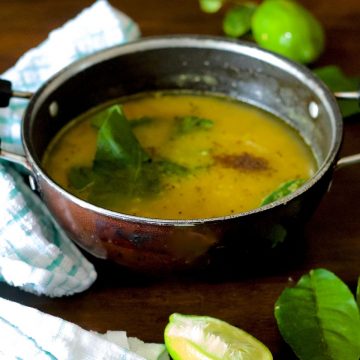 Gondhoraj Lebu Masoor Dal with Amada/ Lentils with Gondhoraj Lime and Mango Ginger
An aromatic lentils dish from Bengali cuisine, with pink/ red masoor dal, Gondhoraj lime leaves and juice, mango ginger/ amada and Bengali spices i.e. panch phoron and randhuni
Ingredients  
For Cooking Masoor Dal
1

cup

Masoor dal/ red lentils

split, skinless masoor dal

⅛

teaspoon

Turmeric powder

a pinch

2

cups

Water

for cooking the dal
For Panch Phoron/ Bengali Spice Mix
¼

teaspoon

Mustard seeds/ rai

Black or yellow

¼

teaspoon

Nigella seeds/ kalonji

¼

teaspoon

Fennel seeds/ saunf

¼

teaspoon

Cumin seeds/ jeera

¼

teaspoon

Fenugreek seeds/ methi
For Gondhoraj Lebu Masoor Dal
2

teaspoons

Mustard oil

or a mild vegetable oil: see the post above

1

tablespoon

Mango ginger/ amada/ amba haldi

peeled and minced

1.5

cups

Water

1

teaspoon

Salt

or, to your taste

⅛

teaspoon

Sugar

a pinch

1

Green chili

split in the middle but kept whole at both ends

2-3

Gondhoraj Lime leaves

or kaffir lime leaves or other lemon leaves

¼

teaspoon

Gondhoraj Lime juice

⅛

teaspoon

Randhuni spice

Roasted dry, and powdered/ a pinch
Instructions 
To Cook Masoor Dal
Wash, drain and soak masoor dal in water sufficient to cover its surface, for 15 minutes. Drain and rinse, discarding the water in which soaked.

Pressure cook for 1 whistle (the dal cooks fast) with turmeric powder and 2 cups of water.

Allow the cooker to cool on its own. Once opened, mash or whisk the dal. Leave aside till required.
Preparation
Wash, peel and mince (slice into very small pieces) amada/ mango ginger

Roast a pinch of radhuni spice on a dry kadai/frying pan, and powder it (a small mortar pestle comes in handy here, as the quantity is rather small)

Wash, dry and slit a green chili in such a way that it remains whole at the top and bottom

Wash, zest the Gondhoraj lime (if you would like to use the zest in some other dish). Slice it into two, vertically (the traditional way of slicing this lime). Squeeze (you will need to use some effort, as it is not easy to extract the juice) required juice from one piece of lime. Wash and dry the leaves.

Set it all aside till required.
To Make Gondhoraj Lebu Masoor Dal with Amada
Heat mustard oil in a kadai/ frying pan till it just begins to smoke. Quickly add the panch phoron spice mix (all the whole spices listed above) together. Saute for about 30 seconds till the mustard finishes crackling.

Add minced amada/ mango ginger, stir for about 30 seconds

Add the mashed/ whisked masoor dal. Add 1 to 1.5 cups of water, or less, depending on how thick you want the dal to be. I like my dal fluid, so I added 1.5 cups.

Add salt, a pinch of sugar and the slit green chili. Stir.

Bring the mixture to a boil, reduce heat and allow to simmer for 5 minutes till the flavours blend.

Turn off the heat. Quickly add the Gondhoraj lebu juice and roasted randhuni powder. Crush the lime leaves to release fragrance, and add. Cover the pot.

Serve hot with gobindbhog or basmati rice, ghee and baigun (brinjal) bhaja or aloo (potato) bhaja. The green chili is to be removed from the dal and mashed into the rice, for those who like some heat in the meal.

As lime juice and the leaves will give a bitter taste if reheated, the dal is best as soon as it is made.