Pakode wale Kadhi - a firm favourite and comfort food now. The first time I came across this dish was when I began to take an interest in cooking, some decades ago. This was in Femina Magazine and  was described by a celebrity. I learnt words such as bagar for the first time.
My recipe does not follow the one I read in the magazine, as that required the bagar to be added to the kadhi in the end, while I actually add the curd basen mixture to the fried onions and condiments, and then do a ghee, jeera, mirch, tadka in the end . I use a lot of onions, and curd that is a day or two old.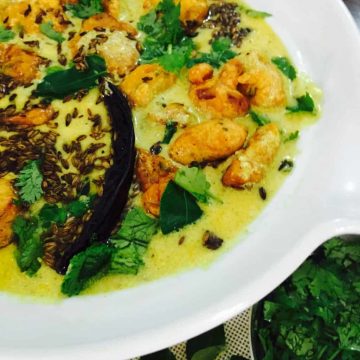 Pakode wale Kadhi
Hot phulkas or Rice with Kadhi Pakode, a very nice dinner on a rainy evening! Made with plenty of onion and garlic, with deep fried pakode and tempered with cumin and chili.
Ingredients  
For the Kadhi:
2

cups

yoghurt

Plain

½

cup

Bengal gram flour

(besan)

2

cups

water

2

tbsps

sunflower oil

1

tsp

Cumin seeds

½

tsp

Fenugreek seeds

2

Green chillies

2

Onions

large

4

cloves

garlic

1

inch

ginger

1" piece

a few

curry leaves

-

1

tsp

chili powder

1

tsp

fresh ground pepper

¼

tsp

turmeric Powder

1

tsp

cumin Powder

1

teaspoon

salt

or to taste
For tempering:
1

tbsp

ghee

1

tsp

Cumin seeds

1

red chilli

(dry)

a few

curry leaves
For the Pakode:
1

cup

Bengal gram flour

(besan)

water

for mixing the batter

½

tsp

turmeric powder

¼

tsp

chili powder

½

tsp

cumin

powder

a few

curry leaves

a few

cilantro

leaves

1

tsp

baking soda

to taste

salt

1

onion

about ½ cup when sliced

1

piece

ginger

1" piece

2

tablespoons

cilantro

minced
Instructions 
Finely chop the onions and mince the garlic, ginger, green chilli, curry leaves and cilantro as per the ingredients list for the kadhi, and set aside. Mince onion, ginger and cilantro, curry leaves for the pakode and set aside.

To make the Pakode:

Mix the salt, turmeric, cumin powder, chilli powder and baking soda into the gram flour, add water and whisk to make a soft batter. Add the minced onion, ginger, curry leaves and cilantro and mix well. The batter should not be very fluid as it needs to be shaped into pakodas.

Drop spoonfuls of batter into hot oil and fry in batches. Drain the pakode and set aside till needed.

To make the Kadhi:

Add the gram flour to the yogurt and whisk till its smooth. Add cumin powder, turmeric powder, chilli powder, pepper powder to the mixture and whisk again till all the ingredients are blended. Add water, and add salt to taste, and whisk.

Heat 2 tbsps of oil in a large pan, sauté the cumin seeds for 10 secs. Add the chopped chilli and let them scald. Add onions and sauté till they are translucent, about 3 minutes, add the garlic and saute for 20 secs. Add the ginger and sauté for 10 secs.

Pour the yogurt flour mixture into the pan. The yogurt may begin to bubble and splash, so keep the pan partially covered, except when stirring.

Keep the kadhi on low flame, stirring frequently as it can easily catch on the bottom of the pan and char. Cook the kadhi for 10 minutes.

Add a few pakode to the kadhi. If you add all of them, the pakode will be soggy, hence reserve most of them.

Temper with curry leaves, cumin seeds and a dry red chili in hot ghee. Garnish with cilantro leaves.

Add some more pakode just before serving.

Serve hot with phulkas or with basmati rice.