Baingan Bharta, the tastiest of many tasty curries we can make from the large, bottle shaped, purple eggplant/ brinjal/ bharta-wala baingan. Comfort food, whether with rice or dal/ rasam or with phulkas. Baingan is roasted in its skin, peeled, mashed and sauteed in an onion-tomato-spice base. Though it is best suited to chill winter evenings when the process of roasting the brinjal warms up the kitchen and its environs, it is great in summer too, with the microwave helping to reduce time near the stove.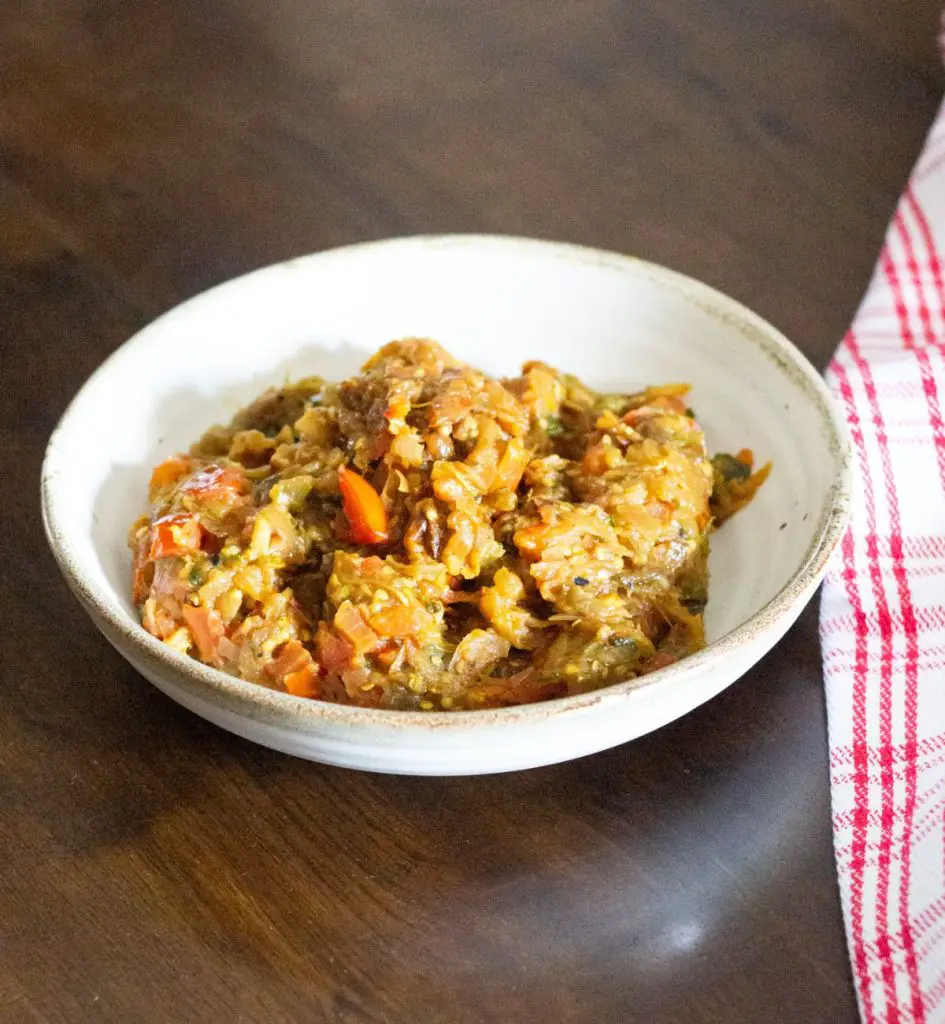 This is one of the sabzis that I have been making for decades, almost automatically without thinking much about quantities of ingredients. For writing this recipe though I have streamlined and measured the ingredients and cooking times. I would have loved to make it on a coal fire, but this not being practical, the gas flame/ grill serves as well. In addition, over the years I've started microwaving the roasted brinjal for 10 minutes, so that it is cooked through inside.
FAQs For Making Baingan Bharta
What is a bharta?
It is an Indian side dish made by mashing the specific vegetables from which the curry is made. The vegetable such as eggplant/aubergine is roasted, then peeled and mashed and cooked with spices as well as onion and tomato. For a potato/ aloo bharta, potatoes are roasted or boiled, peeled and mashed. Raw mustard oil and onion, green chilies are added to the mashed potato or sometimes may be added as a tempering with heated oil and green chilies.
What variety of Eggplant/ brinjal is used for making baingan bharta?
The large, bottle shaped, purple eggplant is best suited for this curry. Select those that are firm to the touch, with a glossy sheen on the peel, and with no suspicious little holes on the surface that may indicate the presence of worms.
Do I need to roast the eggplant for bharta?
Yes, the eggplant/ brinjal needs to be roasted, peeled and mashed. When roasted and charred on hot coals it takes on a lovely, smokey flavour. The next best option is directly on the open flame on the stove top. The brinjal may also be roasted in the oven.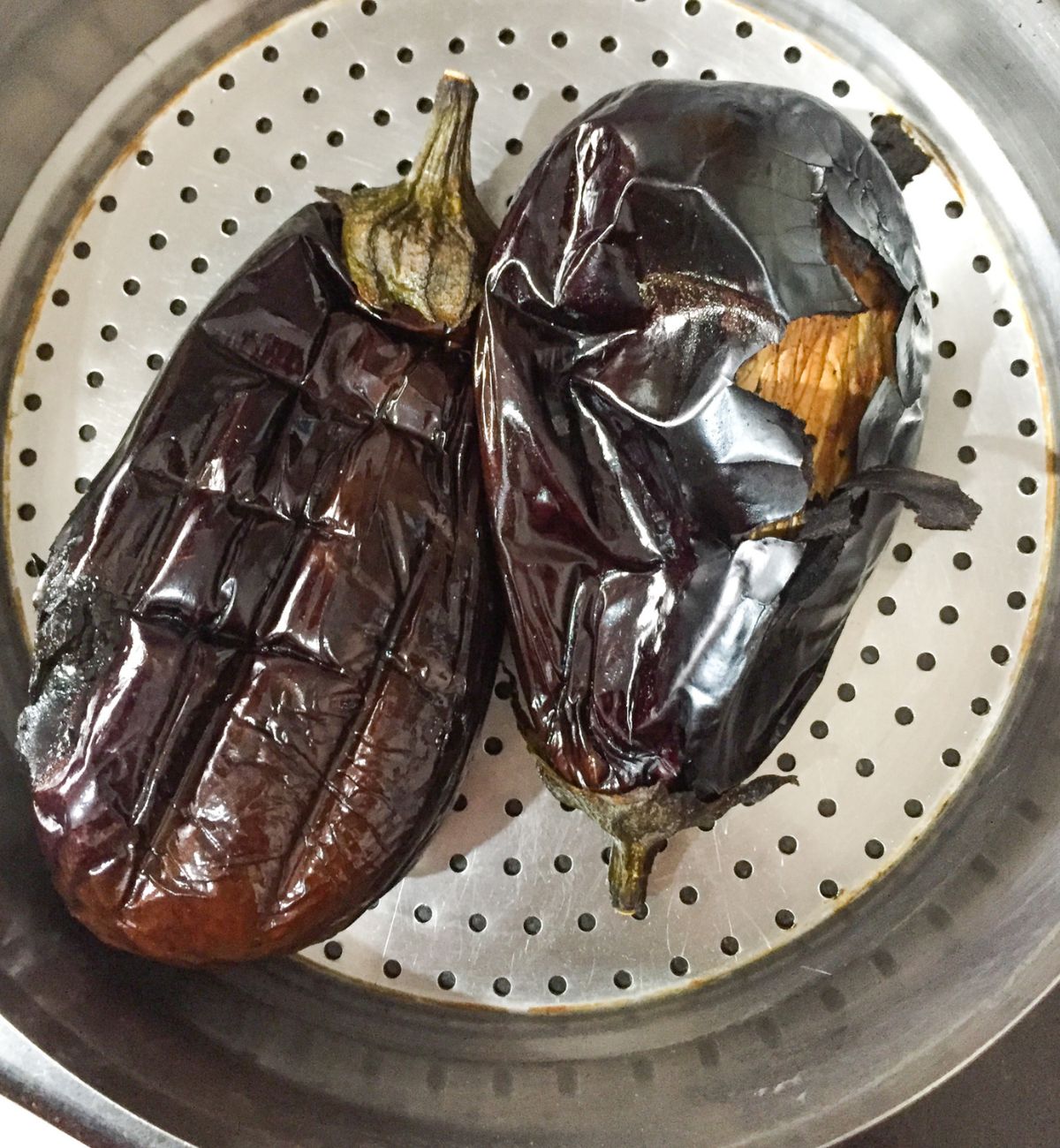 How do you cook the brinjal/ eggplant
The usual method is to roast or grill it on an open flame. I apply oil on the surface of the baingan, including the stalk/stem area, and then roast it on the gas flame, turning it periodically so that all sides of the brinjal are roasted. I then pop it into the microwave for 10 minutes. This cooks the pulp through, making it very tender. It is easy to peel away the skin and mash the pulp before the final cooing process with spices.
Which oil is best for this curry?
Being northern Indian in origin, the curry is best made with mustard oil. Alternatively, a mild vegetable oil such as sunflower oil, may be used.
Is garlic paste used in the curry?
I prefer to use garlic (and ginger) in two ways in this recipe. Minced garlic and ginger which give texture and contrast with the soft, mashed baingan, as well as garlic paste and ginger paste for additional flavour.
Can I freeze the bharta curry?
Yes, it freezes well. Stop at the stage when the curry is cooked through, before adding coriander leaves/ coriander garnish. Freeze in food grade ziplock bags or containers, thaw and heat before serving. Usually stays for upto a month.
Other Sabzi/ Curry Recipes
"Recipe"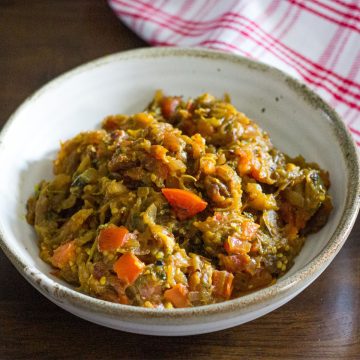 Baingan ka Bharta/ Roasted Mashed Brinjal Curry with Onion, Tomato and Spices
Char roasted Large Purple Eggplant/ aubergine/ brinjal, roasted (preferably on an open flame), peeled, mashed. Sauteed in a base of onion, tomato, ginger, garlic, turmeric and chili.
Ingredients  
2

Brinjal/ Eggplant

Large Purple Brinjal, Medium size (about 6" length)

1

teaspoon

Vegetable oil

To apply before roasting

2

tablespoons

Mustard Oil

or mild vegetable oil

1

pinch

Methi seeds/ Fenugreek seeds

2

Fresh green chilies

6

pods

Garlic

1

inch

Ginger piece

1

cup

Onion

chopped small

1

cup

Tomato

chopped small

½

teaspoon

Turmeric Powder/ haldi

½

teaspoon

Black Pepper Powder

freshly ground

1

teaspoon

Garlic paste

1

teaspoon

Ginger paste

1

tablespoon

Tomato puree

optional

½

teaspoon

Salt

or to taste

1

tablespoon

Cilantro/ Coriander leaves

shredded
Instructions 
Select fresh large purple bottle shaped brinjal/ eggplant with stalk portion intact, and without holes on the surface (holes usually indicate that the brinjal has worms in it).

Wash and pat dry the brinjal
To Roast
Apply oil lightly all over the two brinjal, including stalks, and make a few cuts on the sides.

On medium flame, directly roast the brinjal, turning them over as each side is roasted (about 2 minutes at each area).

The skin will blacken and wrinkle

The stalk will be useful in turning the brinjal from side to side. I use a metal frame with a wooden handle (the one used for making phulka) with metal tongs to turn the brinjal over.

After the skin has charred all over, I grill the roasted brinjal in the microwave for 10 minutes. This ensures they are cooked through.

If not using a microwave, check the roasted brinjal by piercing with a fork or knife - the knife should go through easily.
Preparation and To Peel and Mash
Set the roasted brinjal aside to cool.

Meanwhile, chop onion and tomato into small slices. Peel and mince garlic and ginger. Shred or mince the coriander leaves, mincing the tender stalks too. Discard tough stalk. Slice the green chilies.

Remove the peel and stalk from the roasted brinjal. Slice and discard the large seeds area in the centre, as well as any tough parts near the stalk.

Mash the peeled brinjal well.
To make Baingan ka Bharta
Heat oil. On medium to low flame, add methi/ fenugreek seeds, allow them to darken without letting them turn black (about 5 seconds).

Add sliced chilies, let them scald all over.

Add sliced garlic, saute for 5-10 seconds. Add ginger slices, saute for 5-10 seconds.

Add sliced onion, saute till they turn translucent (about 2 minutes). Add tomatoes, saute for 1 minute. Add ginger garlic paste, stir well. Add turmeric powder and chili powder, stir. Add tomato puree, if using. I find it adds to flavour.

Saute till tomatoes are tender and the raw smell of the chili powder has gone. (about 5 minutes)

Add the mashed brinjal, add salt, stir briskly for 2 minutes. You can add a little salt now (¼-1/2 teaspoon), taste it once it has cooked for 10 minutes, and then add a little more if required.

Saute for about 10 -15 minutes on low flame, stirring frequently, till the brinjal is well cooked. If you have microwaved the brinjal after roasting, they will cook faster at this stage.

Add shredded coriander leaves, stir and remove from the heat, transferring the curry to a heat proof dish. The coriander leaves are used here not just as a garnish but to enhance the flavours of the curry.
Nutrition
Serving:
1
cup
Calories:
318
kcal
Carbohydrates:
45
g
Protein:
7
g
Fat:
15
g
Saturated Fat:
2
g
Polyunsaturated Fat:
3
g
Monounsaturated Fat:
8
g
Sodium:
753
mg
Potassium:
1446
mg
Fiber:
18
g
Sugar:
24
g
Vitamin A:
789
IU
Vitamin C:
35
mg
Calcium:
86
mg
Iron:
2
mg