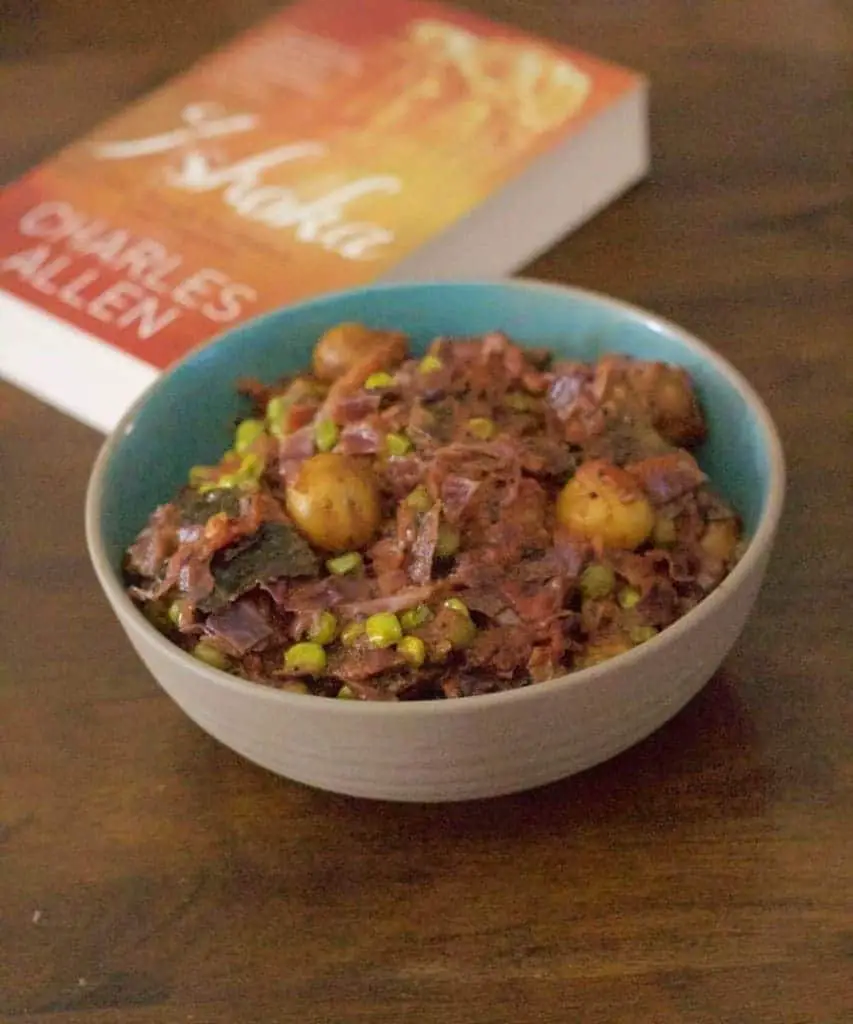 I like the taste and flavour of purple cabbage and it is an integral part of my usual vegetable salad. I haven't had it cooked,before though. Green cabbage usually goes into a cabbage kootu with potato and peas, or else a dry curry sauteed with just jeera seeds, turmeric, green chili and salt. The Odia Cabbage potato peas curry is rather different from my usual fare and I enjoyed it with rice and rasam as well as with phulka.
Making Odia Cabbage Potato Peas Curry
Trilochan, who gave me this recipe, suggested baby potatoes be used instead of large potatoes in the bandha kobi torkari.
The curry is also made with green cabbage instead of purple/ red, though there would be some difference in texture and taste.
The recipe normally includes carrots, which I have omitted because I'm not fond of cooked carrot.
As in the instructions, and as Trilochan cautioned me, the cardamom and clove powders are to be added at the end and the pan immediately taken off the heat, without allowing the spices to 'cook' further.
When adding salt to the curry, keep in mind that the volume of cabbage will reduce drastically. I recommend adding half the salt you usually would, at first, and after the vegetables have cooked, check and add more if required.
If cooking with green cabbage, increase the volume of onion as per the recipe ingredients below (again an instruction from Trilochan!)
About Purple/ Red Cabbage:
This cabbage belongs to the same plant family as kale, broccoli and Brussels sprouts and like them, is packed with nutrients. It may be added raw as in salads or coleslaw, or else cooked in stew and curries.
This article from Healthline gives an interesting list of the nutrient benefits and disease fighting properties of the purple or red cabbage as it is sometimes known.
Other Recipes You May Like From This Blog
Traditional Odia Vegetable Besara In Mustard Paste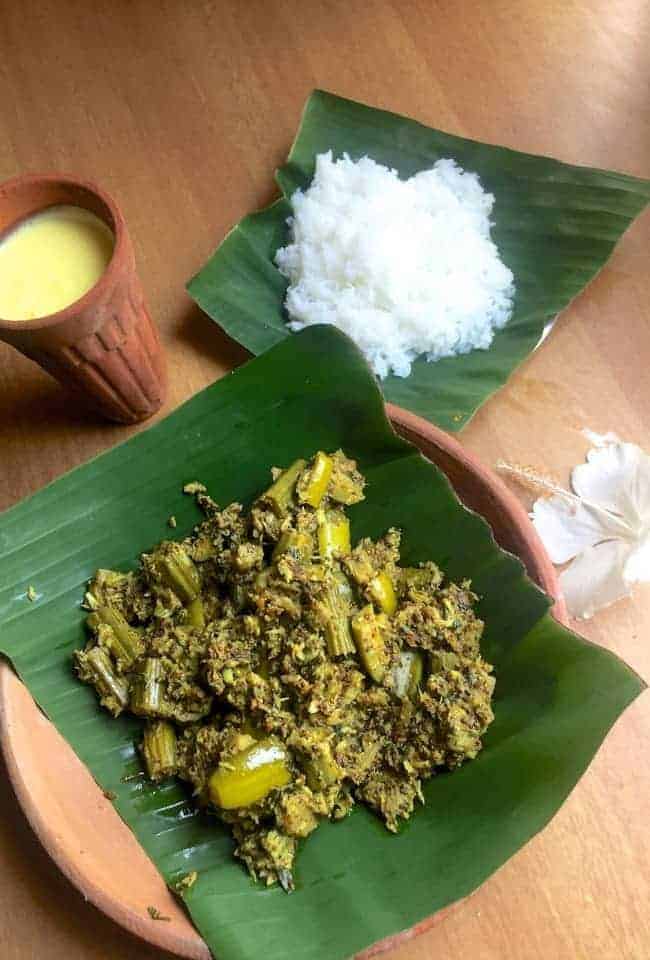 Colourful Rainbow Salad with Tomatoes, Purple Cabbage, Sweet Peppers, Broccoli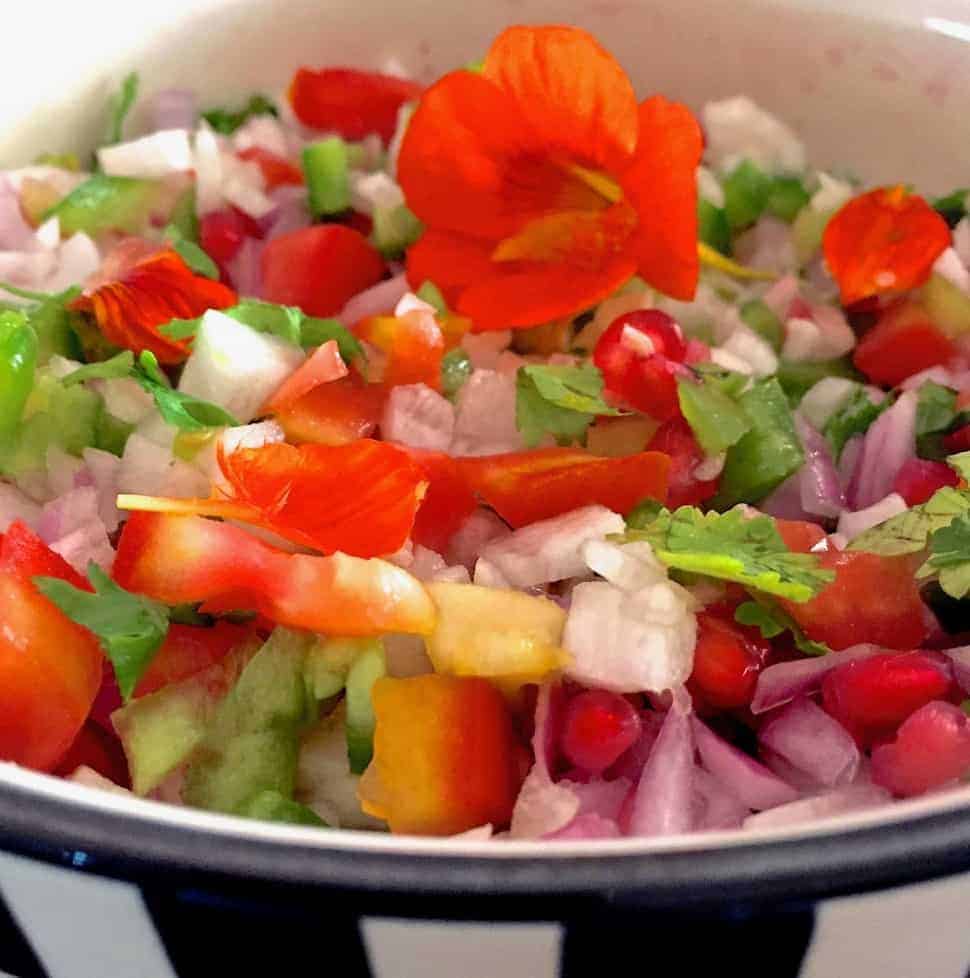 Cabbage Kootu/ South Indian Cabbage Stew with Coconut Paste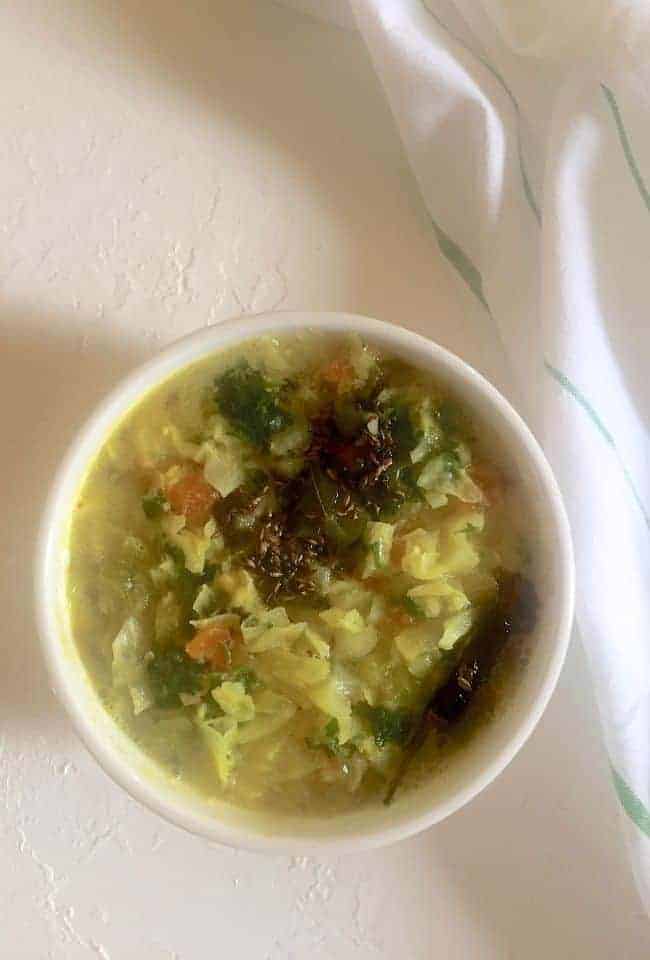 "Recipe"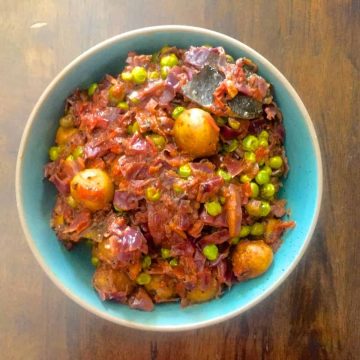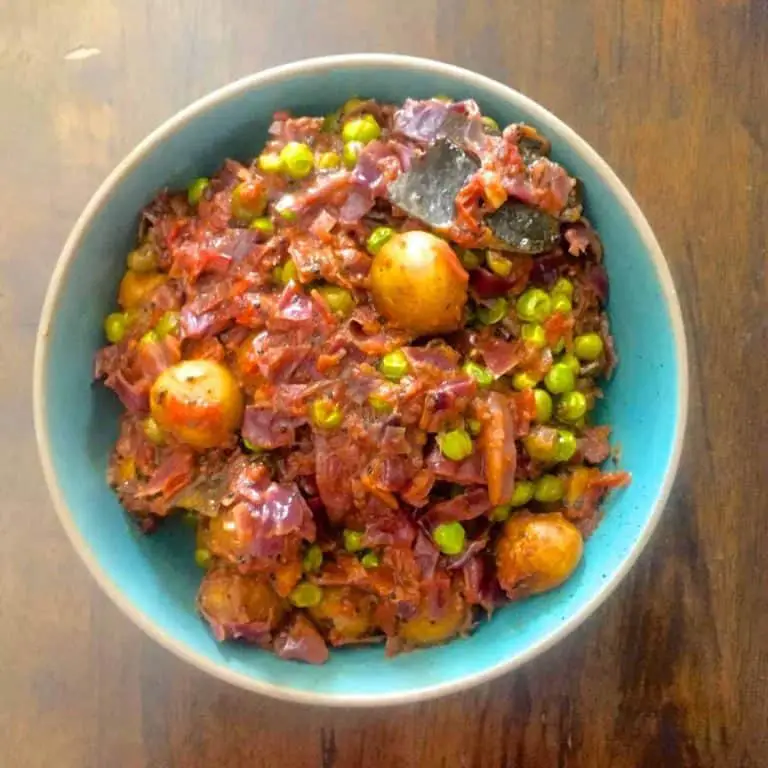 Odia Cabbage Potato Peas Curry/ Bandha Kobi Torkari
Easy Odia style tarkari of Purple (red) Cabbage, baby potatoes, fresh peas cooked into a flavourful curry with just a few spices. Goes well with Odia khichori/ khichidi or with phulka, rice and dal
Ingredients  
For The Masala
1

cup

Onion

Heaped cup; 150 gms/ 2 cups if Green cabbage is used instead of red

5

cloves

Garlic

/2 heaped tablespoon

10

gms

Ginger

2" length/1 heaped tablespoon

2

teaspoons

mustard oil/ vegetable oil
For The Cabbage Potato Peas Curry/ Bandha Kobi Torkari
3

cups

Purple Cabbage / Green Cabbage

Bandha Kobi/ Kobi Patra; 250 gm

1.5

cups

Baby Potatoes

with the peel on/ 200 gms or peeled sliced large potato

1

cup

Tomato

heaped cup; sliced; 180 gms; 2 medium tomato

1 cup

gms

Green Peas

shelled/ 150 gms

½

cup

carrot

1 medium carrot

2

tablespoons

Mustard Oil / Vegetable Oil

1

teaspoon

Mustard seeds

only if mustard oil is not used

1

teaspoon

Cumin seeds

jeera

1

Dry Red Chili

1

Bay Leaf

Tej Patta

1

teaspoon

Turmeric Powder

haldi

½

teaspoon

Salt

or to taste

1

cup

water

1

teaspoon

ghee

optional, see instructions below

2

Large Cardamom

or small green cardamom - 6

2

cm

Cinnamon Stick
Instructions 
Preparation
Wash and slice Purple/ red cabbage leaves into thin lengths of about 1" each. Set aside in a colander to drain completely. Wash and dice the tomato into 1 cm cubes. Shell the peas.

Peel and slice ginger, onion and garlic into small pieces which be easily ground into paste.

Wash and scrub the baby potatoes. Peel can be removed if you wish. If using large potatoes, peel and slice into 1" cubes and place in water till required.

Peel and slice the carrot into thin 1" length sticks.

Crush the cardamom seeds well. Discard the peel, or as I do, add it to your drinking water. Break cinnamon stick into pieces.
To Make The Masala
Roast onion, garlic and ginger slices in a little oil. Remove after draining the oil, and process into a paste in the food processor/ mixie or on a grinding stone. Set aside in a bowl till required.
To Make Bandha Kobi Torkari / Odia Cabbage Potato Peas Curry
Heat a pan large enough to take all the vegetables, and add oil. If not using mustard oil, when the oil is hot add mustard seeds and saute till they burst.

Keeping the pan on low/ medium heat, add cumin/ jeera seeds, saute till they being to darken (about 10 secs)

Break the dry red chili into two and add. Saute, turning it so that both sides are fried. (about 10 secs). Add the bay leaf/ tej patta.

Add the masala paste earlier prepared (onion, garlic, ginger). Saute till the oil begins to leave the sides and the masala begins to darken in colour (about 2 minutes).

Add tomato slices, saute for about 2 minutes, stirring frequently.

Add potatoes, stir well till they are all covered in oil. Add carrot slices. Stir.

Add cabbage slices and shelled peas. Add turmeric powder and salt. Be cautious with the salt as the cabbage will shrink in volume. You can check and add more if required at the end. Stir well.

Add half the water in ingredients list (½ cup) stir and cook (covered) till the vegetables are cooked. Stir the curry frequently as the cabbage and masala may catch at the bottom of the pan and burn. Add another ½ cup water if it is too dry and the potatoes and cabbage are yet to cook.

Once the vegetables are cooked, check for adequacy of salt, adding a little more if required. Stir and cook for 2 minutes on low flame.

Meanwhile, heat a teaspoon of ghee separately, add cardamom powder and cinnamon pieces, pour over the curry and remove from heat immediately.

Serve hot with khichidi/ khichodi, or rice and dal/ dalma or with roti.