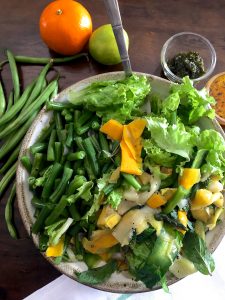 This is a very versatile salad. You could substitute or add to the zucchini, just keeping the beans and pesto as the central players. Boiled corn, sliced baked potato or sweet potato, thinly sliced red radish, apples or pears, boiled chickpeas - take your pick. Add a lot of salad greens - lettuce, rocket/ arugula leaves, sautéed kale or spinach. Add herbs - I had basil, rosemary and mint all growing in my tiny balcony 'garden' and I tossed in a handful to add flavour to the Pesto Beans Zucchini Salad. Its green, fresh and tasty and makes a perfect light lunch. Make sure you pick tender young beans which need just a few minutes of blanching to give crunch to the salad.
I have used my favourite Basil Pistachio Nuts Pesto for the salad, along with my go to salad dressing of citrus in sesame oil. Extra virgin olive oil may be substituted but of course that will change the flavour. And you could use any pesto you prefer. For this vegan version I have ensured there is no cheese in the pesto.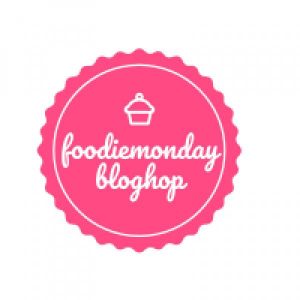 I'm enjoying being in the FoodieMondayBlogHop FB Group. Every Tuesday the member in turn propose options for the weeks theme, and all of us vote on it. We have to post the recipe on the Monday following. It actually becomes a mad scramble to get the ingredients, cook, photograph and then write the recipe and rest of the post, keeping SEO in mind, and post it punctually on Monday morning. But its fun and it makes sure I post 4 recipes each month on the blog, which is really really good discipline for me at least!
The theme for this week was selected by Seema Doraiswamy Sriram, who blogs at Mildly Indian. Its a lovely site and I hope you will visit it and browse through the collection of recipes ranging from traditional Indian curries, sweets and festival treats to refreshing soups and salads like this creamy Lemon Barley Vegan Soup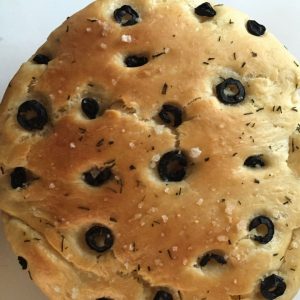 As an accompaniment to the Pesto Beans Zucchini Salad, I made an Olive Rosemary Focaccia, the recipe for which you will find on this blog. The Focaccia tasted even better than usual when dunked in the salad with its fresh pesto and citrusy dressing!
Here are some other recipes you may like, on this blog: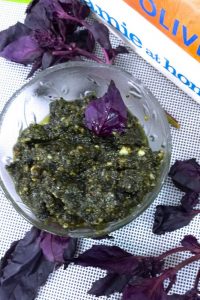 Easy and quick Purple Basil Pesto with Pine nuts and Parmesan following Jamie Oliver's recipe. Green basil may be used instead of purple. Delicious!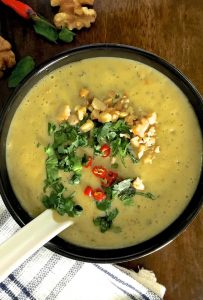 Curried Chili Zucchini Soup with Walnuts and Turmeric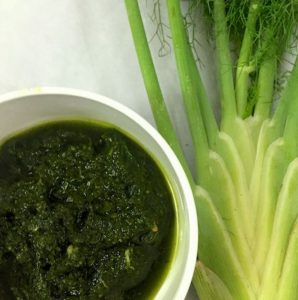 Pesto of Fennel Fronds, with Basil Oil
"Recipe"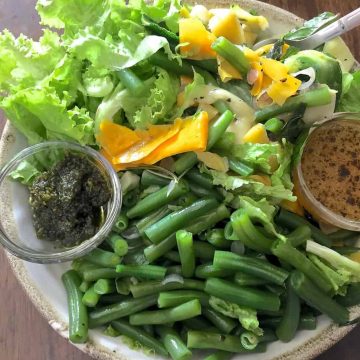 Pesto Green Bean Ribboned Zucchini Salad with Citrus Dressing
Pesto Green Bean Ribboned Zucchini Salad - an easy and tasty lunch with the basil pistachio nuts pesto and the lemony orange dressing adding flavour to the blanched beans, herbed and buttered zucchini ribbons and fresh salad greens
Ingredients  
For the Salad
2

tablespoons

pesto

any pesto of your choice. I used Basil Pista Pesto without any cheese in it

2

cups

green beans

in 2" slices, blanched as per instructions below

1

tablespoon

butter

omit for a vegan version and double the olive oil

1

tablespoon

olive oil

or sesame oil

¼

cup

basil leaves

a few

sprigs

rosemary

¼

cup

Shallots

sliced thin -about 4-5 shallots

2

cups

zucchini

sliced into thin ribbons

¼

teaspoon

salt

or to taste

¼

teaspoon

black pepper

freshly powdered

a

few

mint leaves

about 10, shredded

2

cups

lettuce

shredded

2

tablespoons

Almonds

or walnuts/ pista toasted and sliced
For the Citrus Salad Dressing
2

tablespoons

Fresh orange juice

2

tablespoons

Fresh lemon juice

¼

teaspoon

salt

or to taste

¼

teaspoon

black pepper

freshly powdered

1

tablespoon

sesame oil
Instructions 
To Make the Salad Dressing
Squeeze lemon juice and orange juice. Add 2 tablespoons of each along with salt and powdered black pepper and whisk them all together. Add the sesame oil or virgin olive oil gradually, whisking till the oils and juice are blended. Keep refrigerated till required.
Preparations for the Salad
Chose fresh, slim tender beans. Trim the top and tail and remove any strings on the sides. Slice into 2" pieces Slice the Zucchini into thin ribbons, retaining the peel. Shred each ribbon into 2-3 pieces. Slice the shallots thinly.

Toast almonds, walnuts or pistachio nuts for 2 minutes on a hot pan, stirring well. Remove from pan, slice into thin strips and keep ready as garnish for the salad.
To blanch Beans and sauce Zucchini for the salad
Blanch the Green beans: Boil a pan of water, add the slices of beans when the water is on a rolling boil. Allow to boil for 5 minutes. Remove, drain and immediately plunge into a basin of cold water (to stop the beans from cooking further and to retain the green colour) Remove in about 30 seconds. Drain and set aside till required.

Heat a pan and add the butter. When it melts, add the oil. Stir Stir and add the sliced shallots. Sauté till they are soft, about 2 minutes. Add the herbs (basil and rosemary) after shredding the same.

Add the zucchini ribbons, tossing them in the pan on high heat till soft (about 5 minutes) Add salt and pepper to taste and add the shredded mint, stir and quickly remove into a bowl so that the zucchini stop cooking further.
To Put the Pesto Bean Zucchini Salad together
Shred the the lettuce, wash and dry in a salad spinner or with kitchen towels. Place in a large bowl. Add zucchini and blanched green beans. Season lightly with salt as there is salt in the dressing. Add the pesto and toss it all together.

Just before serving, add salad dressing to each serving and garnish with toasted nuts.
Nutrition
Serving:
2
cups
Calories:
369
kcal
Carbohydrates:
20
g
Protein:
7
g
Fat:
31
g
Saturated Fat:
7
g
Cholesterol:
16
mg
Sodium:
796
mg
Potassium:
762
mg
Fiber:
7
g
Sugar:
11
g
Vitamin A:
2038
IU
Vitamin C:
52
mg
Calcium:
129
mg
Iron:
2
mg