This was a staple for dinner or lunch during long train journeys. Mom would make this quick curry with potato cut small and fried in a little oil, with just chilli powder, turmeric and salt. We would eat it rolled up in chapaties, and washed down with chai in a matka: I can't describe how tasty it was! I've made my own favourite version adding poppy seeds and kalonji , served with rice and masoor dal.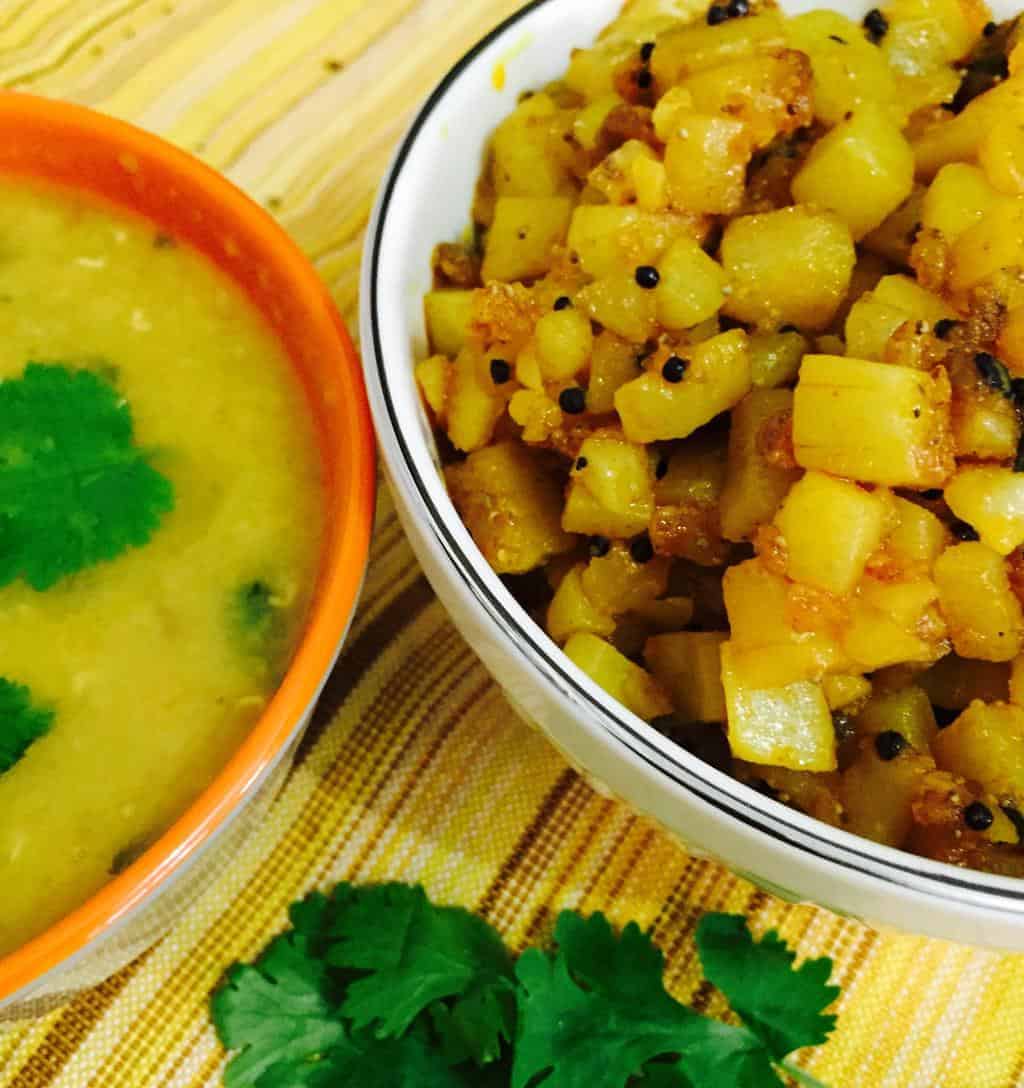 "Recipe"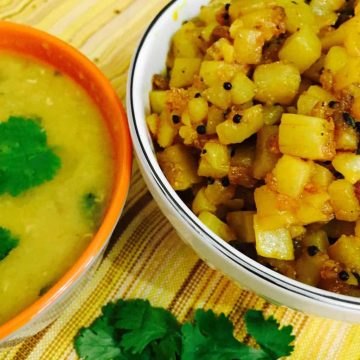 Potato fry tempered with poppy & nigella seeds
Easy Tasty Potatoes fried in oil tempered with mustard, fenugreek, nigella and poppy seeds. And curry leaves. Delicious and quick to make.
Ingredients  
4

Potato

(medium)

¼

teaspoon

Mustard seeds

(rai)

¼

teaspoon

Fenugreek seeds

(methi)

¼

teaspoon

Onion seeds

(kalonji, nigella)

¼

teaspoon

Poppy seeds

( khas khas)

a few

Curry leaves

-

1

teaspoon

Chilli

powder

1

teaspoon

Turmeric

powder (haldi)

¼

teaspoon

Garam masala

(optional)

to taste

Salt
Instructions 
Wash and peel the potatoes. Dice them into small cubes, placing the pieces in a bowl of water till all the potatoes are diced.

Set the potato pieces to drain in a colander.

Shred the curry leaves into bits.

Heat oil in a pan.

Add mustard, let it burst and add methi seeds.Add the poppy seeds and then the onion seeds. Finally add curry leaves.

Add the potatoes, stir well till coated all over with oil.

Keeping the stove on low flame, add chilli powder, turmeric powder, garam masala ( if using) and salt.

Cook for 10 minutes or till the potato is soft and can be mashed with the back of a spoon. Stir frequently, checking that the potato does not catch at the base of the pan.

Transfer to a serving bowl.

Tastes good with roti or with rice accompanied by dhal, sambar or rasam.