My Mom makes Stuffed Parwal with roasted and ground dhania and chilli, and it tastes amazing. I experimented with a more robust stuffing of onion, tomato, peanuts, sabut (whole) dhania, methi, jeera and kalonji seeds fried and ground to a paste. I can't decide which is better, the fragrant aroma when the Stuffed Parwal is cooking in sesame oil, or the delicious taste!
This curry always reminds me of days gone by at Kharagpur, where the pointed gourd or parwal was a regular on the dining table in winter. I like it this way, stuffed to the brim with ground masalas, rather than the other version of slicing and sautéing the parwal. Pramod liked the parwal potato fry curry, with garam masala to perk it up.
I made the bharwan parwal recently, when at Hyderabad, and little Tasha loves it. She makes a meal of just the parwal, leaving the roti and rice aside. This time I made it without the onion and tomato and with all the masalas ground together coarsely. Mridula added a secret ingredient, a spice mix she discovered in Mumbai.
Earlier I used to fry the stuffed parwal, but now being more health conscious, I have started microwaving them for about 10 minutes so that they cook, and then I sauté them briefly in a little oil to get the authentic taste of the curry I remember from childhood.
The parwal is usually served with roti or with dhal and rice, however you should try it sometime in a sandwich, on a rainy monsoon evening. Place 2 stuffed (and cooked) parwal between 2 slices of lightly buttered bread, grill or toast in the microwave for 1 minute. Have it with a hot cup of Coffee! Its totally yum and just writing about it makes me yearn for my favourite curry!
SaveSave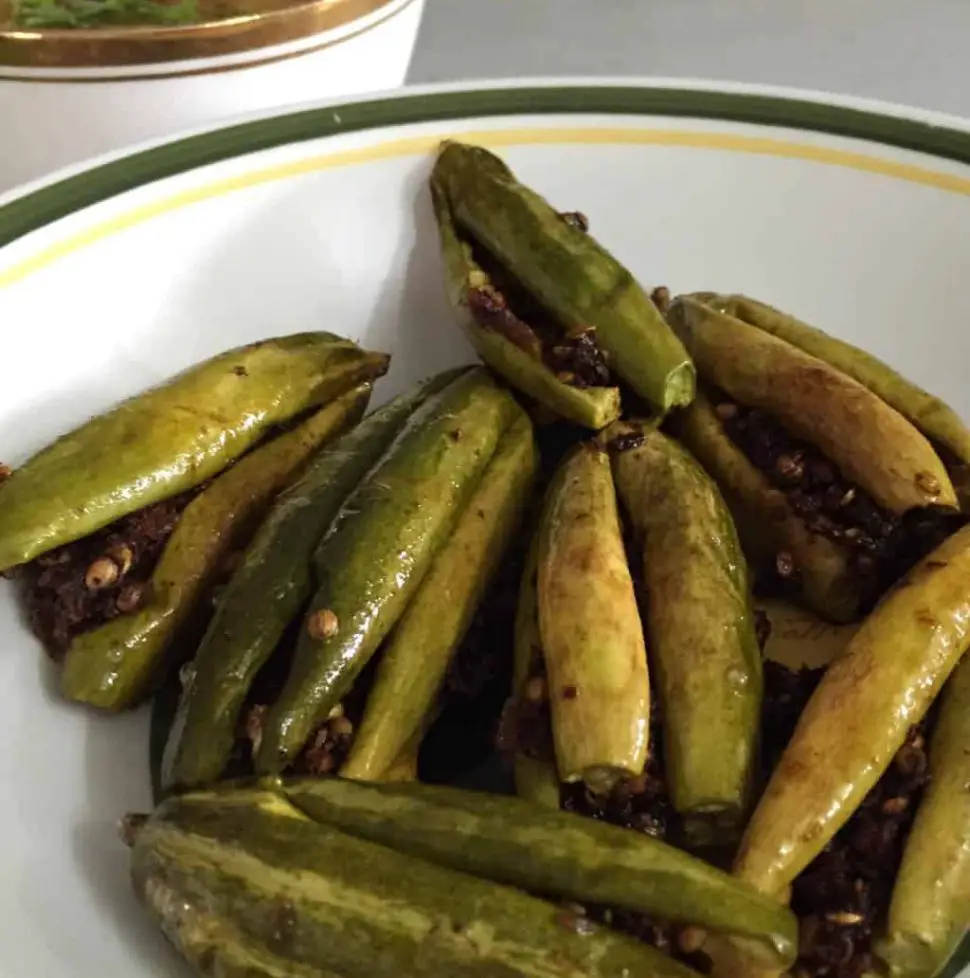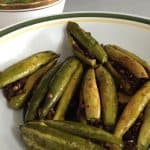 Bharwan Parwal or Stuffed Parwal - Tasty Pointed Gourd Curry
Stuffed Parwal filled to bursting with handpicked masalas. My version of comfort food on a rainy or chill evening. Ever tried it in a sandwich? Its Yum!
Print Recipe
Ingredients
1

cup

onion

-

diced

1

cup

tomato

-

diced

2

tbsps

Coriander seeds

-

(dhania)

1

tbsp

peanuts

-

Raw

1/4

tsp

Fenugreek seeds

-

(methi)

1/4

tsp

Onion seeds

-

(kalonji)

a few

curry leaves

1/4

tsp

Cumin seeds

-

(jeera)

1

red chilli

-

Dry (optional)

1/4

tsp

turmeric

-

(haldi) powder

1/4

tsp

chilli

-

powder

pinch

asafoetida

-

(hing) a

to taste

salt

3

tbsps

sesame oil

-

( or other cooking oil)
Instructions
Dice the onions and tomatoes. Heat 2 tsp of oil in a pan, reserving the balance oil for frying the stuffed Parwals. Roast the coriander and peanuts for 1 minute (The peanuts may crack or burst,)

Remove the coriander and peanuts afterdraining the oil by holding them in a slotted ladle against the side of the pan, and transfer into a dry bowl. Keep aside.

In the remaining oil in the pan, fry the onions for 1 minute and add tomatoes, fry for 30 secs. Drain and transfer to a dry bowl. Add another 1 tsp of oil to the pan and roast all the remaining ingredients (except the salt and reserved oil). Drain and remove after two minutes of roasting on a low flame.

Grind the coriander and peanuts coarsely, add all the other fried/ roasted ingredients and grind to a paste without adding water. Remove to a dry bowl and mix in the salt.

Slice off 1/2 cm from the tops of the Parwal ( the pointed side opposite to the stalk side). Make a slit through the length from the cut top to the base, keeping the stalk end intact. Ensure the Parwal is not slit into two.

Make another similar  lengthwise slit so a cross (+)appears on the top surface, still keeping the Parwal  in one piece. Make these two slits in each of the Parwals.

Stuff the paste into the slits in each Parwal. I usually divide the paste into suitable portions keeping in mind the size of each Parwal, so that I don't run out of stuffing.

I microwaved the Stuffed Parwal for 10 minutes, to reduce the oil and time required for frying, and then sautéed them in hot oil for about 7 minutes.

Heat the reserved oil in a pan. I used sesame oil for its unique flavour, but any cooking oil could be used. Fry the stuffed Parwal for 7-15 minutes till they shrink and discolour from dark green to pale or yellowish green. Keep gently turning them so all sides are cooked evenly.

Drain and place in a serving bowl. If some of the stuffing has spilled into the oil while frying, you could pick it up with a spoon and pour over the cooked Parwal. Serve hot with chappatties, rice and dhal or in a sandwich.