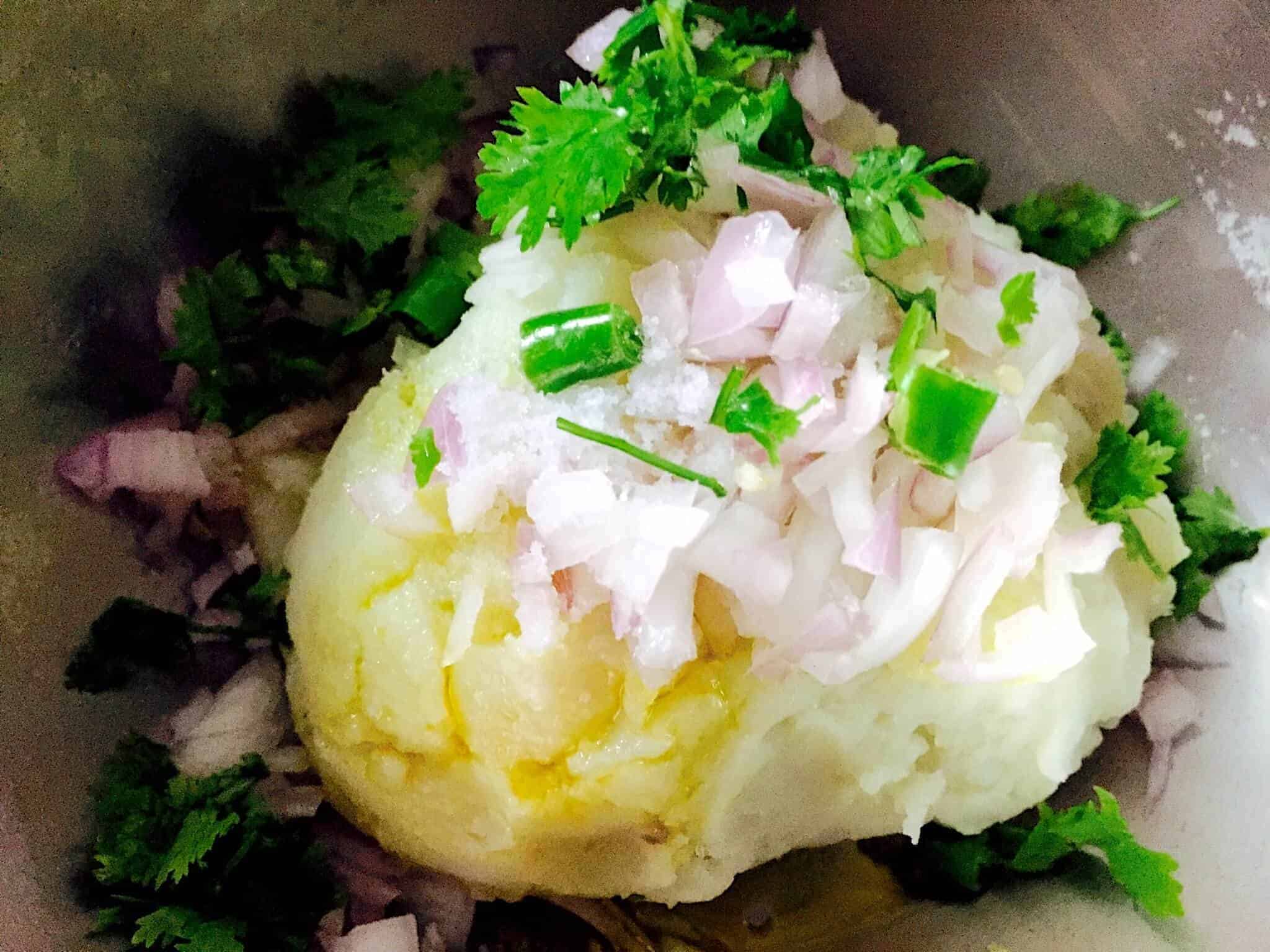 The Assamese Aloo Pitika is, as I said earlier, really simple with just 6 ingredients including oil and salt! I have followed the recipe from The Essential North East Cookbook by Hoihnu Hauzel. This book is  a treasure and I want to try more of the recipes from here. I am getting intrigued by North Eastern cuisine and am hoping to make a foodie trip there soon.
This is my 4th post on the food blogger group, Shhhhh Cooking Secretly Challenge . The Group runs like this: Every month each of us is paired up with another blogger, and a theme for the month also decided. Each of the participants name 2 ingredients for their partner, and we have to make and post a picture of the dish using these 2 ingredients.
The remaining members of the group have to try and guess the secret ingredients. Its a lot of fun and ever since Amrita Iyer suggested we take up each of the Indian States by turn for the theme, it has become really interesting.
The theme for November was Assamese cuisine and my partner for the month, Poonam Bachhav, gave me the names of 2 ingredients as the secret ingredients – mustard oil and potatoes which fit perfectly in with the Assamese Aloo Pitika.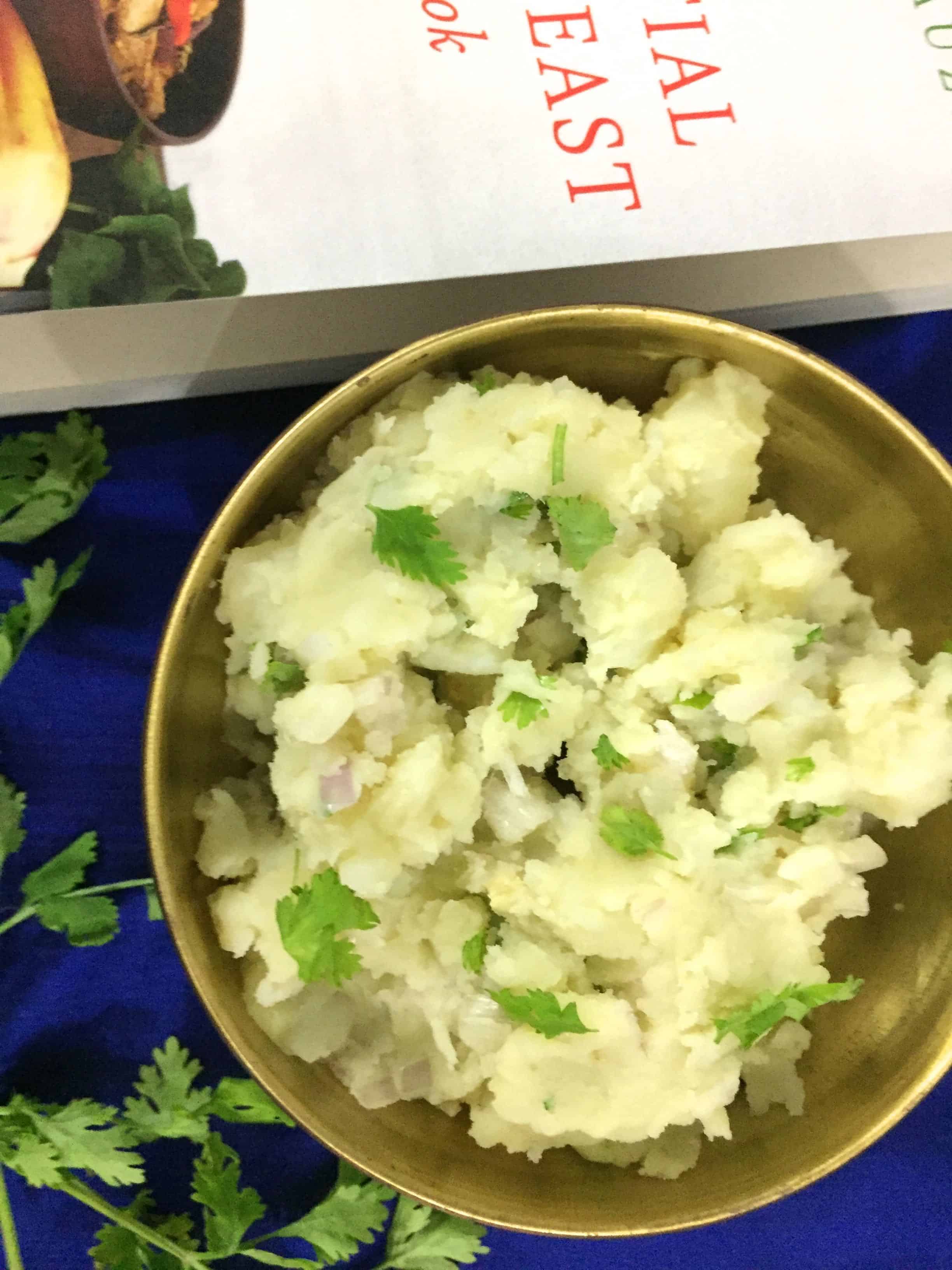 Poonam blogs at Annapurna.  Do visit her blog, she has a variety of healthy and tasty food recipes including 'no onion no garlic' recipes and eggless bakes too. I love the way she posts images for each step of the process so that the recipe is easy to follow.  For Poonam, I suggested pumpkin and mustard oil as the secret ingredients, and she made this delicious looking Pumpkin Oambal, a chutney that showcases Assamese cuisine.
This is the first time I have attempted Assamese food and I did some reading including the lovely detailed descriptions in each chapter of the Essential North East Cookbook, before I selected the Assamese Aloo Pitika (or Alu Pitika)  as my dish of the month. As in many regions in India, the food is based on the locale.
There are different tribal settlements across Assam and the cuisine has developed from each of these. Rice has traditionally been the staple food. The cuisine has become influenced by Thai cuisine and hence ingredients like bamboo shoots, coconut milk and lemongrass are used in some parts of Assam.
The people of the Asomiya tribe lived along the banks of the Brahmaputra, and fresh fish became part of their regular diet. For those like the Bodos, Karbi, Rabha and Mishing peoples living more inland, dried and fermented fish became the norm as fresh fish was not readily accessible.
Basically the food preparations are simple, as can be seen in this recipe for Assamese Aloo Pitika. Some oil is used, usually mustard oil, unlike most other North East cuisine where oil is rarely used, but here too it is kept to a bare minimum. Very few spices are used in the cooking. Mustard seeds and methi (fenugreek are used), as well as green chilies and ginger.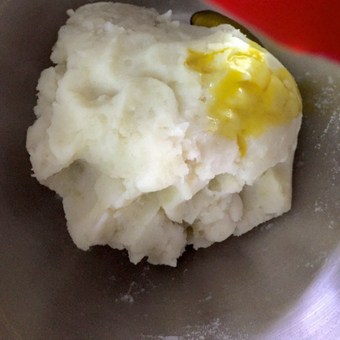 More North East India Veg Recipes
"Recipe"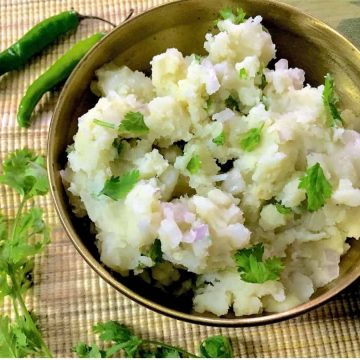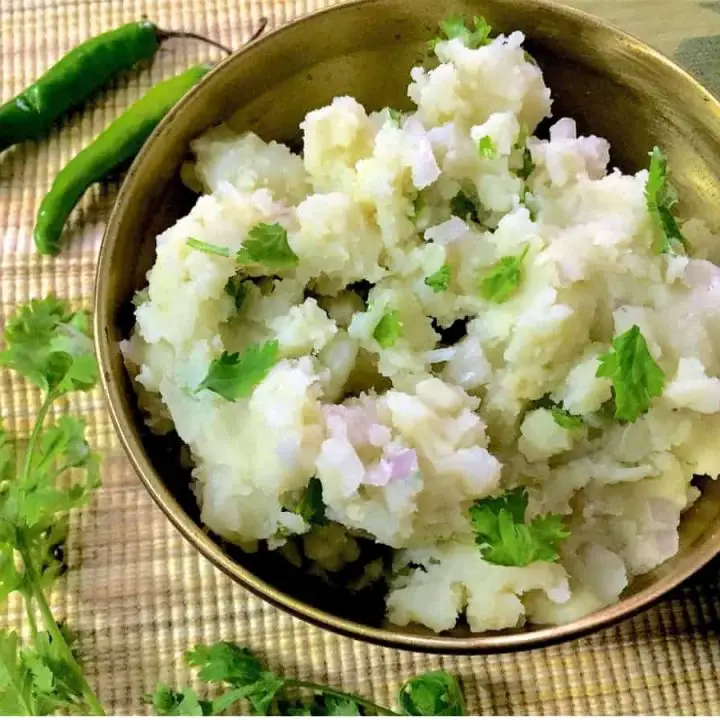 Assamese Aloo Pitika - Mashed Potato in Mustard Oil
Easy Assamese Aloo Pitika - mashed potatoes in mustard oil, with onions and hot green chillies. Vegan, gluten free, this is a simple North East Indian dish
Ingredients  
2

Potatoes

or about 2 cups when peeled and sliced

1

teaspoon

mustard oil

½

cup

sliced onions

2

Green chillies

or 2 teaspoons of sliced chillies

½

teaspoon

salt

coriander leaves

for garnish
Instructions 
Set the potatoes to boil. I used a pressure cooker and cooked till 3 whistles so the potatoes became soft and fully cooked. The timings above are based on the same.

Meanwhile prepare the other ingredients: Slice the chilies, onions (small pieces) and mince the coriander leaves

When the cooker is ready to open, peel the potatoes and then mash them as you would for chokha. Check that there are no chunks of un-mashed potato

Add salt, chilli, onion slices and mustard oil. Mix it all well. Either mix in the coriander leaves (which is what I did) or use them as garnish. Serve with rice and dhal or with roti, whatever you please!