Recipe 3 of my 100 Healthy Recipes Challenge. Seasonal green peas make up this delicious Matar ka Nimona, a classic curry from Eastern Uttar Pradesh. The aromatic dal like dish is a regular part of a winter meal in Awadhi cuisine.
Married into a family from Eastern UP though settled in Madras, I would listen with my foodie antenna at alert, as my husband started a monologue every winter. He would describe childhood days of enjoying luscious fresh peas straight from the plant, in their native village at Basti, Gorakhpur. I have tasted the peas straight from the plants too, in the kitchen garden my mother had at Kharagpur.  However, the magical sight of acre upon acre of pea plants stretching to the horizon, is something I have not experienced.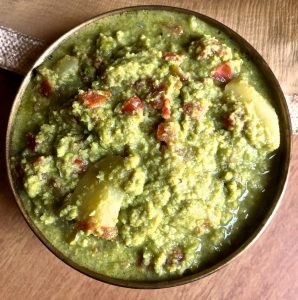 In Chennai, it is a common sight, to see large carts heaped with fresh peas and with red 'Delhi' carrots every December. It signals the start of a month or two of making matar ki tehari, matar ka nimona, matar paneer, aloo matar, and everything green. This year at Bangalore, the peas have been a long time surfacing in the shops in large volumes. I do hope they stay available for a while.
Green peas are native to Western Asia and North Africa. Their cultivation has been known for more than 10,000 years. In India, the cultivation of the pea is thought to have originated in north west India, in the sub Himalayan plains. However it is now grown as a commercial crop in various parts of the country, wherever the weather is cool enough to suit their growth.
Making Matar ka Nimona:
Nimona is easy to make. Shell the fresh green peas from the pod. Puree the peas with very little water. Cooked the peas puree with spices and in an onion tomato gravy.  In days gone by, the peas would be ground on flat grinding stone, with bare minimum water, and slow cooked.
Nowadays the pressure cooker is often used. However it is my perception that the matar ka nimona has a fresher earthy taste and a greener  tinge to it, when cooked in a pan. The pressure cooked nimona though it tastes good, changes to a yellowish brown colour and is sometimes overcooked.
For the matar ka nimona to get its authentic flavour, stir the masala (spices, onion, turmeric etc) really well before you add the peas.
The peas should also be stirred briskly for 5 minutes, before adding water for it to cook.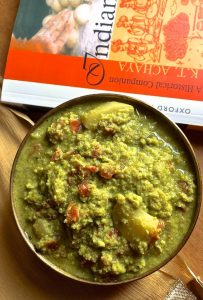 Other recipes you may like on this blog: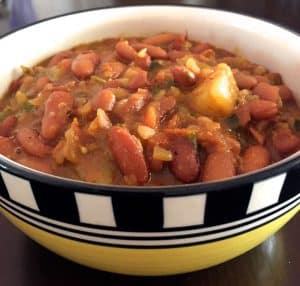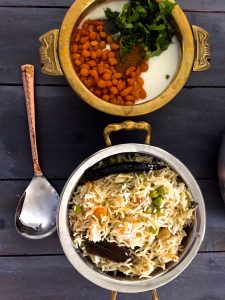 SaveSave
SaveSave
SaveSave
SaveSave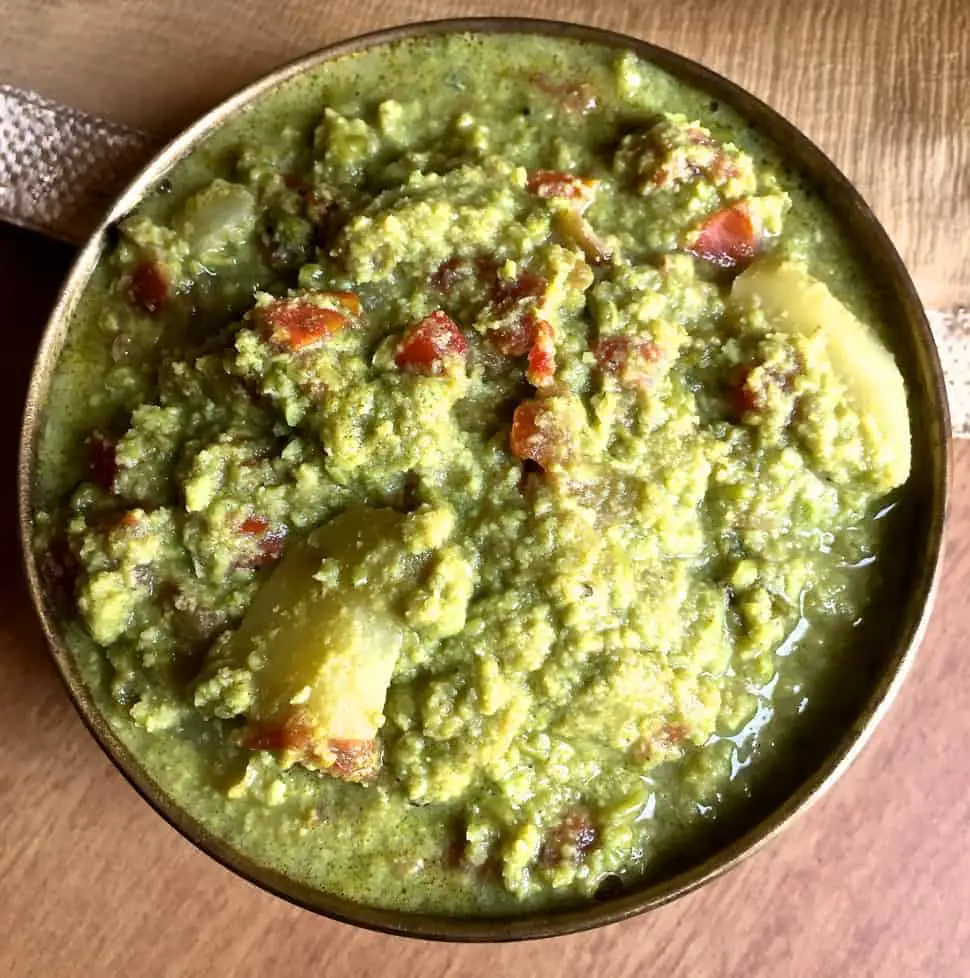 Matar ka Nimona – Curry of Fresh Green Peas pureed and cooked in Spices, Onions and Tomatoes
A classic recipe from Eastern Uttar Pradesh, Matar ka Nimona from green peas are a regular part of a winter meal in Awadhi cuisine. Fresh Green peas are pureed and cooked with spices and chunks of potato, in an onion tomato gravy
Print Recipe
Ingredients
3

tablespoons

sunflower oil

1/2

teaspoon

Fenugreek seeds

-

(methi)

4 - 5

Cloves

1"

cinnamon

-

(Dalchini) piece

6 - 8

Black peppercorns

2 - 3

Big Black cardamom

-

(Badi Elaychi)

1/2

cup

Onions

-

sliced

½

inch

fresh ginger piece

-

(minced)

6

cloves

garlic

-

(minced)

1/2

cup

tomato

-

diced

1/2

teaspoon

turmeric powder

-

(Haldi)

1

teaspoon

Coriander Powder

-

(dhania)

1

teaspoon

red chilli powder

1

teaspoon

garam masala powder

1

Bay leaf

-

(Tej Patta)

1

cup

potato

-

(cubed)

3

cups

fresh green peas

¼

cup

coriander leaves

-

(Dhania/ Cilantro) minced

2

cups

water

-

or less as may be required

to taste

salt
Instructions
Peel, Chop /mince the onions, tomatoes, ginger, garlic and coriander leaves. The tomatoes may be cut into 1/2" pieces, so that their colour shows through the green nimona. Peel and dice the potatoes into 1" long cubes.

Puree the raw peas in the processor, using just a little water, till you get a thick but fluid paste. I added 1 tablespoon of water for each cup of peas.

Heat the oil in a thick bottomed pan or in the pressure cooker, if using. Add the methi (fenugreek) seeds in the hot oil, so that they burst. Add all the whole spices and sauté for 2 minutes on low flame

Add onions, sauté on low flame for 2-3 minutes till they begin to brown Next the ginger, again sauté for 30 seconds and then add garlic, sauté for 30 seconds. Add tomatoes, sauté for 1 -2  minutes or till the oil begins to separate from the tomatoes, at the sides.

Add Turmeric, coriander, chilli and garam masala powders. Sauté for one minute, on low flame, stirring the powders well into the onion tomato gravy. Add the potatoes, stir briskly for 2 minutes so that they are fried well.

Finally add the pureed peas, stirring briskly for 5 minutes. The flavours of the nimona are enhanced when the potatoes, masalas and peas are sauteed well.

Add coriander leaves and the whole Bay leaf, stir once. Pour enough water to cover the nimona, and then about a centimetre more, above the surface. Add salt, check the taste.

If making the nimona in a pan, bring it first to a boil, and then simmer for about 10 -15 minutes on low flame, checking that the peas are well cooked. Keep stirring frequently, add a little water if you find it is becoming dry. Ensure it does not 'catch' at the bottom of the pan. The consistency should be like a thick dal.

If using a Pressure cooker, cook till 1 whistle on high and then turn off the heat. Let the cooker release steam and open on its own so that nimona is well cooked.   It is best to move the cooker away from the hot gas ring once you turn it off, so that the nimona cooks without burning and catching at the bottom of the pan