Seasonal green peas make up this delicious and different Matar ka Nimona, a classic curry from Eastern Uttar Pradesh. Made from green peas ground to a paste and cooked with spices, this aromatic dal-like dish is a standard part of a winter meal in Uttar Pradesh and Awadhi cuisine. Though the ingredients are similar to a large extent to Aloo Matar, the two dishes differ in appearance, preparation, taste and flavour. The fresh earthy taste of the peas come out through the process of making the nimona.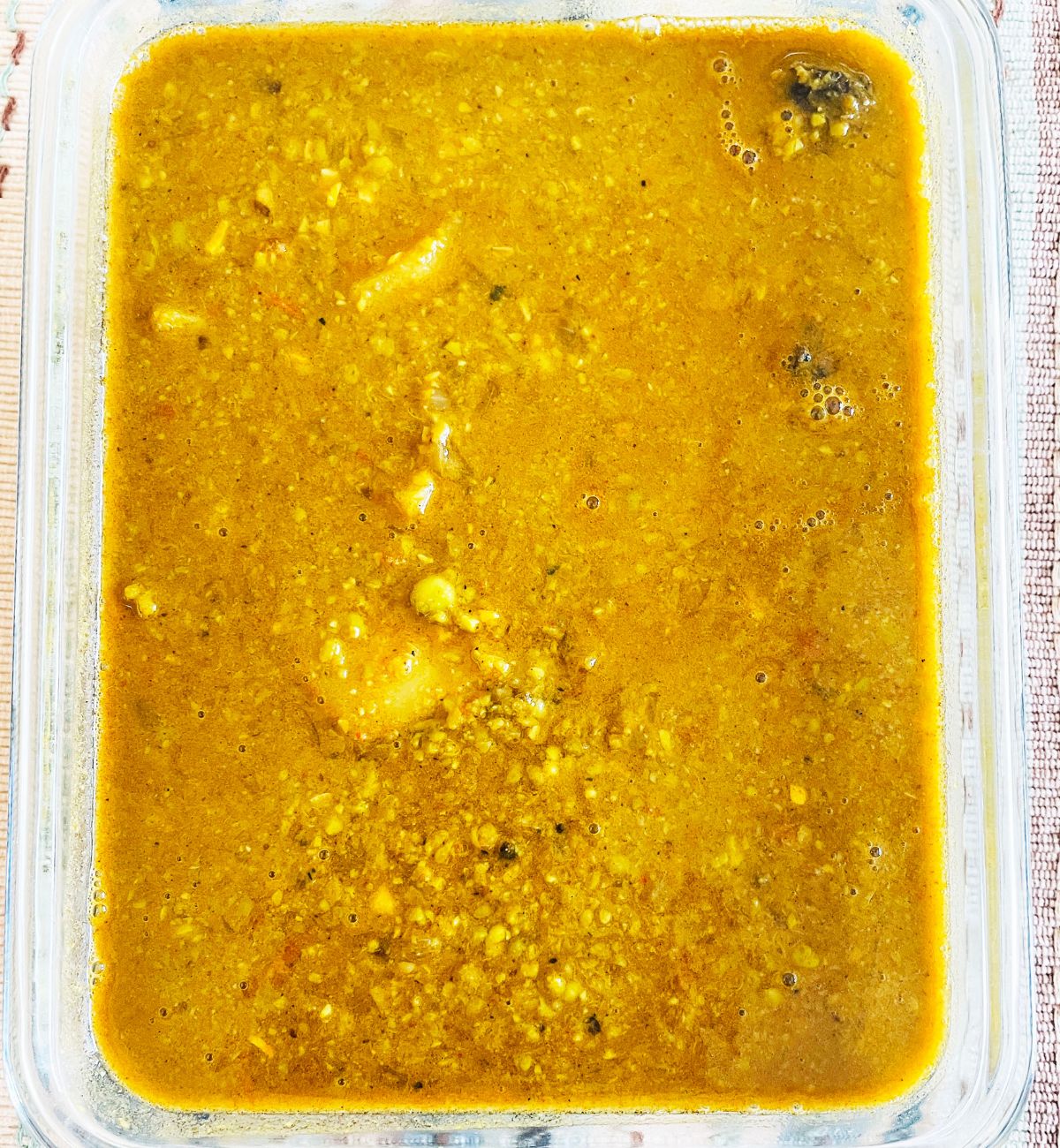 Married into a family from Eastern UP, I would listen with longing, as my husband started a monologue every winter. He would describe childhood days of enjoying luscious fresh peas straight from the plant, in their native village at Basti, Gorakhpur. I have tasted the peas straight from the plants too, in the kitchen garden my mother had at Kharagpur.  However, the magical sight of acre upon acre of pea plants stretching to the horizon, is something I have not experienced.
In Chennai where we lived earlier, it was a common sight, to see large carts heaped with fresh peas and with red 'Delhi' carrots every December. This signalled the start of a month or two of making matar ki tehari, matar ka nimona, matar paneer, aloo matar, and everything 'peas'. I miss these vegetable carts in the part of Bangalore where I live, and have to head to the market to pick up what I need.
Green peas are native to Western Asia and North Africa. Their cultivation has been known for more than 10,000 years. In India, the cultivation of the pea is thought to have originated in north west India, in the sub Himalayan plains. However it is now grown as a commercial crop in various parts of the country, wherever the weather is cool enough to suit their growth.
Fresh Green peas contain a variety of nutrients and research has suggested they may even help in fighting some cancers. You may like to read this article in healthline for a summary of the same.
Making Matar ka Nimona:
The essence of nimona and what makes it different from other pea based curries, is that the peas are ground before being cooked. Grinding the peas coarsely on a flat grinding stone/ sil batta, with bare minimum water, and slow cooking it would bring out the best flavours and texture. If you do use the mixie or processor, grind the peas coarsely and not smooth, with as little water as you can manage.
Nimona can be prepared in the pressure cooker. It's my perception though, that the matar ka nimona has a fresh earthy taste and a greener hue when cooked directly in a pan. The pressure cooked nimona though it tastes good, changes to a yellowish brown colour and tends to get overcooked, thereby affecting the texture.
The masala (spices, onion, turmeric etc) should be stirred really well before you add the peas, and the peas should also be stirred briskly for about 5 minutes, before adding water for it to cook through.
Whole spices are added to the masala, but I find it better to crush them well before adding, so that they diffuse into the gravy and you don't have the unpleasant experience of biting into a cardamom or a peppercorn! I don't recommend spice powders as an alternative though. Fresh spices, crushed with a mortar and pestle is best. Apart from the whole spices, garam masala and other spice powders are to be added, and the garam masala powder should be fresh, for a great taste.
I don't puree the tomato or onions, but slice and add them for the gravy. This gives better texture to the nimona and contrast with the pureed peas.
Nimona: Step By Step Process
Puree or grind the peas with minimum of water. Saute spices, onion, ginger, garlic; saute tomatoes and spice powders; Add potato slices and saute
[easy-image-collage id=61138]
Add ground peas; Add cilantro and bay leaf; cover with water; cook till peas and potato are tender
[easy-image-collage id=61143]
Other Winter Recipes You May Like:
SaveSav
"Recipe"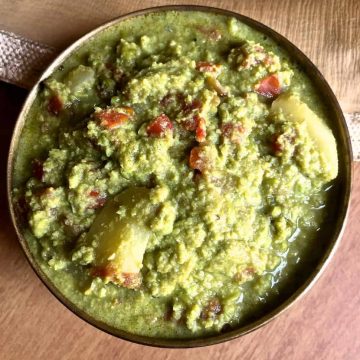 Matar ka Nimona – Ground Green Peas Curry cooked with Spices
A classic recipe from Eastern Uttar Pradesh, Matar ka Nimona from green peas are a regular part of a winter meal in Awadhi cuisine. Fresh Green peas are pureed and cooked with whole spices and chunks of potato, in an onion tomato gravy
Ingredients  
3

cups

Green peas

coarsely ground preferably on grinding stone

1

cup

Potato

cubed into 1" slices

3

tablespoons

Vegetable oil

sunflower or mustard oil

½

teaspoon

Fenugreek seeds

/methi

4

Cloves

crushed

1

inch

Cinnamon

/Dalchini

8

Black peppercorns

crushed

2

Big Black cardamom

/Badi Elaychi

½

cup

Onion

sliced small

½

inch

Ginger piece

minced

6

cloves

Garlic

minced

½

cup

Tomato

diced

½

teaspoon

Turmeric powder

1

teaspoon

Coriander Powder

/dhania powder

1

teaspoon

Red chili powder

1

teaspoon

Garam masala powder

fresh

1

Bay leaf

/Tej Patta

¼

cup

Coriander leaves

/Dhania leaves/ Cilantro - minced

2

cups

water

or less as may be required

to taste

salt
Instructions 
Preparation
Peel and slice the onion into small slices (about 1 cm), and tomato into slightly larger ones (about 2 cm) so that their colour shows through the green nimona. Peel and mince (slice thinly into very small pieces) ginger and garlic. Mince coriander leaves including tender stalks. Peel and dice the potatoes into 2-3 cm long cubes and place in water till required.

Crush the whole spices well, i.e. the peppercorns, clove, cinnamon and cardamom and set aside.

Shell the peas and grind the raw/frozen peas coarsely on a flat stone, using very little water. You need to break the peas, not liquidise them. If using a processor (please refer my remarks in the post above), puree the peas using as little water as required, till you get a thick paste. You may need about 3 tablespoons of water for each cup of shelled peas.
Making Matar ka Nimona
Heat the oil in a thick bottomed pan or in the pressure cooker, if using (please see my remarks in the post above). Sunflower oil or mustard oil, either are good in this recipe. I would not recommend oils such as sesame or coconut oil as they will impact the authentic flavours.
Add the methi (fenugreek) seeds in the hot oil, and saute for 1 minute or till they begin to redden.
Add all the crushed whole spices and sauté for 1 minute on low flame

Add onions, sauté on low flame for 5 minutes till they begin to brown
Next the ginger, sauté for 30 seconds and then add garlic, sauté for 30 seconds.
Add tomatoes, sauté for 1 -2  minutes or till the oil begins to separate at the sides.

Add the spice powders: turmeric powder, coriander powder, chili powder and garam masala powder. Sauté for 1 minute, on low flame, stirring the powders well into the onion tomato gravy.
Add the potatoes, stir briskly for 2 minutes so that they are covered with oil and masala.

Finally add the pureed peas, stirring briskly for 5 minutes.
The flavours of nimona are enhanced when potatoes, masala and peas are stirred and sauteed well.

Add minced coriander leaves and the whole Bay leaf, stir once.
Pour enough water to cover the nimona, and then about a centimetre more, above the surface.
Add salt, check the taste and add a little more as required.
Making Nimona in a Pan
If making the nimona in a pan, bring it first to a boil, and then simmer for about 10 -15 minutes on low flame, checking that the peas are well cooked.
Keep stirring frequently, add a little water if you find it is becoming dry. Ensure it does not 'catch' at the bottom of the pan as the water dries up. The consistency should be like a thick dal.
Making Nimona in Pressure Cooker
If using a Pressure cooker, cook till 1 whistle on high and then turn off the heat.
Let the cooker release steam and open on its own so that nimona is cooked. It is best to move the cooker away from the hot gas ring once you turn it off, so that the nimona cooks without burning and catching at the bottom of the pan and also reduce risk of overcooking.
To Serve Nimona
Transfer matar ka nimona to a serving dish and serve hot with chappati or rice
Nutrition
Serving:
1
cup
Calories:
238
kcal
Carbohydrates:
29
g
Protein:
8
g
Fat:
11
g
Saturated Fat:
9
g
Sodium:
30
mg
Potassium:
595
mg
Fiber:
9
g
Sugar:
8
g
Vitamin A:
1203
IU
Vitamin C:
55
mg
Calcium:
67
mg
Iron:
4
mg