Seasonal green peas make up this delicious and different Matar ka Nimona, a classic curry from Eastern Uttar Pradesh. Made from green peas ground to a paste and cooked with spices, this aromatic dal-like dish is a standard part of a winter meal in Uttar Pradesh and Awadhi cuisine. Though the ingredients are similar to a large extent to Aloo Matar, the two dishes differ in appearance, preparation, taste and flavour. The fresh earthy taste of the peas come out through the process of making the nimona.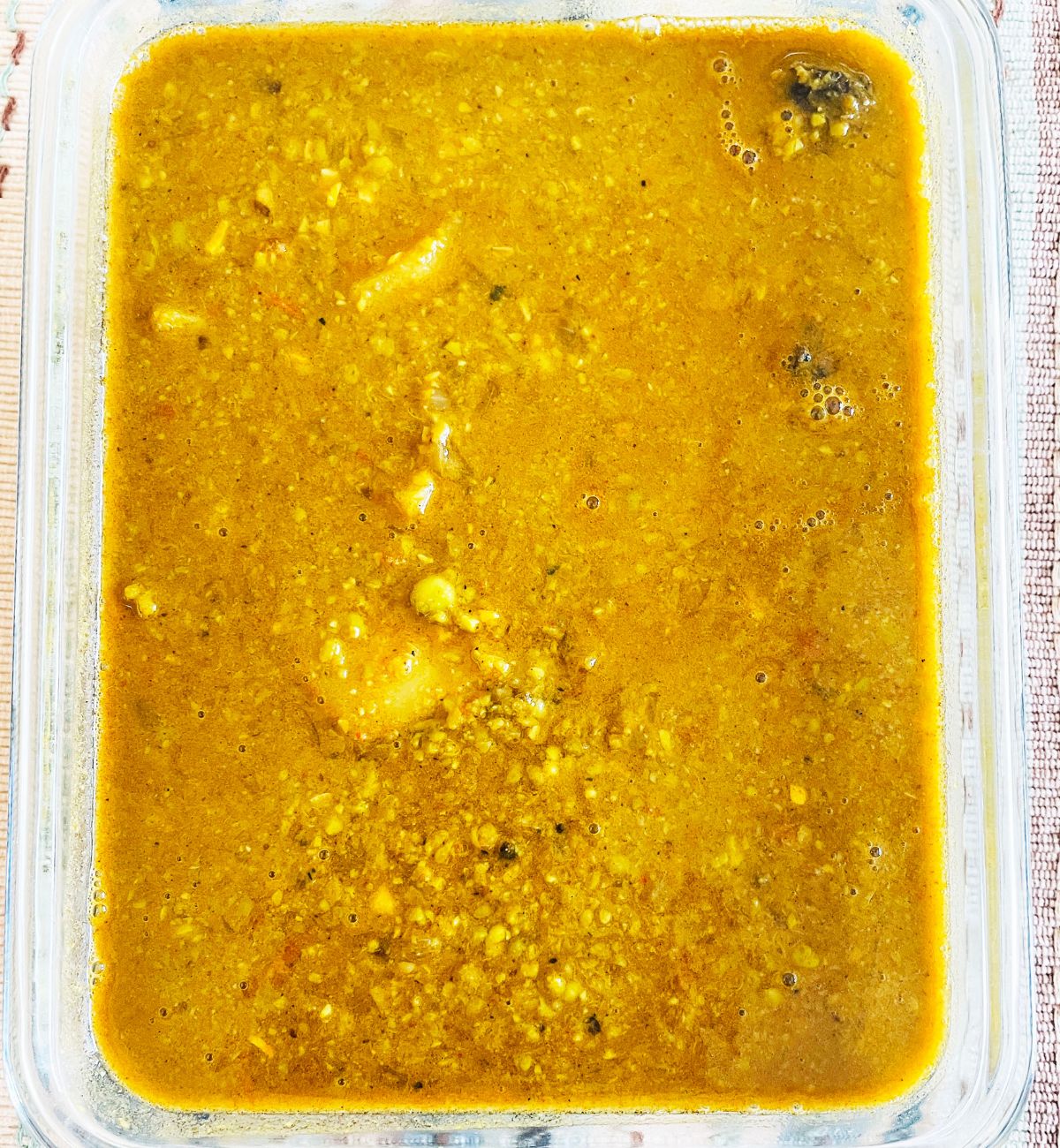 Married into a family from Eastern UP, I would listen with longing, as my husband started a monologue every winter. He would describe childhood days of enjoying luscious fresh peas straight from the plant, in their native village at Basti, Gorakhpur. I have tasted the peas straight from the plants too, in the kitchen garden my mother had at Kharagpur.  However, the magical sight of acre upon acre of pea plants stretching to the horizon, is something I have not experienced.
In Chennai where we lived earlier, it was a common sight, to see large carts heaped with fresh peas and with red 'Delhi' carrots every December. This signalled the start of a month or two of making matar ki tehari, matar ka nimona, matar paneer, aloo matar, and everything 'peas'. I miss these vegetable carts in the part of Bangalore where I live, and have to head to the market to pick up what I need.
Green peas are native to Western Asia and North Africa. Their cultivation has been known for more than 10,000 years. In India, the cultivation of the pea is thought to have originated in north west India, in the sub Himalayan plains. However it is now grown as a commercial crop in various parts of the country, wherever the weather is cool enough to suit their growth.
Fresh Green peas contain a variety of nutrients and research has suggested they may even help in fighting some cancers. You may like to read this article in healthline for a summary of the same.
Making Matar ka Nimona:
The essence of nimona and what makes it different from other pea based curries, is that the peas are ground before being cooked. Grinding the peas coarsely on a flat grinding stone/ sil batta, with bare minimum water, and slow cooking it would bring out the best flavours and texture. If you do use the mixie or processor, grind the peas coarsely and not smooth, with as little water as you can manage.
Nimona can be prepared in the pressure cooker. It's my perception though, that the matar ka nimona has a fresh earthy taste and a greener hue when cooked directly in a pan. The pressure cooked nimona though it tastes good, changes to a yellowish brown colour and tends to get overcooked, thereby affecting the texture.
The masala (spices, onion, turmeric etc) should be stirred really well before you add the peas, and the peas should also be stirred briskly for about 5 minutes, before adding water for it to cook through.
Whole spices are added to the masala, but I find it better to crush them well before adding, so that they diffuse into the gravy and you don't have the unpleasant experience of biting into a cardamom or a peppercorn! I don't recommend spice powders as an alternative though. Fresh spices, crushed with a mortar and pestle is best. Apart from the whole spices, garam masala and other spice powders are to be added, and the garam masala powder should be fresh, for a great taste.
I don't puree the tomato or onions, but slice and add them for the gravy. This gives better texture to the nimona and contrast with the pureed peas.
Nimona: Step By Step Process
Puree or grind the peas with minimum of water. Saute spices, onion, ginger, garlic; saute tomatoes and spice powders; Add potato slices and saute
Add ground peas; Add cilantro and bay leaf; cover with water; cook till peas and potato are tender
Other Winter Recipes You May Like:
SaveSav