A side dish from the arid desert areas of Rajasthan, ker sangri subzi is made from dry vegetables i.e. ker berries and sangri pods that have been dehydrated and stored for use when fresh, along with basic Indian spices. Raisins and strips of dried mango add subtle sweet as well as tangy flavours. The sabzi is easy to make and has a unique taste.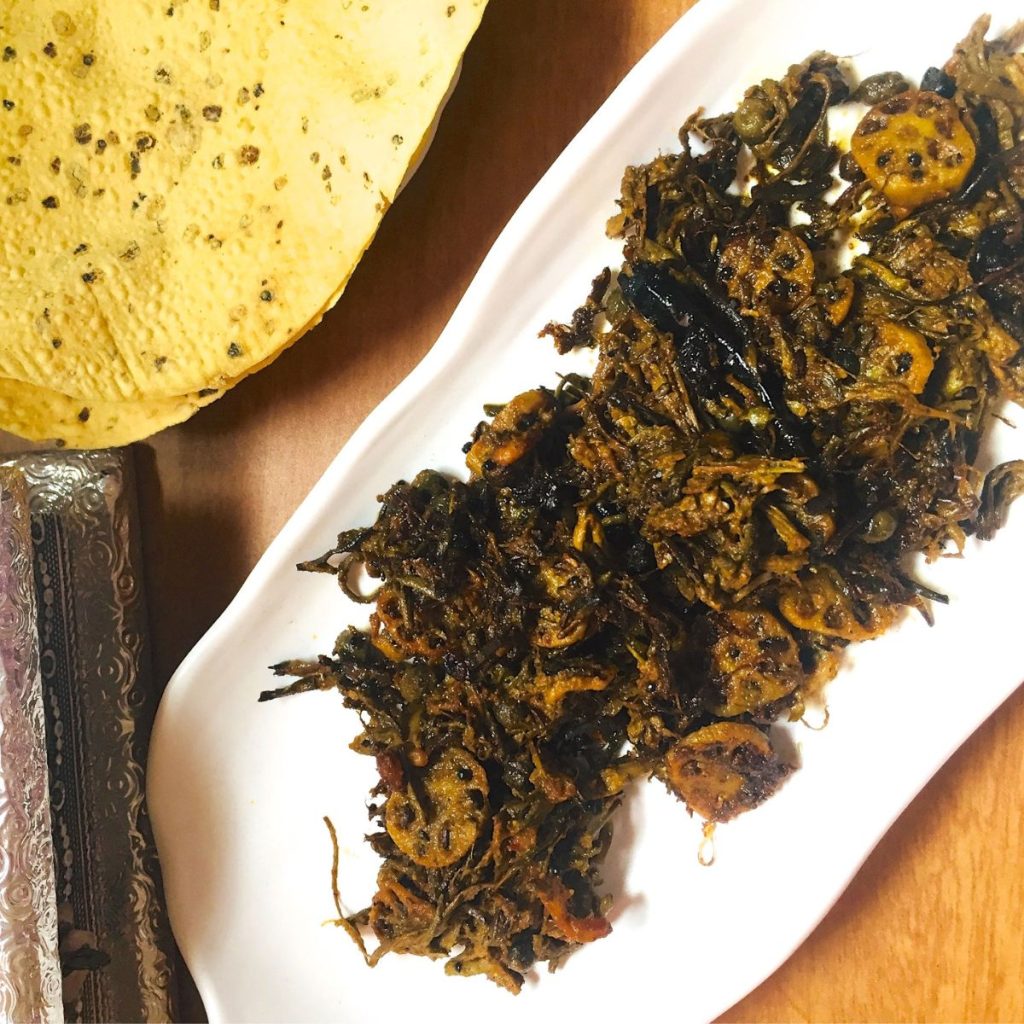 What Are Ker and Sangri?
Idly searching my cookbook collection and recipes for Rajasthani cuisine online, I came across this little gem. Ker Sangri ki sabzi. Both ker and sangri are from trees that grow in India's Thar desert area where green vegetation is sparse. The ker and khejri trees however, are able to survive and flourish in this difficult environment, thrusting their roots deep into the earth for precious water. Ker berries grow on the ker tree, and sangri are the pods or 'beans' from the khejri tree. The berries and pods grow only for a short period during the year, and hence they are plucked and dried for use during those times when no vegetables are available to add to the cooking pot. Here is an account I found interesting and informative, a traveler's tale on the kair sangri curry and you may like it too! It says that the dehydrated (uncooked) berries stay good and usable for about six years!
What Other Dishes Can Be Made?
When I started researching recipes, I found there were different ways of using these ingredients. Ker Sangri is usually made into a pickle (which sounds delicious from what I've read, but I haven't tasted this so far). Another popular dish using ker berries and sangri pods is the 5 ingredient 'Panchkuta Sabzi' made from dried ker, sangri, gunda (gum berry/ chorda myxa), kumat (seeds of the acacia fruit) and dry mango slices. I wanted to make this, but I was able to locate only ker and sangri online for purchase when I made this dish, and the ingredients were not available in local shops. They are usually easily found in shops in Rajasthan and those located near Marwari communities and nowadays most of them are available on online sites.
About This Recipe
I have broadly adapted a recipe from this little book I discovered, called Marwari Kitchen. The recipe instructed that the cooked ker and sangri be added to the tempering, however I have deviated from this process and instead sauteed the same. The recipe in the Marwari Kitchen specified Lotus root/ stem (I never know what to call it) or kamal kakdi as one of the ingredients, and this sounded interesting.
I have a sneaky feeling, in hindsight, that the recipe in the book I have referred to intended to use 'gunda' as the ingredients listed 'Lotus stem/ gunda', and perhaps mistook this to be the Hindi/ Rajasthani name for kamal kakdi. All my reading up has suggested, as I have explained above, that gunda actually refers to seeds of the acacia fruit, found in the desert region. The lotus root did taste very good when included in the sabzi, and added to the texture too, so I decided to go with this version, though I do not think that a traditional recipe for ker sangri would include lotus root. I would love to get this clarified by those of my readers who are familiar with Rajasthani cuisine!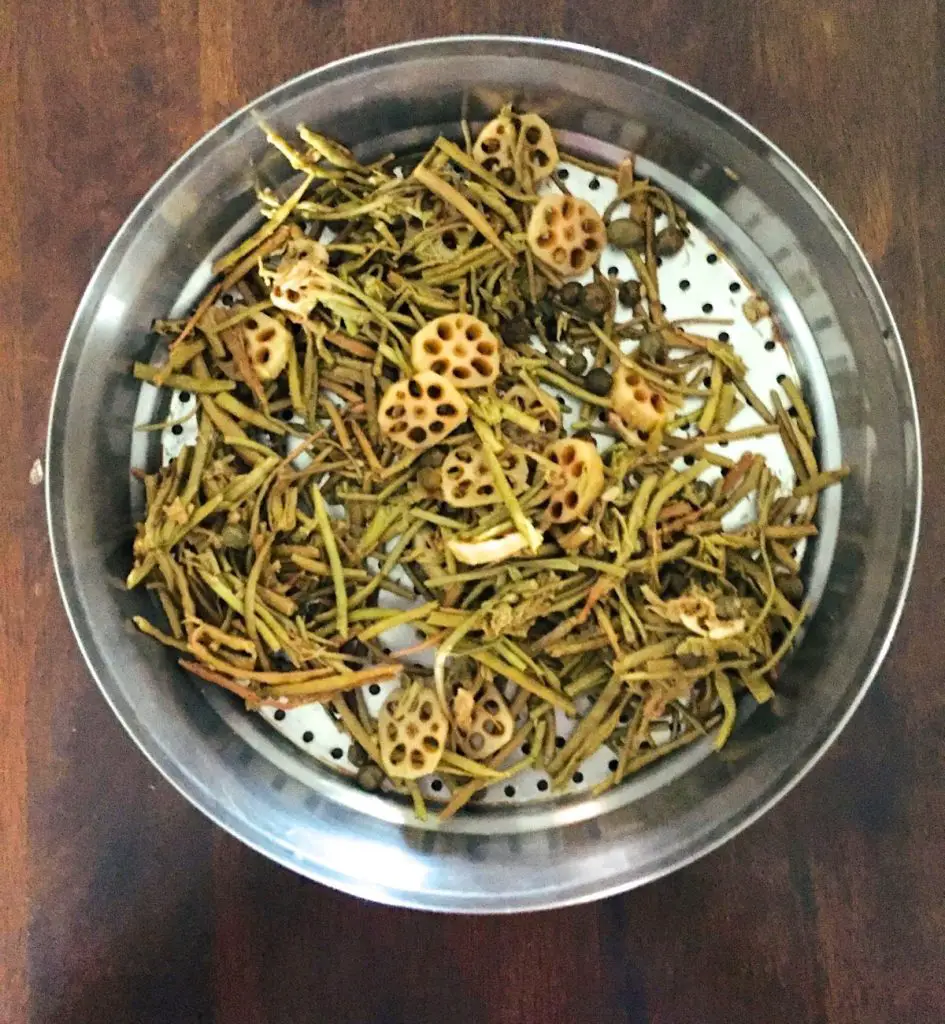 Ingredients Used
Keeping in mind that this dish is prepared at times when there are no fresh vegetables available in the desert regions, I have not included green chilies, coriander leaves etc. Only dried vegetables, dry spices and spice powders are used, along with a little curd.
The spices used are basic ones usually available in Indian kitchens: mustard seeds (rai), cumin seeds (jeera), fennel seeds (saunf), carom (ajwain), dry mango, raisins, and spice powders like chili, asafoetida, mango powder (amchoor), turmeric (haldi) and coriander (dhania) powders. Mustard powder is optional and will enhance the flavours. The fresh Lotus root as I said earlier, probably has no business being here in a traditional recipe, but does add to the texture.
Other Indian Vegetable Sabzi/ Curry Recipes
"Recipe"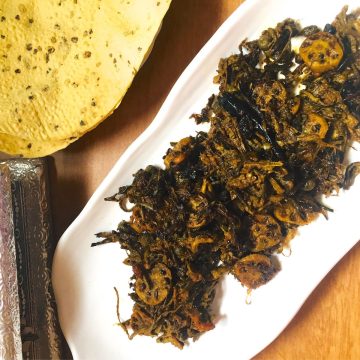 Ker Sangri / Tradtional Rajasthani Subzi
A recipe from desert areas of Rajasthan from dried ker berries and sangri bean pods and basic Indian spices. Raisins and dried mango add to the flavours. Lotus stem is used in this recipe but is not part of a traditional version of the curry.
Equipment
Pressure Cooker

Frying pan

Colander
Ingredients  
For Soaking Overnight and Pressure Cooking
3

cups

Dry Sangri Beans

(100 grams) soaked, rinsed, drained

1

teaspoon

Turmeric Powder

1

teaspoon

Sunflower oil

or other vegetable oil

1

teaspoon

Salt

2.5

tablespoons

Dry Ker / Kari/ Kair Berries

(25 grams) soaked, rinsed, drained

¼

cup

Lotus root

sliced

Water (for soaking, rinsing)

As per instructions below
For Making Ker Sangri Sabzi
3

tablespoons

Sunflower Oil

or other mild flavoured vegetable oil

1

teaspoon

Rai /Mustard seeds

1

teaspoon

Jeera / Cumin Seeds

1

teaspoon

Saunf / Fennel Seeds

¼

teaspoon

Ajwain / Carom Seeds

3 -4

Dry Red Chilies

¼

teaspoon

Hing / Asafoetida Powder

3

tablespoons

Dry Raw Mango strips

½

teaspoon

Haldi Turmeric Powder

1.5

teaspoons

Kashmiri Red Chili Powder or Degchi Mirch

2

teaspoons

Dhania / Coriander Powder

1

teaspoon

Amchur / Dry Mango Powder

1

teaspoon

Mustard Powder

optional

2

tablespoon

Curd / Plain yogurt

2

teaspoons

Raisins

¼

teaspoon

Salt

or to taste
Instructions 
To Soak Ingredients Overnight
Rinse dry Sangri beans, drain and add water to about 1" above the surface of the sangri.

Add turmeric powder, oil and salt as listed in ingredients above, and stir.

Soak overnight or for about 8 hours

Rinse the Ker berries You will find a sooty grey dust-like material coming from the Ker.

Drain, and soak overnight (or for about 8 hours) with water about ½" above the surface of the Ker berries.

Soak ker and sangri are to be soaked separately as above.
To Pressure Cook Ker Sangri and Lotus Root (if using)
Take one long Lotus root/ stem. Peel it and slice into rounds. As you slice, Immediately place the slices in a bowl of water and keep them soaked till done as they get easily discoloured.

Drain the soaked ker berries and sangri beans and rinse a few times. Drain and place in a pressure cooker. Add drained lotus root slices.

Add sufficient water to cover the surface of the ker, sangri. Pressure cook for 2 whistles. Let the cooker cool and release pressure on its own.
Preparation:
Once the pressure cooker has let off steam, open and drain the contents. Rinse and drain once more. Set aside till required.

Slice the mango strips into small thin pieces

Measure and keep all ingredients ready for making the ker sangri sabzi
To Make Ker Sangri Sabzi
Heat oil in a pan. Keeping the heat on low, add mustard seeds and once they crackle, add cumin/ jeera seeds.

Add Fennel/ saunf seeds and Carrom/ ajwain seeds.

Remove the stalks from the red chilies and saute for a few seconds, turning the chilies in the pan so that both sides are fried.

Add Asafoetida/ hing powder. Add the raw mango slices.

Saute for 2 minutes, stirring frequently.

Add the cooked and drained ker, sangri, lotus root. Stir

Keeping the heat on low, add turmeric powder, kashmiri red chili powder / degchi mirch, coriander powder, mango powder / amchur, mustard powder (if using) and stir well. Saute for 1 minute

Beat the curd with a whisk or fork and add. Stir it into the sauteed masala.

Add Raisins and salt. Stir

Saute and let the sabzi cook for 7-8 minutes, stirring frequently as the masala powders tend to stick to the bottom of the pan and char. Scrape any masala you find sticking to the pan.

No water is to be added while cooking the ker sangri.

Remove from the heat, transferring the sabzi to a serving vessel.

Serve with rice and dal and roti. It tastes amazing with poori too.