Finally, a karela / bitter gourd curry which everyone can enjoy! This Bharwa karela or stuffed Bitter gourd is filled with onion and raw mango as well as marinated with turmeric and salt. This removes most of the bitterness. Not that I mind, karela has always been a favourite at home. I love it sliced into rounds, marinated in turmeric and salt and deep fried. Or just sliced into short lengths and sauteed with turmeric and salt. A meal of rice with kadhi or morekuzhambu is incomplete without karela to accompany it.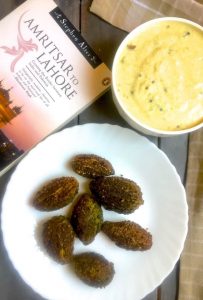 The Punjabi Bharwa Karela is normally stuffed with onion and basic Indian spices including amchur or dry mango powder. During the mango season when fresh green mango is plentifully available, substituting grated raw mango into the filling takes the stuffed bitter gourd to a totally different level. It pulls down the inherent bitterness of the karela and adds its tangy sourness instead.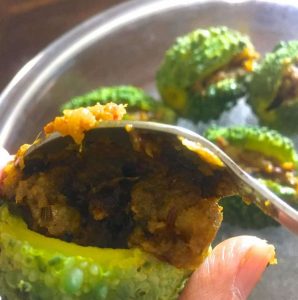 How to make Tastiest Bharwa Karela/ Stuffed Bitter Gourd
1. Marinating the karela with plenty of salt and turmeric for at least 30 minutes helps to reduce bitterness. Ive specified 2 tablespoons of salt, which sounds like a lot, but its going to be rinsed away before you start the cooking process.
2. Karela skin and pith have a lot of nutrients. I don't peel it before cooking, but have recommended in the instructions below that if you decide to peel it, use the peel and pith (discard the large tough seeds) in the stuffing.
3. After rinsing the karela to remove the salt and turmeric after marinating, pat it dry with a kitchen towel and then microwave it for 1 minute. This helps it to dry out well.
4. While shallow frying the bharwan karela, make sure all sides are well cooked. Keep turning them from side to side so that the browning is uniform.
5. Fresh coriander leaves add to the flavour of the dish. In the ingredients below, I have suggested coriander seeds as an alternative. Similarly, raw grated mango makes the stuffed karela very special, but when its not available, use dry mango powder/ amchur.
About This Post
As you would be familiar, if you have been reading my earlier posts, the Shhh Cooking Secretly Challenge FB Group,  of which I am a member selects a theme each month. For now, we have been going through the Indian States alphabetically. The admins pick pairs of members for each month, and we each specify two ingredients to our partner. These ingredients, which should suit the cuisine of the theme, are the 'secret ingredients'. We each prepare a dish incorporating the 2 ingredients and post an image on our group page. The remaining members all try guessing these ingredients (you may be sure we try to hide them to the extent possible!). It is all enjoyable and fun and we see a variety of interesting dishes for each theme.
The theme for June 2019 is Punjab, that amazing Northern State with a diverse cuisine filled with some of India's signature dishes. Rajma Chawal, Pakode wale Kadhi, Sarsoon ka Saag, Palak Paneer, Aloo Paratha, Chole, are some of the popularly known ones. But there are the little gems which also shine, like this Bharwa Karela.
My partner this month is the friendly food blogger, Aruna SarasChandra, who blogs at Vasus Veg Kitchen Please do visit her blog and check out her detailed pictorial step wise recipes from a wide range. I'm going to try making her Gujarati Instant Khaman Dhokla, soon.   For Aruna, I suggested Besan (chickpea flour) and salt, and look at this Punjabi Khadi Pakodi that she made. For me, the secret ingredients Aruna gave were ginger and fennel, and of course you know what I made out of these!
This month I had an extra partner. Renu Agrawal Dongre did not have a partner, so I volunteered to give her the secret ingredients. I suggested Lentils and Turmeric, and she made one of Punjab's signature dishes, Dal Makhani. Do check Renu's blog, Cook with Renu. I love the versatile range of recipe posts, and the categories, such as 5 minute posts or 5 ingredient posts!
This post is sent to the event Shhh Cooking Secretly Challenge for the theme: Punjabi Cuisine for June 2019.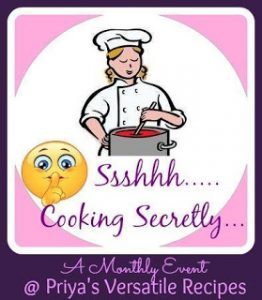 Some other Recipes you may like from this Blog:
Raw Mango Rice or Mangai Sadam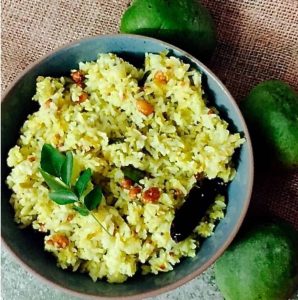 Easy Karela / Bitter Gourd Fry with 5 Ingredients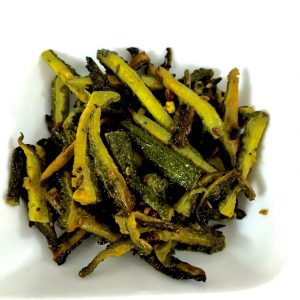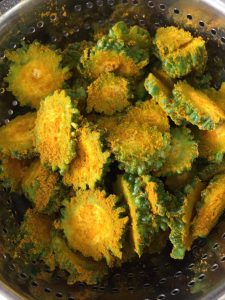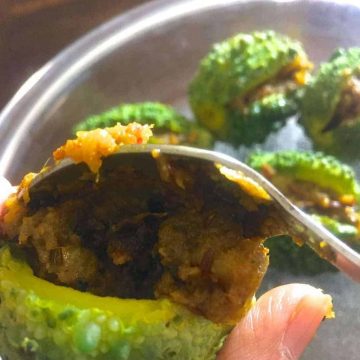 Bharwa Karela / Raw Mango Stuffed Bitter Gourd
Bitter gourd or Karela, marinated with turmeric and salt and stuffed with raw mango and onion, and shallow fried. A delicous dry curry from Punjabi cuisine with fresh raw mango substituted for the usual dry mango powder. The onion and raw mango help to reduce the bitterness of the karela.
Ingredients  
For Marinating Karela/ Bitter Gourd
6 -7

baby

Karela

or 4 medium sized karela

2

tablespoons

Turmeric powder

2

tablespoons

salt
For the Filling/ Stuffing - To be ground into paste
½

cup

Onion

sliced

3

cloves

Garlic

2

cm

Ginger

½

cup

Raw Mango

peeled, grated

2

teaspoons

Amchur /Dry mango powder

Only if raw mango is not used

¼

cup

Coriander leaves

minced

2

teaspoons

Coriander seeds

Only if fresh coriander leaves are not used

½

teaspoon

Fennel/ saunf seeds
For the Filling/ Stuffing - To be sauteed
1

tablespoon

Sunflower Oil

or Mustard oil as per preference

1

teaspoon

Cumin/ Jeera seeds

½

teaspoon

Nigella/ Kalonji seeds

Ground onion mango paste as per list above

½

teaspoon

Turmeric powder

½

teaspoon

Chili powder

½

teaspoon

Salt

or To taste
For making Bharwa Karela
3

tablespoons

Sunflower oil

or Mustard oil as per preference
Instructions 
To Marinate the Karela/ Bitter Gourd
Do read the post above before you start, as there are tips that can help you make a delcious nutritious bharwa karela.

Wash and pat dry the karela. I actually do this well in advance so that it dries out completely.

I do not peel the bitter gourd as the stuffing and the marinade are going to reduce its bitterness. However, if you prefer, peel each karela with a sharp peeler or knife, removing just the knobbly/ prickly part on the surface. Mince (slice into very small pieces) the peel that you removed, and reserve it for use in the stuffing.

Keeping both ends intact, make vertical (lengthwise) slits down 2 opposite sides of each karela.

Carefully scoop out the large seeds and pith from the inside of the karela, using a spoon or knife, making sure the ends are still kept intact. Discard the seeds and mince the pith, reserving it for use in the stuffing.

Mix the turmeric and salt together.

Using a small spoon, apply a layer of the mixture to all parts of the karela, both inside and outside. Place the karela on a colander to drain.

Allow to marinate for at least 30 minutes. I sometimes leave it for 2 hours, if I am busy with other work.

Rinse the karela well so that the turmeric and salt are washed out. Squeeze gently to remove water and pat dry with a kitchen towel. Wrap in a kitchen towel and set aside till required.
To Prepare the Filling/ Stuffing for Bharwa Karela
Slice the onion, ginger and garlic. Its all going to be blended, so the slices need not be very small of a particular shape.

Peel and grate the raw mango.

Mince the coriander leaves including the stalks

Grind the sliced onion, ginger, garlic, grated mango (or mango powder), fennel seeds, coriander leaves (or seeds), into a paste, without adding any water while grinding. The onion will have the moisture to create a fine paste.
To Make Bharwa Karela/ Stuffed Bitter Gourd
Keep all the ingredients under the head 'Filling to be sauteed', ready.

Heat 1 tablespoon of oil in a small frying pan (I use my trusty tempering iron kadai). Mustard oil is traditional but as the gourd is bitter enough, I prefer to use sunflower oil.

Add cumin and nigella seeds and saute for 5 seconds.

Add the ground onion mango paste, the minced karela peel and pith that you had reserved while preparing the karela for marination, the turmeric and chili. Stir well.

Keeping the heat on low, saute for 10 minutes, stirring frequently as the 'masala' tends to catch at the bottom of the pan and burn.Add salt, stir well and transfer the 'bunaoed masala' stuffing to a dry bowl. Allow to cool to a level that you can handle it for filling the karela.

Divide the sauteed stuffing into as many equal portions as the number of karela. Spoon the stuffing into each karela, filling it completely.

Wind and tie a thread (I used basic sewing thread) around each karela, to keep the stuffing in while frying. This is specially required for the longer karela as the baby ones usually hold the filling tightly inside.

Heat 3 tablespoons of oil in a medium sized frying pan, and add the stuffed bitter gourd in batches. For the baby gourds, I used a medium sized pan and was able to fry all 6 at once.

Keeping the heat on medium, turn the karela over periodically so that all sides brown equally. Once the karela turns brown all over (not black, just brown!) use a slotted ladle/ spoon to drain the oil, and remove the stuffed bitter gourd to a serving bowl.

Snip off and remove the thread wrapping each karela. Serve hot with roti or rice and dal.