Navarathri Golu
, and the other for easy
Navaratri Naivedyam and Sundals
. In the second post I had suggested a different Sundal to be made for each day of Navarathri, with recipes for some of them. Now I am adding a recipe for one such sundal, viz. Black Eyed Peas Sundal or Karamani Sundal. This is a traditional recipe as followed in Tamilnadu, and has a minimum of seasoning and ingredients.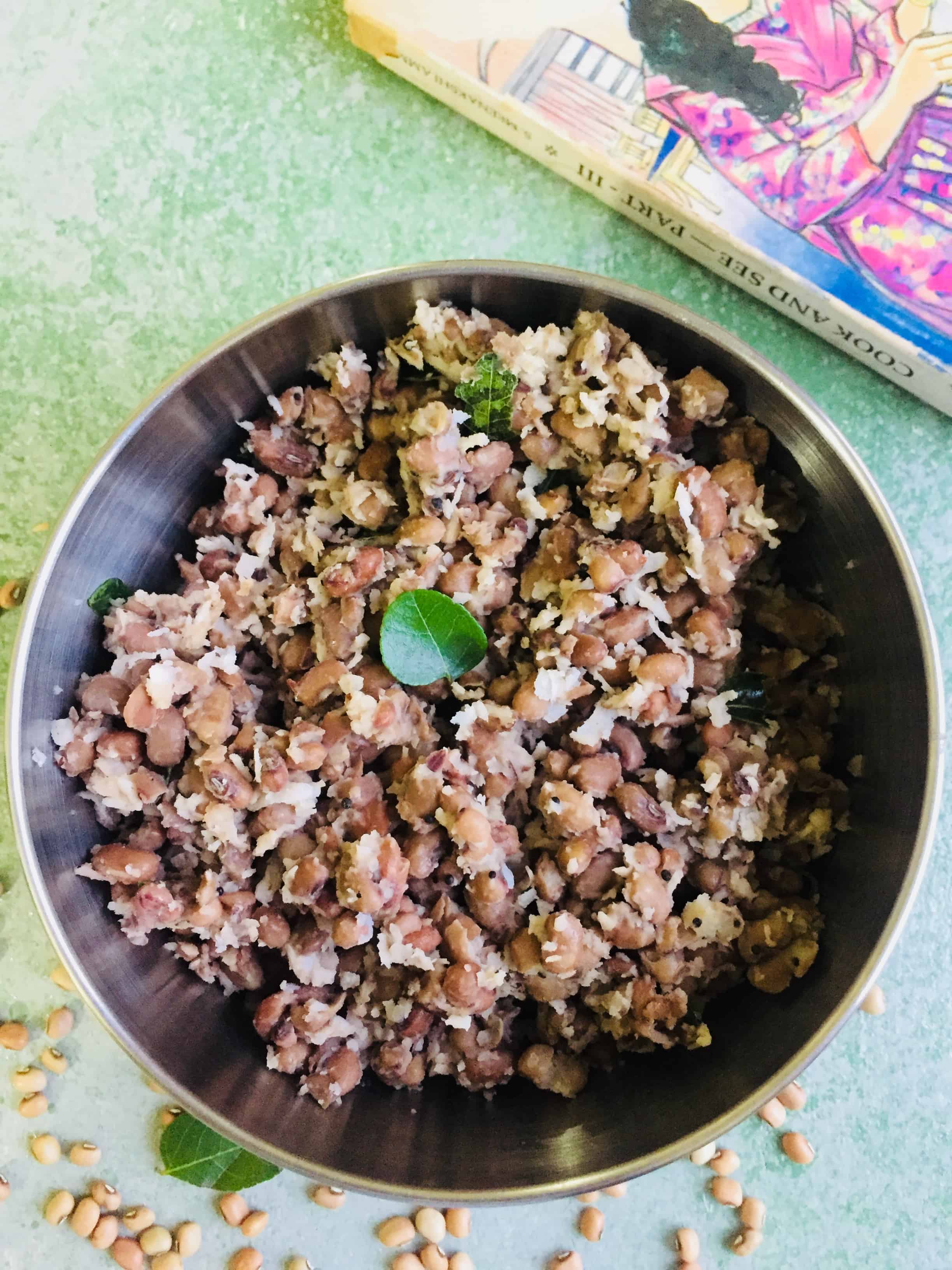 You will find the recipe for Black Eyed Peas Sundal simple and easy to make. Just take the time to soak the karamani the previous night so that it cooks just right when you need it the next day. If you plan to make the Sundal in the evening, set it to soak in the morning so that it gets about 7-8 hours of soaking time.
As I had said earlier, this is a traditional recipe with few ingredients and depends on fresh coconut for flavour. For a change in taste, substitute fresh chilies for dry red chilies and add coriander leaves and freshly squeezed lemon juice. Lemon juice may be used in addition to or instead of the coconut.
The Black Eyed Peas Sundal adds to the varieties of sundal offered as naivedyam for Navaratri Pooja and served to guests who visit the Navaratri golu. It also serves as a quick to make and nutritious snack as well as a tasty addition to the tiffin box for school or office.
This legume is known by various names across the world - black eyed peas, lobia, cowpeas, string beans etc. The black eyed pea, along with most legumes, is rich in fibre, iron, vitamins, minerals and protein. Studies suggest that regularly consuming beans and peas may lower blood pressure, cholesterol and blood sugar levels, as well as reduce belly fat. However it may cause digestive issues for some people, and hence is not suggested as a staple food or to be taken frequently or in large quantities. Soaking or fermenting the bean before cooking and consuming them when well cooked would help alleviate digestive distress. Portion control may be considered as the black eyed peas contain a fair level of carbs. Ref: Healthline.com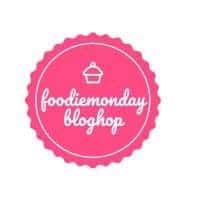 The theme for the FB Group where I am a member, FoodieMondayBlogHop, is 'Navaratri Special', and this post fits right into the theme!
"Recipe"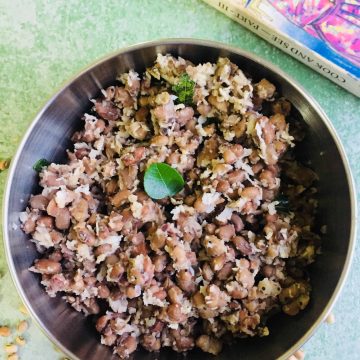 Black Eyed Peas Sundal - Traditional Karamani Sundal
Black Eyed Peas Sundal or Karamani Sundal. Easy to make and tasty, this is a traditional Navaratri sundal for naivedyam and to serve to guests for Navaratri Kolu. Serves as a nutritious snack or a tiffin box item too. Remember to soak the beans overnight. Use fresh coconut for garnish or squeeze lemon juice for a variation.
Ingredients  
To cook the Black eyed peas
1

cup

dried black eyed peas

/lobia/ cowpeas/ dried string beans

½

teaspoon

salt

2

cups

water for cooking

to cover the surface of the beans

¼

cup

fresh grated coconut
For Tempering
1

tablespoon

sesame oil

½

teaspoon

Mustard seeds

2

Dry red Chillies

/or fresh green chillies as an option

¼

teaspoon

asafoetida powder

a

few

curry leaves
Garnish - optional
¼

cup

Fresh coriander leaves

1

tablespoon

lemon juice

in addition to or instead of grated coconut
Instructions 
Previous day preparation
Roast the karamani/ black eyed peas in a hot dry pan, stirring frequently, for 2 minutes. Soak the beans overnight in water just about a cm more than the level of the beans.
Cooking the black eyed peas
Drain the beans from the water in which soaked. Rinse Pressure cook with ½ teaspoon of salt and with water just sufficient to cover the surface of the beans. Cook for one whistle. Turn off the stove and allow the cooker to release steam completely on its own before opening it. (about 10 mins) Drain the beans after removing from the cooker. They should be cooked soft but not mushy.
Tempering the Sundal
Heat a pan and add oil. Sesame oil will give the authentic taste, but otherwise any vegetable oil may be used. Add the mustard seeds, and once they crackle, add chillies and let them scald on both sides. Add hing/ asafoetida powder and then the curry leaves. I usually shred the curry leaves before adding to the tempering, so that there are better chances of their being eaten rather than discarded. Fresh curry leaves will usually splutter so stand back a little when adding them to the hot oil

Add the cooked, drained, salted beans. Stir well into the tempering. Add the grated coconut, stir and remove the pan from the fire.

Add optional garnish as desired - minced coriander leaves and a fresh lemon juice. Your Karamani Sundal is ready!