The popular Hindu festival of Navaratri (or Navarathri/ Navratri) is about to begin and I am listing out some of the traditions and significance along with useful and interesting recipes, in a series on my Blog, on "Navaratri: Fasting and Feasting And Everything In-between". The first part of the series is on the South India custom of Golu: Navaratri Golu and How To Keep It. I hope it will be useful to those keeping golu for the first time, or, having practiced Bomma Kolu (or Golu) for Navarathri for a few years are interested in knowing more about the significance and how to arrange the dolls as per traditional customs.  Readers have asked a number of questions on Golu practices, to which I have responded in comments below. Please read the same for additional information.
All the procedures in this post and opinions given in comments below are from my personal experience and my family's traditions for Golu. These may differ from customary practices in other families.
For Part 2 of this series, click: Easy Navaratri Naivedyam and Sundal Recipes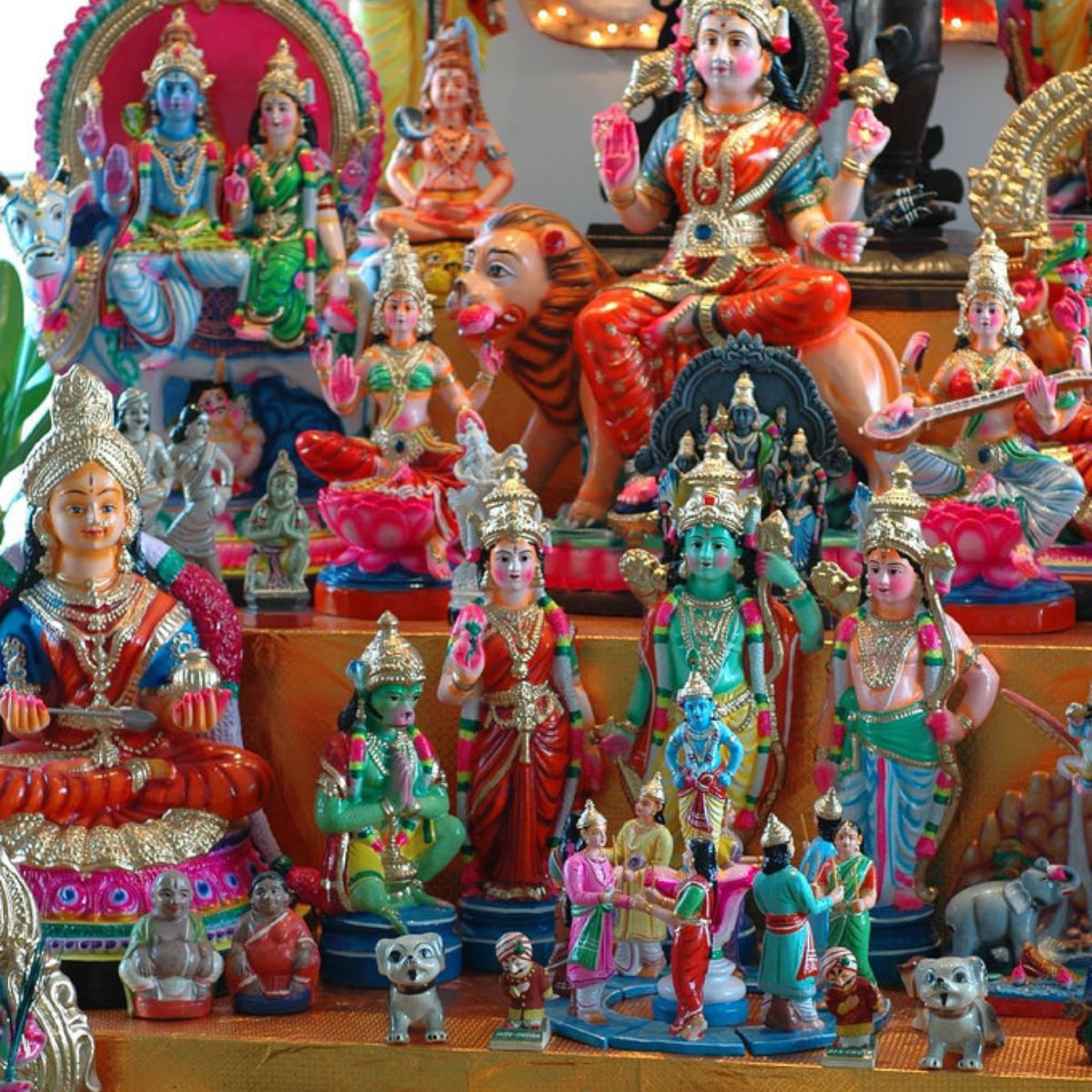 When Should Navaratri Golu Dolls Be Kept in 2023?
Pratipada for Shardiya Navaratri is on 15th October 2023. Shasthi will be on Friday 20th October 2023 (Panchami ends at 12.21 am ie around midnight on 19th October 2023), and Vijaya Dashami is on 24th October 2023 (from 05.45 pm on 23rd October to 03.14 pm on 24th October).
Here is a quick timetable applicable to Chennai, India. You will need to check the Panchangam for your city/country to ascertain the date and time for Amavasya in October 2023 and extrapolate the time table accordingly. Check for Rahu kalam and Yama gandam so that these are avoided for various activities.
As per the Panchangam for Chennai, Krishna Paksya Amavasya is from 09.50 pm on 13th October 2023, till 11.24 pm on 14th October 2023, followed by Pratipada (at 11.24 pm) on 14th October till 12.32 am on 16th October 2023 (just after midnight on 15th October). Vijaya Dashami is on 24th October 2023 until 3.14 in the afternoon. Golu steps may be set up on Amavasya and the Kolu Dolls arranged on Pratipada.
Activity
Date in 2023
Time
Significance
Sow Grains
for Mulaipari
8th or
9th October, 2023
Any time during
the day
3-4 days time required for the sprouts to grow


Set up empty
Golu Steps


Friday 13th night/ Saturday 14th October 2023
Any time from 09.50 pm on 13th October 2023, till 11.24 pm on 14th October 2023
Amavasya
Kalasam
15th October 2023
On 15th or after keeping golu, before 12.30 am on 16th October, i.e. by midnighton 15th Oct, as per your custom
Pratipada
Arrange golu dolls on steps
Sunday 15th October, 2023
Pratipada
from 11.24 pm on 14th Oct till 12.32 am on 16th October 2023
Golu Dolls may be kept
any time on 15th Oct, day or night and kalasam
before 12.30 am (just past midnight on 15th Oct)
Pratipada
Navaratri puja
Sunday 15th October, 2023
After keeping Golu Dolls
and Kalasam
Puja Commences
Navami
Monday 23rd October 2023
Navami
Dasami
Tuesday, 24th October 2023
Dusshera
Recommended Dates for Keeping Navaratri Golu Bommai in 2023
Action Point 1: Navadhanyam or Mulaipari for Golu
Background: Mulaipari refers to the Nine grains (navadhanyam) germinated in a dedicated pot or vessel. Traditionally in rural Tamilnadu, the grains were grown in mud pots each placed in the village temple and carried on  their head by the village women in a procession on the last day of Navaratri, with the mud and grains dissolved in the river water.
Traditional Grains for Mulaipari
1. Keppai or Kizhvaragu or Finger Millet or Ragi
2. Mochai kottai or Mochha payuru or Hyacinth Beans. In some references I found Avarai or Field Beans or Broad Beans are used instead
3. Thatta payuru or Blackeyed beans or Karamani or Cowpeas
4. Ulutham paruppu (whole with skin) or urad dhal or Black gram
5. Kadalai paruppu or Chick pea or Bengalgram
6. Nellu or Rice
7. Tuvarai or tuvaram paruppu or Pigeon Pea lentils or Towar or Arhar dal
8. Pachha Payaru or green gram or sabud moong
9. Godumai or Wheat grain Some of the texts I referred to mentioned several other grains/ seeds including barley, kadugu (mustard seeds, rai), vendiyam (mendiyam, methi, fenugreek), cholam (jowar, sorghum), ellu (sesame seeds), red millet (kambu, bajra or pearl millet), kollu (horse gram).
One reasonable explanation I found for why the navadhanyam differed across Hindu texts were because of differences in crops cultivated in various regions.There seems to have been even a method for the order of arranging the grains. If you have more information on the order of arranging the grains/legumes please add a comment and I will update the post,in the interest of keeping it as authentic as possible. So far as I know, the ragi (finger millet) is on the outermost circle,followed within by the dry broad beans (mochai) and the blackeyed beans, and then the urad dal and the other grains/legumes.
The custom, as I understand it, is to supplicate the Goddess for rain and fertility for the land as well as for prosperity for all. There are some interesting tales of the sowing of grains and legumes relating to the Pandavas and Krishna, and I need to find out more about this. This present article is all about how to keep Navaratri Golu!
There are also a set of nine grains/ legumes associated with the Navagrahas, as follows, and these are sown for mulaipari in some homes:
Godumai or Wheat for Suriyan or the Sun
Nellu or Rice paddy for Chandran or the Moon
Tuvaram for Sevvai  or Mangal or Mars
Pachai paruppu or Greengram (Moong)for Budhan or Mercury
Kadalai paruppu or channa dal for Guru or Brahaspati or Jupiter
White beans or Broad beans for Shukra  or Venus
Ellu or Black Sesame or Till for  Sani or Saturn
Ulundu or Black gram or Urad for Rahu
Kollu or Horse gram for Kethu
Action Point 2: How To Set  Up Steps for Golu

The Golu symbolises that Divinity will be a presence in the house during Navarathri, so we clean the house and the Pooja vessels and idols and images, before Navarathri commences.The Bomma Kolu steps are to be set up on Mahalaya Ammavasa, that is on the New Moon Day in the Tamil month of Purattasi (Ashwin in the North Indian calendar). The moon will be in ascendancy (waxing mode) from this time till Pournami. Goddess Durga is believed to have descended to Earth on this day in response to prayers from devotees (please see Timetable above for 2023 for Golu to be kept in October). While the steps are usually set up on Amavasya, the dolls are traditionally arranged on Pratipada which is on 15th October, 2023.
Nine steps are kept for the Golu or otherwise 3, 5, 7,  steps are arranged, i.e. in odd numbers only, and more than one and usually not exceeding 9. The popular version of the significance of the 9 steps is that they represent the 9 Navagrahas.
Traditionally, the top most step will be shorter in length than the one below it, and so on till the bottom step which is the longest. The steps would all be of the same width, though. When you are living away from India, it may not be possible to have uniform steps set up (in India you can buy ready made steps or racks suitable for the Bomma kolu) and you would probably make do with tables and cabinets of different sizes and lengths. 
It is customary to place the Steps against a wall (a corner would be great to give support from two sides) so that the dolls face East or otherwise North. Generally the golu is not kept facing South. Once the steps are arranged, drape them completely with a clean cloth -dhothi or saree or other suitable cloth ( reserve an unworn cloth for use every year).
Action Point 3: Navaratri Kalasam and How to Fill It
The Navaratri Kalasam is placed late in the evening on Mahalaya Ammavasa after the steps are installed, while the Dolls are placed the next day once Pratipada commences. This custom varies in different households. In some, a pair of marapachhi bommai (traditional wooden dolls) are placed first on the stands instead of placing the kalasam first. Some follow the custom of placing the dolls on the same night, i.e. once the stand is set up. Some keep the dolls first and then the kalasam the next morning (after ammavasai) and start naivedyam once kalsam is placed.
Pooja with naivedhyam starts from the morning once the dolls are arranged. Again there are different customs on how to keep the Navaratri Kalash or kumbha. One is to fill an oval brass pot (a sombu) upto the neck with rice and lentils (thovaram paruppu). Add some coins to the rice, place a stick of turmeric on it. Place mango leaves at the mouth, tucking the ends into the rice, and insert a coconut marked with turmeric and kumkum on top. The coconut is kept intact during the nine days of the festival. In some customs, a silver or other metal face of the Goddess is tied to the front of the coconut, and a red silk cloth or blouse piece placed on the coconut, to fall either side of the kalasam. Or the silk cloth or blouse piece may be tied around the kalasam.
In some traditions, the pot is filled with water (instead of rice), to which is added pieces of turmeric as well as items such as cardamom, clove, vetiver root or sandalwood. Coins are added to the pot. A piece of camphor would help keep the water fresh for the 9 day period. Mango leaves as well as the coconut are placed in the mouth as usual. The pot is kept on a brass plate of rice rubbed with turmeric powder and kumkum powder.The kalasam may be decorated with jewellery.
Background: The Kalasam is a traditional part of Hindu festivals and rituals and is considered auspicious. It is intended to represent the Mother Goddess. The water in the pot is said to symbolise the source of life and to be energised from the shlokas and Vedic mantras uttered during the Pooja.The Coconut from the coconut tree of which every part can be utilised, symbolises the qualities of giving and unselfishness. The Mango leaves, again found in every festival, is said to be placed for medicinal purposes: the tips reaching into the water in the pot are considered to transfer some of their antioxidant properties, while the surfaces of the leaves absorb carbon dioxide from the atmosphere.
Action point 4: How to arrange the Bommai Kolu or Dolls on the Navaratri Golu stand:
The Nine steps for Navarathri Kolu are said to represent the evolution of beings from the 'lower' animal lives to divine. One version is that these are the 9 steps to attain moksha (as usual there are many interpretations).   If you are keeping 3 or 5 or 7 steps, reduce the number for each type below, but follow the descending order. Dolls and toys depicting any theme may be placed on the side of the golu stand or even on one of the steps. If you don't have enough golu dolls, don't worry but get started with whatever is available including your kids' toys, and keep adding new dolls each year, as is customary.
The dolls or bommai are placed as follows:
Steps 1-3 for the Gods:
Step 1: Topmost step: Kalasam in the centre, often with a mirror behind it to reflect it. The idols of Gods: Ganesha, Vishnu, Siva, Brahma, Parvati, Durga, Mahishasuramardhini, Saraswati, Mahalakshmi, Hanuman, Murugan  etc arranged in front of the kalasam and on either side. Some customs require the kalasam to be placed in front of the Golu stand and not on it, but usually it is placed, as above, in the centre of the topmost step.
Step 2: Ashtalakshmi with the various forms of Mahalakshmi. In this, the suggested order is Adhi lakshmi, Dhanya Lakshmi, Dhairya lakshmi, Gaja lakshmi, Santhana lakshmi, Vijaya lakshmi, Vidhya lakhmi and Dhaya lakshmi. The Marapaacchi bommai are also kept on this step, though some customs place it on the topmost shelf with the kalasam. These are a pair of dolls, a male and a female figure, carved out of a medicinal wood. In olden times these two dolls are said to represent the King and the Queen, and traditionally a pair (usually a heirloom) is given to a bride at her wedding and are handed down to the next generation.
Step 3: Avatars of Gods such as Rama, Krishna, Dasavatharam, etc. The order for keeping the Dasavatharam set depicting the 10 avatars of Vishnu, are: Matsya (Fish), Kurma (Tortoise), Varaha (Boar), Narasimhan (Half lion half man), Vamana (with an umbrella), Parasurama (with axe), Balrama (with plough), Rama, Sri Krishna and Kalki, more or less following the path of evolution (from fish to man)
Steps 4-6 For Dolls depicting Humans:
Step 4: Alvars, Nayanmars, Saints and Gurus such as Sankarachariyar, Ramakrishna Paramahansa, Swami Vivekananda, Meera Bai. Navagrahas are also usually kept in this step.Step 5: For venerable persons such as Mahatma Gandhi, Netaji and other freedom fighters, Thyagarajar, Thiruvalluvar and other poets, musicians, philosophers and composers including famous persons from around the world.Step 6: Dolls showing human activity and work, symbolising day to day functioning: Musicians, artisans, farmers, temples and devotees, villagers, bands, soldiers, wedding processions, sportspersons,  etc. The Chettiar couple are placed in the centre with rice, salt, lentils, fruits in front as their 'shop', depicting intelligent humans and paying homage to traders.
Steps 7-9 for the Animal World
Step 7: Animals
Step 8: Birds- Step 9: Insects and creeping/ crawling creatures, and plants
Action point 5: Kolam, Deepam and Naivedyam for Golu
After the kalasam has been kept and dolls arranged, it is time for the kolam or rangoli. This is to be drawn in front of the kolu stand. The kolam is drawn with rice flour and it may be a simple one or it could be as intricate as you want to make it or filled with colours.  The kolam is usually cleaned and drawn afresh every day. The kalasam and mango leaves are not changed during the nine days.
Next, set two lamps, one on either side of the kolam, kuthu villakku if available. Every day, naivedyam is to be offered to the Gods after lighting the lamps. Traditionally, this is done twice a day. The naivedyam for the morning may be fruits or Payasam or even a rice dish which can then conveniently serve as lunch or for the school tiffin box. Sundal and a sweet are usually the prasadam in the evening. Fruits may be offered instead of a cooked prasadam. Often a different type of sundal is made on each of the nine days. (Click the Link for Part 2 of this series:   Easy Navaratri Naiyvedyam and Sundal Recipes)
As you would know, in South India, the 9 day festival of Navarathri is to celebrate the 9 forms of the Mother Goddess. The first 3 days are dedicated to the worship of Durga, the next 3 days to the worship of Lakshmi and the last 3 days to the worship of Saraswathi. This culminates with Saraswathi Pooja on Navami and with Vijaya Dasami being celebrated on the 10th or Dasami day.
Action Point 6: How to Remove/ Dismantle The Navaratri Golu:
Some friends have asked me how to remove the Navaratri Golu, whether there are any 'rules' for this. Well there are some customs for this too! Traditionally, on the evening of Vijayadasami or Dusshera, i.e. the 10th day of Navaratri, we offer naivedyam (it can be simple fruits too, if you are not able to prepare cooked naivedyam).
Once this is done, symbolically the kalasm is shifted towards the North side/end of the step now which it is kept. One doll at least is put lying down as if it is put to sleep. The golu may then be said to be closed and may be removed or dismantled the next day. If you have kept rice and dal in the kalasam or the plate on which it is kept, the same may be used for making food such as a ven-pongal. The coconut may be also used in cooking, if it is fresh. If there is water in the kalasam, it may be poured out in a nearby garden or even a roadside tree.
Generally, golu is not removed on a Friday or a Tuesday. if the day after Dasami falls on a Friday or Tuesday, then the golu is removed on the evening of Dasami itself. Some people believe it best to put at least one doll to sleep (lay it down flat) after the morning naivedyam on Dasami, and then dismantle the golu in the evening. I have not found more information on this, but will continue to research and add more details soon.
This article is just on Navaratri Golu and How To Keep It. The festival is celebrated in different ways in other parts of India and I will describe them in further posts.
A number of readers have asked questions about keeping Golu, and these with my responses are in comments at the end of this post. Please go through these as you may find answers to any doubts that you have. You are of course welcome to ask questions in comments and I will do my best to clear them at the earliest.
Navaratri Naivedyam Recipes