Mango Ginger Green Peppercorn Pickle, easy to put together, with seasonal mango ginger (amada/ amba haldi/ manga inji), green peppercorns (kurumilagu), lemon and green chili. Tempering/Tadka is optional, with til (sesame) or other vegetable oil, and other than the tadka, there is no cooking involved.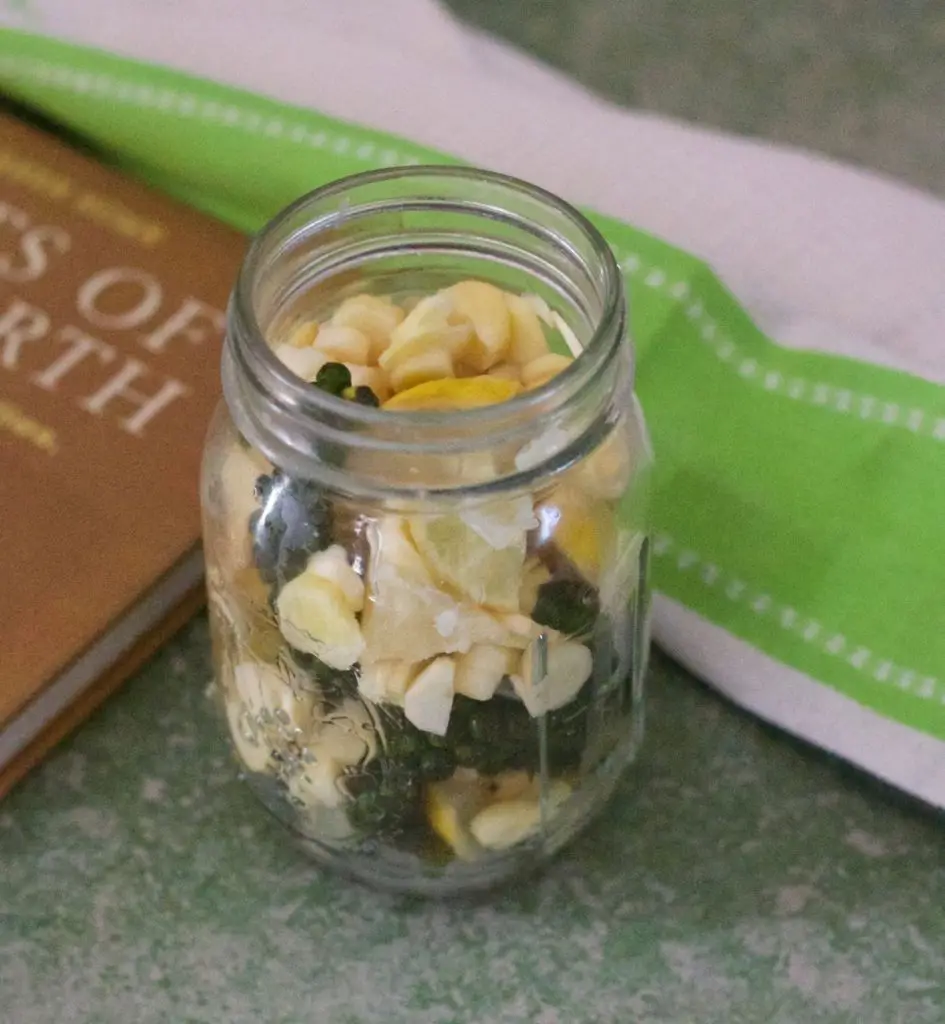 The Amba Haldi Achar/ Mango Ginger Pickle with Green pepper is refreshing in taste and very easy to make. It may be made (see "Other Recipes with Mango Ginger" below) without the green peppercorns, or fresh turmeric may be added to the pickle. It is suitable for a Post partum diet or Pathiya Samayal, if the green chilies are left out. The pickle makes a delicious side for savoury khichidi, ven pongal, upuma or dosai, or with dal or roti or as is traditional in Tamizh cuisine, with curd rice
The mango ginger is a very versatile rhizome, which looks like ginger but is actually related to the turmeric family, and has the subtle flavour of raw mango, leaving a subtle tangy aftertaste. It is grown in some parts of India such as in Tamilnadu, West Bengal, Gujarat, Uttar Pradesh, Karnataka and in the Himalayan regions. It is also a popular ingredient in some South East Asian cuisines and in Nepal. It is an important ingredient in alternative medical systems such as Ayurvedic and Unani. For more about Mango Ginger and recipes to use it in, refer the post in this blog on Mango Ginger/ Manga Inji/ Amba Haldi Recipes.
Green peppercorn are the unripe or immature fruit (drupes) of Piper nigrum, or the peppercorn plant or pepper tree, as it is also called. The black pepper we are familiar with is from a later stage when the fruit is reddish and ripening. For more about the health benefits of peppercorns, this article in healthline may be of interest.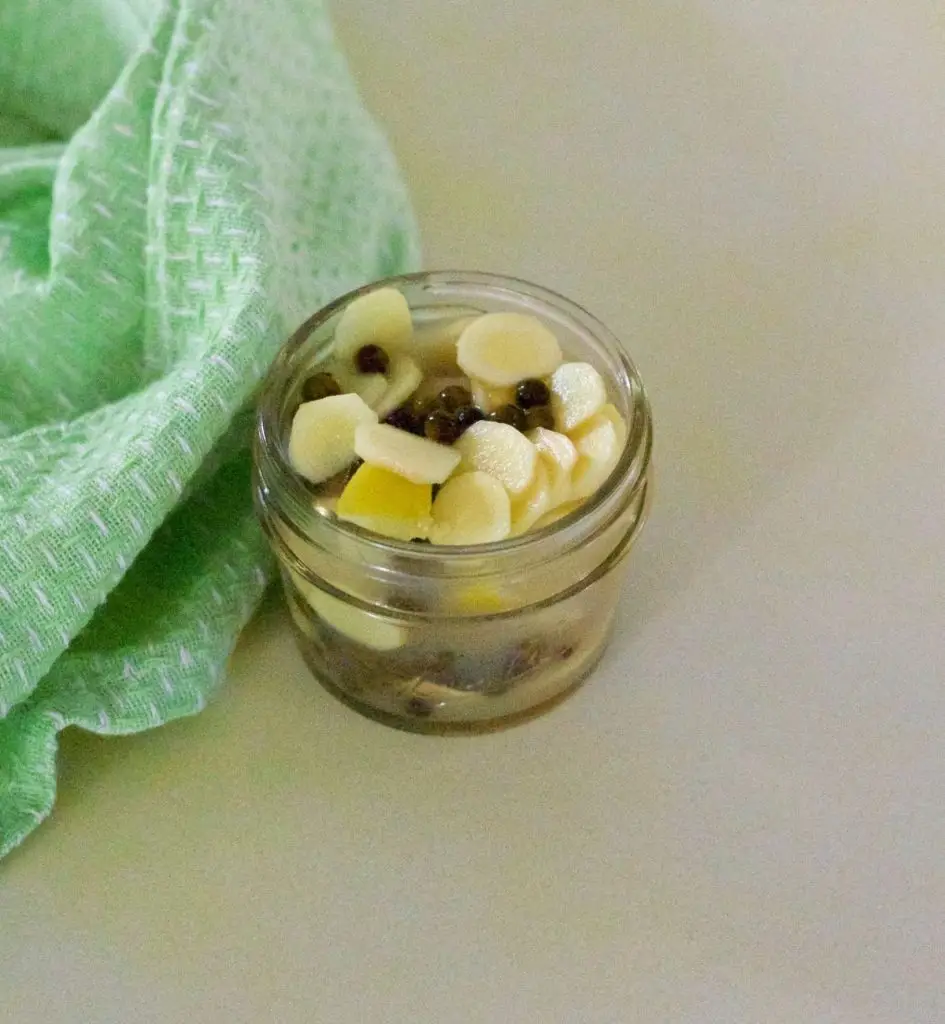 Making Mango Ginger Green Peppercorn Pickle
Do I need to strictly follow the Quantities in the Recipe?
Ingredient quantities in this recipe are approximate, and more so for the conversions from metric weight to measures such as US cups, as these vary depending on the size, juice that can be extracted from lemons, length and heat of chili etc. The quantities are not very important while making this pickle, so long as broad proportions as in the recipe are maintained. The number of chilies and the amount of salt added will depend on taste.
How much Lemon Juice should I add?
The quantity of lemon juice listed in ingredients is again approximate. The juice should ideally cover the surface of the ingredients and hence the volume used would depend on the size and shape of the jar in which the pickle is mixed. If the juice does not cover the surface, it is advisable to periodically shake the jar of pickle so that everything is covered with a coat of lemon juice.
A little additional liquid will manifest when water exudes from the mango ginger due to the salt we have added, and some from the slices of lemon.
What should I know about preparing the mango ginger slices?
As stated in the instructions, there will be some wastage and loss of volumes due to peeling of the mango ginger. From my observations, 200 gms of fresh mango ginger will give about 150 to 170 gms when peeled. The root-like rhizome has several protrusions on the sides, similar to ginger or turmeric, and these can sometimes be too tiny to peel. I slice these off and store them for later use, crushed, in dal or in khichidi, savoury ven pongal or in curd rice.
What can I substitute for fresh green peppercorn?
Fresh green peppercorns are seasonal in nature and not easily available. Green peppercorns pickled in brine may be substituted in this recipe.
Is Tempering of spices in oil required for this Pickle?
Tempering the mango ginger green peppercorn pickle is optional. I have had it both ways, with and without tempering, and both taste delicious. Oil used for tempering this pickle in Tamizh/ Tamil cuisine is traditionally the Indian sesame oil or nalla ennai/ til oil. Using a strong flavoured oil such as mustard oil or coconut oil would change the flavour profile completely. Hence a better substitute for nalla ennai would be sunflower oil.
How Long will the Pickle stay and how should it be stored?
Moisture is the enemy of all pickles and preserves. Ensure all ingredients are thoroughly dried. Store the pickle in a clean dry jar, and use a clean dry spoon to remove the contents. The pickle is best stored in the refrigerator, and will usually stay fresh for up-to 2 weeks in the fridge
Other Recipes Using Mango Ginger
Some More Pickle and Thogaiyal Recipes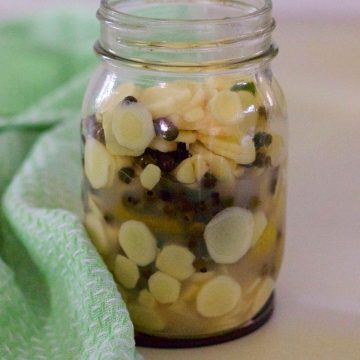 Mango Ginger Green Peppercorn Pickle with Lemon and Chili
Easy no cook pickle with slices of fresh mango ginger/amada/ amba haldi in lemon juice, with fresh green peppercorn, lemon and chili slices. Tangy delicious accompaniment to dal, khichidi, curd rice.
Ingredients  
For Mango Ginger Green Peppercorn Pickle
150

gms

Mango Ginger

200 gms when peeled and sliced give 150-170 gms (1¼ - 1½ cups)

150

gms

Lemons

about 4-6 medium Indian lemons

50

gms

Green peppercorn (on stalks)

4-6 stalks of peppercorn - fresh or in brine

4

Green chili

5

gms

Rock salt

about 1 teaspoon (or to your taste)
Tempering (Optional)
10

gms

Gingelly oil

about 2 teaspoons of til oil/ sesame oil or any mild vegetable oil like sunflower oil

3

gms

Mustard seeds

about 1 teaspoon of black mustard seeds/rai
Instructions 
The write up to this recipe has further information on ingredients and substitutions which can help in making this pickle.

Quantities specified in Ingredients are approximate, as explained in the write up post.
Preparation
Wash and dry the fresh mango ginger roots with a clean kitchen towel. Peel, after cutting away the nodes on the sides. (Some of the nodes/protrusions may be too small to peel). See the write up to this recipe for more on preparing the mango ginger.

If you wash the peeled mango ginger to remove any brown spots or bits of peel remaining, ensure you dry them really well with a kitchen towel. We don't want any moisture in the pickle as that would affect its shelf life.

Slice the mango ginger into thin round slices, keeping the thickness uniform.

Split 2-4 green chilies vertically and then into smaller inch long slices for convenient serving. The number of chilies used depend on your 'heat' appetite.

Squeeze the juice of 2-3 lemons till you get about 60 gms/ ¼ cup of lemon juice. Squeeze some of the juice from the remaining lemons without draining them completely. Slice these lemons into chunks, with some juice still in them.

Wash and thoroughly pat dry the fresh green peppercorn.
To Make Mango Ginger Green Pepper Pickle
To a clean dry jar, add the slices of mango ginger, stalks of green peppercorn, lemon and chili slices. Shake the jar so that the ingredients mix well.

Add a little salt to the lemon juice, stir well. Taste and add a little more if required.

Pour the lemon juice over the mango ginger and other ingredients.

Cover with a lid and again shake well.
Tempering (Optional)
Heat gingelly oil (nalla ennai/ til oil/ Indian sesame oil) in a small pan or tadka ladle/ tempering ladle. If not using gingelly oil, any vegetable oil with a mild flavour such as sunflower oil, may be used. Mustard or coconut oil would give a very different flavour profile to the pickle.

Add mustard seeds and after they crackle, pour the tempering over the mango ginger pickle. Cover and set the jar aside for about an hour or two and then place in the fridge.

The mango ginger green peppercorn pickle is best eaten after a day from preparation, as the flavours come together and balance in this time.

The mango ginger green peppercorn pickle stays fresh if refrigerated and if no moisture is allowed to enter the jar, for at least a week or two. Using a clean dry spoon to remove the contents helps. The pickle makes a delicious accompaniment to a variety of dishes such as curd rice, dal, rasam or khichidi.
Notes
1. The write up to this recipe has further information on ingredients and substitutions which can help in making this pickle.
2. Quantities specified in Ingredients are approximate, as explained in the write up post.
Nutrition
Serving:
2
tablespoons
Calories:
18
kcal
Carbohydrates:
3
g
Protein:
1
g
Fat:
1
g
Saturated Fat:
1
g
Polyunsaturated Fat:
1
g
Monounsaturated Fat:
1
g
Sodium:
318
mg
Potassium:
19
mg
Fiber:
1
g
Sugar:
1
g
Vitamin A:
3
IU
Vitamin C:
8
mg
Calcium:
4
mg
Iron:
1
mg