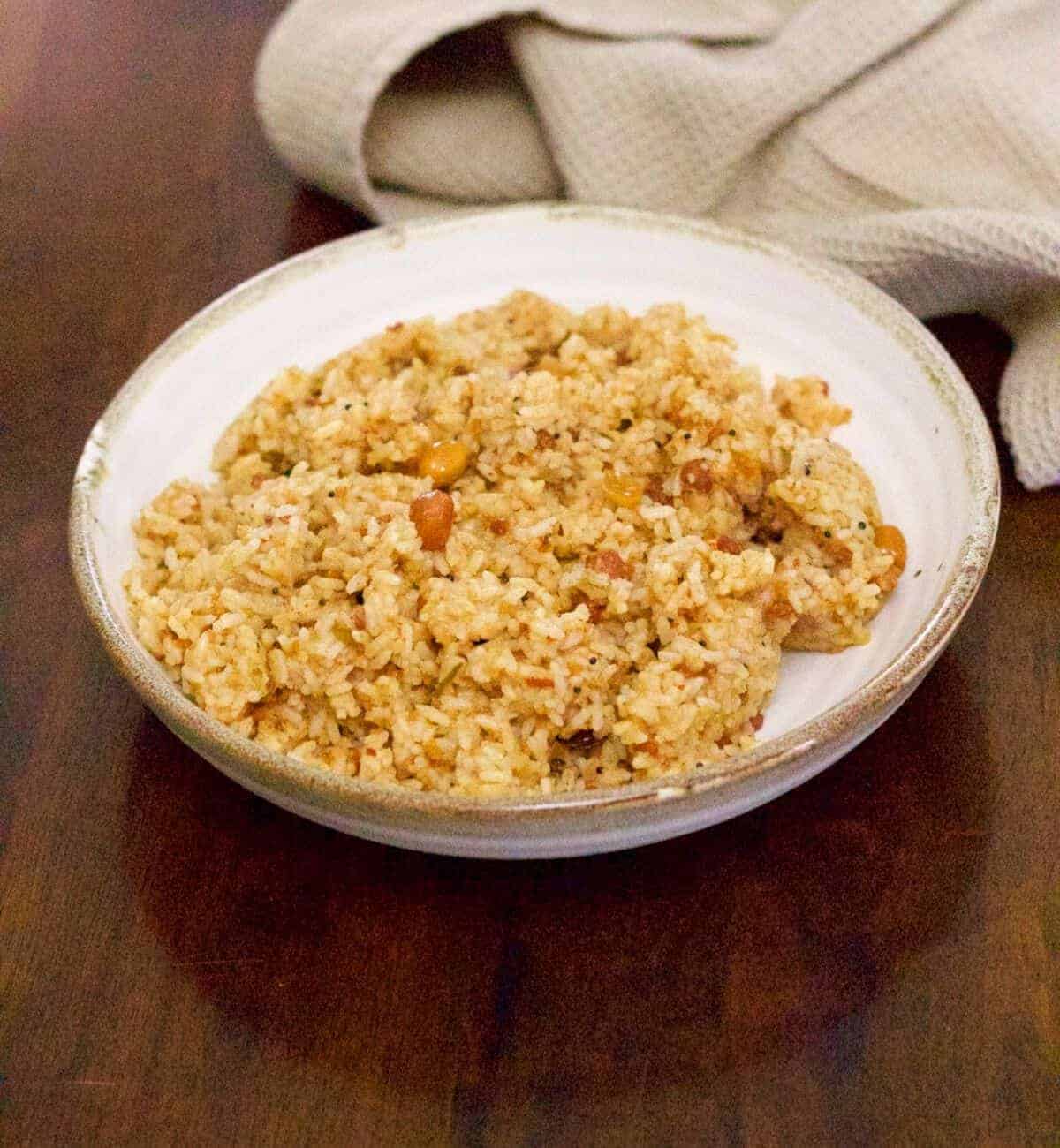 Memories of Puliyodharai/  Tamarind Rice/Puliyogare
During my student days, specially when studying to become a Chartered Accountant, my friends and I were frequent visitors to neighboring temples (well, lots of exams and so lots of prayers too!) The temples in Chennai where I then lived, were generous with their Prasadams ( the delicious foods offered as naivedhyam to the deities and then distributed to the devotees.) As children, my cousins and I would wait patiently in the queue for our turn to receive a donnai (a environmentally friendly cup made of dried leaves) full of prasadam, and would crane our necks trying to figure out what was the prasadam of the day. The sweet sakkaripongal, dripping with ghee was a big favourite, but the spicy Puliyodharai  (spiced tamarind rice) was a close second. My parents often made huge batches of prasadam at home, to offer at the Temple, and my mother's Puliyodharai was outstanding in taste.
The day the prasadam was to be made, the house would be redolent with the aroma of the Pulikachal (tamarind and spices mix sauteed in hot oil) in progress, the oil and the spices and the sharp smell of chilies frying. I loved the aroma of sesame seeds when they were added to the gingelly (sesame) oil which was the only oil used to make the pulikachal. Offerings to the Gods could not of course, be tasted before hand, so we had to wait like everyone else for the pooja to be completed at the temple, and to stand in the queue for our turn to receive the Puliyodharai  prasadam. Once back home there would be a container full of surplus pulikachal, ready to be feasted on for a week or so at least.
This Tamarind Rice, made from Pulikachal mixed with rice, and with appalams (pappad) or chips were an integral part of train journeys in those days. Mother would stir some of the pulikachal mix into a large quantity of rice, add a little sesame oil, check the taste for seasonings, and when done, would tuck the Rice into individual packets of banana leaves in turn wrapped in newspapers and with a rubber band apiece to hold the packet intact. Train journeys would usually be for at least a night and a day, often for 2 nights. The packets of puliyodharai , lemon rice and curd rice would remain fresh for at least 2 meals, and somehow, tasted even better after several hours into the journey.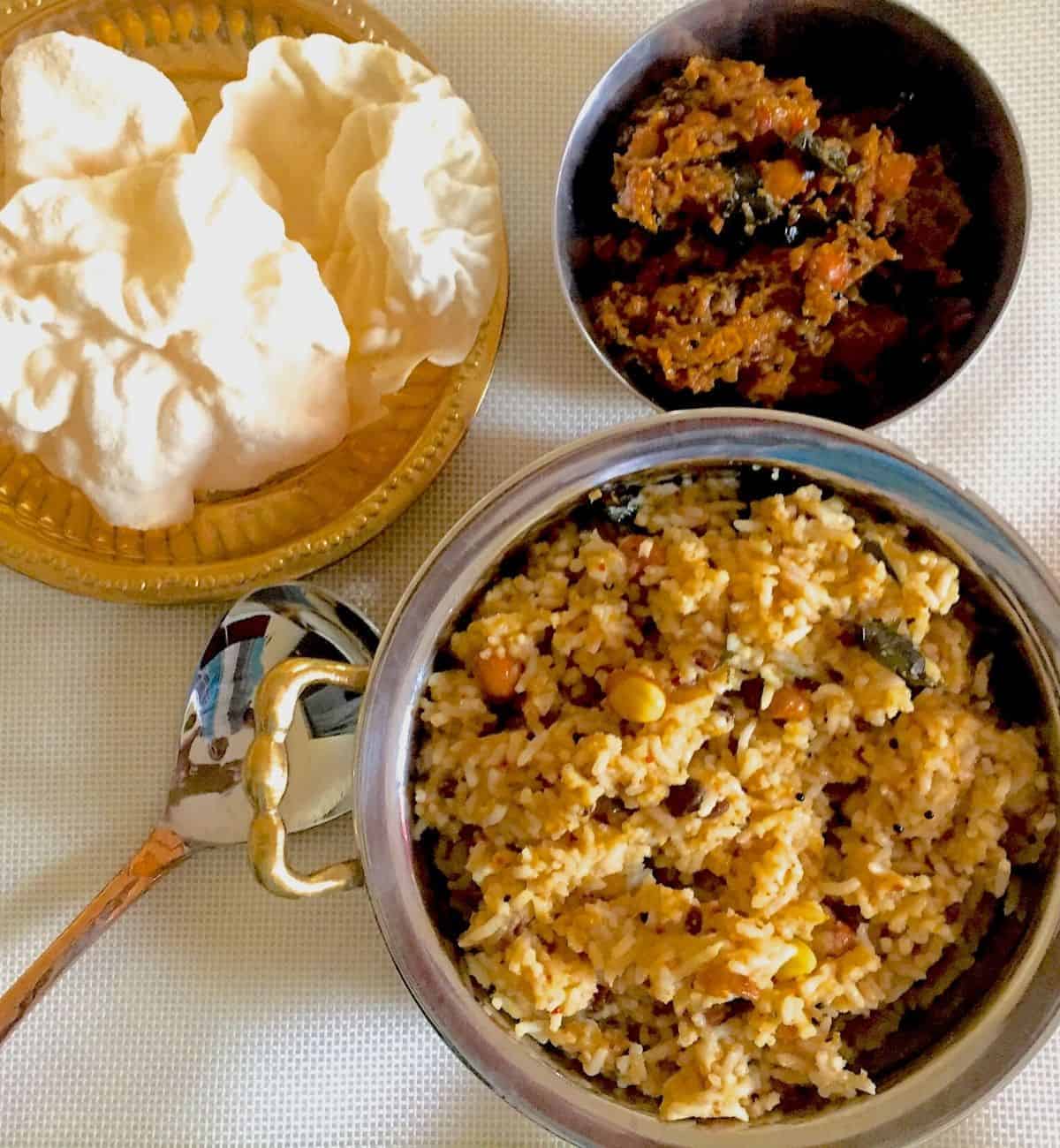 Pulikachal/ Tamarind Paste
For really good results, soak the tamarind in warm water (not hot) keeping it soaked overnight or for several hours. The Paste can be made after soaking the tamarind for just 10 minutes, if you don't have time to soak it for longer. The time shown in the recipe below takes into account soaking the tamarind for 10 minutes.
The rice for the Puliyodharai should be a little dry but cooked through. Watery rice will reduce the flavours and not give the Tamarind rice its correct texture.
The pulikachal can normally be used for upto 10 days if kept in the fridge in tightly closed jar, and if it is ensured that only a dry spoon is used and no moisture/ water is permitted ingress into the jar.
Apart from making the tamarind rice or Puliyodharai , the pulikachal may be used as a side with curd rice and goes well with chapatis too.
Check out the recipe and do tell me how your Puliyodharai turned out and whether you made any changes !
Here then is my recipe for Pulikachal, slightly modified from my mothers recipe. I made a batch today, and have already made inroads into this delicious spicy mix, for lunch.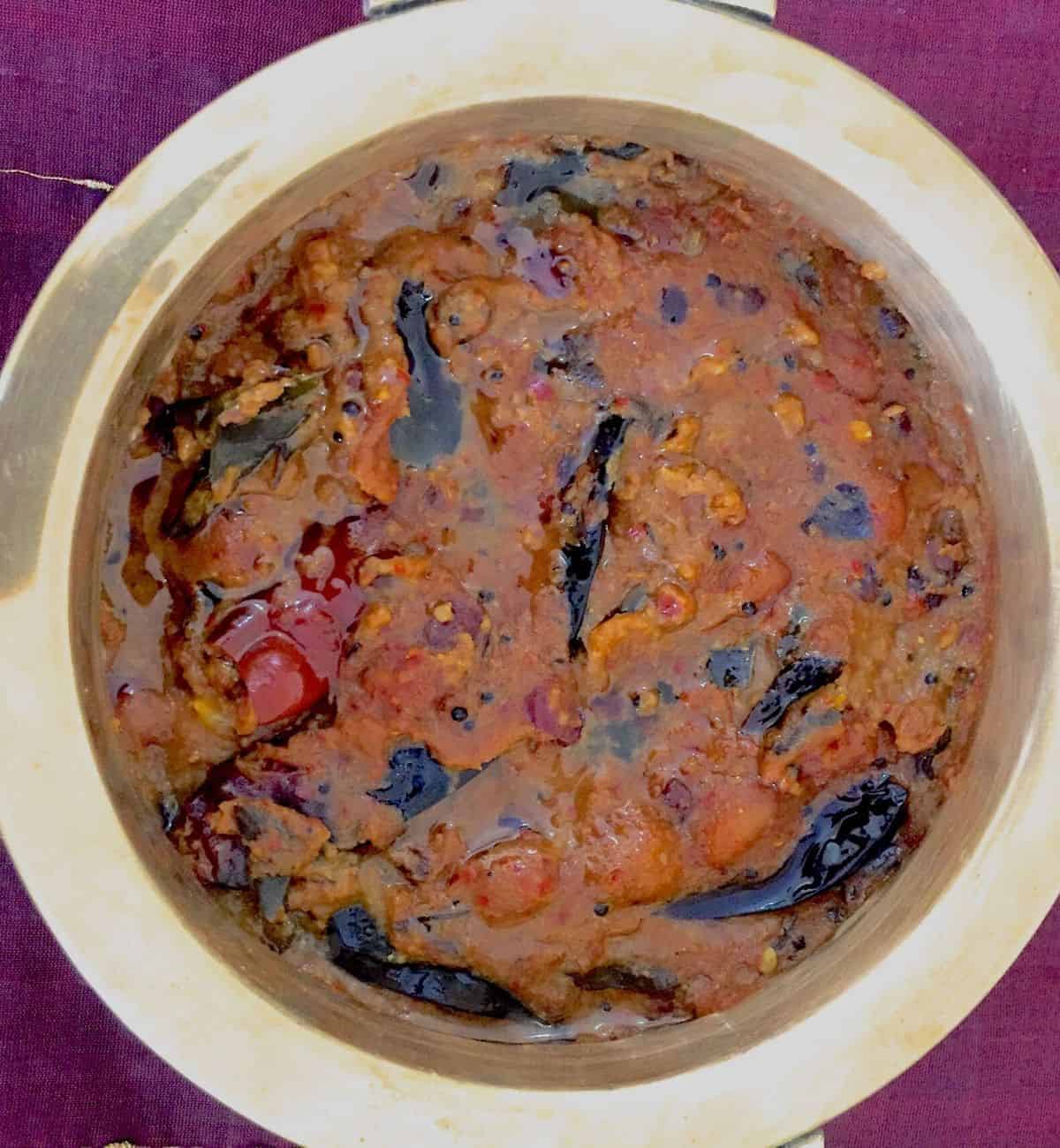 You May Like These Rice Recipes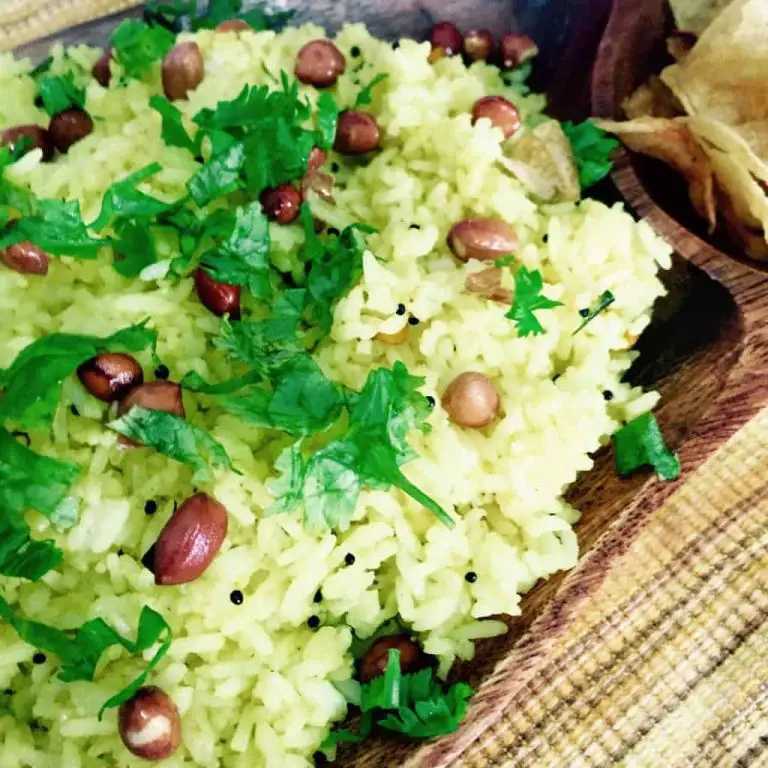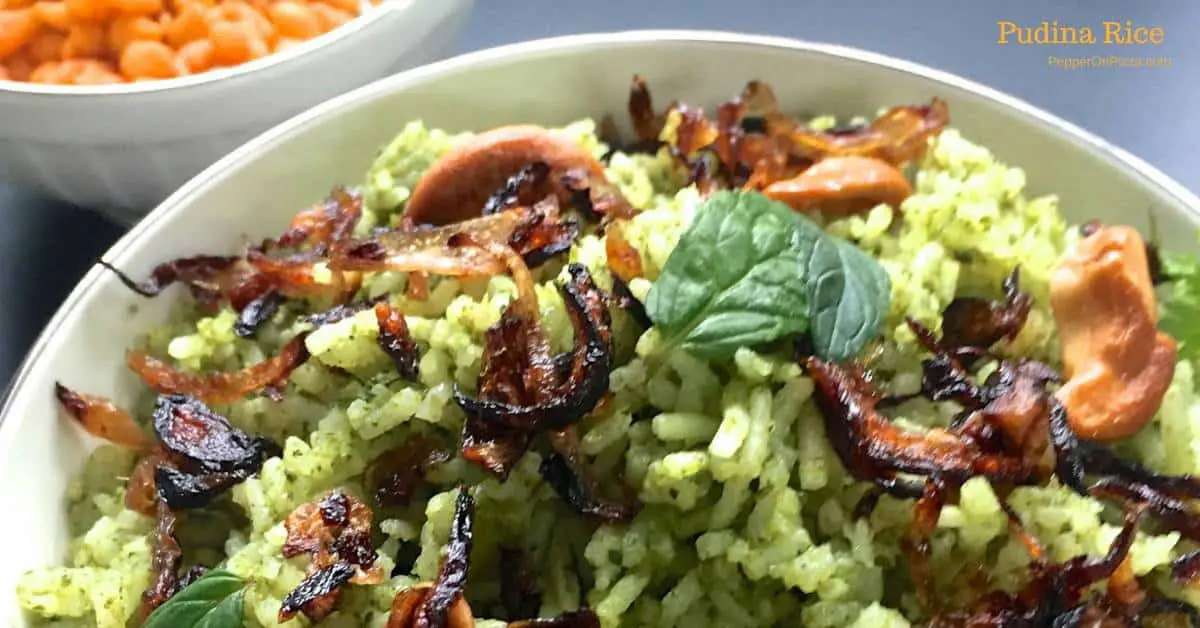 Green Peas Tehri/ Matar ki Tehri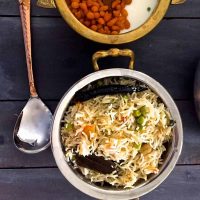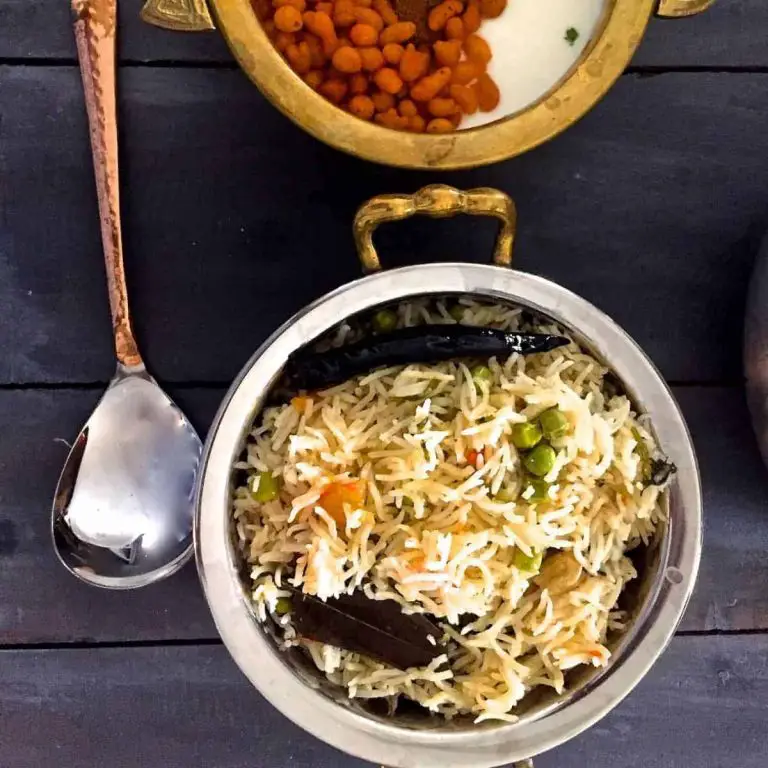 SaveSave
SaveSave
SaveSave
SaveSave
SaveSave
"Recipe"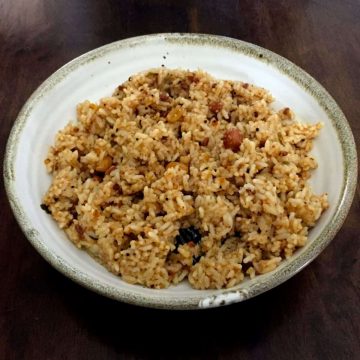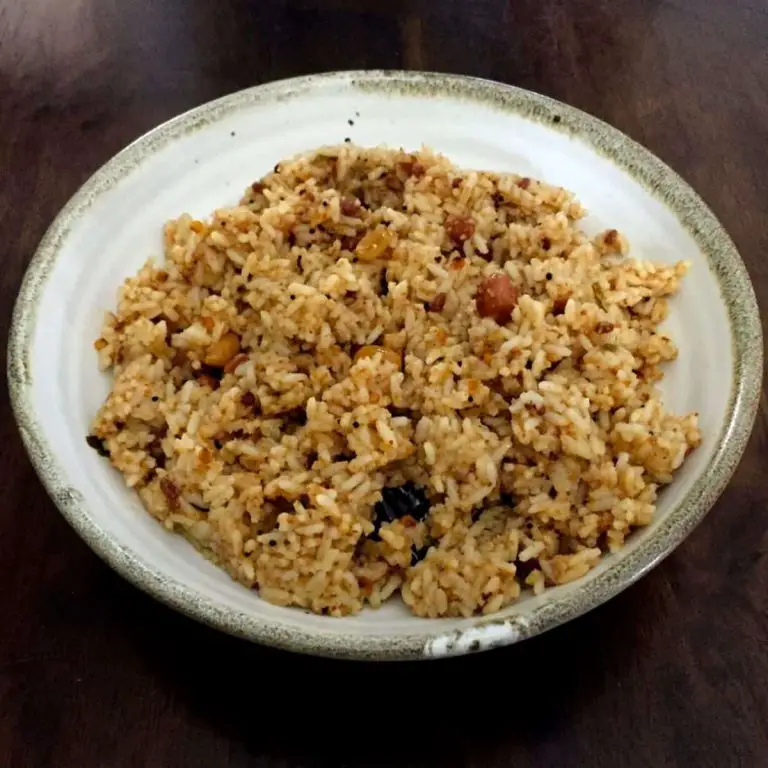 Puliyodharai/ Tamarind Rice from spicy Pulikachal Tamarind Paste
Puliyodhari a popular South Indian Rice dish, made by mixing cooked rice with a spicy tamarind paste cooked in sesame oil. Lunch box, meal at home or packed for travel, it is delicious even when cold. Soak the tamarind overnight for best results.
Ingredients  
Ingredients for Puliyodharai Tamarind Rice
3

cups

cooked rice

¼

cup

Pulikachal / Tamarind Spice paste from recipe below

½

tablespoon

sesame oil

¼

teaspoon

salt

or to taste
Pulikachal Ingredients: To Roast and Powder
1

tablespoon

split black gram lentils

/ split Urad dal/ Ulutham paruppu

1

tablespoon

split bengal gram lentils

/ split chana dal/ kadala paruppu

5

dry red chilies

or to taste

½

teaspoon

fenugreek

/Methi seeds/ vendiyam

2

tablespoons

Coriander seeds

/Dhania seeds/ kothamalli vera

1

teaspoon

Sesame seeds

/til seeds/ ellu
Pulikachal Ingredients: To Temper
3

tablespoon

sesame oil

/ til oil/ nalla ennai

1

teaspoon

Mustard seeds

/ rai/ kadugu

2

tablespoons

curry leaves

kari patta/ karuvepallai

1

tablespoon

split black gram lentils

/ split Urad dal/ Ulutham paruppu

1

tablespoon

split bengal gram lentils

/ split chana dal/ kadala paruppu

10

dry red chilies

or to taste

½

teaspoon

asafoetida powder

/Hing/ perungaiyam

3

tablespoons

peanuts

½

teaspoon

turmeric powder

Haldi/ manjal podi
Pulikachal: Other Ingredients
2

tablespoons

tamarind pulp

Indian lemon sized ball

2

cups

water

warm, not boiling hot

½

teaspoon

salt
Instructions 
How To Make the Pulikachal Tamarind mix
This may be made a day or a few days ahead, up to 10 days maximum.

Soak the tamarind in 2 cups of warm water (warm water is fine, don't use boiling hot water). Set aside till required. It usually takes 5-10 minutes for the tamarind to soften enough for the juice to be extracted. Though 10 minutes is sufficient, for best results I soak the tamarind overnight. This is optional.

Meanwhile Measure out all the ingredients, checking that the spices and condiments are dry.
Roast (on a dry pan) separately, each of the ingredients listed out as "To Roast and Powder", as below.

Dry roast the methi/ fenugreek till they just begin to darken or for about 5 seconds on a hot pan kept on low flame, and transfer to a dry bowl.
Keeping the heal on low, roast the dals / lentils till they just begin to darken, for about 5 -10 seconds and transfer to the same bowl.

Roast the red chilies for about 15 seconds and transfer to the bowl.
Roast the coriander seeds for about 10 seconds, after all the above, as coriander tends to leave a residue in the pan. Transfer the coriander to the bowl, wipe out the pan to remove the residue.

Roast the sesame seeds quickly for 5-10 seconds or before they darken. Sesame can burn very fast, and sputters in the hot pan, so keep the flame on low and remove quickly. Add it to the bowl.
Let the roasted ingredients cool, and then grind to a fine powder. Set aside till required.

Extract the juice of the tamarind, by taking the ball of tamarind out of the water and squeezing out any left over juice. Strain to remove any seeds or bits of tamarind fiber from the water. Discard the fiber. If using ready made tamarind extract, use about 1 tablespoon of paste and mix it in warm water

Heat the pan/ kadai and add sesame (gingelly oil). Other oils such as sunflower oil may be used, but sesame oil will give the authentic and perfect taste. Do not however use coconut oil, mustard oil and other oils with distinctive smell and flavour.

Once the oil is hot, add the mustard seeds and let them burst. Keep the pan on low flame.

Add curry leaves. If the curry leaves are fresh, stand back as they may sputter.

Add chana dal/ kadala paruppu and split urad dal, saute for 5- 10 seconds till they just begin to darken. Add hing/ asafoetida powder.
Add Turmeric powder, sauté for 5 seconds

Add Red chilies, saute for 15 seconds, stirring so the chilies do not char (blacken).

Add the peanuts, saute for 20 seconds so they are fried through. Peanuts have a tendency to split and even burst when added to hot oil.

Add the tamarind extract/ tamarind paste in water, to the pan of spices.

Bring the sauce to a boil, add the roasted spice powder.
Lower the flame, add salt. I add only a little salt to the paste, and then add more when I'm mixing it with rice for Puliyodharai/ Tamarind rice.

Keeping the stove on low flame and stirring frequently, let the paste cook.

Turn off the stove when the consistency is that of a thick paste. This may take 20 minutes or more.
How To make the Puliyodharai
Take the cooked rice in a wide bowl. Add sesame oil and a little salt. Mix gently so that the rice does not break or get mashed.

Add about ¼ cup of pulikachal and mix it into the rice.
Taste the Puliyodharai and add more pulikachal if you need it more spicy or if the taste is bland. Add salt as may be required to your taste.

Serve with appalam /papad or vadams/ vathal to accompany. Microwaved appalams are a good option instead of deep frying.
Nutrition
Calories:
1864
kcal
Carbohydrates:
267
g
Protein:
51
g
Fat:
74
g
Saturated Fat:
10
g
Sodium:
1858
mg
Potassium:
2890
mg
Fiber:
37
g
Sugar:
55
g
Vitamin A:
8662
IU
Vitamin C:
2156
mg
Calcium:
605
mg
Iron:
17
mg