A delectable mix of well-cooked rice and lentils with spices and a tamarind extract, the Bisi Bele Huli Anna/ bath makes a very a satisfying meal, with a curd-based pachadi/raita and appalam/pappad or chips. It is not a one-pot dish as the process involves several sets of steps, each of which though is easy to carry out.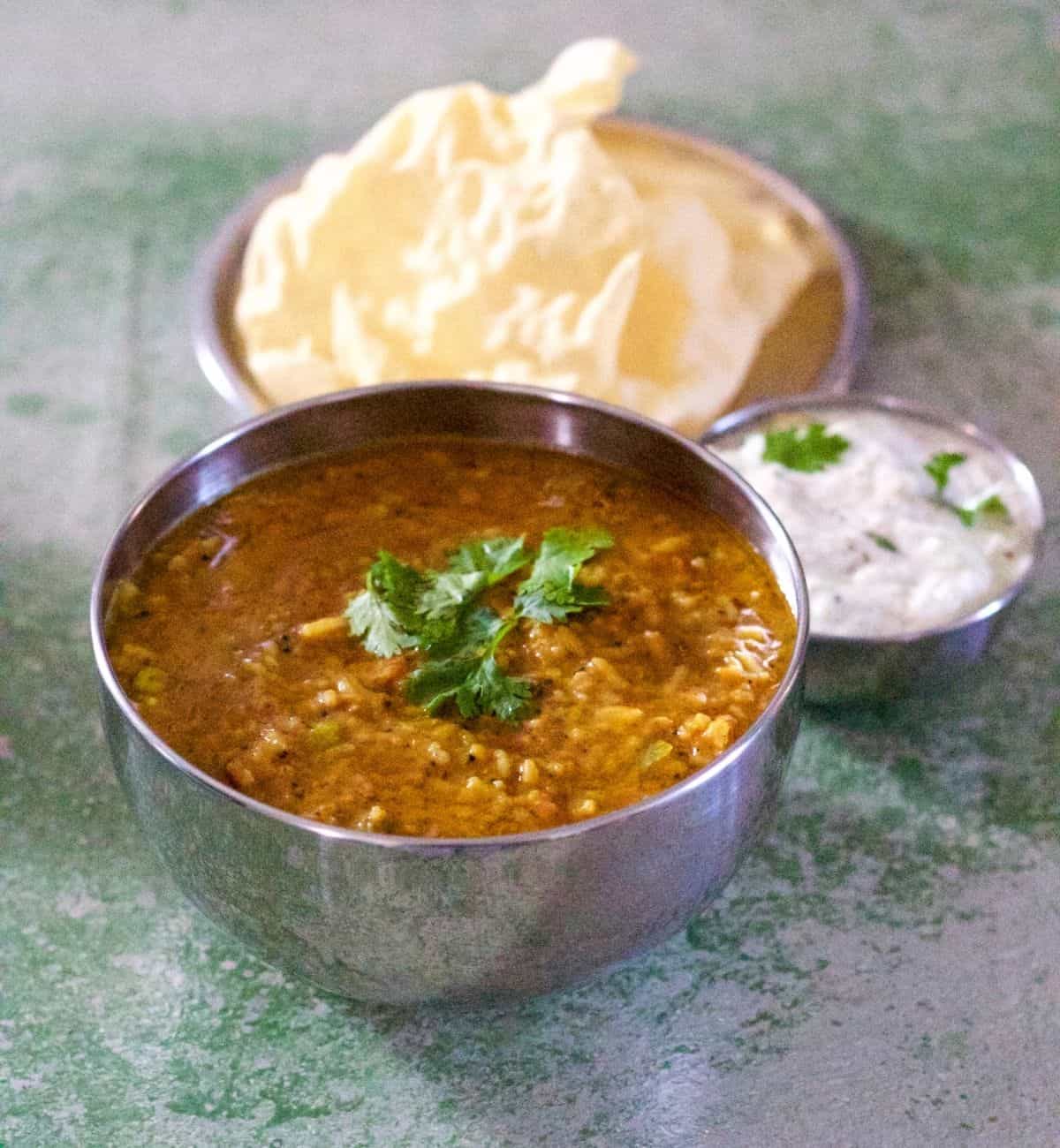 Bisi bele huli anna has its origins in Karnataka cuisine, with 'bisi' meaning 'hot', 'bele' referring to lentils, 'huli' being the sourness caused by tamarind, and 'anna' being rice. The traditional recipe is usually made with just cooked rice and lentils, spices and tamarind extract. The addition of seasonal vegetables, however, enhances flavour and nutrition and hence I have included the same in the recipe below.
Ingredients for Bisi Bele Bath
It is the unique spice mix that makes the bisi bele bath so special and tasty and differentiates it from sambar rice. This mix may be powdered and refrigerated ahead of time and ground into a paste when required. There are several versions of the recipe, some using spice powder, some preferring spice paste; the combinations of spices also vary, as does the cooking process. Some recipes show two sets of spices, one powdered variety (with dry coconut), another a spice paste. The process I follow has just one spice mix, however, there are two sets of spices, each to be roasted, and then both mixed, powdered and ground to a paste.
Coconut is one of the essential ingredients in the spice mix. Desiccated coconut/grated copra suits best as it is flavourful but dry. Fresh, grated coconut may be used, provided it is roasted (without oil) till most of the moisture has evaporated.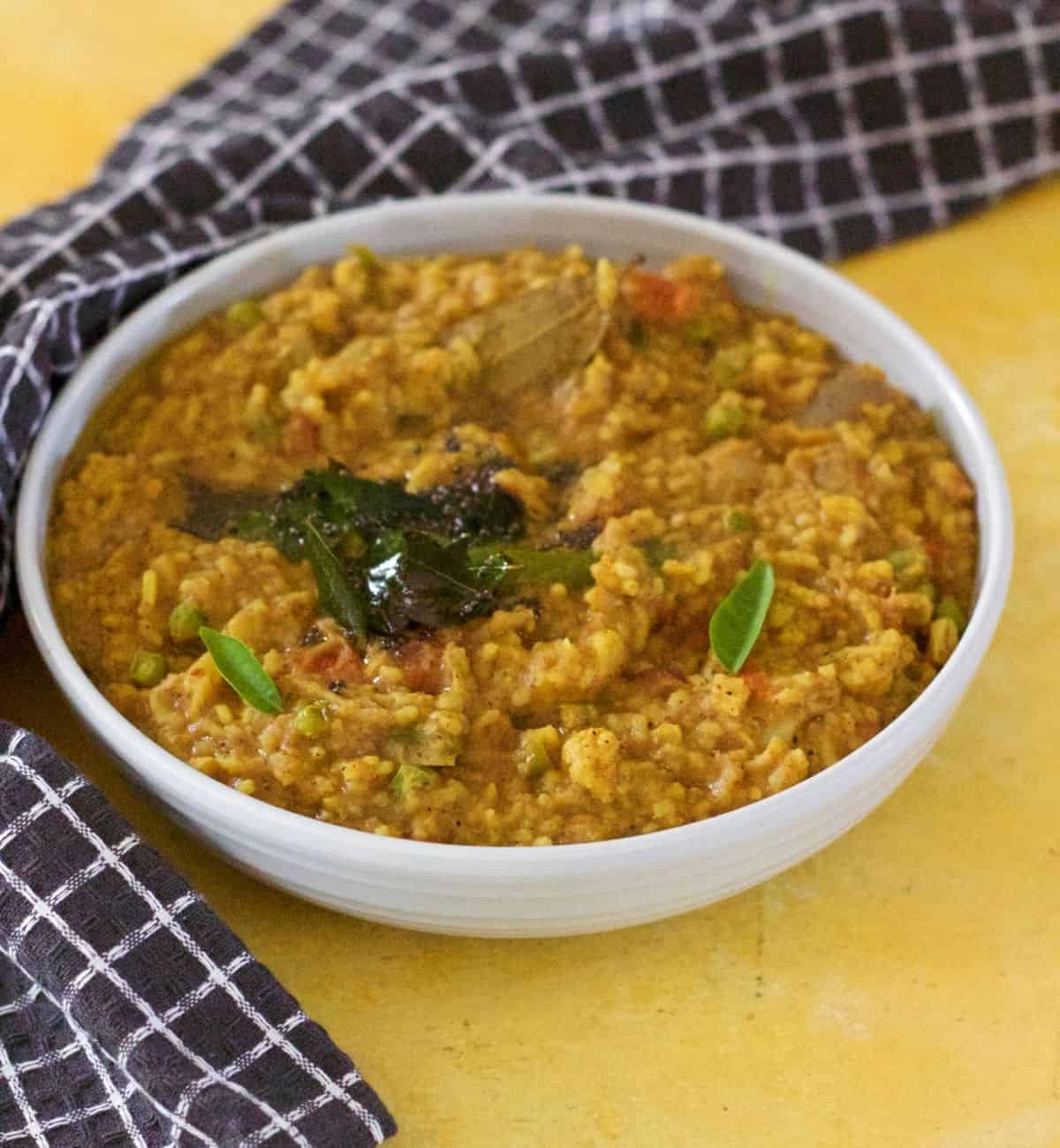 As I said earlier, vegetables may be incorporated or left out from the recipe. I stick with quick-cooking vegetables which speed up the time it takes to make this dish. My preferred vegetables are small onions/ Indian shallots (of the sambar or Madras onion variety), cauliflower, peas, french beans, capsicum and tomato. Potato and carrot may be added, and the cooking time planned accordingly. These are sliced into uniform sized pieces so that they finish cooking more or less simultaneously.
Other Rice Based Recipes
"Recipe"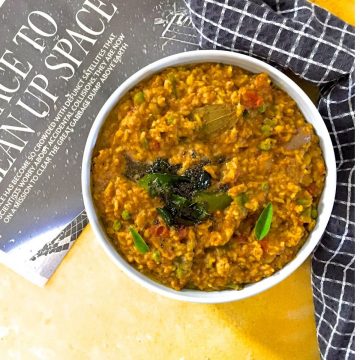 Bisi Bele Huli Anna/ Spiced Rice and Lentils
From Karnataka Cuisine, Bisi bele huli anna, a delicious dish of rice and lentils, cooked with a spice paste and tamarind extract. Vegetables may be added. Best with curd pachadi/ raita and appalam/ pappad or chips.
Ingredients  
Rice and Lentils
½

cup

Rice

of the type known as Raw rice/ pachhai arisi

½

cup

Pigeon pea lentils/thowar dal                          

½

teaspoon

Turmeric powder/ haldi

2

cups

Water

for cooking
For Coconut Spice
1

teaspoon

Til/ sesame oil

Or ghee /other vegetable oil such as sunflower oil

2

cm

Cinnamon

2

Cardamoms

2

Cloves

½

teaspoon

Fennel seeds

1

teaspoon

Poppy seeds/ khus khus

½

cup

Desiccated coconut

Or fresh grated coconut dry roasted
For Spice Paste
2

teaspoons

til/sesame oil

Or ghee/ other vegetable oil such as sunflower oil

⅛

teaspoon

fenugreek/methi seeds

about 5-6 seeds

1

teaspoon

cumin seeds/ jeera

1

tablespoon

Coriander seeds / dhania

1

tablespoon

Bengal gram lentils/channa dal

skinned, split

1

tablespoon

Black gram lentils/urad dal

skinned, whole

1

teaspoon

Black peppercorns

whole

4-6

Dry red chilies

¼

teaspoon

Asafoetida/hing
Vegetables (2 cups) from the following:
7-8

Shallots/ sambar onion/ Madras onion

1

Capsicum

6-7

florets

Cauliflower

¼

cup

Green peas

Fresh or frozen

¼

cup

Green beans

1

Tomato

1

Potato

1

Carrot
For Bisi Bele Bath/ Bisi Bele Huli Anna
1

tablespoon

Til/sesame oil

Or ghee/ other vegetable oil such as sunflower oil

½

teaspoon

Turmeric powder/haldi

1

Tamarind pulp

1 small Indian lemon sized

1

cup

Water

For soaking the tamarind

1

teaspoon

Jaggery

powdered

1

Bay leaf

1

teaspoon

Salt

or to your taste
For Tempering
1

tablespoon

Ghee

¼

teaspoon

Mustard seeds/rai

10-12

Curry leaves
For Garnish
2

tablespoons

Peanuts/ Ground nuts/ Boondi

or Cashew nuts fried in ghee or fried boondi

2

tablespoons

Coriander leaves/dhania leaves

Minced
Instructions 
Preparation:
Soak a small ball of tamarind pulp for about 20 minutes (or time required for the tamarind to become very soft).

Extract the juice and set aside till required.

 Peel the small onions.

Slice all the vegetables into small even-sized pieces for uniform cooking. If potato or carrot are used, please factor-in sufficient time for their cooking, as this recipe is timed based on cauliflower, capsicum and such other quick-cooking vegetables. You will need about 2 cups of all the sliced vegetables (except for onions.)

Roast the peanuts in a dry, hot pan, or fry cashew nuts in ghee, depending on which garnish you are planning to use.
For Cooking Rice and Lentils/ dal
Wash, drain and soak rice and dal together for 20 minutes, in water sufficient to cover the surface.

Drain, add turmeric powder and water.

Pressure cook for 3 whistles (or the time required for the rice and dal to be cooked soft). Let the steam be released from the cooker naturally, and when cool, open it and mash the rice and dal.
Prepare Spice Paste
Heat oil and roast all the ingredients listed under the heading 'Coconut Spice' in the ingredients list. Stir well after each item has been added and follow the order of the listing. Finally add poppy seeds to the other ingredients, roast for a few seconds and add desiccated coconut. Stir well and remove from the heat and transfer the mix to a heat-proof bowl.

As noted in the write up above, if using fresh coconut, roast it dry (without oil) until most of the moisture has evaporated and the coconut just begins to turn brown.

Similarly, heat oil and roast the spices listed under Spice paste. Stir as each item is added. Transfer to the heat-proof bowl in which the spices from the earlier step have been placed. Allow the mixture to cool.

Grind the roasted spices to a fine powder. Add 1 -2 tablespoons of water to the spice powder and grind to a paste.
To Make Bisi Bele Huli Anna/ Bisi Bele Bath
Heat Oil. Add onions, saute for 2 minutes.

Add sliced vegetables and turmeric powder. Stir. If you are not including vegetables, add just the turmeric.

Add the spice paste. Keeping the heat on low, saute for 5 minutes, stirring frequently. Add the bay leaf.

Add ½ cup water, bring to a boil and then reduce the flame. Simmer for 10-15 minutes or till the vegetables are tender.

Add tamarind extract and jaggery, stir. Jaggery helps balance the flavours.

Add salt, stir.

Bring to a boil and then reduce the flame. Simmer for 5 minutes.

Add cooked rice and dal (remember to mash it well). The mixture should be thick but fluid. If it is not fluid, add up to ½ cup of hot water.

Check adequacy of salt and add a little more if required.

Mix thoroughly and cook for 5 minutes till all ingredients are nicely mixed. Remove from the heat.

Temper with mustard seeds and curry leaves in ghee. Garnish with roasted peanuts/ fried cashew nuts and minced coriander leaves. Besan/ chickpea flour boondi may be fried and added as garnish.
Nutrition
Serving:
1
cup
Calories:
241
kcal
Carbohydrates:
31
g
Protein:
8
g
Fat:
11
g
Saturated Fat:
5
g
Cholesterol:
5
mg
Sodium:
313
mg
Potassium:
360
mg
Fiber:
8
g
Sugar:
6
g
Vitamin A:
2204
IU
Vitamin C:
84
mg
Calcium:
69
mg
Iron:
3
mg