Just writing about the manga inji pickle makes me all nostalgic for the fresh mango ginger steeped in lemon juice that my mother gave us with curd rice. The mango ginger was an infrequent visitor to our kitchen as it was available only for a short period each year, and moreover did not preserve for long months the way the mango pickles in oil did. Not that we really got a chance to see how long it stayed fresh as we invariably emptied the jar in a few days.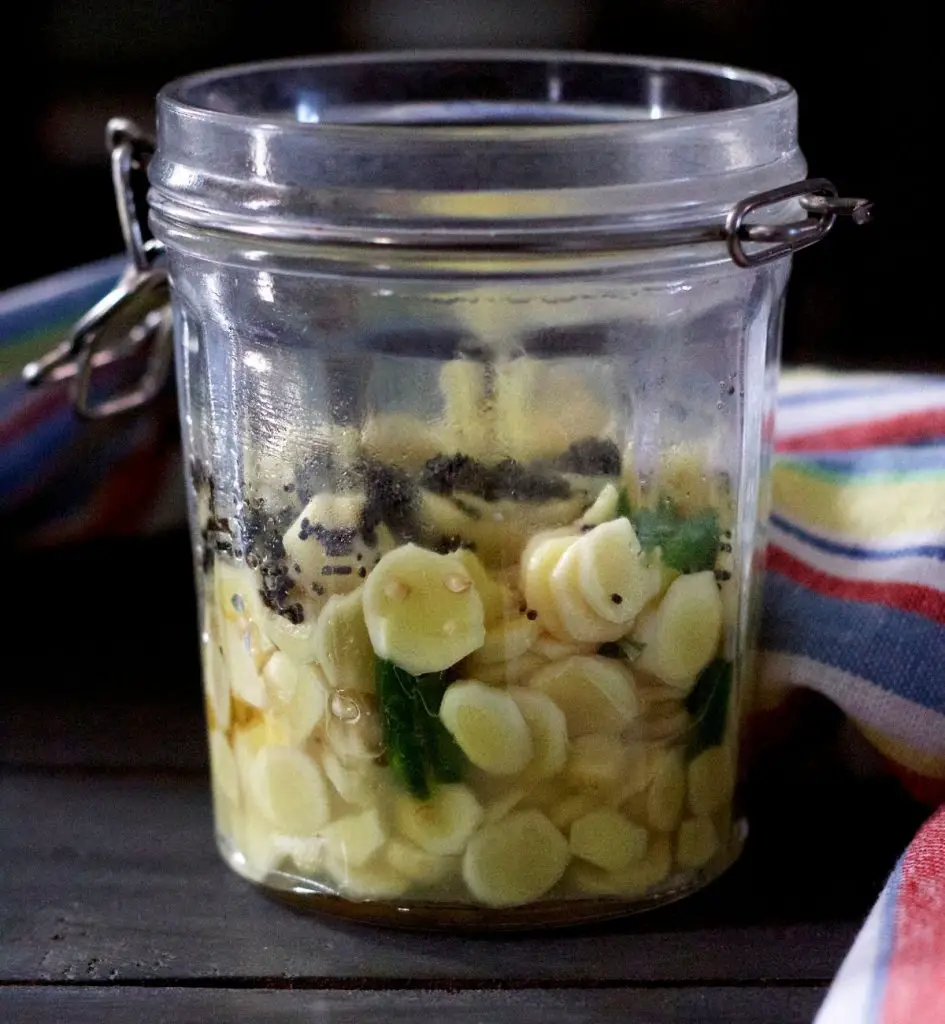 What Is Manga Inji/ Mango Ginger?
Before I talk about the manga inji pickle, let me explain to those coming across it for the first time, what this ingredient is. Called mango ginger, it has a very subtle aroma and taste of raw mango and has none of the sharp taste of raw ginger. Neither a mango nor a ginger, though it greatly resembles the latter in appearance and texture, this rhizome belongs to the turmeric family. You may have heard of it as amba halad, amba haldi, am haldi, ambada, mamidi allam or maa inji, a popular ingredient for making pickles or chutney, though there are other interesting culinary uses too.
How Is Mango Ginger Pickle Made?
There are two main versions of this mango ginger pickle. One is to grate or slice thinly and roast or cook it with spices and chili, sometimes tamarind. The second and easier recipe is a traditional Tamizh one which is my favourite and which I've given in this post. This is the 'instant' variety where the pieces of manga inji are peeled and sliced, raw green chili and sometimes stalks of fresh green pepper and/or pieces of lemon are added. Lemon juice and salt are added to the whole, or else brine to which some lemon juice is added. A mild tadka/ tempering of mustard seeds in nalla ennai/ til oil/ Indian sesame oil, finishes the recipe.
You might be surprised to find how full of flavour this simple manga inji pickle can be. The aroma of raw mango is very subtle, but mouth watering. Green chilies contrast with their bite, and the lemon makes the combination refreshing and fresh in taste.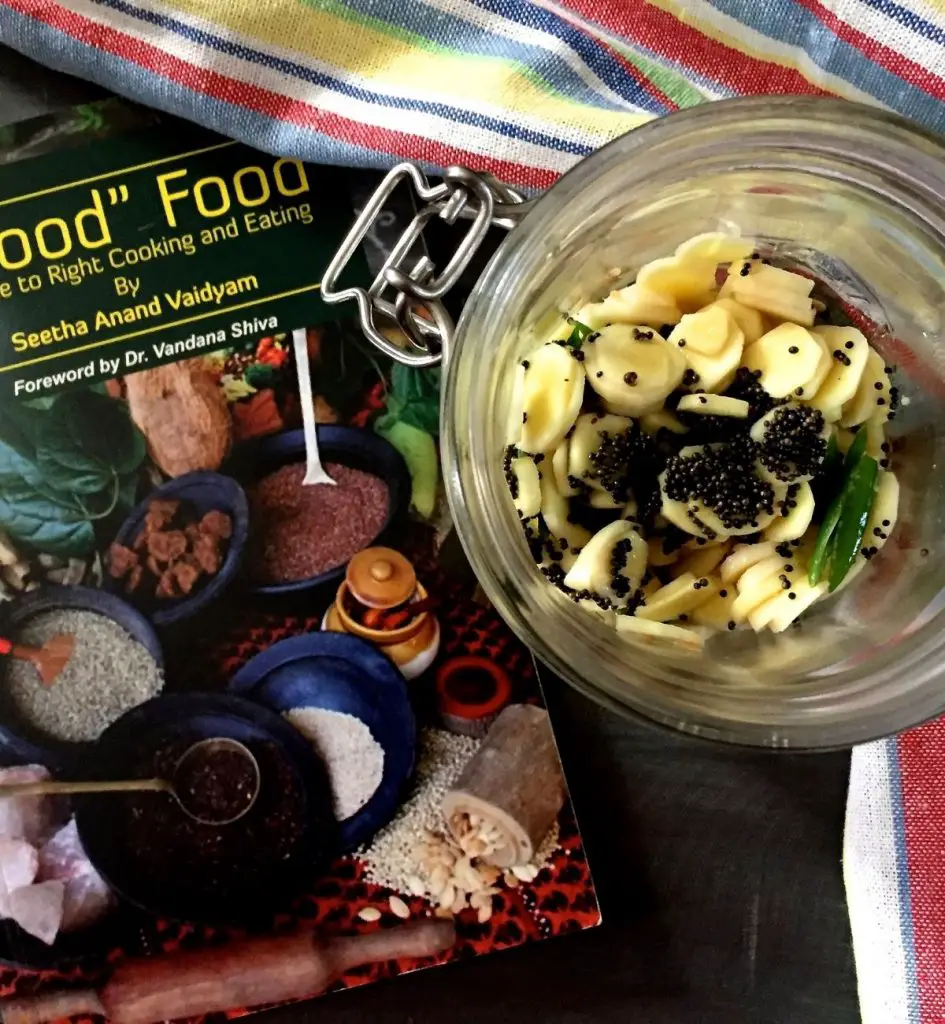 Other Pickle/ Thogaiyal/ Spice Mix Recipes:
"Recipe"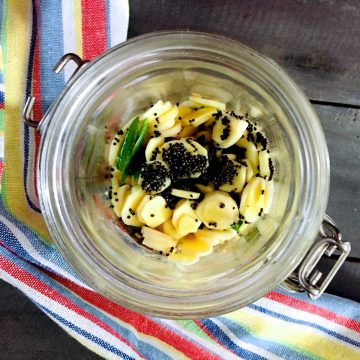 Manga Inji Pickle/ Mango Ginger Pickle/ Amba Haldi Achar
Easy, quick and delicious pickle from mango ginger slices and green chili in lemon juice and salt.
Ingredients  
For the Mango Ginger Pickle
200

gms

Mango Ginger

About 150 gms when peeled and sliced/ about 1 ¼ cups

30

gms

Fresh Lemon juice

2 tablespoons

3-4

Green chilies

1

teaspoon

Rock salt or Sea Salt

or to your taste
For Tempering
10

gms

Nalla Ennai/ Gingelly/ Til Oil/ Sesame Oil or a mild vegetable oil like Sunflower

2 teaspoons

3

gms

Mustard seeds

1 teaspoon
Instructions 
To Make Mango Ginger/ Manga Inji/ Amba Haldi Pickle
200 gms of the raw mango ginger give about 150 gms after peeling and slicing, as some of the small nodes/protrusions may have to be chopped of, being difficult to peel.

Wash the mango ginger root and dry it thoroughly. Peel. Wash again if any bits of peel remain, again drying well. Slice into uniform thin rounds. You may chop it into small pieces or lengths, though the traditional Tamizh method is to make it into rounds.

Squeeze lemon juice.

Remove the stalks and split the green chilies vertically, keeping the chili intact at the top. Slice into smaller pieces if you wish for convenience in serving/ eating.

Place the manga inji/ mango ginger slices and chili slices in a jar. Add lemon juice, salt. Shake the jar well.

Heat oil in a small pan. Add mustard seeds and once they crackle, pour the tempering on the pickle.

Shake the jar or stir, cover and set aside for an hour. Store in the fridge.

The salt will cause water to be slowly released from the mango ginger slices. The flavours therefore get better balanced after a day or two and hence the pickle tastes best after this period.

Makes a flavourful side with curd rice or with rice and dal or khichidi.
Nutrition
Serving:
2
tablespoons
Calories:
12
kcal
Carbohydrates:
1
g
Protein:
1
g
Fat:
1
g
Saturated Fat:
1
g
Sodium:
231
mg
Potassium:
4
mg
Fiber:
1
g
Sugar:
1
g
Vitamin A:
1
IU
Vitamin C:
2
mg
Calcium:
1
mg
Iron:
1
mg