It is quite an experience researching and making dishes from North Eastern India's cuisine. Simple processes, easy to make recipes, and above all, hardly any oil and very little of the traditional spices and chili we are used to in Indian cuisine. The Mizo Bai is one such recipe, with a handful of ingredients including some we in the rest of India would usually throw away, no spices and just one green chili. The taste though was pleasing and comfortable, specially in the heat wave which seems to have Bangalore in its thrall.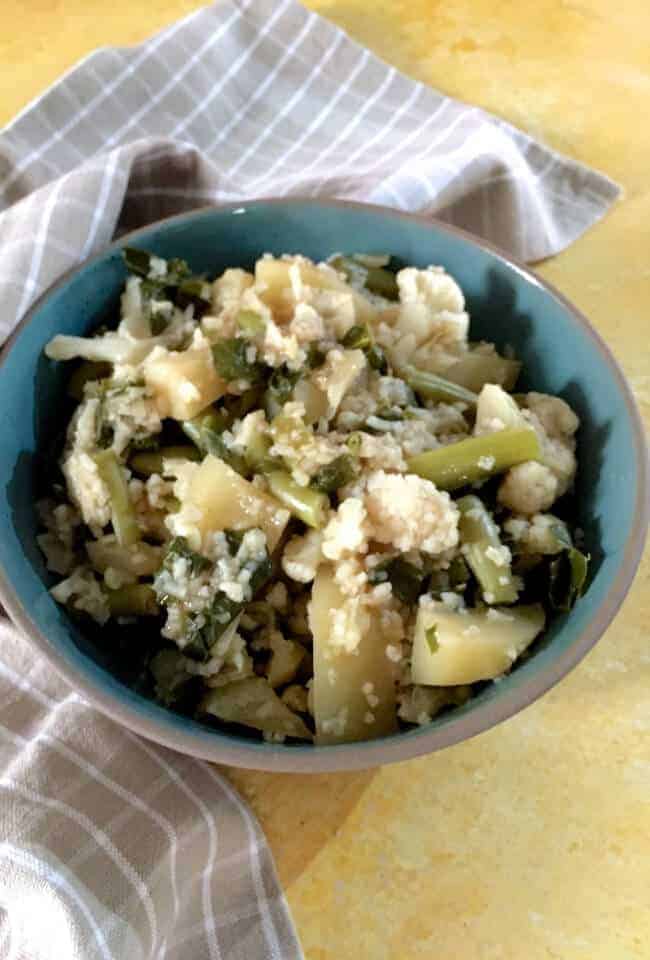 Special Ingredients for making the Mizo Bai
Mizo Bai when made without the ingredients used in Mizoram, would appear bland to those of us used to spices in our food, specially when we make it a vegetable stew. However, the flavours come from the add-on items, most of which are available only in Mizoram or in other regions of the North East. One such is Bekang Um or Akhuni or fermented soya bean, with a pungent sharp smell.
In most recipes I saw online for Mizo bai, one ingredient listed is sodium bicarbonate (cooking soda). The Essential North East Cookbook however, gives as one of the ingredients, a locally made soda, which is described in the book as follows: "Many tribes of the North-East, like the Hmars of Manipur, Garos of Meghalaya, and Bodos of Assam use an indigenously prepared alkaline liquid which they call soda." The cook book goes on to say that this soda is prepared by burning a dried banana tree trunk and then mixing the ashes with water. A hole is made in the container with the ash and water, and the alkaline liquid that percolates through is called soda, and tastes quite different from sodium bicarbonate!.
Another interesting ingredient is the Lengmaser or Lengser, commonly known as Lomba, a plant from the Lamiaceae family, the flowers of which resemble the basil flower or the tulsi flower. The flowers and leaves are said to have a heady aroma which brightens up any dish. If you are interested, here is a nice article on cooking with the flowers of the North East,
The Mizo Chili or the Bird's eye chili or Vaihmarchate (or Thai Bird's eye chili as many of us know it) is extremely hot and adds its flavour to the stew.
 Variations to the Recipe for Bai
There are several variations to the recipe for the Mizo Bai. It may be prepared by just boiling shredded leaves with salt, or various other ingredients may be added. One such item is pork, usually fermented pork. Bai is sometimes made with a kind of pork sauce, pork in mustard. Fermented fish is another possible ingredient, instead of pork. Smoked or fresh pork, bamboo shoots or chicken may also be added to the bai. The Essential North East Cookbook by Hoihnu Hauzel gives a recipe for Mizo bai made with Mizo cheese - this is not a dairy product as one may think, but is fermented pork.
Some vegetables used to make Bai, are, cauliflower leaves, florets and stalks along with potatoes (as in the recipe I have given below), or pumpkin leaves, French beans leaves, spinach, beans, aubergine, okra (ladies fingers).
I have made a very simple vegetable Mizo Bai, following a recipe from The Seven Sisters - Kitchen Tales from the North East, by Purabi Shridhar & Sanghita Singh. This one was fairly easy as it required cauliflower stalks, florets and leaves, potatoes and beans. The recipe required fermented soya bean paste or soda, and instead I used some miso paste, in a probably vain attempt to keep my recipe closer to the authentic one!
Images of Mizo Bai that I have seen online are usually show it with a soup like consistency with greens and veggies floating in the bowl. The recipe I followed was very specific, to cook till the water was absorbed by the rice. I have therefore done the same!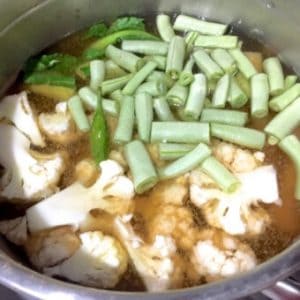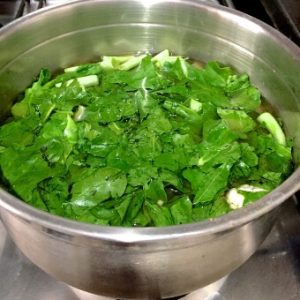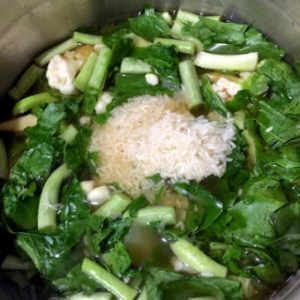 Surprisingly, since the stew had only salt, a green chili and the miso paste to perk it up and I did not have the lengmaser or fermented soya bean paste,  yet it tasted awesome with the rather spicy tamarind based South Indian kuzhambu or gravy I had prepared! If I get hold of some pumpkin leaves, I will try the recipe using them, some bird's eye chili and dry lengmaser.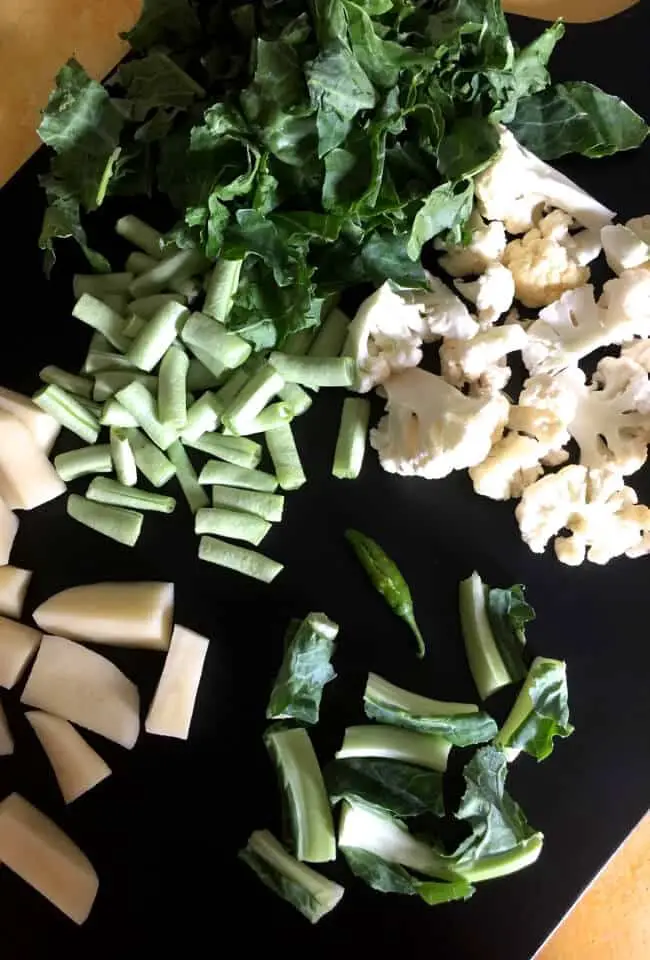 I am a member of the FB group Shh Cooking Secretly Challenge. Every month we are paired up and each of the pair gives the other the names of 2 ingredients, which must fit in with the theme for the month. We then make a dish to fit the theme, using the 2 ingredients given to us. Once the item is ready, we each post an image of the dish, and the rest of the members try to guess the 2 'secret' ingredients! As you can imagine it is interesting and fun.
The theme for March 2019 is Mizoram cuisine, as we have been cooking our way through each of the Indian States. My partner this month is Sharanya Palanisshami. The ingredients she suggested for me were Rice and Cauliflower stalks. The stalks were guessed rather quickly by Renu Agrawal Dongre, but the Rice has not been guessed!.
Sharanya blogs at Sara's Tasty Buds.  Do visit her blog with its many recipes categorized into sections such as Lunch Box, Kongu Recipes, Baked, Eggless etc. For Sharanya, the 2 secret ingredients were onion and tomato, and she made this very tasty looking Mizo Dhal.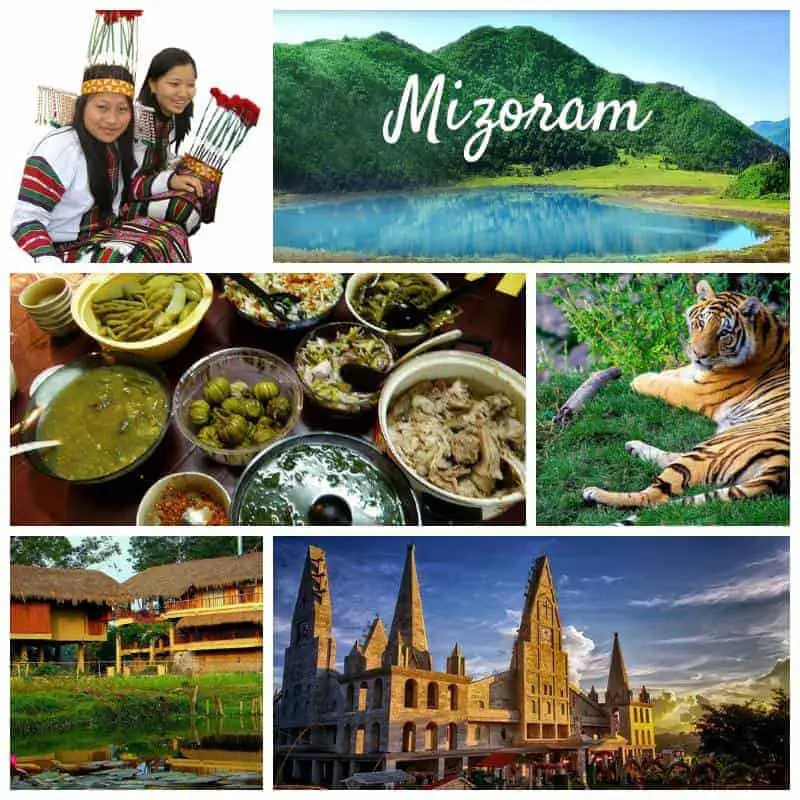 This post has been sent to the event, Shh Cooking Secretly Challenge, with the theme 'Mizoram'.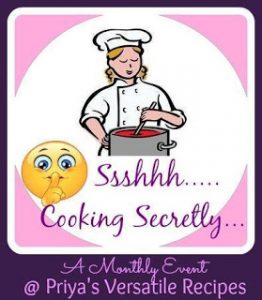 Some other Recipes you may like to try, on  this blog: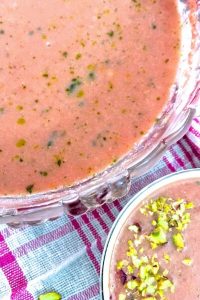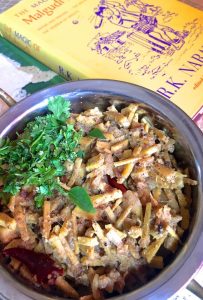 "Recipe"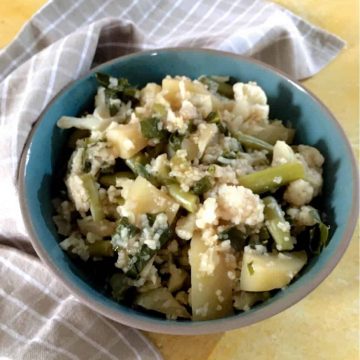 Mizo Bai / Mizoram Rice Vegetable Stew
Mizo Bai from Mizoram's cuisine, an easy vegetable stew of seasonal greens and vegetables boiled with a little salt. North Eastern local ingredients like lengmaser and fermented soya bean paste and the spicy bird's eye chili, add flavour to the otherwise bland stew.
Ingredients  
2

cups

Cauliflower leaves

or Pumpkin leaves and Bean Leaves

½

cup

Cauliflower stalks

or brinjal, ladies finger

1.5

cups

Cauliflower florets

Florets, stalks and leaves together 300 gms

⅔

cup

french beans

(50 gms)

1

potato

1 cup sliced

1

green chili

4

cups

water

1

teaspoon

akhuni (Fermented soybean paste) or sodium bircarbonate

or indigenous soda- see the above post

½

teaspoon

salt

or to taste

2

tablespoons

rice
Optional ingredients if available
1

tablespoon

Mizo cheese

fermented pork

Lengmaser/ Lomba

see above post for details
Instructions 
Preparation
Cauliflower: Wash and shred the leaves after separating them from the stalks. Split thick stalks lengthwise and slice into 1" pieces Separate florets into smaller pieces for easy cooking

Beans: Trim, remove the strings at the sides and slice into 1" pieces Potatoes: Peel and dice into 1" long chunks Green chili: split along its length without slicing into two Rice: Wash, drain and set aside till required.
Making the Mizo Bai
Bring water to boil, in a pan Reduce heat and add the soda or fermented bean paste Add a little salt. The water will froth. Keep the pan on low heat and wait for the frothing to subside.

Add potato slices and cauliflower florets, stalks and leaves. Add the green chili Add the slices of beans and stir it all well. Add the drained rice and again stir.

Raise the heat and bring the stew to a boil. Reduce heat and allow to simmer, stirring frequently, for 15-20 minutes, until the rice is cooked. The vegetables should be tender and the water absorbed. Check for seasoning and add a little more salt if required. Remove from the heat and transfer to a serving dish. Serve hot.