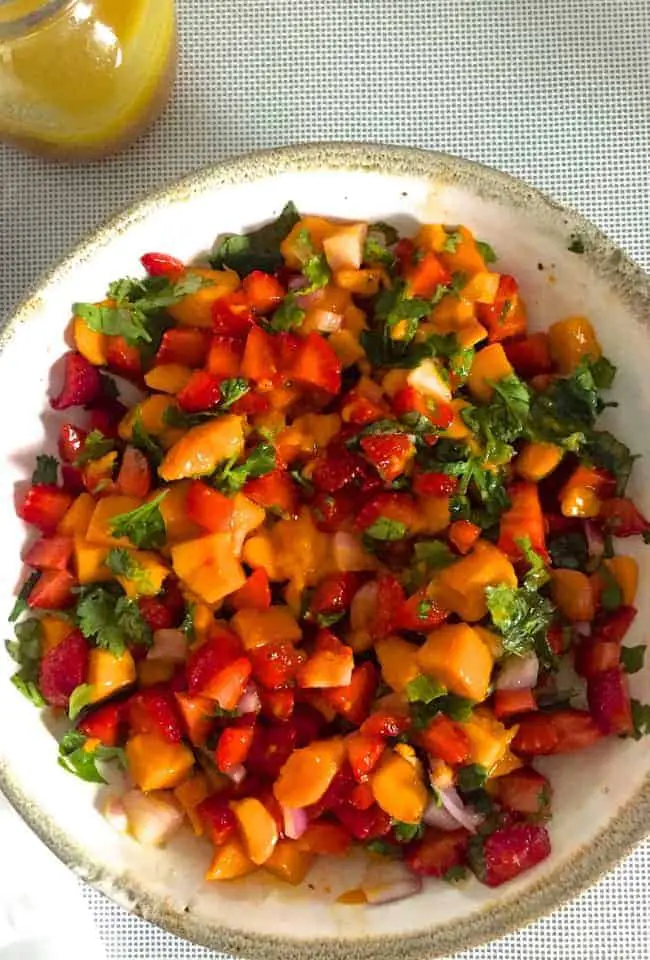 Ingredients for the Salsa
I have mentioned my little balcony herb garden several times over the last year. In spite of the heat of summer, the herbs have thrived. Except for the parsley which died before I could try to do something about it. The sweet Basil though is doing well (touch wood and wish me continued luck in this), so into the ingredients list it went.
Coriander is a herb I usually have, and it goes well in this strawberry mango salsa. Onions of course are essential here.
Pair the mango salsa with a lemon salad dressing, like my garlicky lemon honey salad dressing, the link to the recipe for which, is here. The honey and lemon enhance the flavours of the salsa.
When strawberries are not in season, you could make an mango avocado salsa, and pair it with a chili lemon salad dressing.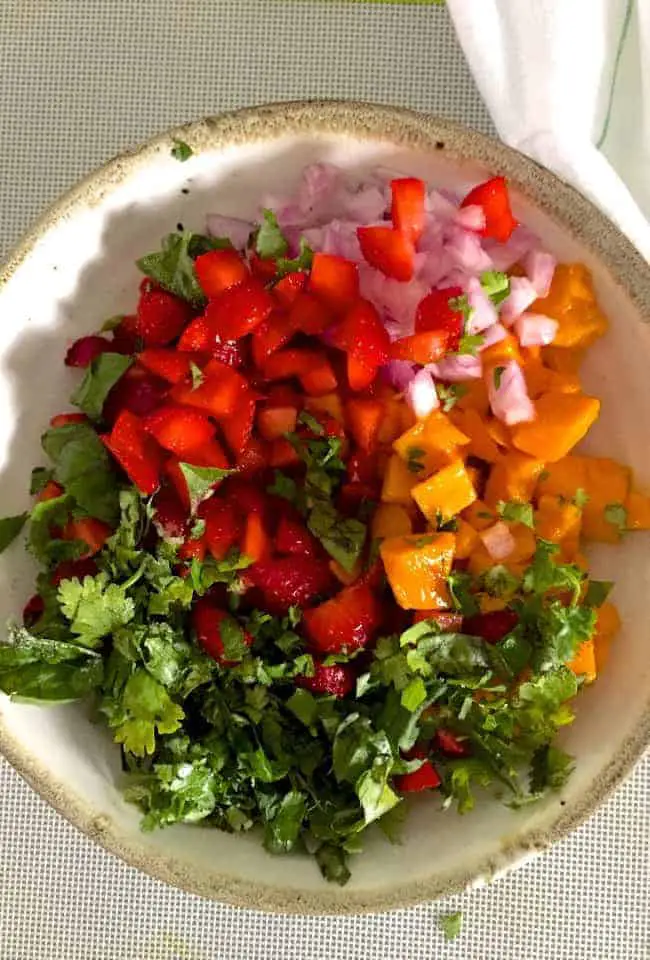 Making Strawberry Mango Salsa:
I've finally ventured into making Food videos. First I made one for the Garlic Lemon honey Salad dressing, but it was quite a disaster and no amount of editing could help it. The short video  below, is for the Strawberry Mango Salsa, and though I have miles to go, I think you would enjoy this one, specially as I show how I cube the mango easily for a mango salad or salsa or just about any recipe using ripe mangoes. It is much less messy than trying to peel the mango and then slicing it, and you don't have the juice dripping merrily all around and sticking to your fingers. Do visit and comment so that I know what you think!
Do subscribe to my YouTube Channel!
The mango season is still here, and I have been lucky enough to source firm sweet ones this year. I have a lot of recipes to make and post before the season is over, and mango jam is definitely on that list.
Other Posts You May Like:
"Recipe"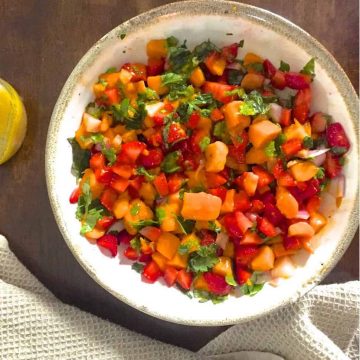 Strawberry Mango Salsa with Lemon Honey Dressing
Easy Strawberry Mango Salsa, with ripe fresh or frozen Mango. Serve as a dip or a salad, with a garlic lemon honey salad dressing. Substitute Avocado and thinly sliced capsicum instead of strawberries. Vegan, Gluten free.
Ingredients  
1

cup

Strawberries

Sliced

1

cup

Ripe Mango

Peeled and cubed

¼

cup

Red Onion

Sliced

1

tablespoon

Basil

shredded

1

tablespoon

Coriander leaves

minced

⅛

teaspoon

Salt

2

tablespoons

Garlicky Lemon Honey Salad Dressing

click the ingredient name for the link to the recipe
Instructions 
Wash and dry the strawberries. Hull and slice them into bite sized pieces.

Slice the mango into 2 cm cubes (do this easily as shown in the video below) or else peel the mango and then dice into cubes.

Slice the onion into thin small pieces.

Wash the basil and coriander leaves and dry them in a salad spinner or gently with a kitchen towel. Mince the coriander.

Place the strawberries in a dry salad bowl.

Add the sliced mango and the onion.

Shred and add basil and add the minced coriander leaves.

Add salt and stir the salsa together gently.

Cover with cling film and refrigerate till you are ready to serve the strawberry mango salsa. Pour 2 tablespoons of the garlickly honey lemon salad dressing, stir it into the salsa and serve.