It's Gokulashtami again and I can't believe how fast the last year has gone. This Vella Seedai from Store Bought Flour was first prepared by me 2 years ago, when I was with my daughter Lakshmi in the USA, and when it was convenient to make bakshanams from store bought rice flour rather than try the traditional method of homemade flour. The post never got written up as I have been busy with something or the other, and other more seasonal recipes got priority on the blog. It is of course quite late for this year too, but I'm going to write and publish the recipe in the hope that it will help those of you who are in time zones where Gokulashtami is still 2 days away, and you are looking for a suitable recipe for Vella Seedai from store bought flour.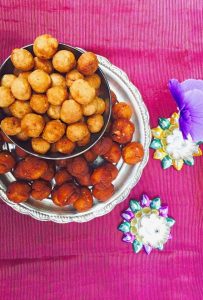 Seedai or cheedai can be daunting to make, but it becomes easy with practice. Of course, these are easier than Uppu seedai which can burst dangerously and scarily, but vella seedai can also split while frying. I have tried to give the instructions in small clear steps so that even if you are making it for the first time, you will be able to turn out a respectable batch of Vella seedai.
Many of the instructions for Vella seedai with store bought flour are similar to that for my Uppu Seedai Recipe on this blog, however I have written them out again here so that you don't have to cross refer from one post to the other. One rule to remember is that while making the Vella seedai, as in the case of uppu seedai, you should use the minimum of water that is feasible, as well as roast the flour and coconut slices in order to reduce moisture content as much as possible. This will reduce the risk of the seedai going to pieces while you are frying them.
Making The Perfect Vella Seedai/ Cheedai from Store bought Flour:
The making of vella seedai feels difficult at first, because proportions and timings depend a lot on the quality of flour and jaggery. Soft jaggery for example, has more moisture and hence needs lesser water in the dough. With practice though, it gets easy. Using minimal water is important while mixing the dough. Roast extra flour so that you can add some if required. Don't add more of the urad dal, keep it at just 2 teaspoons for 1.5 to 2 cups of rice flour.
The flour should be fine and not coarse. Using store bought flour helps, as it is both fine and dry.
Both flours should be roasted separately as in the instructions, on low/medium heat, just for a maximum of 2 minutes (1.5 for the urad dal flour) ie till the raw smell goes away. Longer periods of roasting or roasting till the flour begins to brown, can affect the quality and flavour of the seedai.
Roast the coconut, again lightly, without letting it discolour.
Use minimum required water for making the dough. The drier it is, the better your seedai will turn out.
The dough should be crumbly like bread crumbs, and be able to be brought together into a ball. If it is pasty, it means there's too much water. If this happens, it would be safer to start making dough afresh. If that is not feasible, add roasted rice flour, a little at a time to the dough to get it to crumble.
Ghee/ butter should be just a little as in the ingredients list below. More of it will change the consistency of the dough.
The urad dal gives the colour for the cheedai. The colour is also affected by the jaggery. Darker jaggery gives darker colour.
Make one small batch of vella seedai, check the time it takes to cook, test it for 'doneness' after 5 minutes after removing from the stove, and then cook the remaining batches accordingly.
I'm sure that for you, like me and many others, Sree Krishna Jayanthi / Gokulasthami/ Janmashtami is a festival to look forward to, and when you are able to offer naivedyam of traditional uppu seedai and vella cheedai, all made by you, it feels very good. Not to mention the brownie points you get from family!
Happy Gokulasthami, and I hope your uppu seedai and vella seedai turn out well this year!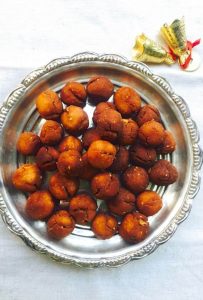 Other Festival Recipes You May Like To Try:
Uppu Cheedai for Janmasthami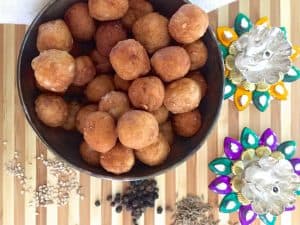 Kesar Badam Halwa / Almond Saffron Sweet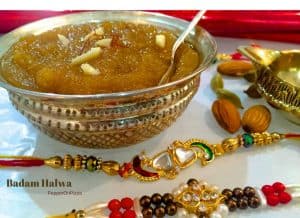 Sundal - Black Eyed Peas Sundal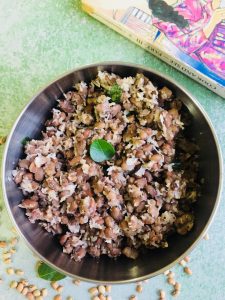 "Recipe"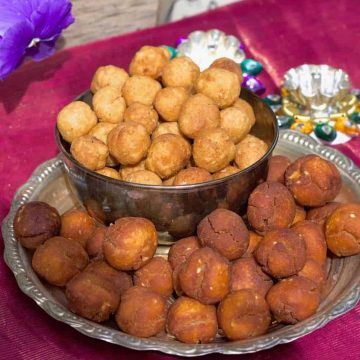 Vella Seedai from Store Bought Flour / Gokulashtami Sweets
Step by step detailed instructions for making Vella Seedai/ Cheedai from Store bought flour. Guide to making the dough correctly and to help reduce risk of cheedai splitting while frying
Ingredients  
For Vella Seedai Dough
2

cups

Rice flour

480 ml

1

cup

Jaggery

240 ml pounded into powder/ soft pieces

½

cup

Water

120 ml as required in instructions below

2

teaspoons

Urad dal flour/ Black gram lentils flour

10 ml

2

teaspoon

White sesame / ellu / til seeds

10 ml

1

pinch

cardamom powder

1/16 teaspoon or from 2 cardamoms

1

pinch

salt

1/16 teaspoon

2

teaspoons

ghee or softened unsalted butter

10 ml

3

teaspoons

coconut pieces

15 ml sliced very thin and small
For Frying Vella Seedai
2

cups

oil

480 ml as required
Instructions 
To Make Vella Seedai Batter
Do read the post above before you start, as it has a guide to making the seedai without it going into pieces or becoming rock hard.

Sieve each of the flours separately and roast each separately in a warm pan (rice flour for about 2 minutes, urad dal flour about 1 minute), until the raw smell has gone. The trick to roasting is to stir frequently, keeping the heat on low/ medium, but remove from the heat and transfer to another bowl, before the flour changes colour/ browns.

Soften the butter/ melt the ghee. I used unsalted butter, and microwaved it for just 20 seconds till it began to melt.

Slice coconut into very thin slim slivers. Slivers/shavings are better than grated fresh coconut as they add texture to the seedai.

Roast the coconut slivers in a warm dry pan for about 1 minute, stirring and keeping the heat on low/medium so that the coconut does not brown. You are just getting rid of excess moisture, not roasting it.

Pound/ Powder the jaggery and place in a small saucepan, adding water just sufficient to cover it. Use minimum possible water, and not more than ½ cup. Reserve any balance water out of the ½ cup to add to the dough as required in instructions below.

Heat the jaggery, stirring so that it just dissolves in the water. Remove from the heat once you have checked there are no lumps. Filter it to remove any impurities. Remember, you are not making jaggery syrup, you just need to dissolve the jaggery well in the water.

In a large, clean, dry mixing bowl, add all the dry items - most of the roasted rice flour, reserving ¼ cup to mange the consistency of the dough in case it has too much water, all of the roasted urad dal flour, cardamom powder, sesame seeds and salt. Mix well. I usually sieve them all together into the bowl (except for the sesame seeds which I add and mix) just as if I were baking. This mixes the ingredients nicely.

Make a well/ hole in the dry ingredients and pour in just half the jaggery water you had made. Add the melted ghee/ softened butter and coconut shavings.

Stir the liquids into the dry flours, adding the rest of the jaggery water one tablespoon at a time, so that you don't add more water than required. Once you have used up all the jaggery water, add the remaining water you had reserved earlier, one spoon at a time just till you get the required consistency for the dough. The lesser water you use, the better the seedai will turn out. The dough should form coarse breadcrumb-like bits. If you don't get crumbs, you may need to add just a little more of the reserved roasted rice flour - maybe one or two teaspoons at the most.

Roll the crumbs into a ball of dough, adding only just enough jaggery water to get the dough to hold together and not break into pieces. If you find the jaggery water and reserved water insufficient, add warm (not hot) water, just 1 teaspoon at a time, till the dough holds together in a rough ball.

Cover the dough and let it rest for about 15 minutes. I let it sit on kitchen paper so that any moisture is removed.
To Roll the Vella Seedai balls
Roll the dough into balls, each about the size of an Indian gooseberry/ amla, or a large marble. The balls should not be patted smooth but be rolled briefly into a ball. Nor should they be pressed into tight little lumps as this will make the vella seedai too hard. Cracks on the surface are fine, good actually, as they will help steam to escape during frying and prevent the seedai from splitting.

Let the seedai balls rest on a kitchen towel for 15 minutes.
To Fry the Vella Seedai
Heat oil in a medium sized frying pan/ bandli/ kadai and add a few of the dough balls gently. Fry on medium heat. After about 30 seconds, turn them over with a slotted spoon. I prefer to keep the heat on low, once the oil has heated well. My first batch usually takes 15 minutes. I turn each seedai over every 3-4 minutes.The bubbles formed will show the steam escaping.

When the seedai begin to darken to brown and the bubbles almost stop, the centres would have been cooked. Remove immediately using a slotted spoon to gently hold the seedai against the side of the pan, so that excess oil is drained. Place the seedai in a colander to drain. As it cools, it hardens and darkens in colour.

Proceed to fry the next batch.

I normally test the first batch, removing the seedai to a colander and waiting for at least 5 minutes. If the seedai has cooked (I check by pressing it with a spoon), I will use the same cooking time for the remaining batches. As the vella seedai is usually made as Naivedyam for Shri Krishna, I do not taste it while making it.

Once the seedai have cooled, store in an airtight box. They taste better a day after they are made, so ideally make the vella seedai the day before Krishna Jayanthi.