This easy to make and delicious Gajar Gobi Shalgam Achar gets an interesting twist with the addition of raw turmeric root. All the vegetables involved, viz. Carrot, Cauliflower, Turnip and Turmeric are plentifully available and at their best in winter, when the lovely red 'Delhi' carrots are on sale with every vegetable vendor. Though summer is making its presence felt, its not too late to make a large jar of this pickle and store it for the months ahead.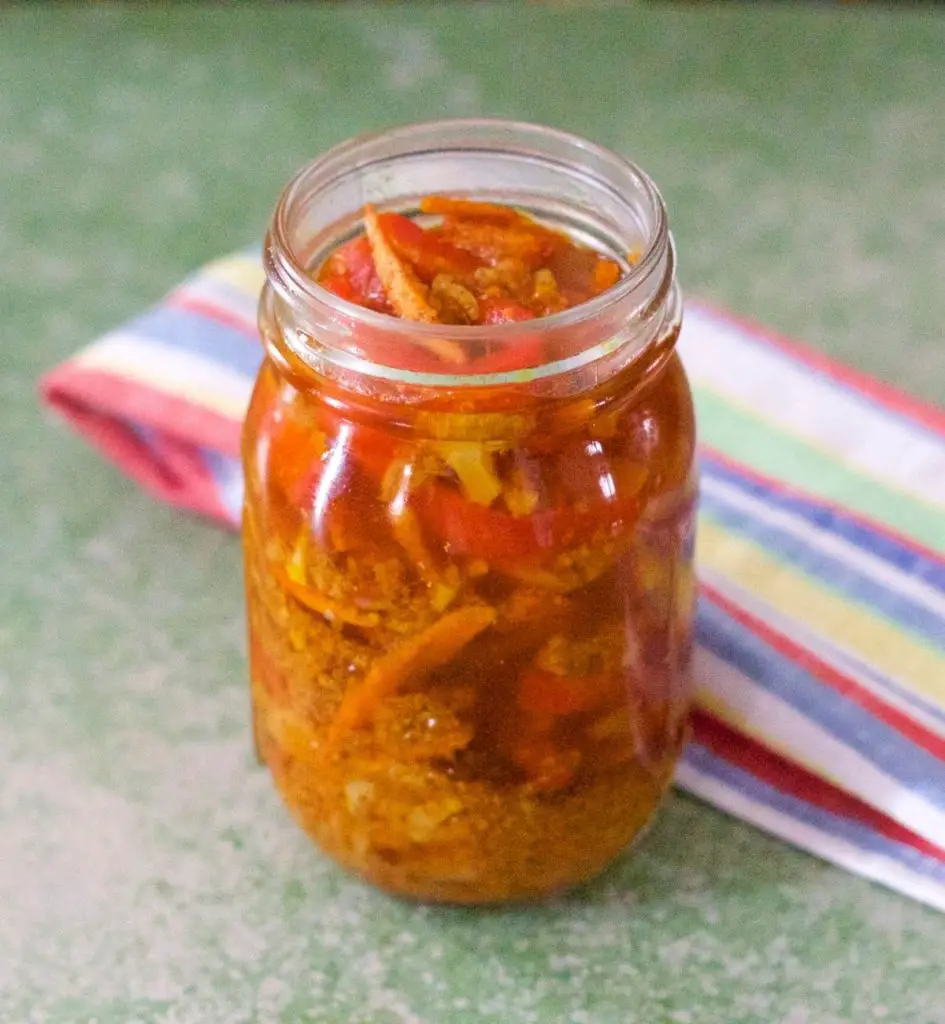 I have been wanting to make Gajar Gobi Shalgam Achar for years, but never had the courage. I don't know why pickling scares me so much, when I'm able to make jams with ease and bake bread with impunity. The recipe that Sid Khullar of Chef at Large recently gave me, and which was generously shared by his mother, Ms Vinny Khullar, is so easy to follow and the pickle turned out so uber delicious, that I really regret not having got hold of the recipe much earlier. I added some fresh raw turmeric root and found that it fitted in very nicely with the carrot, turnip, cauliflower combination.
The gajar gobi shalgam achar invokes a lot of nostalgia. My brother Venkatesh and I were staunch attendees at every Pongal cricket Test match at Chennai's Chepauk Stadium, and the responsibility for bringing food for the boys from our colony who spent the night in queues for tickets and for the best seats at the D stand, was ours. Chapati and cabbage rolls, lemon rice, curd rice were staples. For one such match, my aunt, Annammal Periamma who happened to be visiting from New Delhi, made us a large stack of sandwiches from her hoard of this pickle. Periamma was an amazing cook and she passed on many of her recipes and culinary secrets to my mother.
I haven't forgotten the taste of Periamma's gajar gobi shalgam achar, and Ms Vinny Khullar's recipe brought back just that melody of taste, texture and aroma. Thank you Ma'am for helping me recreate golden food memories!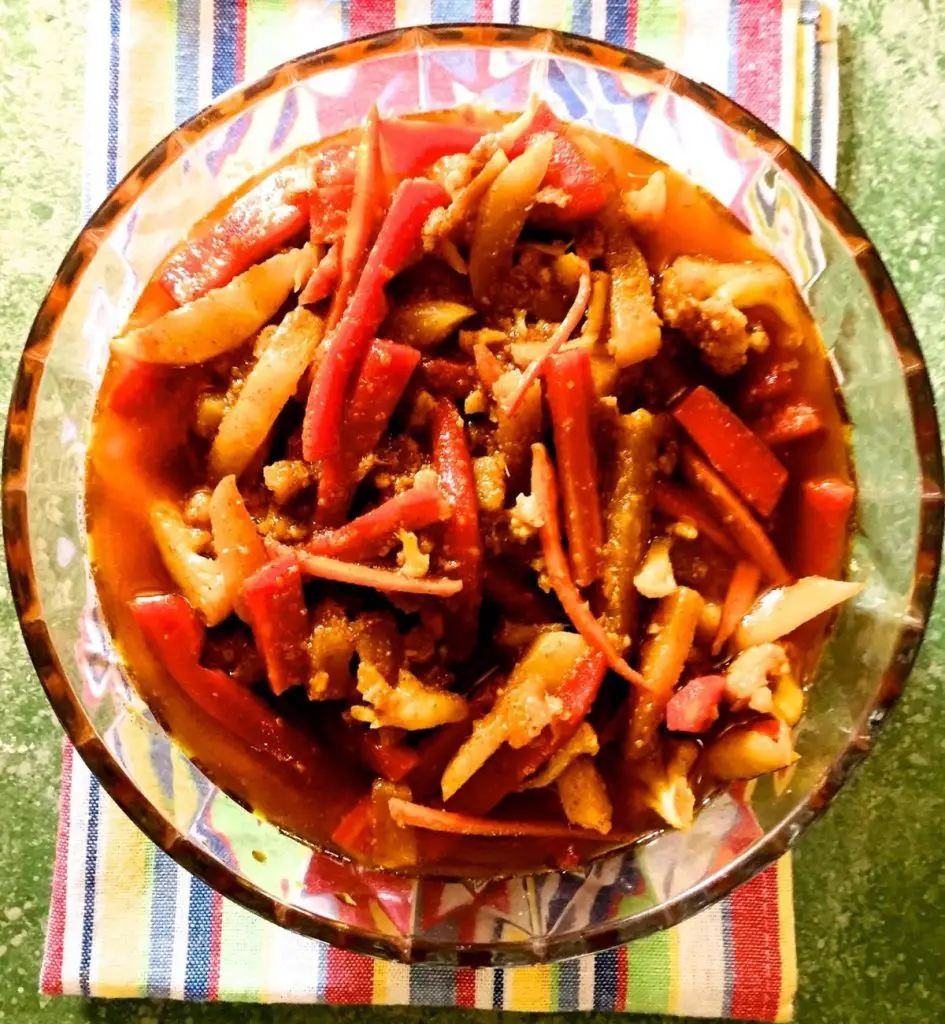 Making Carrot Cauliflower Turnip Pickle
Mustard oil is the best for this pickle and adds to its authenticity. The oil has to be heated till it just begins to smoke, and then taken off the heat and allowed to cool for a few seconds before pouring into the pickle.
For best results, use good quality mustard oil and fresh ingredients instead of processed/ store bought, such as fresh garlic and ginger, for making the pastes required and freshly ground black pepper.
There are alternative ways to make this achar. As directed by Ms Khullar's recipe, I covered the blanched vegetables and let them sit overnight. Other recipes for this achar advise keeping it in the sun for several hours. I haven't tried that method yet.
I have deviated from the recipe given to me in the following aspects. One was to add raw turmeric slices. The other was to add a little rai kuria /mustard dal along with the other spices, to add that touch of tanginess. As black pepper is believed to help in the absorption of curcumin (from the turmeric) by the body, I have included a little ground black pepper powder too. This article in healthline explains some of the benefits of turmeric.
Rock salt/ crystal salt is traditionally used in this pickle. I have added Himalayan Pink salt, but any crystal/rock salt would be good.
Other Recipes You May Like
"Recipe"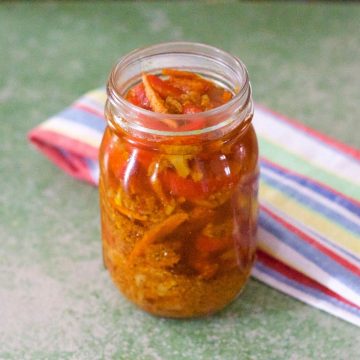 Gajar Gobi Shalgam Achar with Fresh Turmeric
Carrot Cauliflower Turnip Pickle with fresh Turmeric root, blanched and cooked in hot mustard oil and spices with vinegar and jaggery
Ingredients  
For Preparing the Vegetables
250

gms

Cauliflower Florets

250

gms

Carrot

250

gms

Turnip/ Shalgam

50

gms

Fresh Turmeric root

1

litre

Water

or sufficient quantity to blanch the vegetables
For Vinegar Jaggery Mixture
120

ml

Apple cider vinegar

Or white vinegar ½ cup or ¼ bottle

50

gms

Jaggery
Other Ingredients for Gajar Gobi Achar
¼

litre

Mustard oil

1

tablespoon

Fresh Garlic Paste

About 10 cloves of garlic, peeled, ground to a paste without water, about 20 gms/ 1 heaped tbsp

1

tablespoon

Fresh Ginger Paste

About 1 inch piece of ginger, peeled, ground to a paste without water, about 20 gms/1 heaped tbsp

1

tablespoon

Yellow mustard powder

Freshly ground from yellow mustard seeds

1

teaspoon

Mustard dal/ rai kuria

Skinless mustard seeds, ground

1

tablespoon

Red chili powder

¼

teaspoon

Black pepper powder

Freshly ground

½

tablespoon

Garam masala

Mixed Spice powder

2

teaspoons

Salt

I used Himalayan Pink salt but any rock salt may be used, 1 -2 teaspoons as per taste
Instructions 
Preparation
The process of making the pickle spreads over 2 days, with the vegetables being left to stand/rest overnight.

Wash, dry, peel and slice the carrot, turnip and turmeric into thick batons/sticks of a uniform size, the size you want the pickle to be. Recommended about 1" in length and ¼" thick. Wash, dry and slice the cauliflower into florets of a similar size, about 1" in length and ¼" thick.

Bring water to boil in a large pot. Add the sliced vegetables (except the turmeric slices as they would colour the water). The vegetables should be completely covered in the water. Blanch for 5 minutes, keeping the heat on high.

Remove, drain and dry by patting gently with a kitchen towel.

I have not blanched the turmeric but have added them raw, to the pickle. If desired, they may be blanched in boiling water for 3 minutes after the other vegetables have been removed, and then drained and dried.

Place the blanched vegetables and turmeric slices in a bowl and let it stand at room temperature, covered, overnight. The original recipe recommends the vegetables be dried in the shade or under the fan, overnight.

Peel garlic and ginger, grind each separately to a paste, without adding water. I have not used store bought paste as I wanted the freshest ingredients to go into this pickle.

Grind (without water) mustard into a powder, and then the mustard dal/ rai kuria also into a powder.
Making Gajar Gobi Shalgam Achar with Haldi
In a pan, on low heat, add vinegar and jaggery. Boil the mixture till the jaggery has dissolved. Set aside till required

In a pan large enough to take all the vegetables, heat mustard oil until it just begins to smoke. Take off from the heat for a few seconds for it to cool slightly, and replace on the heat.

Add ground ginger and garlic paste, saute for 1 minute, stirring frequently so that they do not catch at the bottom of the pan.

Add the spices one by one: mustard powder, rai kuria, chili powder and garam masala, black pepper powder. Saute for one minute.

Add 1 teaspoon of salt, stir. After adding all ingredients as below, taste for salt and add more if required.

Add the blanched vegetables and stir so that the vegetables are well coated in oil and spices. Saute for about 2 minutes, stirring frequently.

Add the vinegar jaggery mixture. Taste for salt and add a little more if required.

Bring to a boil and remove the pan from the heat.

Once the pickle has cooled, add to sterilised bottles, wiping off the mouth of each bottle with a dry kitchen towel.
Nutrition
Serving:
30
gms
Calories:
22
kcal
Carbohydrates:
4
g
Protein:
1
g
Fat:
1
g
Saturated Fat:
1
g
Sodium:
160
mg
Potassium:
111
mg
Fiber:
1
g
Sugar:
2
g
Vitamin A:
1338
IU
Vitamin C:
6
mg
Calcium:
12
mg
Iron:
1
mg