Memories of winter evenings at Kharagpur, with my mother making phulkas on a cowdung cake chulha, and we children sitting in a semi-circle, with plates of salad and bowls filled with this delicious Cabbage Kootu, impatiently waiting for the next hot phulka to land on our plates. Cabbage can be tasty too, and this easy stew with coconut paste can be a great addition to your vegetable curries.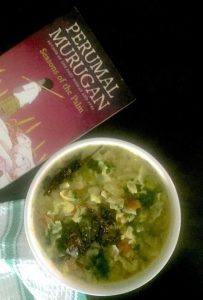 The traditional cabbage kootu is a little thick and the grains of lentils/ dal are visible and other vegetables are not usually added. This version is not quite as my grandmother would have made it as it is more fluid, and I think it is more pleasing to the eye and the palate as the vegetables add colour and texture, and the lentils are mashed into the stew.
The addition of other vegetables such as capsicum, broccoli, potato and green peas adds to the flavour and nutrient value. An easy way to get your family to eat vegetables (and to ask for more).
Making Cabbage Kootu with Vegetables:
1. You can add firm vegetables of your choice to make the kootu nutritious as well as tasty, while keeping the cabbage as the main ingredient. I have found that potato, green peas, capsicum / coloured peppers and broccoli keep the kootu flavourful and with a nice texture. A little tomato breaks the monotony of the green colours with a tiny splash of red. Avoid soft vegetables such as brinjal, zucchini and gourds as they make the kootu mushy.
2. Grind the coconut paste really well and keep it thick, adding just as much water as you need for grinding the ingredients. Ginger is not a traditional ingredient but I like the flavour it adds.
3. Add just a little turmeric, keep the cabbage kootu green and fresh looking.
4. Dry Red chilies give that zing  to the tempering.
5. As in the instructions, cook the lentils/ dal really soft and mash well before mixing with the coconut paste and adding to the cooked vegetables.
Cabbage Kootu can be prepared with just cabbage alone, but the addition of the vegetables as in my recipe makes it delicious, plus you know you are adding nutrition with every spoon. Goes well with rice and sambar, kozhambu or dal, or with roti.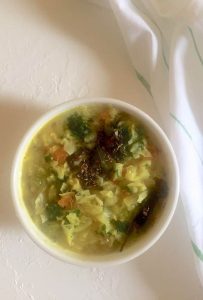 Other  Tamil cuisine Recipes You May Like to Try on this Blog:
Keerai Kootu / Amaranthus Greens with Lentils and Coconut Paste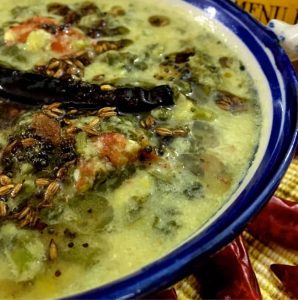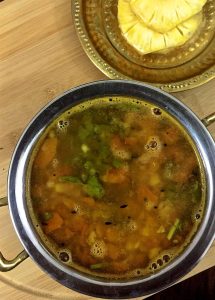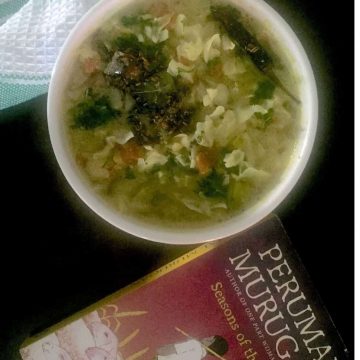 Cabbage Kootu / Cabbage Vegetable Lentil Coconut Stew
Simple easy Cabbage kootu, a traditional Tamil recipe of cabbage stew with cooked arhar dal / pigeon pea lentils and a coconut cumin chili paste, enhanced with winter vegetables and a touch of ginger. Tempered with mustard seeds and cumin in coconut oil.
Ingredients  
For the Cabbage Kootu
2

cups

cabbage

chopped small

¼

cup

broccoli

chopped small

¼

cup

green capsicum/ coloured peppers

chopped small

¼

cup

potato

diced 1" slices

¼

cup

pigeon pea lentils/ arhar dal / towaram paruppu

1

pinch

turmeric powder

for the lentils

¼

cup

Peas

shelled

¼

cup

tomato

sliced

1

pinch

turmeric powder

⅛

teaspoon

salt

or to taste
For the Coconut spice paste:
1

cm

ginger

sliced

1

green chili

sliced

2

curry leaves

¼

cup

coconut

grated

½

teaspoon

Cumin seeds

¼

teaspoon

Black Peppercorns
For tempering:
½

tablespoon

coconut oil

¼

teaspoon

Mustard seeds

rai/ kadugu

¼

teaspoon

Cumin seeds

/jeera/ jeeragam

a

pinch

Fenugreek seeds

/ methi/ menthiyam

1

dry red chili

a few

curry leaves
Instructions 
Prepare the vegetables and lentils
Pressure cook the potato, peel and dice into cubes about an inch in length. Pressure cook the dal with a pinch of turmeric, till soft. I usually place the potatoes in the cooker with the dal, in a separate bowl.

Wash the cabbage, broccoli, tomato and capsicum well. Chop the cabbage into very small pieces and dice the other vegetables into small pieces to a uniform size so that they cook quickly. Only the potatoes will be kept at a larger size. Soak the peas in a cup of water till ready to use.
To Make Coconut Spice Paste
Grind the grated coconut, sliced green chili, cumin seeds, peeled sliced ginger, pepper corns and just 2 curry leaves with enough water to make a smooth thick paste. The coconut should be ground well.
To Make the Cabbage Kootu
Boil the cabbage and peas in a pan with water just covering the surface, and a pinch of turmeric, just sufficient to cook the cabbage, till almost done.

Add the cooked diced potatoes, capsicum, tomato and broccoli. Cook for 5 minutes

Mix the cooked paruppu/ dal/ lentils and coconut paste together and whisk/mash till the dhal combines nicely with the paste. Add the mixture to the pan of vegetables. Add salt, cook for another 5 minutes. Keep the Kootu a little fluid, not thick and dry.

Heat the coconut oil in a small pan. Add mustard seeds and when they crackle, add fenugreek / methi seeds. Add cumin seeds. Add one dry red chili. Turn the chili over so that both sides are fried. Add curry leaves and immediately pour the tempering on the prepared cabbage kootu. Garnish with coriander leaves.

Serve hot with chapatis. Goes well with rice and  rasam or vathalkuzhambu (spicy tamarind soup)