Though the heat of the summer has been blistering, making it difficult to enter the kitchen, yet the season has its compensations. Bright green raw mangoes can be turned into so many tasty recipes, each being quick and easy to make. Raw Mango Rice or Mangai Sadam is a favourite with its sharp and tangy flavours.
[ultimate-recipe-jump text="JUMP TO RECIPE"]   [ultimate-recipe-print text="PRINT RECIPE"]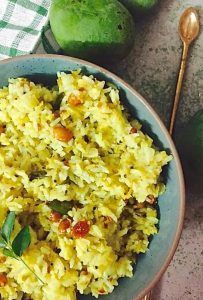 Making the Raw Mango Rice
When making Raw Mango Rice or Mangai Sadam, the only effort needed is to grate the mangoes. As the zero pesticide mangoes that I had bought from First Agro Farms, were fresh and supple, I washed them well and retained the peel, giving the rice a greener look than if the peel had been removed.
In most vegetables and fruits, there is nutrition in the peel and just below it, hence I try to retain the peel wherever possible. I read an interesting article recently, on why the Mango skin is to be eaten and not discarded.
You could slice the mango into small cubes, when making Raw Mango Rice or Mangai Sadam, but the Tamilian version that I make is better when you grate the mango. If you use a large box grater, then it takes only a few minutes.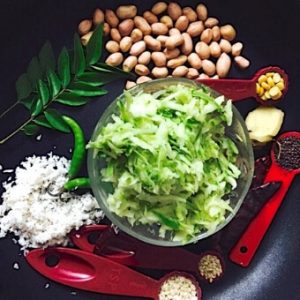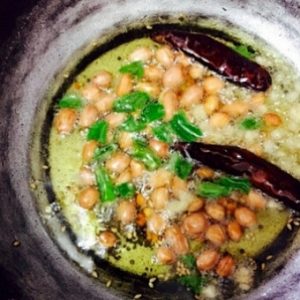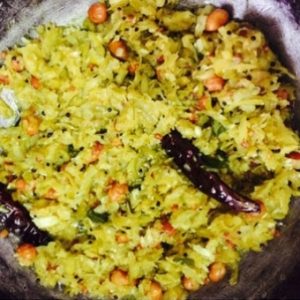 Raw Mango Rice or Mangai Sadam Health Benefits:
As the grated mango is cooked just briefly in this recipe, it retains most of its nutrients. Some of the health and nutrition attributed to mangoes are:
The mango is rich in dietary fibre as well as in various vitamins and minerals. A good source of Vitamin A, vitamin-B6 (pyridoxine), vitamin-C and vitamin-E and in flavonoids like beta-carotene, alpha-carotene, and β-cryptoxanthin. It has more Vitamin C content than the ripe mango fruit. Vitamin C helps increase the elasticity of blood vessels and promotes the formation of new blood cells. It aids the absorption of iron and prevents bleeding tendencies besides increasing the body resistance against TB, anaemia, cholera and dysentery.
Mangoes also contain potassium, copper and magnesium as well as small amount of various other minerals. It is low in Saturated Fats, Cholesterol and Sodium.
The mango peel is rich in phyto-nutrients, such as the pigment antioxidants like carotenoids and polyphenols. Of course there are two sides to this question – though the mango peel has nutritious and health benefits, there is the risk of pesticide residue lingering on the peel. Here are some of the pros and cons of having the mango with the peel: healthline
Green raw mangoes are a rich source of pectin and are sour in taste because of their oxalic, citric, malice and succinic acid content.
Cancer Fighting properties:
Mangoes contain poly-phenolic flavonoid antioxidant compounds, and recent research suggests that  mango fruit has been found to protect from colon, breast, leukemia and prostate cancers. Research also suggests that polyphenolic antioxidant compounds in mango are known to offer protection against breast and colon cancers.
The Raw mango has more antioxidants than ripe mangoes. These antioxidant properties protect the body against cancer and cardiovascular disease.
You may like to try other recipes on this blog:
Puliyodharai made from Pulikachal – a Tamil cuisine recipe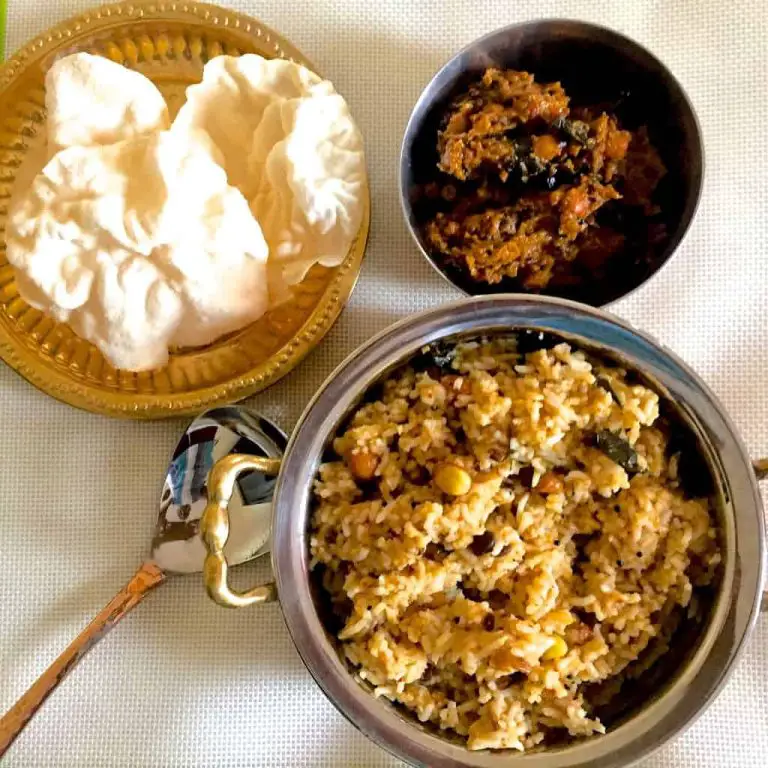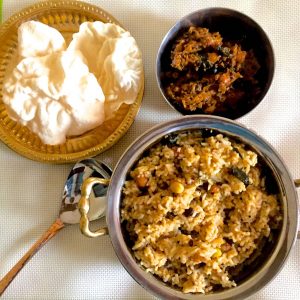 Lemon Rice – easy to make and so delicious!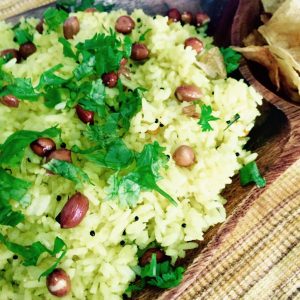 Matar ki Tehri – a traditional recipe of rice cooked with fresh peas, from Eastern Uttar Pradesh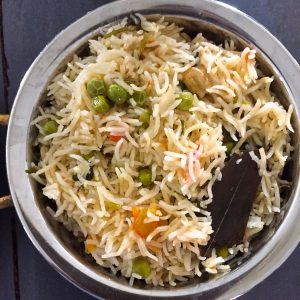 SaveSave
SaveSave
SaveSave
SaveSave
SaveSave
SaveSave
SaveSave
SaveSave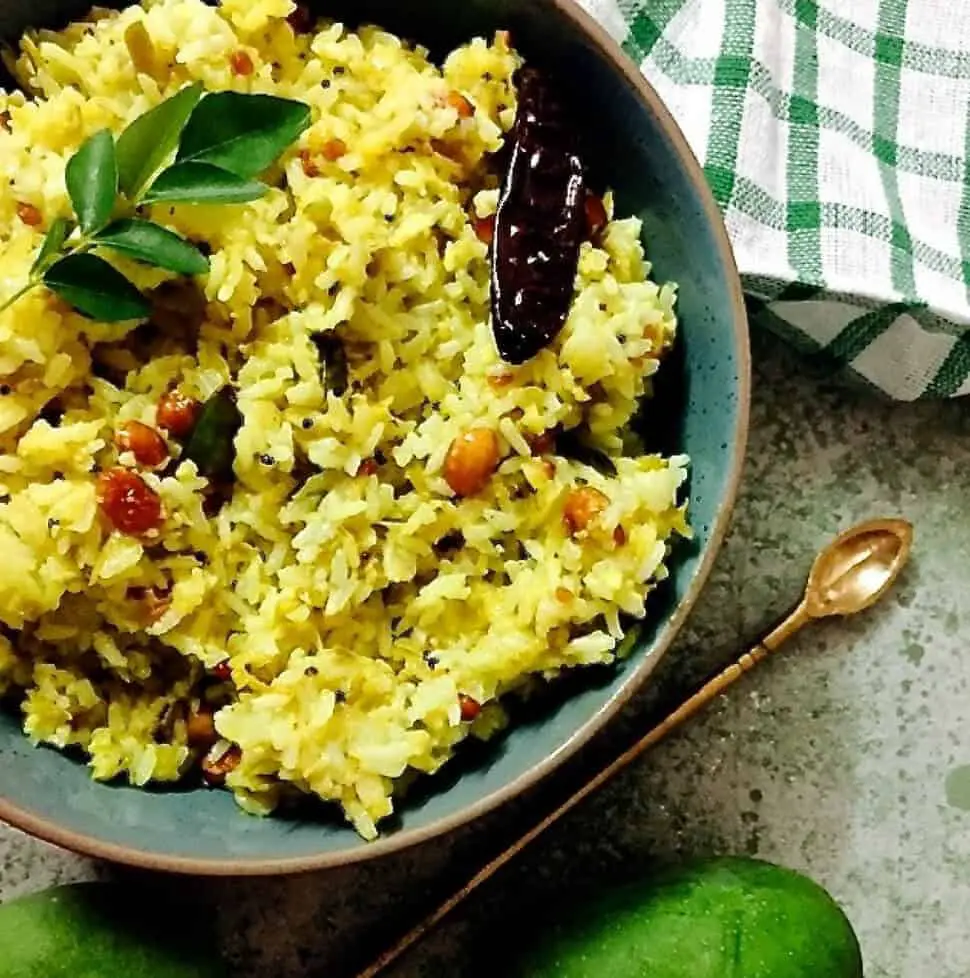 Mango Rice - How to make Raw Mango Rice or Mangai Sadam
Tangy and tasty raw mango rice or mangai sadam, Tamil style. Grate the mango with the peel and add peanuts and coconut for greater flavour and nutrition.
Print Recipe
Ingredients
2

cups

cooked Rice

1

cup

Raw mango Grated

1.5

tablespoons

Sesame oil / gingelly oil

-

Or sunflower oil

1/2

teaspoon

Mustard seeds

-

/rai / kadugu

1/8

teaspoon

Sesame seeds

-

/white til/ ellu

1/2

teaspoon

Split bengal gram lentils

-

/chana dal/ kadala paruppu

1/2

teaspoon

Split black gram lentils

-

/broken urad dal / ulutham paruppu

2

dry red chilli

2

Green chillies

1

teaspoon

grated fresh ginger

1

tablespoon

curry leaves minced

1.5

tablespoons

peanuts

1/4

teaspoon

turmeric powder

1/8

teaspoon

asafoetida powder

-

/hing powder/ perungaiyam

to taste

salt

2

tablespoons

grated coconut
Instructions
Pressure cook the rice for 2 whistles, keeping it slightly moist but not watery or soggy. When done and the cooker has let off steam, spread the cooked rice on a plate so that it does not become sticky.

Preparation: While the rice is cooking, wash the mango well and grate it along with its peel (see the introduction above on the advantages of keeping the peel). Mince the ginger, the curry leaves. Slice the green chilies. Remove the stalk from the red chilies. Grate the coconut. Measure the mango and all the other ingredients so that they can be added quickly without risking burning them on the stove.

Heat the oil in a pan. Add mustard seeds, and after they crackle, add the sesame (ellu/ til) seeds. Sauté for 5 seconds while the seeds crackle. Add kadala paruppu (chana dal). Sauté for 5 seconds on low flame and add the ulutum paruppu (urad dal). Sauté without letting the lentils blacken or burn.

Keeping the stove on low flame, add the dry red chili. Turn them over so that they fry uniformly. Add the green chili slices and scald them. Add the grated ginger, sauté, and add the curry leaves. I always mince curry leaves as they have a high nutritional value and otherwise they get discarded on the plate.

Add the peanuts, sauté for 2 minutes or till they are nicely browned and fried. Add turmeric powder and then the hing powder, sauté for 2 minutes till the raw smell of the turmeric has gone.

Add the grated mango, stir and turn it so that it is all covered in the spices and oil. Add grated coconut and salt and sauté for 2-3 minutes till the mango is cooked soft.

Add the cooked rice, and still keeping the stove on low, stir the rice gently for 3 minutes or so, without breaking or mashing the rice, until it is mixed with the mango and spices.

Serve hot with microwaved or roasted pappads and with a simple pachadi or raita. Tastes good when packed in the tiffin box to be had at room temperature.