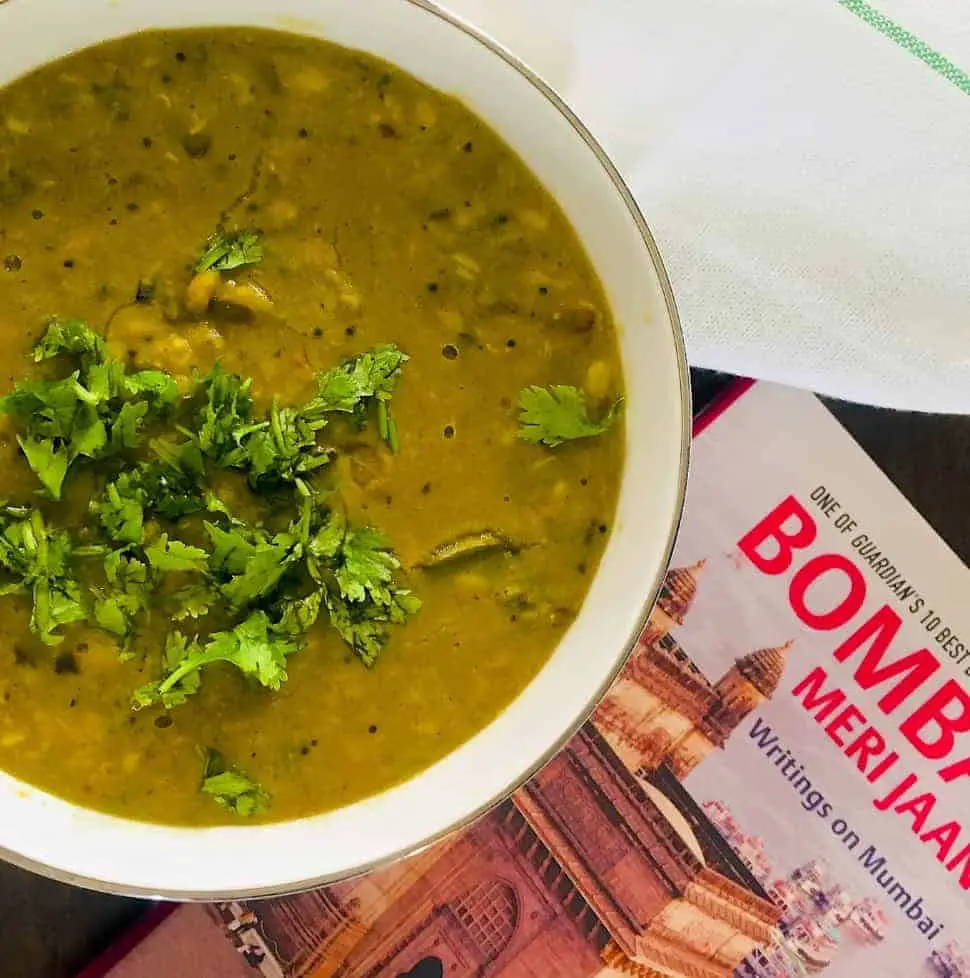 Before you ask me why I call it Amti Dal, when Amti would suffice, it's because many of us may not recognize Amti, but all or most of us know what Dal is. (And another compelling reason, well, the bloggers nemesis, SEO. But lets not talk much about that!). Amti, however, as I understand it, is a little thinner than a North Indian dal, and apart from being seasoned with spices and condiments, also has tangy flavours from kokum or tamarind. But, as Kaumudi Marathe explains in 'The Essential Marathi Cookbook' its not such a simple definition. Kadhi, buttermilk thickened with gram flour, she says, is actually an amti and some people call thick amti as varan (which is usually the thick dal from split pigeon peas or other split lentils).
After much serious reading, I've concluded that this Maharashtrian Amit Dal with Goda Masala, is in fact an amti, not very thick, seasoned with spices, flavoured with kokum and jaggery and also with the traditional Maharashtrian Goda Masala, a bit of coconut too, and therefore as authentic a recipe from Maharashtra's cuisine as I could identify.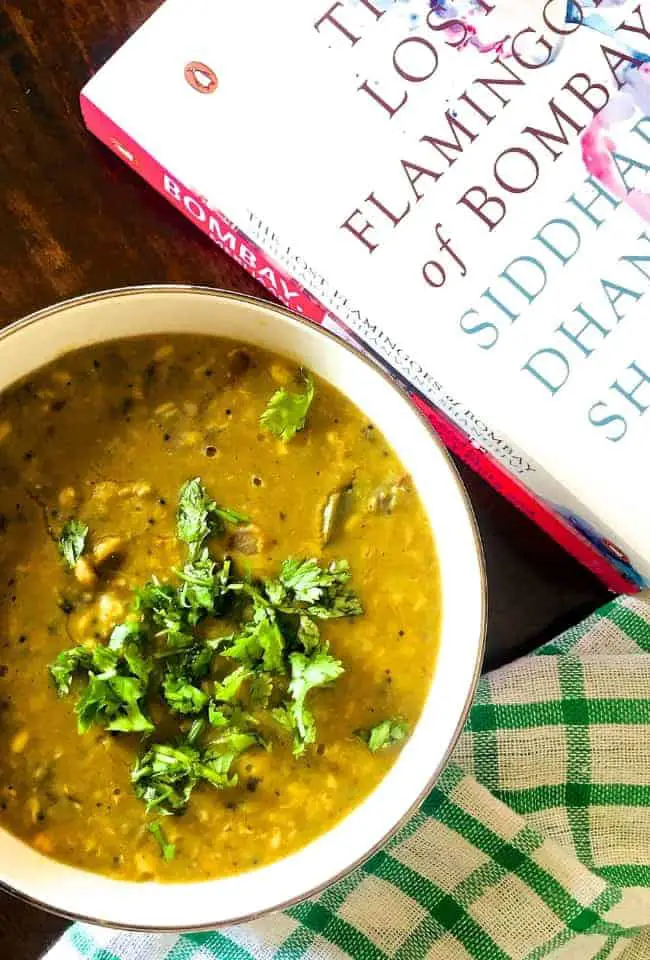 The Goda Masala in this recipe is store bought. I wanted to make it from scratch but needed to get Dagad Phool /Patthar Phool/ Stone Flowers/Rock Flowers, as well as Nagkesar/ Cassia buds both of which were required in the recipe I tracked down. Of course there are many recipes for making Goda Masala, but I had to freeze on what felt most authentic to me. As this post on 'Maharashtrian Amti Dal with Goda Masala' had to be published before the month end for the Sshh Group Maharashtrian cuisine theme, and as the Stone flowers would be delivered too late for that, I had to give up at least at present, the plan for homemade Goda masala.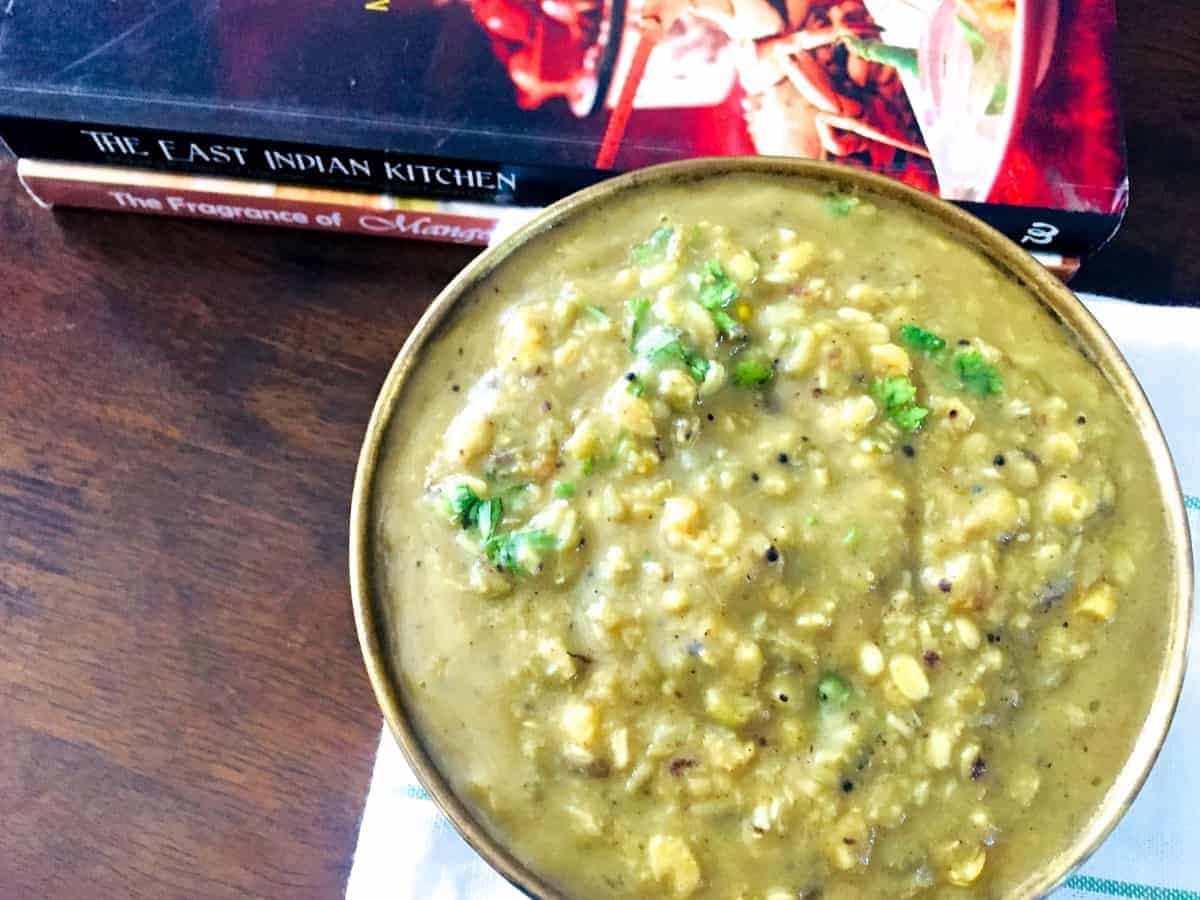 This Maharashtrian Amti Dal with Goda Masala is of course only one small dish from Maharashtra's vast culinary collection, what with its different regional cuisines including from Konkanastha Brahman, Saraswat Brahman, Maratha, Kayastha, Koli fishing and boating community, Konkani Muslims and Malvani Muslims, East Indian Christians, Bene Israeli Jews, Kolhapuri, Konkani and more.
The Amti may be made with just Tuvar dal, but I have gone for a Five Lentil one - Pach Dalinchi Amti as detailed in The Essential Marathi Cook Book that I mentioned above. I have deviated from the recipe in the book though, not only in the quantities and proportions, but by adding coconut as well as goda masala. The flavours were amazing. I had it with rice and ghee and a dry bhindi sabzi, but it would be good with roti too. This recipe would make for a great slow cooked amti, but instead I soaked the dals for an hour and then pressure cooked it. After that it took only a short time to make. Remember to soak the kokum in warm water so that its easy to crush it and add it to the dal as in the instructions below. Onions and/ or jaggery may be omitted if you choose.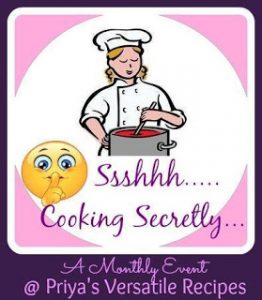 The theme for the Shh Cooking Secretly Challenge Group, for November, is Maharashtra's cuisine. We have been making our way thought one Indian State after another, cooking our way through. As usual, each of us was partnered with another and we exchanged the names of 2 ingredients suitable to that months theme. My partner Archana Gunjikar Potdar suggested simple ones: chilli and oil, and that gave me a lot of scope to choose what I should make and write about. As I wanted to make something typical to the State, I decided finally on the Maharashtrian Amti Dal with Goda Masala. I posted the image of the dish on our FB Group, and the others had a hard time guessing the 2 'secret' ingredients, though of course they finally got it right! Its difficult to guess ingredients like oil and salt!
Archana blogs at The Mad Scientists Kitchen (don't you love that name? I do!). When you visit her site, you will see that it has a lovely collection of recipes from Indian as well as World cuisine. Check out her delicious looking Qorma-E-Sabzi and the Sugar Free Dates Rolls, to start with! For this theme, I suggested Tamarind and salt as Archana's secret ingredients, and she turned out this Chinch Gula Chi Bhendi Bhaji. Not your simple Bhendi ki sabzi, this easy stir fry has all the typical Maharashtrian ingredients of  goda masala, tamarind, coconut and peanut powder, raising it to a very special curry indeed.
Making the Maharashtrian Amti Dal with Goda Masala, 5 types of Lentils, tempered with mustard, turmeric, asafoetida and curry leaves, and Seasoned with kokum and coconut: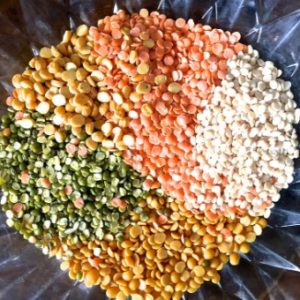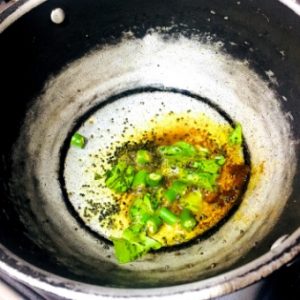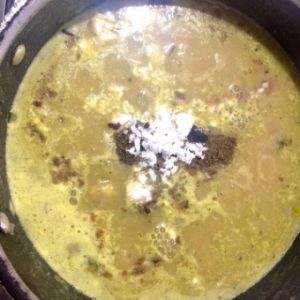 Other Lentil Based Recipes From This Blog:
Arhar ki Khatti Dal Lucknowi with Peanuts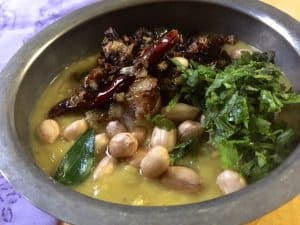 Kothavarangai Paruppu Usili -Cluster Beans Dal paste Curry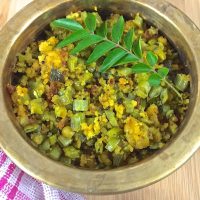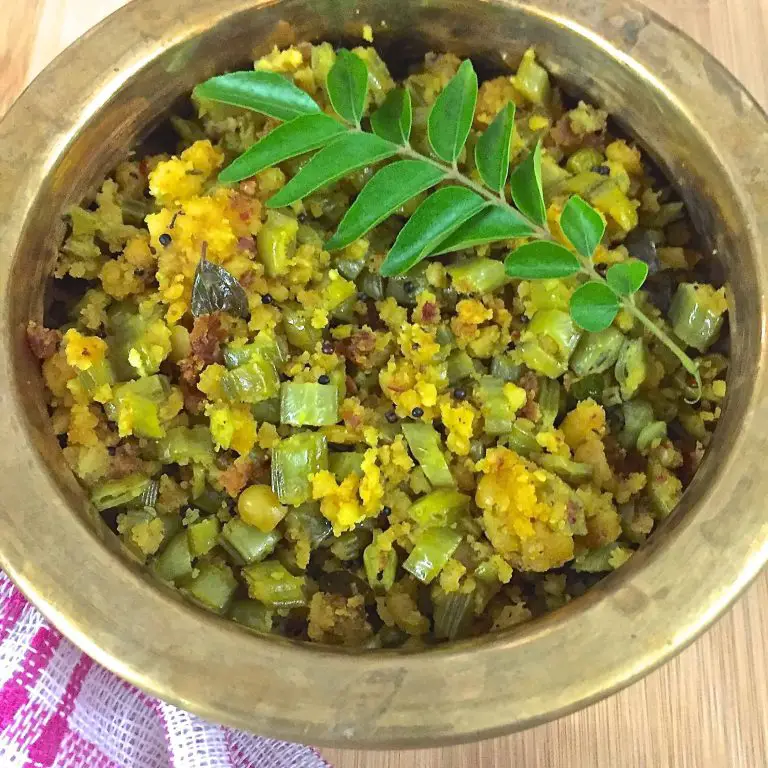 Arhar Dal Palak/ Spinach Lentils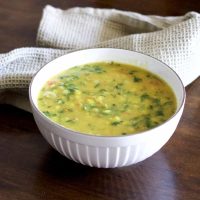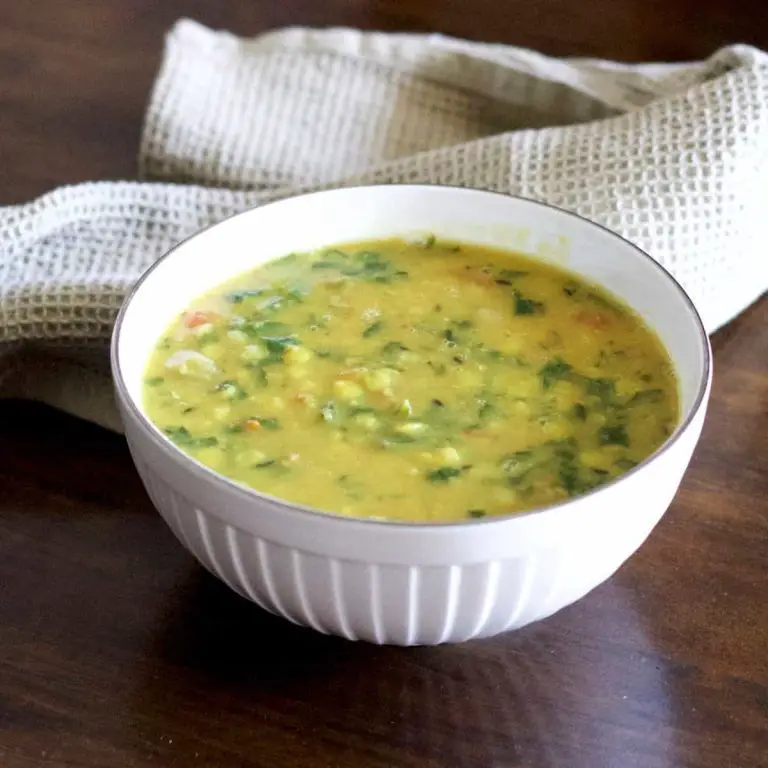 "Recipe"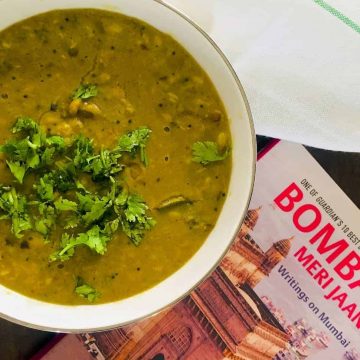 Maharashtrian Amti Dal with Goda Masala and Kokum
Maharashtrian Amti Dal with Goda Masala and with 5 different lentils. Also Seasoned with Kokum and Coconut. A traditional, nutritious, vegan, gluten free and flavourful dal that's easy to make.
Ingredients  
¼

cup

Thowar dal

/split Pigeon pea lentils

¼

cup

Split Green moong dal

/split Green Gram lentils

¼

cup

Split Red masoor dal

/split Red lentils

1

tablespoon

Split Channa dal

/split Bengal gram lentils

1

tablespoon

Split Urad dal

/split Black Gram lentils

3

cups

water

for pressure cooking plus extra for pre-soaking

2-3

kokum shells

/Garcinia Indica

2

teaspoons

warm water

for soaking the kokum

1-2

Green chillies

sliced

¼

cup

Onions

sliced small (one small onion)

2- 3

teaspoons

Goda Masala

(I used store-bought)

½

tablespoons

jaggery

powdered

1.5

tablespoons

coconut

grated

1

tablespoon

sesame oil

½

teaspoon

Mustard seeds

1

pinch

asafoetida

¼

teaspoon

haldi

5-6

curry leaves

shredded

1

tablespoon

cilantro/ coriander leaves

/Dhania leaves. minced. For garnish

½

teaspoon

salt

or to taste
Instructions 
Wash, rinse and soak the dal in enough water to cover it for about 1 cm above the surface of the dal. Soak for at least 1 hour. Drain the water, rinse and pressure cook the dal in about 3 cups of water, for 2 whistles. Allow the cooker to cool by itself. Lightly mash the cooked dal and set aside till required.

Preparation: Soak the kokum in 2 spoons of warm water for at least 15 minutes. Do not discard the water after soaking, as we are going to add it to the dal. Slice onions, chillies, mince coriander leaves and curry leaves. Grate the coconut and powder the jaggery.

Heat oil. Add mustard seeds, and after they crackle, asafoetida and haldi, sauté for 10 seconds. Add curry leaves. Add green chilli, let it scald. Add the onion slices, sauté for 2-3 minutes till they begin to darken.

Add the cooked dal, and if it is thick, add ½ cup of water and stir it in. Bring the dal to a boil and then reduce the heat and simmer for 2 minutes.

Add the seasonings one by one and stir, goda masala, jaggery powder, grated coconut. Crush the soaked kokum and add it with its water. Add salt, stir, taste and add a little more of the seasonings Simmer the dal for about 10 minutes, stirring frequently to make sure it does not catch at the bottom of the pan. Remove from the heat, garnish with coriander leaves and serve with hot rice, ghee, sabzi.