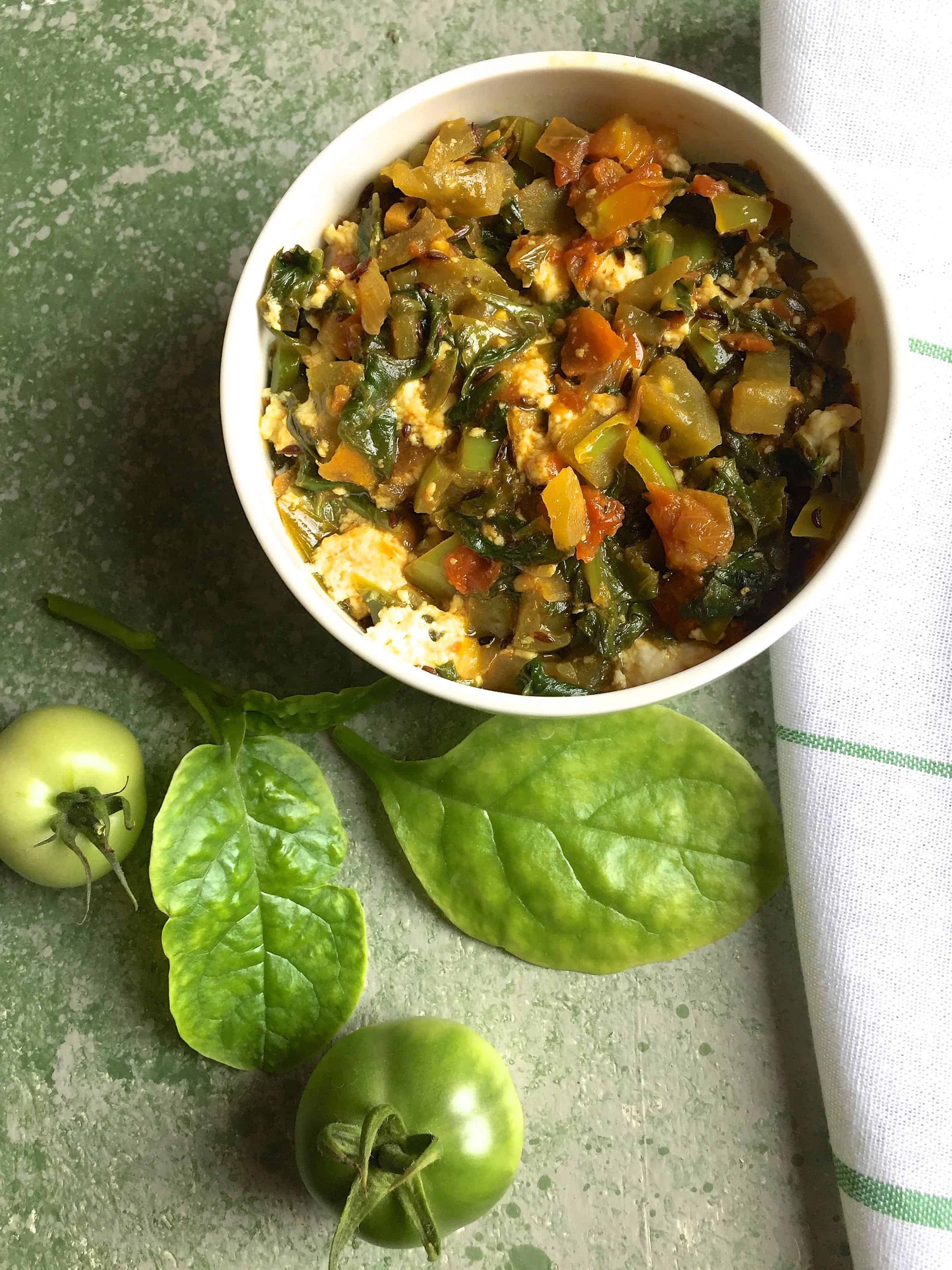 The plan originally was to make the mooli palak ka saag with radish greens and spinach, but the Malabar spinach / basale soppu/ pui shak being readily available, I opted for it instead. My balcony garden also had three tubs of tomatoes with gorgeous little green tomatoes, a few of them ripening to shades of orange. Instead of the red tomatoes that I add to palak or mooli saag, a half a dozen of the green tomatoes and some of the orange ones got into the ingredients list for this recipe. There is something fresh and tasty about green tomatoes. Just a little tart, just a bit sweet, they have a unique flavour and add their firm texture to the saag.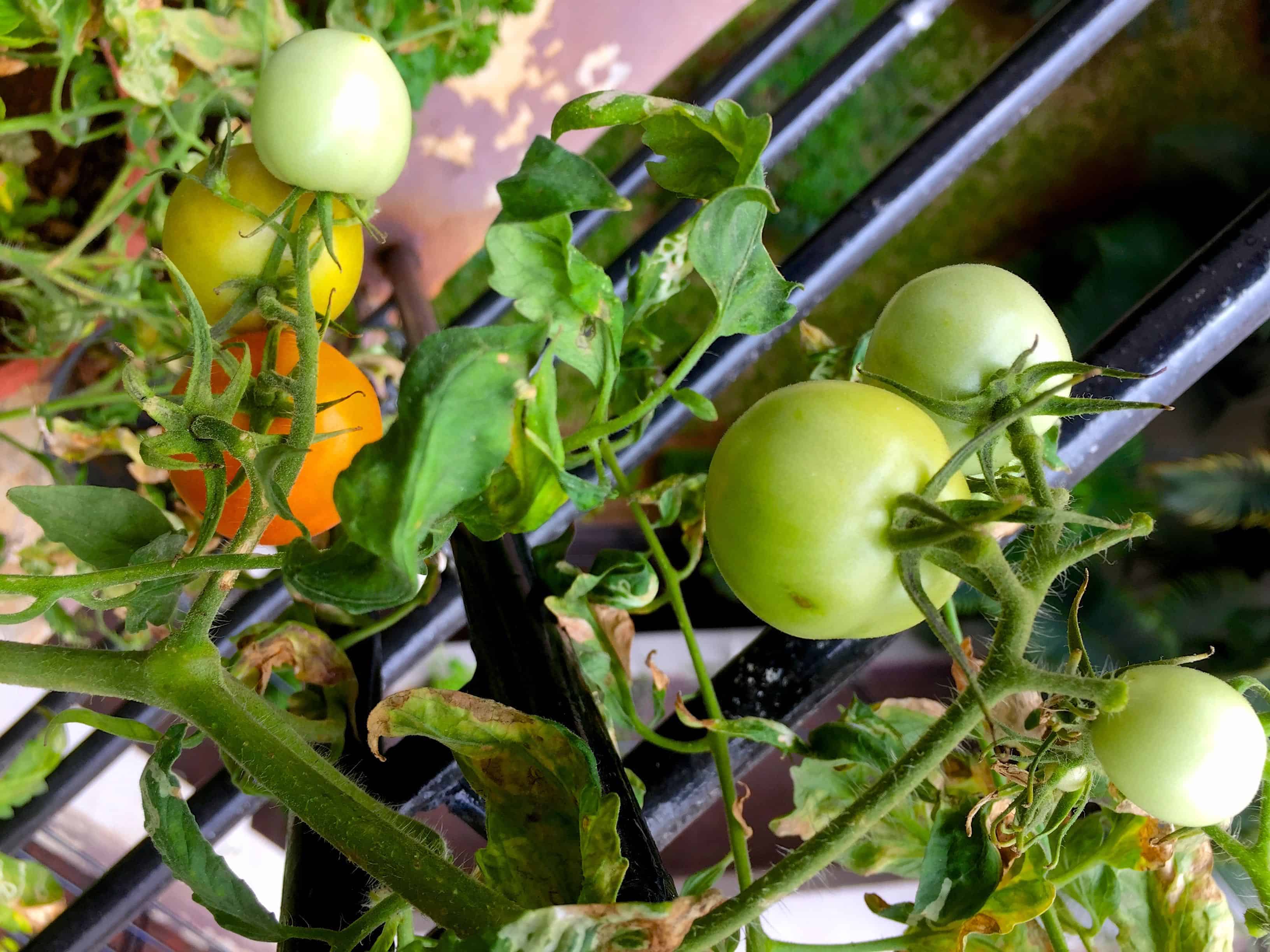 My recent trip to Goa included a visit to the amazing huge hall of vegetables at the Panjim Municipal Market. I picked up some that I don't normally see at Bangalore, and also a bagful of lovely little white radishes with their bunches of greens. I was not able to cook the radish greens as soon as I returned, and after 3 -4 days they were beginning to wilt, and some had turned yellow. I rescued the ones that were still fresh, and set about making the Radish Greens Spinach Curry. Palak / Spinach can be used instead of the Malabar spinach, and red tomatoes if green are not available.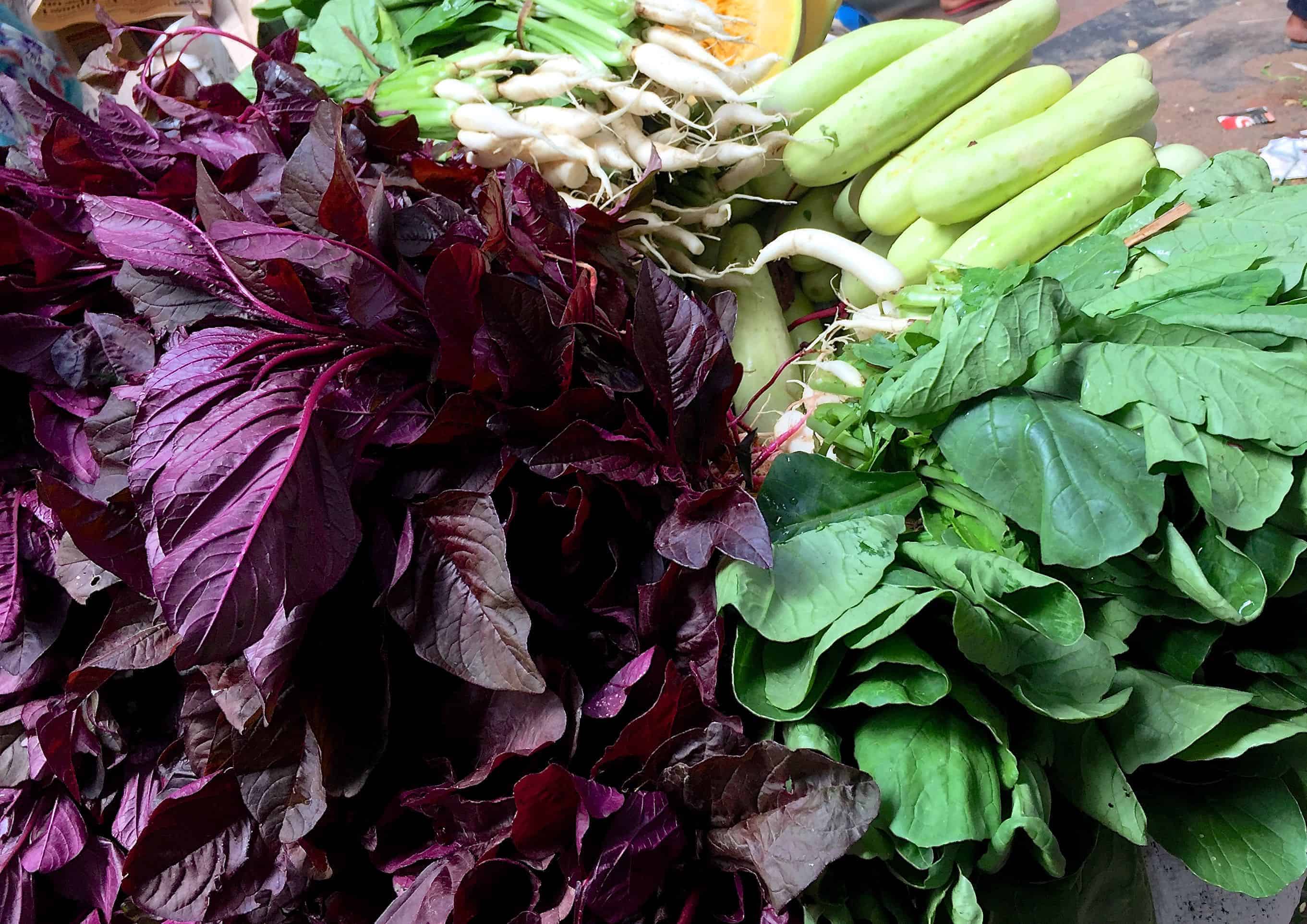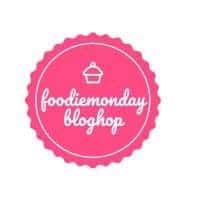 The theme for the 171st Foodie Monday Blog Hop is SaagSaga. The theme was suggested by Kriti Singhal Agrawal as a follow up to her theme of the previous week. All of us were interested in cooking with winter greens and we had a robust discussion (on WhatsApp!) as to what exactly is saag. Some of us felt that any cooked greens would be included. Some others that we could cook leafy greens to which other items such as chicken or potato could be added. Not a rice dish or soup or stews etc. I had planned another dish and actually made it too, but once the theme guidelines were firmed up, changed tracks and prepared the Radish greens spinach curry or mooli palak saag as a fitting tribute to winter greens.
Other Recipes From Fresh Greens, on this blog:
Keerai Kootu or Amaranthus greens cooked with lentils and a coconut cumin paste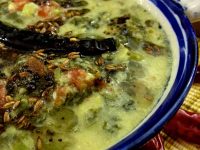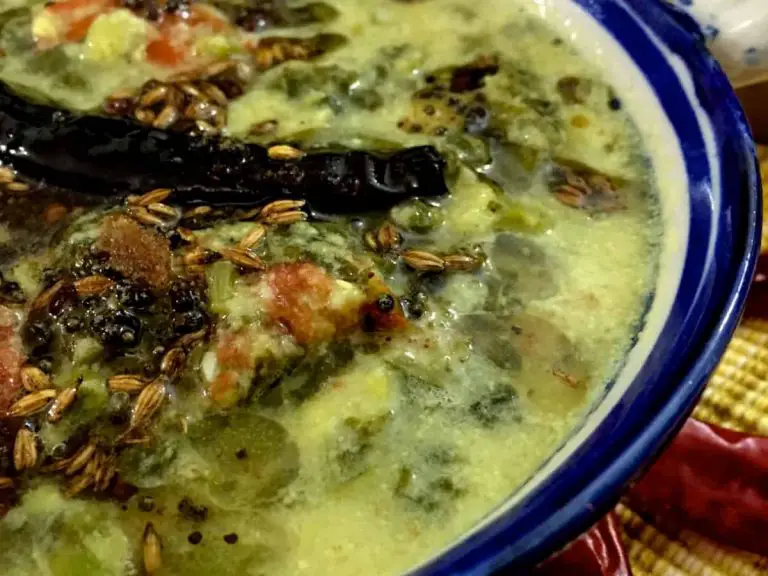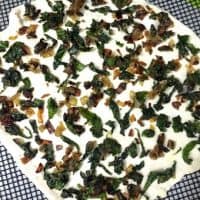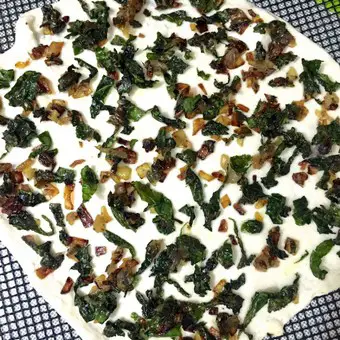 "Recipe"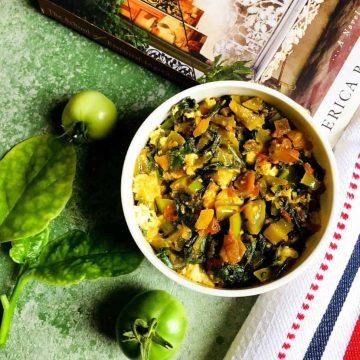 Radish Greens Spinach Curry - Mooli Palak ka Saag
Fresh winter greens such as radish leaves and spinach or Malabar spinach /pui shak/ basale sautéed with basic spices, in an onion and green and red tomato gravy. Serve hot with roti, rice or in a wrap
Ingredients  
1 ½

cups

Radish greens

/mooli saag

1

cup

Spinach or Malabar spinach/palak

Palak or basale saag

1

tablespoon

sunflower oil

or other oil of your choice

1

teaspoon

Cumin seeds

jeera

1

green chilli

or to taste

a few

curry leaves

minced

2

cloves

garlic

½

inch

piece ginger

¼

cup

Onions

sliced

1

cup

Tomatoes sliced

green and red

½

teaspoon

turmeric powder

/haldi powder

1

teaspoon

Coriander Powder

/dhania powder

½

teaspoon

dried mango powder

amchur powder

½

teaspoon

salt

or to taste

1

tablespoon

paneer or fresh cream

(optional, and for a non vegan version)
Instructions 
Separate the leaves of the radish greens and spinach from the stalks. Keep tender stalks and discard the tough ones. Shred or slice the leaves, rinse and then dry them in a salad spinner or pat dry with a kitchen towel, gently squeezing out as much water as possible. Slice onions and tomatoes into small even sized pieces, mince the ginger, chilli, crush garlic, and shred the curry leaves.

Heat the oil in a pan Add cumin seeds and when they begin to brown (about 10 secs) add green chilli slices. Add curry leaves

Add the garlic and sauté till the cloves begin to change colour (about 1 minute) and add ginger slices. Sauté for another minute. Add the onions, sauté for 2-3 minutes till well done.

Add the tomato slices, stir well and add the turmeric, coriander and mango powders. Stir again and sauté for about 5 minutes till the tomatoes shrink in size. Add the radish greens and Malabar spinach/ spinach leaves. Stir well and sauté for 5 minutes on low heat, stirring frequently. Add a little salt, stir and check the taste, adding a little more if required. Add crumbled fresh paneer (if using) and stir. Remove from the heat and transfer to a serving dish. Serve hot with roti or with rice and dal.