Yotam Ottolenghi's Tomato Party, is such an easy recipe to follow. All you need are tomatoes, preferably of different colours and sizes, fresh herbs and couscous to make this Roasted Tomato Couscous Salad. A totally healthy and fresh salad, it is filling enough for lunch on a hot summers day.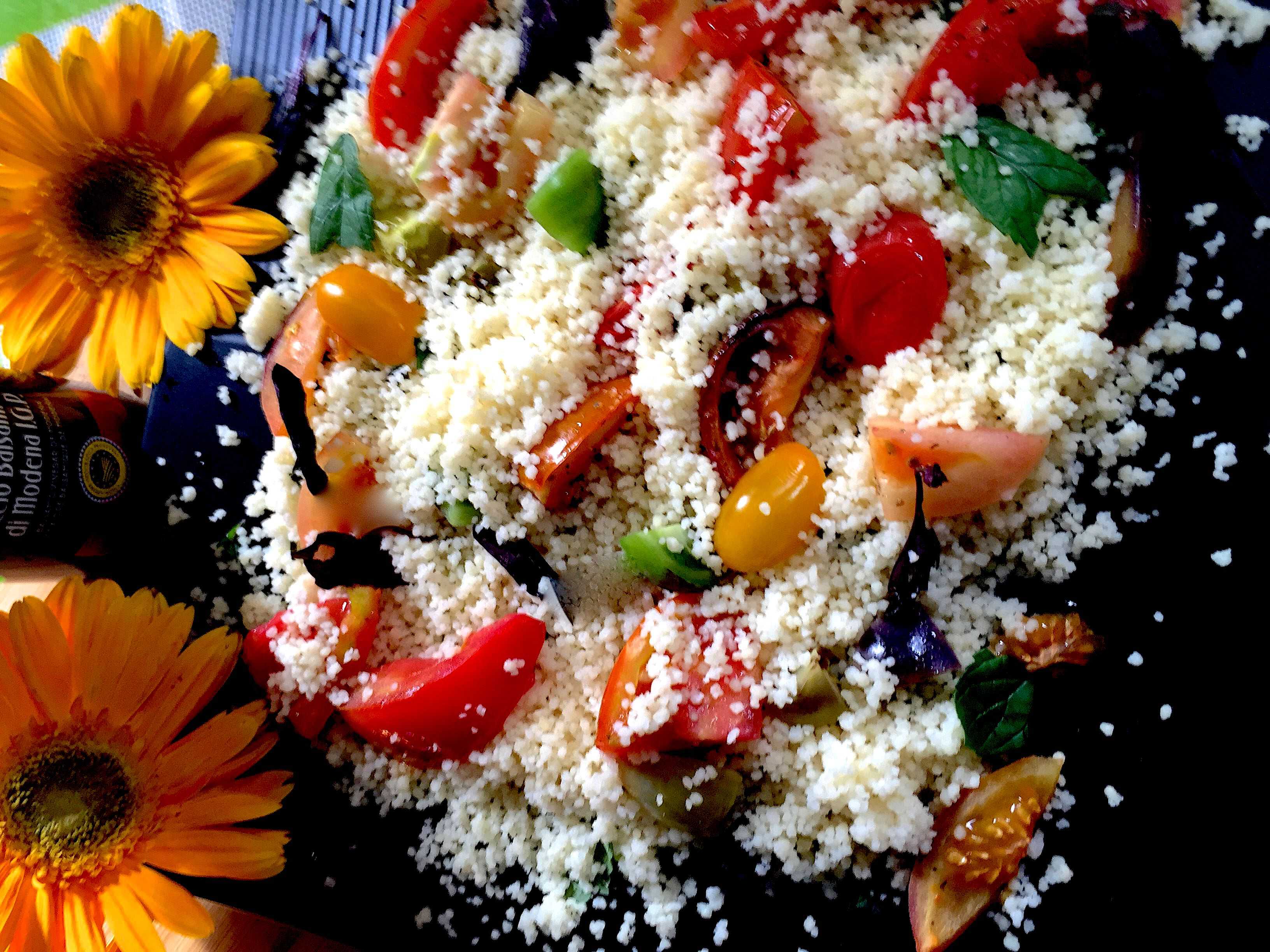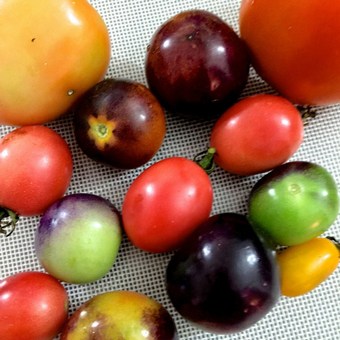 You may use any variety of tomato and in a proportion that you prefer for the Tomato Couscous Salad. The more the mix of colours, the prettier the salad and the more varied the flavour. I had some Roma tomatoes which are a bright red when cut, heirloom purple black cherry tomatoes which are green on the inside,  a cluster of cherry tomatoes on the vine, ranging from pale pink to peach to yellow, and bright green. All these gorgeous tomatoes and herbs in this Tomato Couscous Salad, are from First Agro Farms pesticide free and fresh. You have to taste these tomatoes to feel the difference in flavour from those bought elsewhere!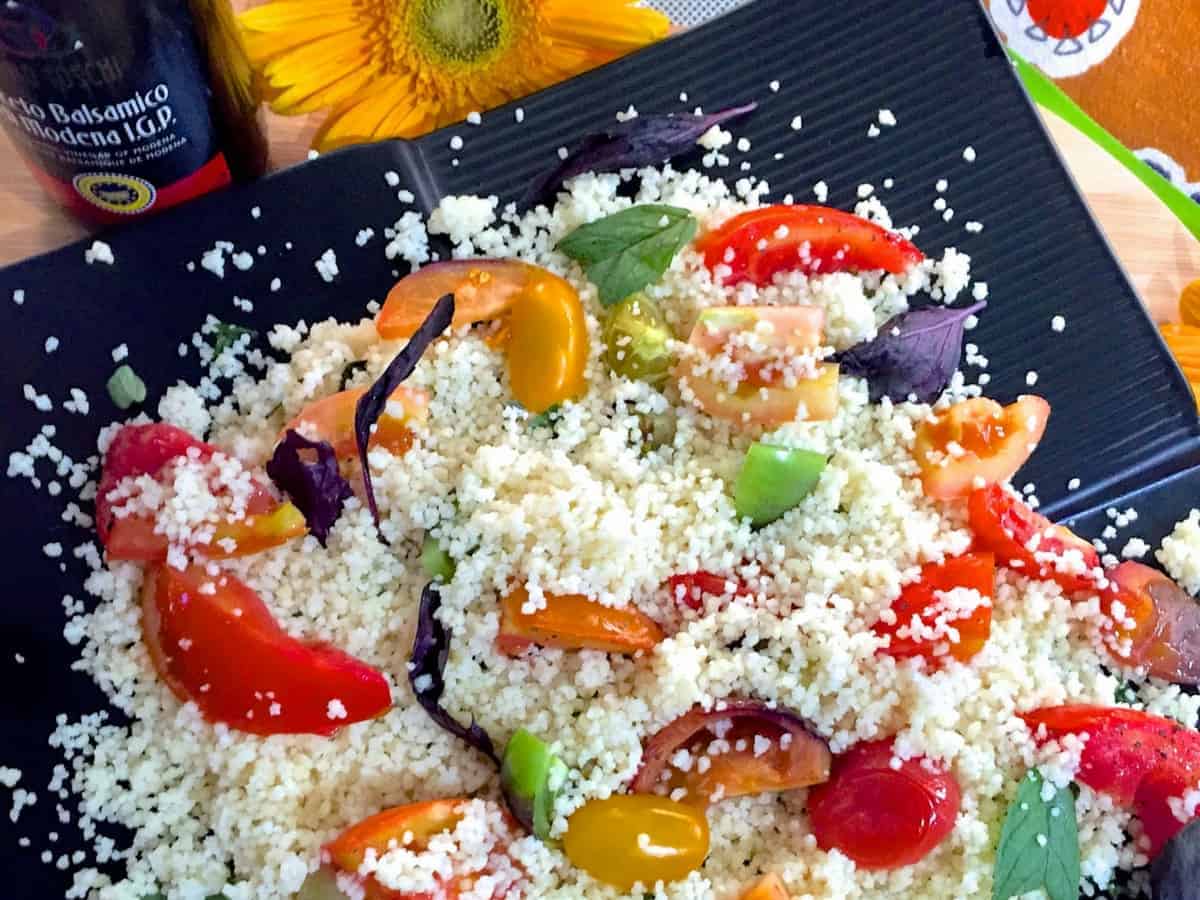 Ingredients for Making Tomato Couscous Salad
Use a good quality of balsamic vinegar to flavour the tomatoes for roasting.
I have used fresh herbs including purple basil, but you could substitute with half the quantity each of dry herbs and use green basil if purple is not available.
A whole wheat couscous or quinoa may be substituted for the semolina based couscous normally available, to increase the health and nutrition quotients.
This recipe follows the Tomato Party in Yotam Ottolenghi's Plenty Cookbook.
Other Recipes With Tomatoes
A colourful Cherry Tomato Rotini Pasta  where the quick sauce is made from burst cherry tomatoes.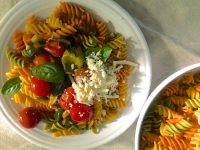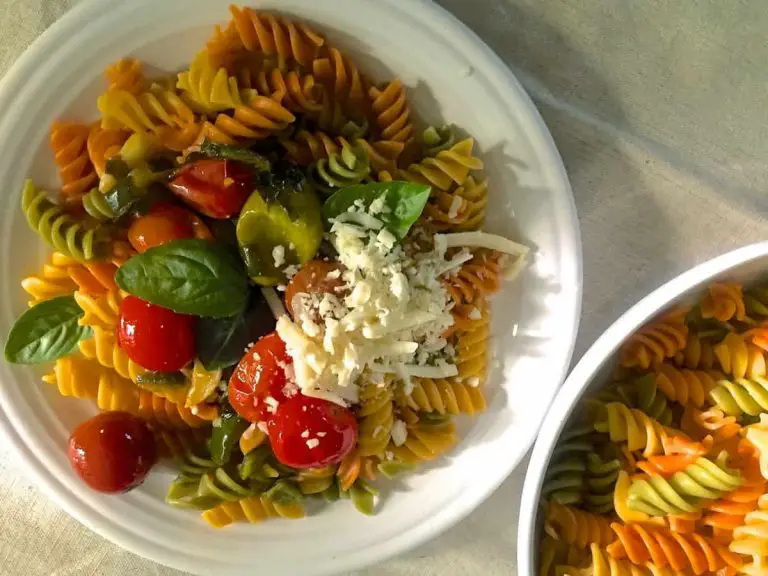 Arugula Pesto Pasta in Cherry Tomato Sauce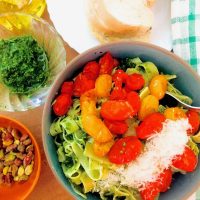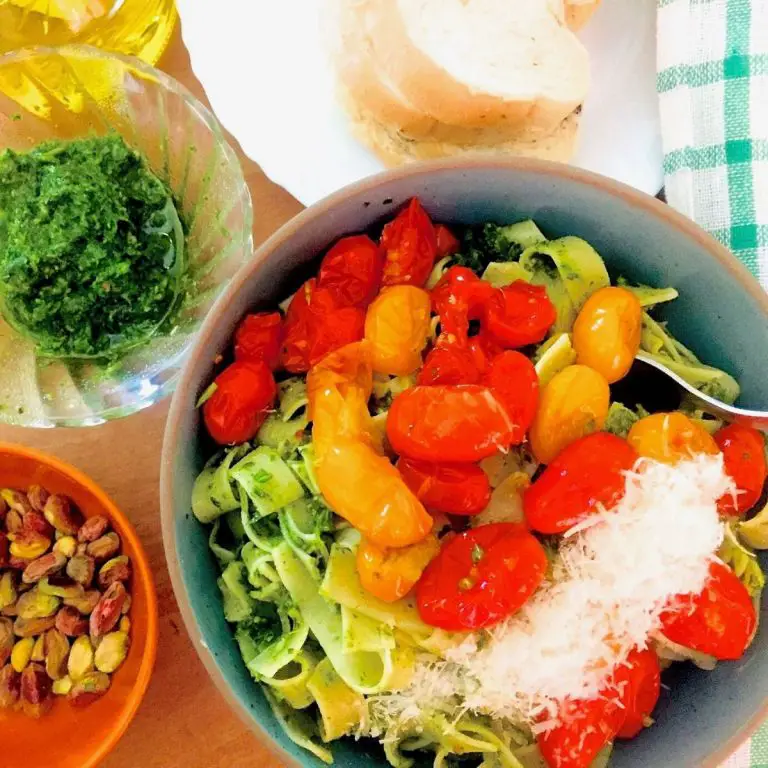 Easy Thin crust Tomato Mozzarella Pizza made from scratch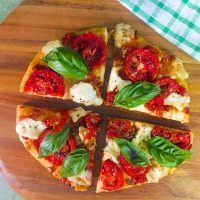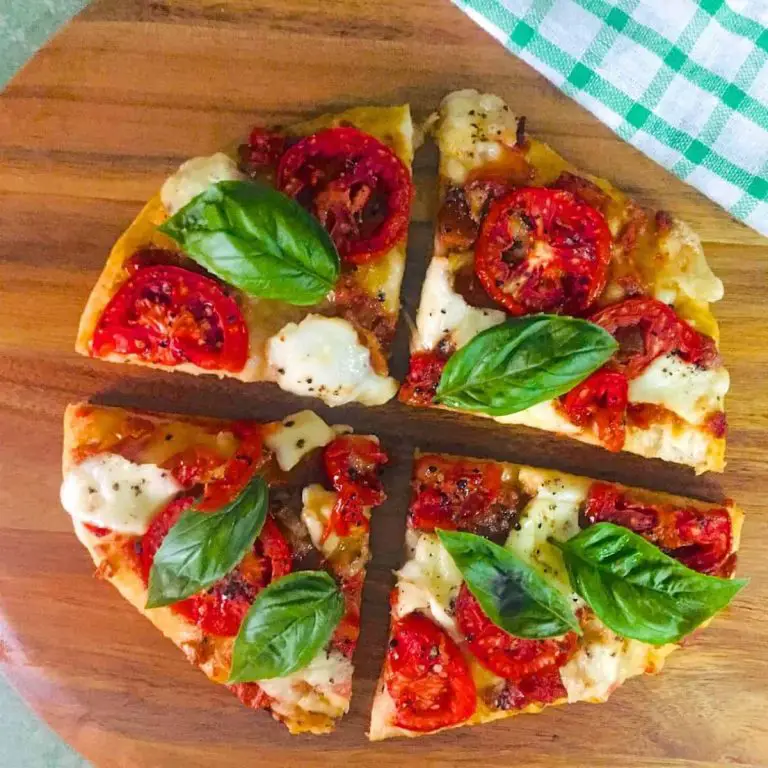 Brown Rice Salad with Roasted Tomato and Asparagus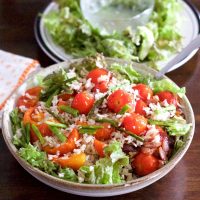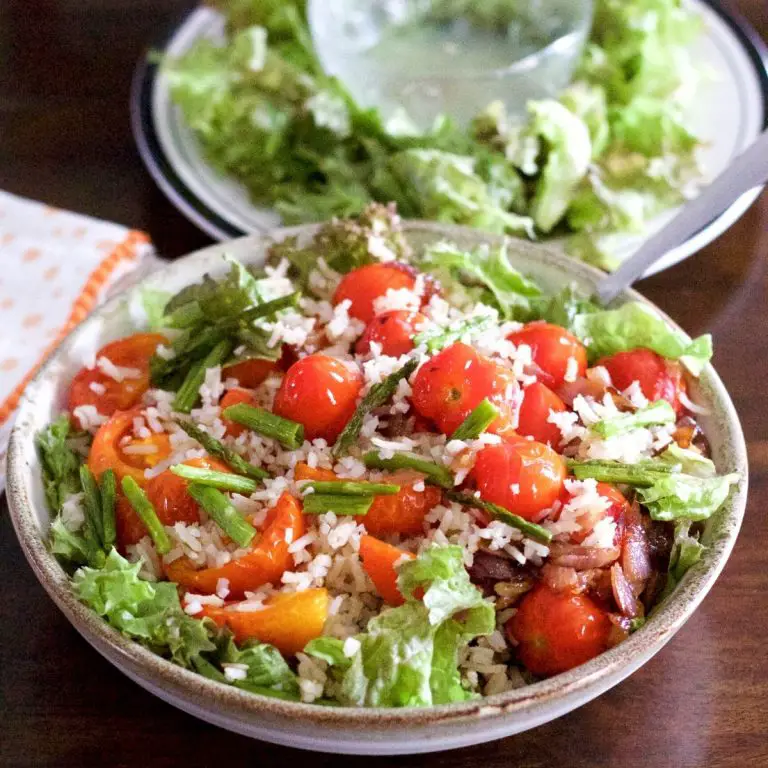 Health and nutrition in Tomato Couscous Salad
Couscous contains a variety of nutrients and is rich in vitamins, protein, sodium and  minerals like calcium, phosphorus, selenium, potassium, magnesium, folate among others which will help to strengthen bones, muscles, and the immune system.  Eating couscous can also help improve your blood circulation. It is rich in fibre which helps in digestion. As it is high in carbohydrates, a small quantity is sufficient for the bodies energy needs. Whole grain couscous could be substituted for semolina based couscous, to increase the health quotient.
Tomatoes are rich in Vitamin C and other antioxidants which can help combat the formation of free radicals known to cause cancer. The lycopene in tomatoes is thought to be effective in lowering the incidence of Prostate cancer, while the beta carotene is believed to protect against Prostate cancer in younger men. Diets rich in tomatoes may give a lower risk of certain types of cancer, especially cancers of the prostate, lung, and stomach. The potassium in tomatoes is believed to help in controlling blood pressure. The fiber, potassium, vitamin C and choline content in tomatoes all support heart health and the high fibre can be helpful in controlling blood sugar. One cup of cherry tomatoes contains about 2 gms of fibre.
Basil leaves contain health benefiting essential oils such as eugenol, citronellol, linalool, citral, limonene and terpineol. These compounds are known to have anti-inflammatory and anti-bacterial properties. The herb is very low in calories and contain no cholesterol and is a source of essential nutrients, minerals, and vitamins that are required for optimum health. It contains mineral such as potassium, manganese, copper and magnesium, as well as being an excellent source for iron. It has  exceptionally high levels of beta-carotene, vitamin A, cryptoxanthin, lutein and zea-xanthin. These compounds help act protect against oxygen-derived free radicals and reactive oxygen species (ROS) that play a role in ageing and various disease processes. 100 g of fresh basil leaves contain astoundingly 5275 mg or 175% of daily required doses of vitamin A. Vitamin A is known to have antioxidant properties and is essential for vision. It is also required for maintaining healthy mucusa and skin. Consumption of natural foods rich in vitamin-A has been found to help the body protect from lung and oral cavity cancers.  Vitamin K in basil is essential for production of clotting factors in the blood and plays a vital role in the bone strengthening and mineralization. (source: nutrition-and-you.com).
Oregano contains several health benefiting essential oils such as carvacrol, thymol, limonene, pinene, ocimene, and caryophyllene. Its leaves and flowering stem has anti-septic, anti-spasmodic, carminative, cholagogue (help gall bladder secretion), diaphoretic (sweat production), expectorant, stimulant, and mildly tonic properties. Its decoction is taken orally for the treatment of colds, influenza, mild fevers, indigestion, stomach upsets, and painful menstruation conditions. It has no cholesterol and is a rich source of dietary fibre. he active principles in the herb may improve gut motility in addition to increase the digestion power by facilitating copious secretion of gastro-intestinal juices. It is an excellent source of minerals like potassium, calcium, manganese, iron, and magnesium, as well as antioxidant vitamin-C. Vitamin C which helps  develop resistance against infectious agents and scavenge harmful, pro-inflammatory free radicals that cause cancer.
Thyme contains flavonoid phenolic antioxidants like zea-xanthin, lutein, pigenin, naringenin, luteolin, and thymonin and the fresh leaves have high antioxidant levels among herbs. It is  packed with minerals and vitamins and its leaves are one of the richest sources of potassium, iron, calcium, manganese, magnesium, and selenium, as well as being  a rich source of important vitamins such as B-complex vitamins, beta carotene, vitamin-A, vitamin-K, vitamin-E, vitamin-C, and folic acid. Thyme also has  vitamin B-6 or pyridoxine; pyridoxine keeps up GABA (beneficial neurotransmitter in the brain) levels in the brain which has a role as stress buster.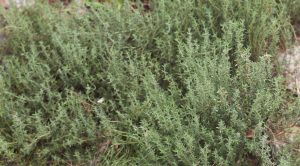 Mint contains essential volatile oils like menthol, menthone, menthol acetate. These compounds have an effect on cold-sensitive receptors in the skin, mouth and throat, giving the natural cooling-sensation that it initiates when inhaled, eaten, or applied on the skin. The essential oil, menthol also has been analgesic (painkiller), local anaesthetic and counter-irritant properties. Research studies suggest that the compounds in mint relax intestinal wall and sphincter smooth muscles through blocking calcium channels at cell receptor levels. This property of mint has been exploited as an anti-spasmodic agent in the treatment of "irritable bowel syndrome" (IBS) and other colic pain disorders. The mint herb is an excellent source of minerals like potassium, calcium, iron, manganese and magnesium and is rich in antioxidant vitamins, including vitamin A, beta carotene, vitamin-C and vitamin E. The leaves of mint also contain important B-complex vitamins like folates, riboflavin and pyridoxine (vitamin B-6); and the herb is an excellent source of vitamin-K.
SaveSave
SaveSave
SaveSave
SaveSaveSaveSave
SaveSave
SaveSave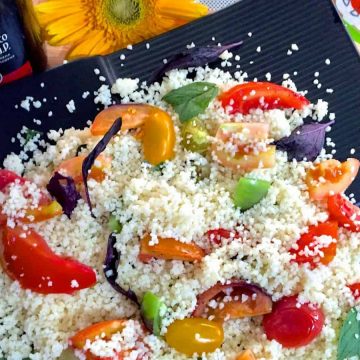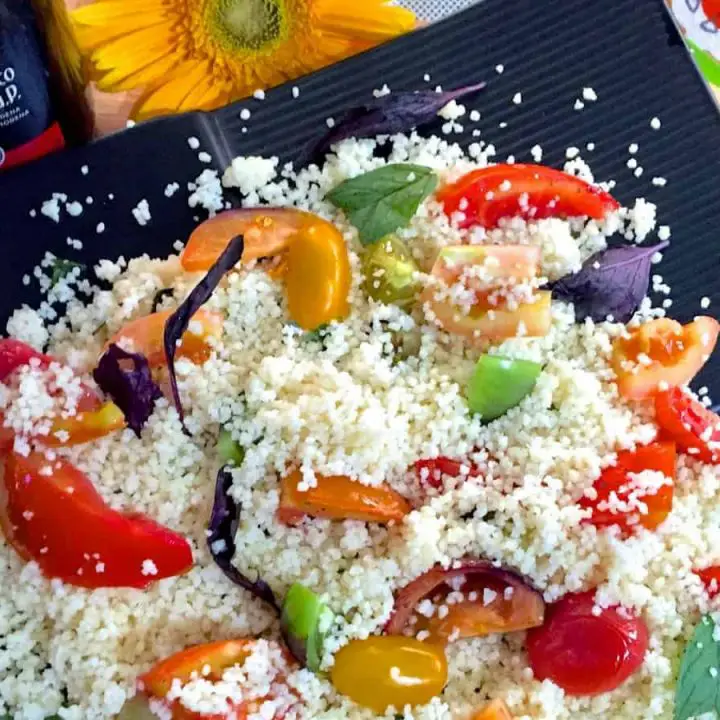 Couscous and Roasted Tomato Salad
Roasted Tomatoes of different colours and sizes, fresh herbs, balsamic vinegar and couscous go to make this healthy and fresh salad
Ingredients  
6

Cherry tomatoes

2

green tomato

2

Red Tomato

1

Orange/ yellow tomatoes

2

tablespoons

olive oil

2

teaspoons

balsamic vinegar

2

teaspoons

brown sugar

1

clove

garlic

¾

cup

couscous

⅔

cup

water

Boiling hot

1

tablespoon

thyme

Fresh leaves

1

tablespoon

oregano

Fresh leaves

1

tablespoon

basil

Fresh leaves minced

1

tablespoon

mint leaves

Fresh minced

1

tablespoon

Basil pesto

(optional)

to taste

salt

½

tablespoon

pepper ground

1

tablespoon

lemon juice
Instructions 
Preheat the oven to 162 C (325 F) The quantities above are indicative, you could add or reduce to your taste.

Slice the tomatoes in different shapes and sizes, keeping each colour separate. I halved the smaller cherry tomatoes, quartered the larger black cherry tomatoes, sliced the Roma tomatoes lengthwise and thinly sliced the green tomato. Mince the fresh herbs and keep aside till required.

On a baking sheet, place  half the tomatoes, starting with the firmer tomatoes such as the green tomato and the roma tomato. Sprinkle with balsamic vinegar, brown sugar, salt and olive oil.  Leave space on the tray for the remaining tomatoes. Add the clove of garlic to the tray. Place the tray in the oven to roast for 20 minutes

Cook the couscous as per package instructions or as per the method below. I used instant couscous and followed Ottolenghi's instructions in the recipe for 'Tomato Party' from his "Plenty' Book.

Pour the couscous into a bowl, add a little olive oil and salt. Add boiling water to cover the couscous completely, and then a bit more. Stir and cover the bowl with cling film for about 12 minutes.

After 12 minutes check if the water is completely absorbed by the couscous. If it is still moist, cover again and let it steam for a few more minutes till all the water has been absorbed.  Remove the cling wrap, stir with a fork and set the couscous aside to cool.

Once the first batch of tomatoes are partly roasted, ie in about 20 minutes, take the tray out, add the remaining tomatoes, dress lightly with olive oil, salt and pepper. Place the tray with all the tomatoes including the ones partly roasted, back in the oven for about 12 minutes.

Mix the couscous, tomatoes including their juices while roasting, crushed clove of garlic, the Basil pesto and the minced herbs in a bowl. Check for seasoning, adding more salt, pepper, olive oil, if required. Squeeze lemon juice on the couscous and serve.