Jump to: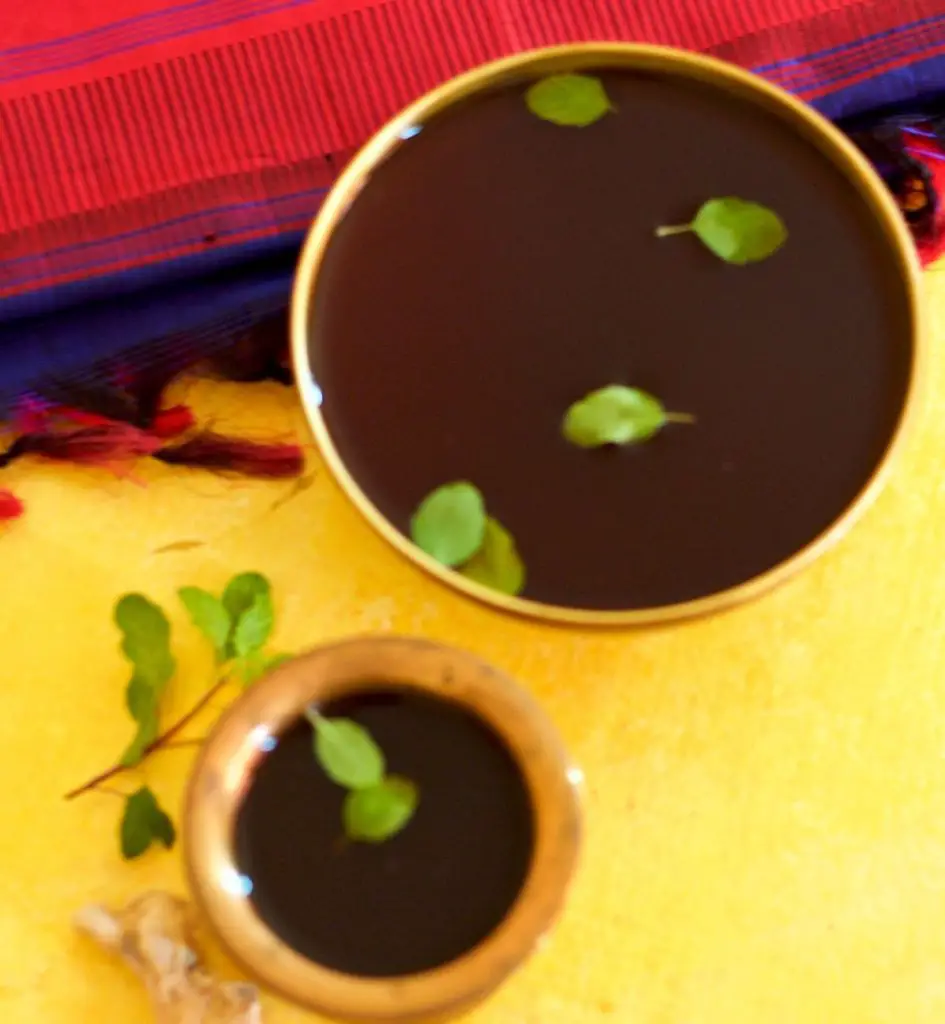 A glass (or two, or three!) of chilled panakam is great for quenching thirst. With the flavours of cardamom, dry ginger (sukku) in the jaggery water, it is tempting to drink this throughout the day, and then to make it again and again on these hot and humid days.
Variations in making Panakam
I have prepared the Panakam just according to my mother's recipe, however as an option, lemon juice could be added - about 1 to 2 tablespoons for 3 cups of water.
2. Pepper corns may be freshly powdered and added too, to give its distinctive flavours - about ½ teaspoon of pepper for 3 cups of the panakam.
3. About ½ a pinch of pacchai karpooram/ edible camphor would enhance the flavours, but take care to use just a little as the taste can be overpowering.
All these are optional, as the basic panagam made the traditional way and offered in many temples, has just jaggery dissolved in water, with tulsi leaves and dry ginger powder.
Celebrating Sri Rama Navami Festival
Rama Navami is a Hindu festival, celebrating the birth of Sri Ram, the 7th avatar of the God Vishnu, as per Hindu mythology. According to the Hindu calendar, Sri Ram was born on the ninth day of Shukla Paksha of Chaitra month. When we were growing up, at Kharagpur in West Bengal, this was an occasion for my parents' friends to gather together and prepare and enjoy a grand lunch. The thirst quenchers were the panakam and the neer mor (spiced buttermilk), along with vada paruppu/kosumalli, a cooling salad of cucumber, raw mango, moong dal, green chilli and coriander leaves.
There would be a kheer or payasam, a sambar and tasty vegetables, rasam of course, by the gallon, vadam and appalam. My father and Manian Uncle (my dear friend Ravikumar's father), would make their famous Badam Kheer instead of a standard payasam. All in all the food that day was a feast for the Gods, though it was we mortals who tucked into it with gusto.
The house would have been scrubbed and cleaned allover the previous day. Mango leaves would be strung across the main entrance, and early in the morning, my mother would wash the area outside the front door and lay out the wonderful designs called kolam or moggu (rangoli) with rice powder. I would do my small bit, adding dots to the kolam wherever they were required. The house would be fragrant with the scent of flowers and incense and all the aromas from the kitchen.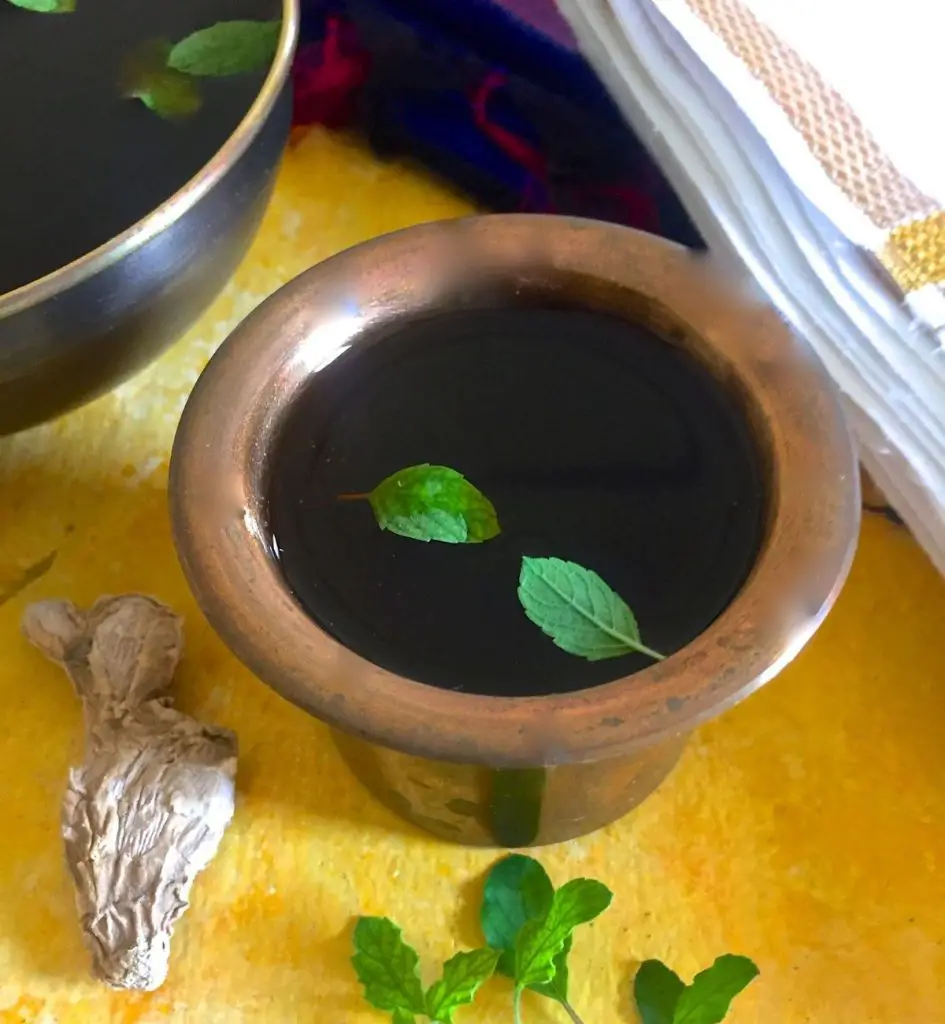 Health And Medicinal Benefits:
The cancer and disease fighting properties of ginger and of tulsi (holy basil) leaves are being researched internationally and there are several articles accessible online explaining the possible benefits and the anti-oxidative and anti-inflammatory effects of ginger on health, such as this one from healthline and another from the International Journal of Preventive Medicine  and the many possible medicinal properties of tulsi, as discussed in 'A Herb for all Reasons'.
Other Tamil Festival Recipes
SaveSave
SaveSave
SaveSave
"Recipe"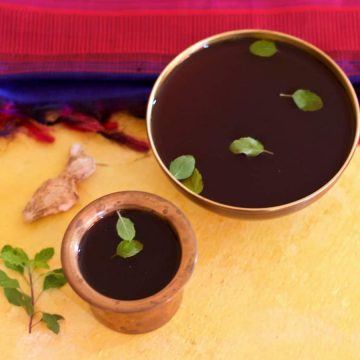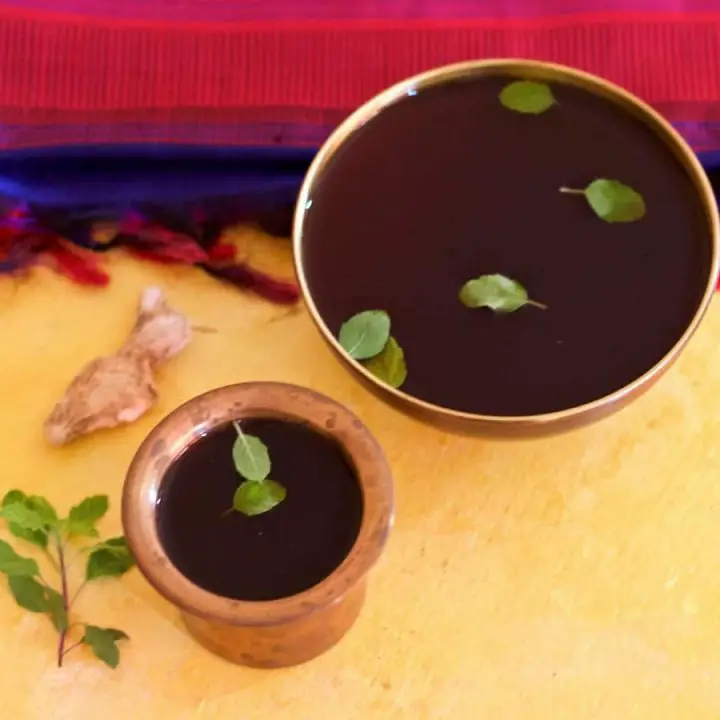 Panakam -Traditional Indian Jaggery Ginger Water
Panakam or Panagam: Traditional chilled drink of Jaggery water with dry ginger -specially made for Sri Rama Navami festival - easy, refreshing and healthy
Ingredients  
¾

cup

jaggery

vellam/ gur

3

cups

water

2 ½ cups of chilled water + ½ cup extra

1

inch

Dry Ginger piece

chukku/saunth. Fresh ginger will not give the same flavours

2

cardamoms

- elaychi

a

few

tulsi leaves

holy basil leaves

½

teaspoon

Fresh ground peppercorns

(optional)

1- 2

tablespoons

Fresh lemon juice

(optional)

½

pinch

edible camphor

(optional) 1/32 of a teaspoon or 1 smidgeon
Instructions 
Soak the jaggery in ½ cup of water for about 10 minutes, so that it softens and is easier to dissolve. Stir briskly to dissolve the jaggery in the water. Filter with a clean white cloth. Add the chilled water to the jaggery water.

Pound the dry ginger and cardamom to powder, using a mortar and pestle. Remove the tough fibrous pieces of the ginger (retain the peel/ skin of the cardamom as it continues to add flavour to the panakam). Use only dry ginger as fresh ginger will totally change the flavours. Freshly pounded dry ginger pieces will add more flavour than store bought/ bottled dry ginger powder.

Filter the liquid to remove any particles of ginger or cardamom.Add tulsi leaves (sacred basil), lightly crushed, and serve chilled. Optional: Add freshly ground pepper, ½ a pinch of edible camphor, and/ or lemon juice, as desired, stirring well before serving.

The recipe is for a mildly sweet drink. Increase the quantities of jaggery or dry ginger to your taste.