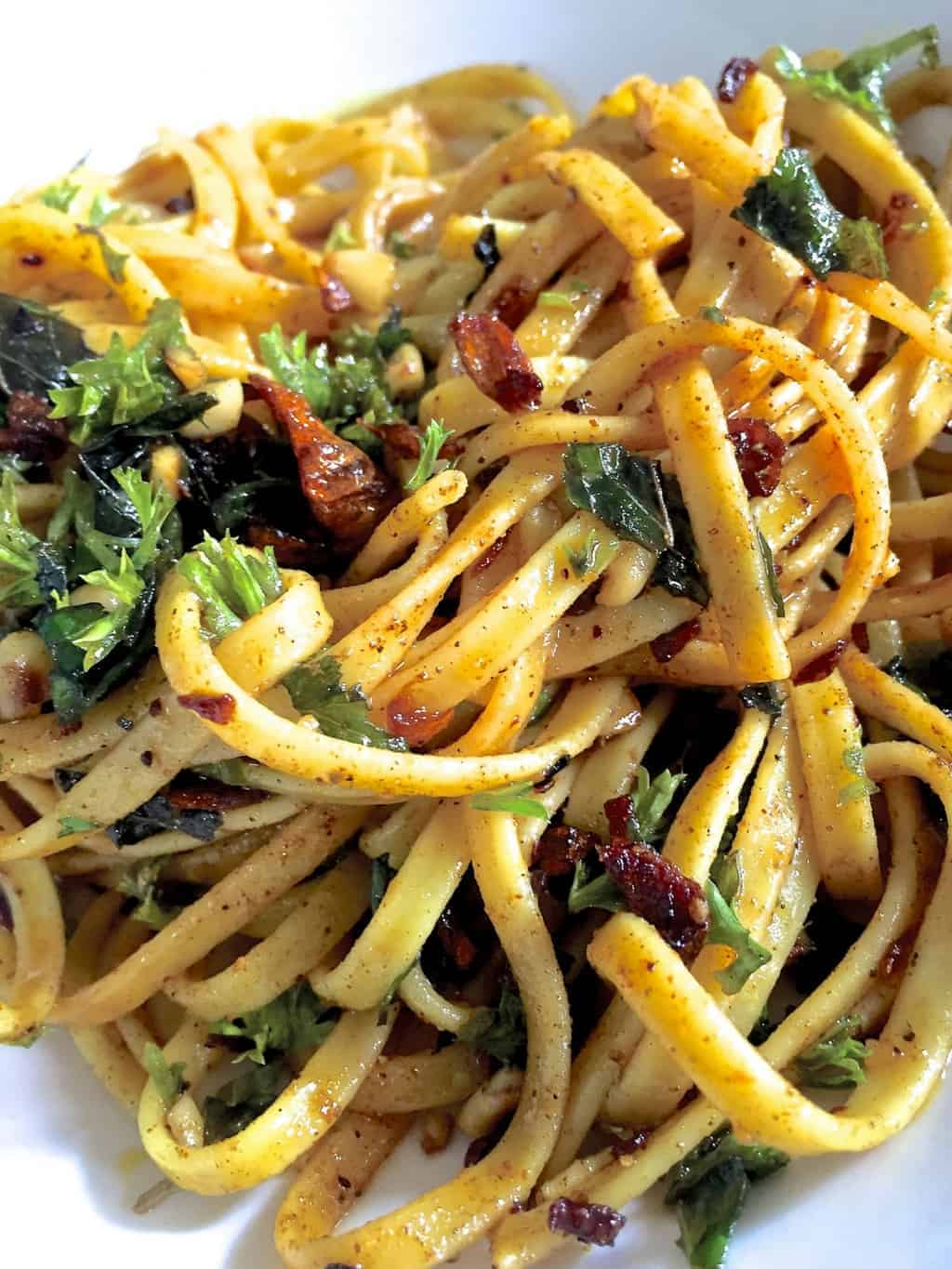 Ottolenghi's  original recipe describes how to make the saffron pasta from scratch, and also suggests that if a dried pasta is used, a good pinch of saffron threads be added to the water when boiling the pasta. As I have used dried zafrani or saffron linguine for the Tagliatelle in Moroccan Butter Recipe, I skipped this step, though I have detailed it in the recipe.
To cook the Pasta, I used one of my favourite additions in the kitchen, a pasta cooker. This one has two sieved containers, which can be used for boiling and draining, or for steaming. Either way, the heavy pot need not be lifted and drained at the sink or using a colander, as the sieved container just has to be lifted out of the pot, and the water allowed to drain back into the pot.
The Butter sauce is easy to put together and dinner  aka Saffron Linguine in spiced Butter Sauce, was on the table less than 30 minutes after I started making it.
The fresh herbs - parsley and mint, and the spices ranging from cinnamon and pepper to coriander, paprika and turmeric brought out a bouquet of flavours, while the pine nuts gave that bit of crunch and contrasting texture to the saffron linguine.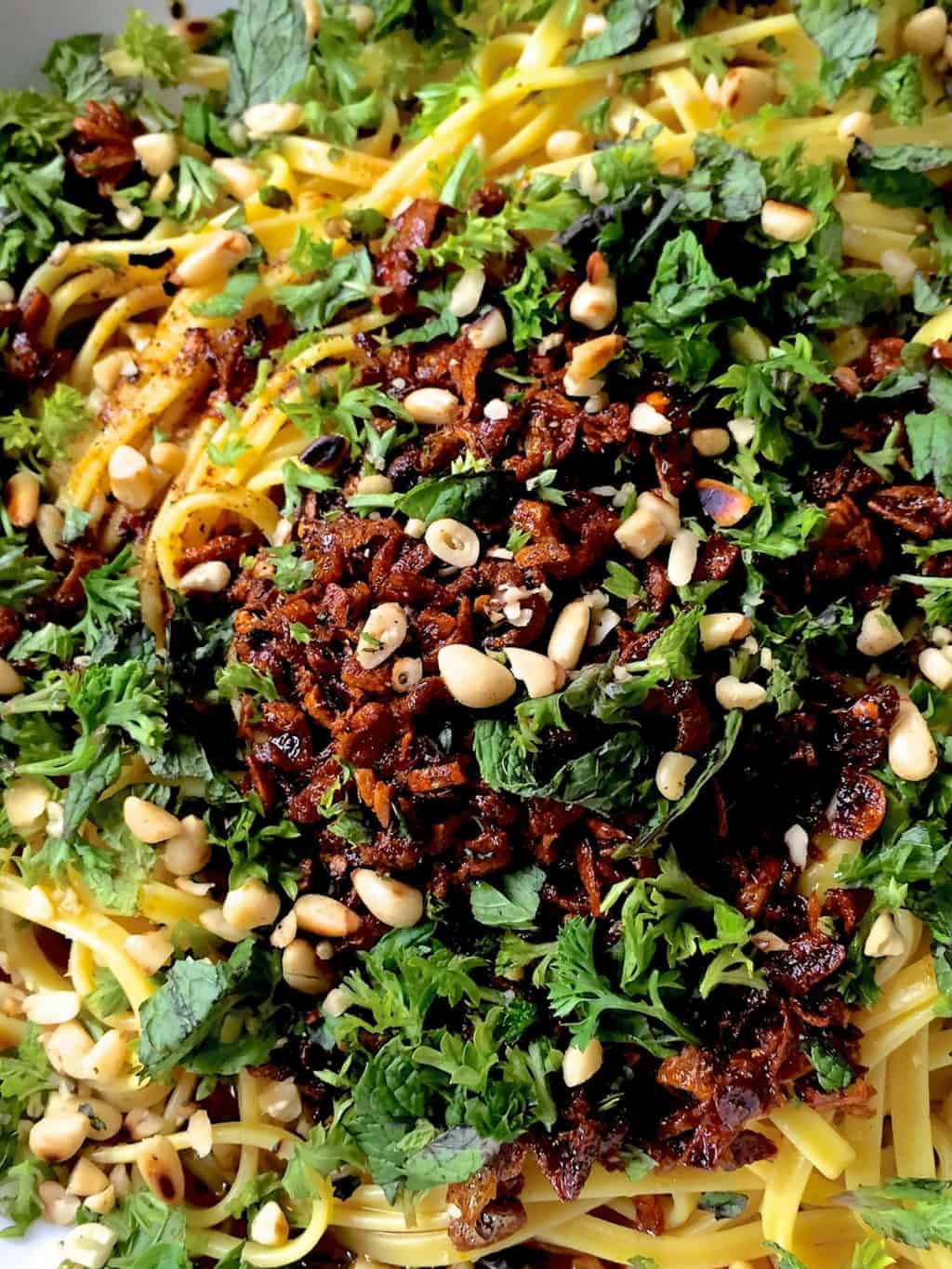 There is so much variety in Ottolenghi's cook books, and the recipes are straight forward and usually simple to make. Sourcing the ingredients is also now not difficult as I have the access to farm fresh zero pesticide vegetables and herbs from First Agro Farms, Mysore.
I plan to make all the recipes in Plenty, one by one, before I move on to Plenty More and then to other recipes from Ottolenghi's web site and cookbooks.
With this fragrant amazing saffron Linguine from Food Hall, and fresh herbs from First Agro Farms, here goes now for my Saffron Linguine in spiced Butter sauce. Sometime soon, I must try out actually making the linguine or tagliatelle, instead of using store bought pasta, but this dish did turn out uber delicious!
Other Pasta Recipes You May Like
"Recipe"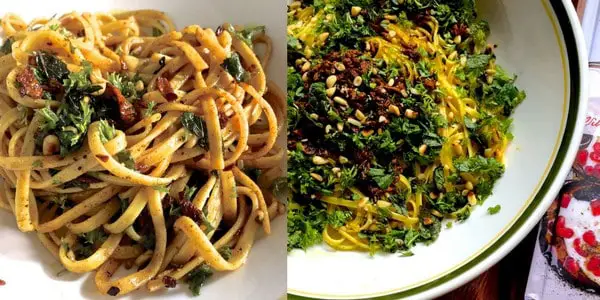 Saffron Linguine in spiced Moroccan Butter and Herbs
Delicious, healthy and easy to make pasta of a Saffron Linguine with Spiced Moroccan styled butter and fresh herbs, made in less than 30 minutes. The recipe is adapted from Yotam Ottolenghi's Tagliatelle recipe in his Plenty Cookbook.
Ingredients  
Herbed Spiced Butter:
½

cup

cooking butter

2

tbsps

olive oil

¼

cup

Shallots

(Minced)

1

tablespoon

tomato

Sun dried (shredded)

1

teaspoon

ginger

Ground

1

teaspoon

paprika

Ground

1

teaspoon

coriander

Ground

1

teaspoon

cinnamon

Ground

1

teaspoon

red chilli

flakes

½

teaspoon

turmeric

Powder

1

teaspoon

black pepper

Ground

1

teaspoon

salt

(to taste or)
Pasta:
150

gms

Linguine Pasta

2

tsps

saffron

threads
Garnish:
¼

cup

Pine nuts

(lightly toasted and diced)

3

tbsps

mint leaves

Fresh (minced)

3

tbsps

parsley

Fresh leaves (minced)
Instructions 
To cook the Pasta:
Keep a large pot of water on the stove, add salt and bring to a boil. Add 2 teaspoons of saffron to the water if not using a saffron pasta.

Add the dried pasta to the boiling water and cook as per package instructions, or till al dente.

Drain and transfer the cooked pasta to a serving dish.
To make the Spiced Butter:
Mince shallots, remove the herbs from their stalks and mince. Toss the pine nuts on a hot pan for about 30 seconds, stirring so they do not brown or char.

While the Pasta is cooking, heat a pan and add the oil and the butter. Add the minced shallots and cook on very low flame for 5- 10 minutes or till the butter begins to brown.

Add all the ingredients listed under 'Spiced Butter', sauté for 2 minutes on low frame and take off from the stove. Keep the pan warm so the butter stays fluid.
To assemble the Pasta:
Pour the spiced butter over the cooked, drained pasta, stir it well.

Serve hot, garnished with the chopped pine nuts and the minced herbs.